Almost every successful fantasy football season begins with a solid - if not very good draft - and ends with a player or two who was a virtual afterthought in the days and weeks that followed. No, I'm not talking about hitting on a late-round pick; I'm talking about a player who barely made his NFL team, began the season recovering from a serious injury or was so far down his depth chart that he needed multiple things to break in his favor just to get an opportunity. In extreme cases, maybe he wasn't even on the team until midway through the season.

Given the season is reaching its midpoint and owners are more than halfway through their regular season, it seems like an appropriate to speculate and/or ascertain which players have a realistic shot at being the latest fantasy rags-to-riches story since the second half of the season is when these players typically emerge.

Below is a list of 12 deep-league stashes. These players are going to be readily available in most leagues; some have yet to play due to injury, while others are unknown to most casual observers. I have each position listed in the order I would prioritize adding them.

Running Backs
Potential difference-makers for the stretch run

Mike Davis, Seattle - Davis will, without question, be the most highly owned player of any I will discuss this week. The reason he appears on this list is that he was dropped in a number of leagues following a bit of an odd showing in Week 6 against the Raiders in London in which Seattle handily defeated Oakland. Owners who do little more than check out the box score each week likely saw Rashaad Penny's nine carries for 43 yards and two catches for 27 yards (versus six carries for 21 yards and one catch for five yards for Davis) as a sign he had moved ahead on the depth chart.

While that could very well happen at some point of the season given how easily HC Pete Carroll changes his mind about certain things, owners need only to take a look at the actual play-by-play of the game to see why Davis has no business getting dropped. Eight of Penny's nine carries (and more than half of his 13 offensive snaps) occurred on the final drive of the game with the Seahawks milking the clock. Davis played 23 snaps to starter Chris Carson's 27, giving us a two-week sample in which Davis has seen a total of 14 fewer snaps than Carson. Davis also appears to be the favored option on third down, although there is some question about how valuable of a role that is for him on a team so committed to running the ball.

And it's that last bit - combined with Carson's ultra-physical, take-no-prisoners running style - that makes Davis as good of a candidate to be a player who comes out of nowhere to carry his teams to fantasy titles. While Davis has his own injury history to overcome, there is at least some wiggle (and willingness) to avoid tackles in his game. Among running backs averaging at least 10 carries, Carson ranks second in yards after contact per attempt (3.63) - behind only Denver's Royce Freeman (3.69) - per Pro Football Focus, which should serve as a pretty good indicator as to how physical his running style is. While it's not exactly fair to say Carson is prone to injury (an ACL as a senior in high school and his last year's broken ankle/leg injury is all I was able to find), running backs who absorb contact - as opposed to trying to avoid it - are obviously more likely to miss time. With a second-half schedule that sets up beautifully for a team that wants to run the ball (with a Week 14 date against Minnesota the possible lone exception), Davis is truly one injury away from emerging as a second-half stud.

Elijah McGuire, NY Jets - It was a little more than four short months ago that Jets RB coach Stump Mitchell uttered the following words to the New York Daily News: ďEli looks fantastic to be perfectly honest. Iíll tell you who I see Eli as - and heís in the Hall of Fame. Eli has the skill set to be a LaDainian Tomlinson if he was given that opportunity. Thatís not what presents itself to him at this particular point in time. But skill set, he can do it all. He can catch. He can run. He can run routes as a receiver. He just happens to be here Ö and Iím glad we got him.Ē

Severe hyperbole aside, it goes without saying the Jets like what they have in the second-year back. McGuire returned to practice last week after spending the first half of the season on the Reserve/Injured list with a foot injury. As luck would have it, Bilal Powell suffered a neck injury in Week 7 that could reportedly threaten his career. While Trenton Cannon came on in relief and filled in adequately, one would have to believe an LT-level talent (said with heavy sarcasm) like McGuire would get the first shot at replacing Powell, especially since he was considered the favorite to win the third-down job this summer.

Let's assume for a second McGuire steps in and immediately assumes Powell's old role since the 185-pound Cannon was drafted more for his prowess as a returner. Prior to his injury, Powell entered Week 7 coming off his two largest workloads of the season. Even with his first-half exit last week, he still owns a slim 91-90 edge over Isaiah Crowell in terms of touches for the season. The point is that McGuire should be walking into something close to a split backfield, and he should be considered the favorite for work in the passing game. Given some of the Jets' upcoming opponents - Chicago, New England, Tennessee and Houston, to name a few - the running game figures to take a back seat given either the presence of stout rush defenses, negative game scripts or both. If New York really feels as strong about McGuire as Mitchell indicated this summer, he might be given an opportunity to become the lead back - admittedly a slim possibility. Nevertheless, Powell is the overall RB34 this season despite not playing about half of the game last weekend. If McGuire steps into that role, he's a flex option at worst.

Kapri Bibbs, Washington - Bibbs is a player I have referenced before, and it seems likely I will do so again in the coming weeks. Simply working on of what we already know, Adrian Peterson is playing through ankle and shoulder injuries, while Chris Thompson has missed the last two weeks with a rib and knee injury. Although Bibbs appears to be Thompson's direct backup, it seems reasonable to believe he would also be first in line to replace Peterson as well (although it is quite possible he would end up sharing carries with Samaje Perine if both Peterson and Thompson are sidelined).

Nonetheless, Washington has evolved into a conservative offense under Alex Smith, opting to milk the clock with Peterson and throw safe passes to the running backs and tight ends. HC Jay Gruden doesn't have a realistic Plan B because Smith doesn't give him much of one. Thus, in the likely event Peterson or Thompson end up missing significant time in the coming weeks, Bibbs should have a pretty clear path to at least 10 (maybe as many as 15 to 18) touches per week. Behind a capable run-blocking offensive line, that means something. If Peterson and Thompson both succumb to injuries in the near future, owners could have a high-end RB2 on their hands since Perine has yet to show he deserves to be much more than a change-of-pace option.

D'Onta Foreman, Houston - There's a decent chance Foreman has been stashed for some time now in leagues that allow for an IR spot. In those that do not, it's probably more of a 50-50 proposition. There's no question the deck is stacked against Foreman, as an Achilles' injury is one of the most difficult for a running back to come back from, and even harder to do so in less than a full calendar year. (He suffered the injury last Nov. 19.) When he does return, he'll do so behind arguably one of the worst offensive lines in the league.

As for the good news, no one has really stepped up in Houston's backfield to eliminate the need for someone like Foreman when he's ready to play. Despite coming off his first 100-yard rushing day of the season, Lamar Miller has always been more of a perimeter runner and good receiving back who has inexplicably never been used that way during his two-plus year stay in Houston. I don't get the sense 100-yard games are about to become the norm or that HC Bill O'Brien has any inclination to run outside more often. While Foreman is not strictly a between-the-tackles runner despite his 235-pound frame, "inside runners" like him can often find success running behind questionable offensive lines - more so than smaller and quicker backs - because there is simply less time for defenders to beat their block when a back is running straight than when he is running parallel to the line of scrimmage. (Think Frank Gore versus Marlon Mack last season.) Almost regardless of the offensive line play, it seems unthinkable that a team with the weapons the Texans have in the passing game (not to mention the rushing threat Deshaun Watson presents) can't consistently run the football. Behind a worse offensive line last season, Foreman averaged 4.2 yards per carry on 78 attempts (Miller finished at 3.7 YPC on 238 attempts.)

If only because he is a big back who can break tackles, Foreman should be able to enjoy immediate success in short-yardage and goal-line situations. O'Brien probably feels as if he still has too much invested in Miller to make him anything less than a lead back, but it is definitely within Foreman's range of possibilities to make this a split backfield if he proves he is all the way back from his injury. If he is able to accomplish that, he should be able to carve out flex value.

Complete long shot: Kenneth Farrow, New England - It's not even remotely funny how much uncertainty there is with this pick. How long will Sony Michel be out? With New England sign another back? Has Farrow shown the coaching staff anything while being stashed on the practice squad?

Before any kind of hype train gets started, let's acknowledge Farrow's best day as a pro was in Week 14 of the 2016 season, when he rushed for 55 yards on 16 carries and caught six passes for 23 yards with the Chargers. With that said, the Patriots currently have two healthy running backs on their 53-man roster: James White and Kenjon Barner. White is theoretically big enough (205 pounds) to handle more of an early-down workload for a game or two, but he hasn't been used in that capacity as a pro. Barner seems the most likely candidate to handle the early-down work as a result, but his 195-pound frame and lack of work between the tackles suggest he's not a realistic multiple-week option for a team that likes to run the ball inside.

The one thing Farrow does have working in his favor is size (219 pounds). Fortunately, owners don't have to go back very far to recall an average talent coming off the practice squad to light it up for the Patriots in a favorable matchup. Jonas Gray ran for 201 yards and four touchdowns in 2014 against the Colts, only to fade about as quickly as he arrived. While I am in no way promising a repeat of that, New England faces the Bills this week and should have plenty of time to bleed the clock. The fact the Patriots have yet to sign anyone tells me a mid-week promotion for Farrow may be coming. The problem is with the game being on Monday night, only the most desperate of owners in the deepest of leagues would even consider Farrow based on what we know at the moment. The upside is this: I can easily see New England holding Michel out through its Week 11 bye, meaning owners could have a three-week window to play/start the Patriots' early-down back. I don't think they want to count on Barner for that role and history suggests the Patriots don't want to use White like that either.

Obvious handcuff candidates who are not owned in most leagues: Rod Smith, Dallas; Malcolm Brown, LA Rams; Chase Edmonds, Arizona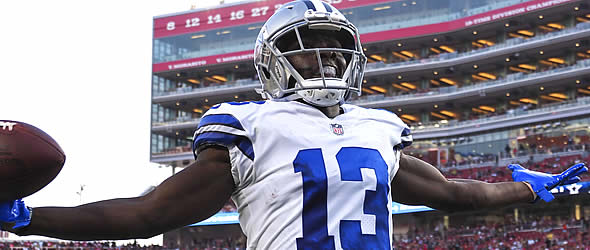 Wide Receivers
Potential WR3 options down the road
Rashard Higgins, Cleveland - Higgins was the last of four receivers drafted by the Browns in 2016. He is the only one who remains on the roster, which is an accomplishment in and of itself. "Hollywood" was playing more than 50 snaps per game and beginning to flourish in his third season prior to spraining his MCL in Week 5, enjoying two of the best four PPR performances of his career in Baker Mayfield's first two starts. Antonio Callaway has not done much with his opportunities, failing to catch more than four passes in any game despite getting targeted at least nine times on three different occasions. Breshad Perriman was recently added to the mix, but most owners know his story. Damion Ratley is about the only other option the Browns have, but it's fair to say Higgins probably remains ahead of him on the depth chart since Ratley saw a single snap through the team's first five games.
It gets better. Not only should Higgins return to a starting role, but each of Cleveland's next four opponents ranks inside the top 11 when it comes to giving up PPR production to receivers. Each team (Pittsburgh, Kansas City, Atlanta and Cincinnati) should be able to score some points, so volume should not be a problem for Cleveland's receivers. While David Njoku's rise was bound to happen because of his enormous talent, it may not be a coincidence his best fantasy games have come in the three games Higgins missed or was unable to finish. Unlike the receivers that follow him on this list, Higgins should have fantasy relevancy as soon as he is physically ready. Based on Wednesday's practice report, he might be another week away from that, however.
Marquez Valdes-Scantling, Green Bay - Valdes-Scantling has already done enough to prove he not only has Aaron Rodgers' trust, but also he should probably see regular playing time moving forward. Contrary to popular belief, the rookie has run most of his routes out of the slot over the past two games despite the fact he looks very much like he belongs on the outside (6-4, 206). Valdes-Scantling has taken advantage of negative game script both times, catching seven passes for 68 yards and a touchdown in a Week 5 loss to Detroit and adding three more receptions for 103 yards in a Week 6 comeback win against San Francisco.
At the very least, HC Mike McCarthy has to be considering the idea of splitting snaps in the slot between Valdes-Scantling and Randall Cobb, who did little outside of breaking loose for a 75-yard score in Week 1 before missing the last three games with a hamstring injury. Cobb's injury history also makes the rookie a solid bet for owners in deeper leagues who don't mind stashing a potential lottery ticket. If Cobb (or even Geronimo Allison) are forced to miss more time, owners should be thrilled about what the upcoming schedule means for the passing game, as at least three of the next five games are against teams that should force Green Bay to keep up (Rams, Patriots, Dolphins, Seahawks and Vikings).
Michael Gallup, Dallas - The funny thing about this week's trade for Amari Cooper is what owner/general manager Jerry Jones said prior to it. "We haven't had a No. 1 receiver for several years." The sad thing is if he could have exercised a little bit of patience, he probably already has a future one on the roster. The trade itself wasn't as egregious as some are making it out to be if the Cowboys convinced themselves they wanted a receiver - there is no guarantee prospects like Ole Miss' A.J. Brown or Arizona State's N'Keal Harry will be great (or better than Cooper, for that matter) - as much as it was unnecessary for a team that isn't going to win the Super Bowl this season. And there are the future salary cap ramifications, which is why it probably would have been smarter to roll the dice on Brown or Harry.
Getting back to Gallup, he had emerged as the snap leader for the Cowboys' receiving corps over the last two weeks. That distinction didn't lead to a lot of opportunity, but it's hard to argue with any player who can average 27 yards per catch on four receptions over that time. While many will see the acquisition of Cooper as a bad thing for the rookie, it is always difficult to ask a player to transition from one offensive system to another during the middle of the season. Considering the team he is joining, he will almost certainly attract the opponent's top cornerback each week - assuming that team has one worthy of shadowing. As such, Gallup could (and probably should) benefit from playing a similar role to the one Michael Crabtree and Jordy Nelson played opposite Cooper recently - albeit in a much lower volume offense. Gallup isn't going to be a league-winner much like the two receivers listed before him, but the recent increased usage is a good sign he is on his way to becoming a full-time player assuming he isn't already there.
Complete long shot: Jake Kumerow, Green Bay - Remember him? The pride of Wisconsin-Whitewater was a training camp sensation, going from an undrafted free agent who was waived by the Bengals and the Patriots to a player who emerged as a favorite of Aaron Rodgers this summer. He made enough of an impression to make the final roster despite suffering a sprained SC joint in his shoulder in the second preseason game and was subsequently placed on IR.
Kumerow's place on this list isn't so much a recommendation to add him or even place him on watch lists, but rather serve as a reminder he is eligible to return to action in Week 9 and remind everyone this is a player Rodgers praised. "I have confidence in (Kumerow). He's in the right spot all the time, he makes contested catches, finishes the right way. He practices like a pro." Does that mean anything to fantasy owners 2 1/2 months later? Maybe. Maybe not. Based on his preseason usage, he would work outside opposite Davante Adams while Geronimo Allison would most likely work the slot if Green Bay wanted to shoehorn him in the lineup. It is very unlikely things will get to a point this season where HC Mike McCarthy will bench a healthy Cobb for someone like Kumerow (or Valdes-Scantling), but Cobb's play prior to injury was so uninspiring that it is a possibility.
Tight Ends
Upside at a position where it is hard to find
Chris Herndon, NY Jets - Here is what I wrote about Herndon minutes after he was drafted this spring: Herndon tore his MCL in Miamiís regular-season finale, keeping him from helping his draft stock during the draft process. The 6-4, 253-pounder operated a lot out of the slot at "The U" and was a three-year starter. Following the loss of Austin Seferian-Jenkins, the Jets have a bunch of athletic oversized slots vying for the starting job. Herndon is more talented than the rest of them, so it seems reasonable he will rise to the top of the depth chart at some point early in his career.
When it comes to tight ends in fantasy this year, almost any player capable of making three catches and/or finding the end zone every third or fourth game is on the radar. Herndon put himself on the fantasy map with a 2-56-1 line in Week 6 and followed that up with four catches (on seven targets) for 42 yards and another score in Week 7. As is the case with most rookie tight ends, he's liable to break your heart the moment you begin to trust him. Then again, the Jets are dealing with so many injuries at receiver and running back that it becomes possible someone like Herndon could have a bit of an extended run if New York makes him a priority. With that said, nothing has changed yet in terms of his playing time. He is averaging 26 snaps during his recent surge, right behind Eric Tomlinson's 26.5 and a few more than Jordan Leggett (22).
Hayden Hurst, Baltimore - If I have 1,000 pet peeves, one of them is a coach or an assistant raving about a player during the week and giving him 20 snaps on Sunday. There have been already at least two instances (here's one and here's the other) since Hurst was activated in Week 5 in which a Ravens coach has remarked about how good the rookie looks in practice. Hurst has one catch on five targets for seven yards through three games, seeing no more than 21 snaps in any of them. While Baltimore has a nice problem in that it has talent at the position, the fact the Ravens spent their first first-round pick on him suggests somebody in the front office believes the team lacks a playmaker at the position or thinks Hurst has a shot at being one of the best in the league.
There has been plenty of talk about the three- (and now four-headed) committee at tight end, which may be necessary if all of them were specialists. But should this team have a committee at the position? Nick Boyle has been on the roster bubble more than once and suspended by the league multiple times. Maxx Williams is a former first-round pick who has been injured most of his career and disappointed when he has been healthy. Mark Andrews is a very capable pass-catcher but an oversized slot receiver. Hurst was considered the most well-rounded tight end in this year's draft, one capable of playing in every situation and on every down right away. His August foot injury undoubtedly set him back in an attempt to become that guy right away, but there has been no mention of his injury or him having trouble getting acclimated.
Coaches often tell the media how they want Player X to get more work, see more work, etc. (Sound familiar, Duke Johnson owners?) Situations and personnel packages often dictate a player's usage, but Hurst is literally a player that doesn't have to come off the field. Baltimore has lost two of its last three games by a total of four points and is averaging 17.7 points over that stretch. Isn't there a chance a first-round talent at tight end capable of stretching the seam may be of some help? Either the coaching staff trusts him now or they don't. If he's behind due to the injury, say so. Telling the media he looks great and then limiting his playing time makes him look bad and/or the coaching staff look incompetent. Owners who can afford to stash him should.
Complete long shot: Ed Dickson, Seattle - Dickson is kind of like that annoying co-worker who you swear you'll never hang out with outside of work only to have him/her repeatedly show up at your favorite watering hole the one night each week you can get away from your real-life responsibilities. Dickson hasn't recorded more than last season's 48 targets or 30 catches since his career year in 2011, yet he somehow finds his way into the conversation for desperate owners in search of a tight end almost every year.
The reason Dickson appears on this list is twofold: 1) Seattle inked him to a three-year contract worth $14 million in the offseason and 2) Will Dissly showed us in the first three weeks of the season what is possible for a tight end in this offense (although some of that was a function of Doug Baldwin not playing). For all of his faults and inconsistency, Dickson is more talented than Dissly and has shown his ability on occasion (five catches for 175 yards in Week 5 against Detroit last season was a great example). The ex-Carolina Panther is a capable blocker to boot, so he should be in line for plenty of playing time once Seattle deems him ready to come off the non-football injury list. The competition for playing time is Nick Vannett, who hasn't really done anything of note to hold onto the job. While it is very likely Dickson's upside will be in the three-to-four catch range in a run-heavy offense, owners can hope for the Dissly-like impact in an offense that will probably continue to play it pretty close to the vest, opting to move the chains much more often than shot plays.
---
Doug Orth has written for FF Today since 2006 and been featured in USA Today's Fantasy Football Preview magazine since 2010. He hosted USA Today's hour-long, pre-kickoff fantasy football internet chat every Sunday in 2012-13 and appears as a guest analyst on a number of national sports radio shows, including Sirius XM's "Fantasy Drive". Doug is also a member of the Fantasy Sports Writers Association.