3.02 – WR Diontae Johnson, PIT
It should come as no surprise that Pittsburgh took a receiver that compares favorably to Emmanuel Sanders. Johnson doesn't possess great size (5-10, 183) is another in a long line of Steeler draft picks at receiver who excels in the return game. Johnson is a twitchy receiver whose size may force the Steelers to use him in the slot and push JuJu Smith-Schuster outside on a more regular basis. On the downside, he tends to freelance on his routes and has much work to do as a route-runner. Fantasy owners need to pay attention anytime Pittsburgh drafts a receiver, but I'm not sure that will be the case here - at least not right away. There is much more reason to like him in rookie drafts; he could be a potential value pick at some point in the second round.
3.03 – WR Jalen Hurd, SF
With the selections of Deebo Samuel and Hurd, it's not hard to see San Francisco saw receiver as a weak spot on its roster. A few years ago, Hurd was a five star running back recruit. A couple of years ago, he was part of the reason Alvin Kamara played a limited role at Tennessee. He eventually transferred to Baylor to play receiver and lead the Bears in receiving. As one would expect from a player so inexperienced at the position, Hurd is a bit of a developmental project - he has drawn comps to Terrelle Pryor and may face a similar learning curve - but he is very much worth a roll of the dice. The 49ers likely envision the 6-4 Hurd becoming their contested-catch specialist in short order and may see him eventually taking on a Cordarrelle Patterson-type role within the first year or two. He doesn't figure to make much of a rookie-year impact, but he makes for an interesting dynasty stash in deeper leagues.
3.05 – TE Josh Oliver, JAX
Oliver is a very solid athlete with 4.63 speed who joins a depth chart who doesn't offer much in the way of competition, but his run-blocking limitations at this point figure to make him a part-time player for the foreseeable future, especially on offense that wants to run the ball as much as Jacksonville. So despite going to a team where he could start as a rookie and possessing enough talent to make an impact, it's hard to get excited about him in redraft or dynasty.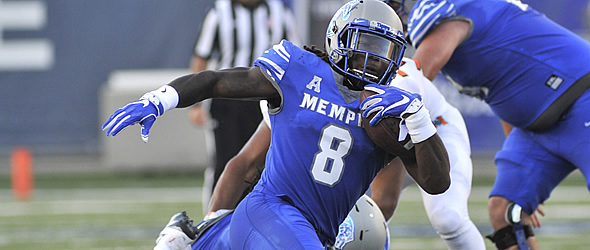 The Rams like Malcom Brown but Darrell Henderson is a name to watch as Todd Gurely's backup.
3.06 – RB Darrell Henderson, LAR
Don't be fooled by his 5-8, 208-pound frame, Henderson can take a pounding and can run with some force. However, what he does well is hit the big play more often than any running back in this draft. (He had 27 of at least 20 yards last season, 10 more than anyone other running back), And that is exactly what I think the Rams are thinking here: one of their offseason goals was to take some touches off of Todd Gurley's plate in order to keep him healthy for the long term. Landing a player like Henderson who compares favorably to Tevin Coleman gives them that option and should give them good return on their investment without needing to give him too many touches. It's too early to tell if Los Angeles will view him as Gurley's direct backup - the Rams seem to like Malcolm Brown in that role - but it seems reasonable to believe he'll earn that title sooner or later. How quickly he gets there will determine whether or not he's worth stashing in redraft leagues, but he is definitely worth landing in rookie drafts - presumably in the second round.
3.10 – RB David Montgomery, CHI
Chicago traded away Jordan Howard and added Mike Davis a free agency, but the addition of Montgomery may end up sending Davis right back to backup status. Whatever he lacks in terms of big-play ability, he more than makes up for just about everywhere else. One of the reasons Howard was deemed expendable was because he didn't offer much in terms of a receiver. Iowa State HC Matt Campbell stated publicly he believed Montgomery was his best slot receiver. My second-ranked running back in this class and someone who reminded me of James Conner, Montgomery is a physical downhill runner who is more than capable of handling 20 touches per game, splitting out wide to take advantage of mismatches and serve as the goal-line back. That's exactly the role he should play in Chicago, and I think it is entirely possible he is a top-25 fantasy back as a rookie. As such, he is well worth a pick in the early to middle part of rookie drafts.
3.11 – Devin Singletary, BUF
Perhaps it shouldn't be surprising Buffalo opted for a younger version of LeSean McCoy as the potential heir apparent at the position. Singletary pretty much carried the Florida Atlantic program over his last two seasons, piling up 562 carries while rushing for 3,266 yards and 54 touchdowns under HC Lane Kiffin over that span. He did this despite checking in at 5-7 and 203 pounds. Singletary is similar to McCoy in that he has very good lateral agility and can run inside more than one might expect from a player his size. His wear-and-tear isn't the same as other back either since he doesn't often take solid shots and hit the ground as often as someone with his kind of workload usually does. The concerns with him include his career workload (714 career carries), lack of receiving production (six catches in 2018, 25 over the last two seasons) and below-average speed (4.66). Given the age of McCoy and Frank Gore, it would appear Singletary is going to get his shot at taking over the starting job in 2020, which makes him well worth a late first-round pick in rookie drafts. Redraft owners can probably ignore him as long as McCoy and Gore remain upright.
3.12 – TE Jace Sternberger, GB
Although the Jimmy Graham experiment didn't work out as planned in 2018, Green Bay must like the idea of utilizing a catch-first tight end over a traditional one, as Sternberger was used in much the same way Graham has been utilized throughout his career. Cut from the same cloth as Dennis Pitta and Mark Andrews, the Texas A&M product could not have asked for a much better landing spot than with the Packers, who could easily choose to move on from Graham after this season. Given the departure of Randall Cobb, Sternberger could also steal some snaps in the slot, as he often operates as an oversized receiver but is a very refined route-runner. It's probably too much to ask for him to make a significant impact as a rookie, but tight end-needy owners in dynasty leagues should not hesitate drafting him in the second round of rookie drafts.
3.13 – WR Terry McLaurin, WAS
McLaurin, who was considered by some the best special teams player in the draft, operated as the sidekick to Parris Campbell at Ohio State. The Indianapolis native ran 4.35 at the NFL Combine and runs better routes than most college speed receivers, so he's going to give himself a shot at producing early on in his NFL career despite middling production in college. McLaurin turned some heads at the Senior Bowl, and it is that version that coaches are going to want to see from him moving forward. The best thing he has going for him is the fact Washington desperately needs to find a receiver who can stay healthy and stretch defenses since Josh Doctson has struggled and Paul Richardson struggles to stay healthy. Even with that working in his favor, the combination of Case Keenum and Dwayne Haskins (his college quarterback) isn't enough to put him on the redraft radar. He's also a late-round flier in rookie drafts.
3.23 – TE Kahale Warring, HOU
Warring is another player in this draft who is relatively new to football, having first played only one year of high school football after establishing himself as a standout basketball and water polo player. The San Diego State product really helped himself with a strong showing at the NFL Combine, running 4.67 and putting up a 36.5-inch vertical. Unlike most tight ends who play football after making their name in other sports, Warring stood out as a run-blocker, although the Texans are drafting him with the idea he'll continue to build upon the upside he showed in the passing game. There's no reason to expect he'll be worth the investment in redraft leagues, but Warring is talented enough to rise to the top of the depth chart in Houston and give the Texans a capable and consistent threat at tight end for the first time in years. Owners could do worse than take a flier on him late in rookie drafts.
3.24 – RB Damien Harris, NE
It's hard to see much of a place for Harris in New England after Sony Michel established himself as a rookie last season, so this pick likely threatens the status of Rex Burkhead and/or pushes him into more of a special teams role on a more regular basis. There's not a lot of wiggle in Harris' game, but his power may be what the Patriots were seeking with his selection in hopes he can take some - if not most - of the goal-line work away from Michel. With that said, Harris held off Josh Jacobs for a starting job throughout their stays at Alabama, so it would be foolish to discount the possibility he could force some kind of early-down committee down the road (although I doubt it will happen considering how much more talented Michel is). Fantasy owners need to take any running back in New England seriously, so it would be wise if Michel owners viewed Harris as a high-priority handcuff. Harris lacks the upside to be a great option in rookie drafts - especially given what's in front of him on the depth chart and James White being such a critical part of the passing game - but the fact he is one injury away from potentially rushing for 1,000 yards and 10 touchdowns makes him worth a pick in the late first or early second round.
3.30 – WR Miles Boykin, BAL
It would've been a major upset if Baltimore did not come out of this draft with at least two receivers given how weak their depth chart was at the position. With the selections of Marquise Brown and Boykin, it's entirely possible they found a pair of long-term starters. For all the hype D.K. Metcalf created with this testing numbers at the NFL Combine, Boykin was at least every bit as impressive (4.42, jumped 43.5 inches in the vertical, 11'8" in the broad) and even recorded the fastest three-cone time (6.77) at receiver despite checking in at 6-4 and 220 pounds. As a result, Boykin began to draw Kenny Golladay comps. Pro Football Focus charted him with only three drops on 62 catchable passes this season, so his hands are solid. Considering more Jackson isn't exactly known for his accuracy, it would not be terribly surprising if Boykin ends up becoming the top receiver in Baltimore given he offers a larger margin for error than Brown does. With that said, the run-heavy nature of the Ravens' offense figures to keep every receivers' numbers in check. He's worth considering as a late-round flier in redraft and a pick in the second round of rookie drafts.
3.33 – TE Dawson Knox, BUF
Knox didn't receive much publicity at Ole Miss as a result of being stuck behind D.K. Metcalf, A.J. Brown and likely Day 3 pick DeMarkus Lodge in the passing game pecking order, so he spent much more time blocking than third-round draft picks at tight end usually do. As a result of his usage, he never scored a touchdown on 39 career catches and is more of a developmental project. It wasn't until he began to test out well that evaluators began to pay attention to him. Fortunately for his future prospects, the Bills parted ways with Charles Clay and have little else besides Tyler Kroft, Jason Croom and offensive lineman-turned-tight end Jake Fisher on the depth chart. Given Josh Allen's relative lack of accuracy, it makes sense that Knox's size and the fact he will be working down the middle of the field on a regular basis would be attractive to him. Knox doesn't have redraft value, but he's yet another tight end worth taking later on in rookie drafts and stashing for two to three years.
3.39 – RB Alexander Mattison, MIN
Mattison may not be a familiar name the most having played his college ball at Boise State, but he may be the most polished running back prospect in this draft. He's not a player that tested particularly well (4.67 at the combine) and he isn't going to wow many folks with his twitchiness, but he figures to enjoy a fairly long career in the NFL because he is so fundamentally sound, patient and decisive. Those qualities likely helped the 5-11, 221-pounder record the third-most missed tackles of any draft-eligible back this season. Given his size and ability to run with power - as well as the departure of Latavius Murray - Mattison may be the early favorite to serve as Dalvin Cook's change-of-pace and serve as the goal-line back as well. He certainly proved he could handle a heavy workload - he topped 20 carries in each of his last 10 games and piled up 77 of his 302 carries for the year over the last two contests - which will make him a valuable handcuff in redraft leagues for Cook owners, especially given his injury history. I would start considering Mattison early in the second round of rookie drafts.

---
Doug Orth has written for FF Today since 2006 and been featured in USA Today's Fantasy Football Preview magazine since 2010. He hosted USA Today's hour-long, pre-kickoff fantasy football internet chat every Sunday in 2012-13 and appears as a guest analyst on a number of national sports radio shows, including Sirius XM's "Fantasy Drive". Doug is also a member of the Fantasy Sports Writers Association.