We have reached the final leg of our journey in the NFL.com Playoff Challenge. The rest of this column will be devoted to DFS advice and a strategic breakdown of Super Bowl LVII.

***Please click on this link and listen to Jim Coventry of Rotowire and me for a thorough preview of Super Bowl LVII.
NFL.com Playoff Challenge
NFL.com Playoff Challenge Roster
QB: Patrick Mahomes
RB: Miles Sanders
RB: Jerick McKinnon
WR: A.J. Brown
WR: DeVonta Smith
TE: Travis Kelce
K: Harrison Butker
D/ST: Eagles
DraftKings
With DraftKings' Showdown all that remains in DFS this week, I want to use the rest of my time to provide my readers with the kind of analysis one should expect in advance of the biggest game of the year. A new wrinkle this year: I included each player's captain price and flex prices. (Each position is sorted by my DraftKings' projected point total.
Key for quarterbacks, running backs, receivers and tight ends:
P Yds - Passing Yards
P TD - Passing Touchdowns
INT - Interceptions
Ru Yds - Rushing Yards
Ru TD - Rushing Touchdowns
Rec Yds - Receiving Yards
Rec TD - Receiving Touchdowns
Rec - Receptions
* - Dealing with an injury
Quarterbacks
Player
Tm
Cap$
DK$
P Yds
P TDs
INT
RuAtt
RuYds
Ru TDs
DK
Jalen Hurts
PHI
$16,800
$11,200
260
2
0
8
42
1
28.6
Patrick Mahomes
KC
$16,500
$11,000
336
2
1
5
18
0
25.2

Eagles - The majority of casual NFL fans have yet to wake up to the fact that Hurts has greatly improved as a passer and decision-maker over the last year. Among quarterbacks with at least 200 drop-backs this season, Hurts (1.9 percent) trailed only Justin Herbert (1.7) in turnover-worthy play rate, per Pro Football Focus. He achieved that feat despite posting a top-12 aDOT (8.5) and having the same average time to throw as Mahomes (2.85 seconds). Working against Hurts are some efficiency metrics since his return from his right shoulder injury. His expected points added (EPA) per play has dipped from 0.24 to 0.07, which is about where Marcus Mariota was this season. Is this partially a result of Philly not needing him very much in any of its last three wins? Of more concern, his completion percentage over expected (the difference between a quarterback's expected completion percentage and actual completion percentage) has fallen from 3.3 to -3.0, which is on the same track as Justin Fields in 2022.

Kansas City needs to solve some fundamental issues to slow down the Eagles' offense on Super Sunday. The Chiefs were right in the middle of the pack stopping the run during the regular season stopping the run (4.4 yards per carry) and probably need to load up the box if they want to stop the league's fifth-ranked rushing offense. Another important challenge Kansas City must address is if it is willing to treat Hurts as an injured quarterback that will only run in certain situations or as the same player whose pre-injury dual-threat abilities had him in line for league MVP.

If it is the former, then the Chiefs will take their chances that Hurts is the quarterback he has been all season under pressure (5.5 yards per pass attempt versus 8.5 without pressure). They will likely send the blitz regularly, understanding that A.J. Brown and/or DeVonta Smith could have a field day. Can DC Steve Spagnuolo reasonably expect L'Jarius Sneed, Jaylen Watson and Trent McDuffie to hold up in what would be mostly man coverage against Brown and DeVonta Smith? If it is the latter, then Kansas City has little choice to play zone - as most defenses do against high-end rushing threats at quarterback - and hope Hurts does not have enough patience to throw underneath to Smith and Dallas Goedert all day long. The problem with that approach is Philadelphia's offensive line is arguably the best in the NFL. Patience is not a hard thing for a quarterback to keep if he knows his receivers are better than the cornerbacks they are facing AND the offensive line is a good bet to move the defensive line off the ball in the running game consistently.

Chiefs - First, the good news. Mahomes' EPA/play during the regular season was 0.30, which is considerably higher than the level Hurts was playing at before his shoulder injury. Now for the bad news. Although the Bengals did not push Mahomes' limits in the AFC Championship, the question remains if his ankle is healthy enough to be his usual playmaking self in the Super Bowl. Not only did the Eagles register 70 sacks during the regular season, but they were also able to pressure the quarterback on 25.5 percent of his drop-backs (only Dallas was better at 25.6). The Chiefs counter with an offensive line that surrendered the fifth-lowest adjusted sack rate (sacks divided by pass plays, which include passes, sacks, and aborted snaps, adjusted for down, distance, and opponent) at 4.8 percent.

There is more for Mahomes to worry about than Philadelphia's ability to generate pressure; the fact the Eagles blitzed on a relatively benign 22.1 percent of drop-backs during the regular season, meaning the Eagles should regularly have seven in coverage. Worse yet, James Bradberry (54.2) and Darius Slay (76.8) ranked second and eighth, respectively, in the league in passer rating allowed among cornerbacks who logged at least 500 coverage snaps during the regular season. Slot CB Avonte Maddox (90.9) was slightly more forgiving inside, but how much of that can be chalked up to him not playing more than three games in a row all season?

It is hard to say Philadelphia has a discernible weakness anywhere on defense, but the path of least resistance for most offenses against the Eagles is isolating their running backs and tight ends on Philly's linebackers and safeties. With JuJu Smith-Schuster (knee) unlikely to be anywhere close to 100 percent, Kadarius Toney (ankle, hamstring) still recovering and Mecole Hardman (pelvis) on IR, the Chiefs may have no choice but to rely on Travis Kelce and Isiah Pacheco as much as they did in the AFC Championship. Jerick McKinnon may need to take on a bigger role than he has lately. Fortunately, Mahomes is no stranger to leaning on a tight end or running back (McKinnon for most of the 2022 season).
Running Backs
Player
Tm
Cap $
DK $
Tgt
Rec
Rec Yds
Rec TDs
Ru Att
Ru Yds
Ru TDs
DK
Isiah Pacheco
KC
$10,800
$7,200
3
3
32
0
11
56
1
17.8
Miles Sanders
PHI
$11,700
$7,800
2
1
6
0
13
66
1
14.2
Kenneth Gainwell
PHI
$7,500
$5,000
4
3
28
0
11
42
0
10
Jerick McKinnon
KC
$10,200
$6,800
6
5
43
0
2
5
0
9.8
Boston Scott
PHI
$4,500
$3,000
0
0
0
0
5
24
0
2.4
Clyde Edwards-Helaire
KC
$1,500
$1,000
0
0
0
0
3
14
0
1.4

Eagles - Philadelphia (4.66, sixth) surprisingly ranked a shade below Kansas City (4.82, third) in adjusted line yards in the run game, per Football Outsiders. That is one of the few metrics in which the Eagles take a back seat to the Chiefs on the ground, although some of that advantage is a product of defenses respecting Mahomes and routinely giving KC a light box. In the 17 games that Hurts started and finished in 2022, Philadelphia ran for at least 111 yards 14 times and at least 135 yards 12 times. Kansas City surrendered at least 111 yards rushing nine times and at least 135 yards four times. There is little evidence to suggest the Eagles will not enjoy reasonable success on the ground, especially when we consider how much the Chiefs struggled to beat the Titans in Week 9 (172 yards rushing) against the one opponent that most resembles Philly (albeit with a much worse offensive line, less talent at receiver and a lesser quarterback). How much has KC's defense changed since then?

The players that bettors want from this backfield largely depend on what kind of game they expect Super Bowl LVII to be. Sanders works primarily on early downs (combined 25 carries and zero receptions on third and fourth down this season, 16 rush attempts and no catches in the last two minutes of either half). Gainwell handles most of the work on passing situations (11 catches in the two-minute drill). As for Scott, 28 of his 59 touches during the regular season came in games decided by at least 15 points.

Somewhat interestingly, Gainwell has logged more snaps (57-50) this postseason than Sanders and just as many touches (29 apiece). Sanders is not considered a strong blocker, which helps to explain why Gainwell handles most of the work in the passing game. In short, Sanders likely needs positive game script throughout to reach his ceiling, although he has not exceeded 12 carries in a game with Hurts starting since Week 14. Conversely, Gainwell seems like a much stronger play if the Chiefs can keep it close or hold a lead.

Chiefs - Pacheco's involvement in the passing game in the AFC Championship was an unexpected yet pleasant development for the rookie, who nearly doubled his previous season high in passing-play snaps (29) and routes run (26). How does the expected return of Clyde Edwards-Helaire affect him? Does it at all? Probably not.

McKinnon's rushing efficiency was never that great this season - even during his five-week touchdown binge near the end of the season - but it has bottomed out completely over the last three games (32 yards on 17 carries). Pacheco was on the field for more passing plays (29-22) and ran more routes (26-16) in the AFC Championship. Was McKinnon dealing with a minor injury that the Chiefs conveniently forgot to put on the injury report? Maybe Kansas City gambled that it did not need McKinnon's blocking prowess against the Bengals? Do not expect a repeat. The Chiefs will need McKinnon's presence in the lineup this weekend to slow down the rush and will really need him to be an option when Mahomes needs to improvise.

Kansas City has rarely ever been a team to pound the rock - Chiefs' running backs totaled at least 20 carries only 10 times in their 19 games this season - and seem unlikely to hit that number against a Philadelphia defense that will rotate Javon Hargrave, Fletcher Cox, rookie Jordan Davis, Ndamukong Suh and Linval Joseph on the interior of the defensive line. It would make more sense to attack the edges, which is something Pacheco can do if Reid and Bieniemy are interested in trying to maximize the relatively few running plays they call.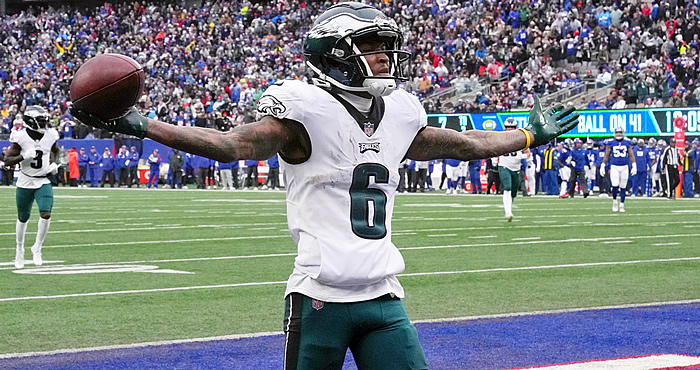 Wide Receivers
Player
Tm
Cap$
DK$
Tgt
Rec
Rec Yds
Rec TDs
Ru Att
Ru Yds
Ru TDs
DK
DeVonta Smith
PHI
$12,900
$8,600
8
6
78
1
19.8
Kadarius Toney
KC
$8,600
$4,400
6
5
61
1
1
4
0
17.5
A.J. Brown
PHI
$13,800
$9,200
8
6
88
0
14.8
JuJu Smith-Schuster
KC
$8,400
$5,600
5
4
35
0
7.5
Marquez Valdes-Scantling
KC
$9,300
$6,200
5
3
29
0
5.9
Skyy Moore
KC
$5,700
$3,800
3
2
18
0
3.8
Justin Watson
KC
$3,000
$2,000
2
1
22
0
3.2
Quez Watkins
PHI
$2,100
$1,400
2
1
12
0
2.2

Eagles - Brown and Smith were responsible for 84.2 percent of the yardage and accounted for 18 of the 22 receiving touchdowns by a Philadelphia wide receiver during the regular season. When we expand the criteria to the entire team, they collected 52.3 percent of the team's receptions, 61.7 percent of the team's receiving yardage and 72 percent of the receiving scores. For those folks interested in a prop bet that involves the first receiving touchdown by an Eagle, it may also be helpful to know only five Philadelphia players caught a touchdown during the regular season.

Somewhat interestingly, Smith has been a better player than Brown in terms of passer rating on deep throws (122.3-101.6) and only trails Brown 13-10 on deep catches. The major differences between the two on deep throws have come in yards after the catch (144-40) and touchdowns (7-2). In other words, Smith can win deep. The two wideouts have posted incredibly similar numbers in the intermediate part of the field (10-19 yards) and the short passing game (0-9 yards). Smith holds a significant edge (23-12) on targets and catches behind the line of scrimmage.

Kansas City CB L'Jarius Sneed, who is listed as questionable after not practicing at all last week due to a concussion, is expected to play his usual allotment of snaps. While he has seen more time in the slot than on the perimeter this season, he has bounced inside and out as needed most of the year. The Chiefs could use his 6-1 frame to shadow Brown if they want, although that seems unlikely and probably should not deter fantasy players from using Brown. Jaylen Watson is a little bigger at 6-2, but he is not quite on the same level as Sneed yet as a cover corner. Smith's most common matchup figures to be 5-11 rookie Trent McDuffie.

For what it is worth, Brown hasn't topped four catches or 28 yards in either playoff game, which is somewhat a product of Hurts' shoulder issue and reflective of just how dominant Philly has been, lessening the need for the Eagles to throw it more than 25 times. The NFC Championship game ended a 10-game streak in which Smith drew at least eight targets. Considering the likelihood Kansas City blitzes more than usual, plays a ton of zone and how often Philly may opt for quick passes (i.e. behind the line of scrimmage), Smith could be set up for a big game.

Chiefs - Outside of whomever Kansas City plans to use out of the slot (outside of Travis Kelce), it is hard to find an avenue in which the Chiefs get much from their receivers. The first problem is that JuJu Smith-Schuster (knee) and Kadarius Toney (ankle, hamstring) are still nursing injuries and Mecole Hardman (pelvis) is out. That leaves Marquez Valdes-Scantling as the top healthy option, which is a sobering thought against James Bradberry and Darius Slay. The one advantage Kansas City has is if Toney's injuries are no longer a significant issue, which seems unlikely since he did not practice all last week and began this week with a limited session. A healthy Toney is dynamic enough to occasionally uncover against Bradberry and Slay AND make things happen after the catch.

A more likely scenario has Smith-Schuster taking the most slot snaps among KC wideouts, which assumes his full practice Wednesday (Feb. 8) was a positive sign. Working against him is the fact he has not earned more than four targets or exceeded three catches in any of the last five games. A less likely but plausible scenario has MVS getting the most work out of the slot to take advantage of his health and get him away from Bradberry and Slay. The Chiefs could also decide to sacrifice their outside receivers and rely heavily on Kelce and McKinnon in the slot to force Philadelphia to play with one more linebacker or safety inside than it would like. The best option would be to give Toney the most slot snaps and take their chances that he can hold up all game. Why all the love for Toney? Because KC loves him. Toney has run 98 routes and played 133 snaps since making his debut with the Chiefs in Week 9. He has been targeted 27 times on those 98 routes (27.5 percent) and added six rushing attempts, meaning he has been given an opportunity to touch the ball on 24.8 percent of his snaps.

Kansas City's receiver injuries are making Moore and Watson somewhat popular names among prop bettors this week. The problem with betting on Watson producing anything of note is that his role is similar to Valdes-Scantling's. He also plays considerably fewer snaps. Watson plays primarily on the perimeter, so he is also a bad bet against Bradberry and Slay. Moore stepped up in the AFC Championship with three catches for 13 yards, but he needed seven targets to get there. Since he spends about half of his time in the slot, he should avoid Bradberry and Slay largely because he spends about half of his time in the slot. However, does he have Mahomes' trust? Considering he has topped 36 yards receiving just once, the answer to that question would seem to be no.
Tight Ends
Player
Tm
Cap$
DK$
Tgt
Rec
Rec Yds
Rec TDs
DK
Travis Kelce
KC
$15,900
$10,600
13
10
88
1
24.8
Dallas Goedert
PHI
$9,600
$6,400
6
4
48
1
14.8
Noah Gray
KC
$1,800
$1,200
1
1
8
0
1.8

Eagles - Perhaps the only major Philadelphia pass-catcher who has not been all that affected by Hurts' injury is Goedert. It makes sense if you think about it though. The Eagles have not needed to throw deep much lately and Hurts probably is not capable of dropping a lot of downfield dimes right now anyway. To that end, only three of Goedert's 78 targets this season were 20-plus yards. Another 20 targets were in the 10-19 yard range.

Philadelphia does not need Goedert to show up in the same Kansas City needs Kelce to show up this weekend. What the Eagles do need is for Goedert to find enough holes in the Chiefs' zone coverage to discourage them from playing it as often as they probably want to (so they keep their eyes on Hurts and the running game). Goedert could push for 10 catches if KC's front seven can hold up decently against the run and the expected zone coverage (not to mention Hurts' bum shoulder) keeps Philly from throwing deep. It may not be a likely scenario, but the Eagles will probably need to pass more than 25 times in Super Bowl LVII. Bear in mind that even though Philadelphia has attempted only 49 passes through two postseason games, Goedert has still drawn 11 targets (22.4 percent target share) and managed 10 receptions. Thus, Goedert could be very busy if Hurts needs to throw 35 times.

Chiefs - The one concern Kelce supporters should have entering this game is how well Philadelphia has defended his position. Including the postseason, they have yet to give up 70 yards to an individual tight end and have allowed three total TDs. On the plus side, George Kittle (NFC championship, albeit with Brock Purdy for most of the game), Pat Freiermuth (Week 8) and T.J. Hockenson (Week 1) are probably the best tight ends the Eagles have defended this year. None of them has anyone like Mahomes as his quarterback and none of them is as important to his offense as Kelce is to his offense.

Kansas City quarterbacks have attempted 80 throws this postseason. Kelce has been the target on 25 of them. He is going to get his, especially between the 20s. What the Eagles have to do is throw the kitchen sink at him in the red zone, which includes bumping him as he begins his route and bracketing him as much as possible once he gets off the line of scrimmage. Kelce has done his fair share of damage this postseason by going against the flow of the defense on certain plays, so at least one Philly linebacker/safety (Chauncey Gardner-Johnson seems like the best candidate) needs to ignore the possibility of a run and focus all of his attention on making sure he is always "under" Kelce. Forcing Kelce to make plays over the head of Gardner-Johnson and down the field beats the alternative, which could involve 15-plus catches if the Eagles play too soft.

Key for defense/special teams units:
PA - Points allowed
TD - Defensive/return touchdowns
TO - Total turnovers
PA Bonus - Points allowed bonus for DraftKings
Defense / Special Teams
Team
Cap $
DK $
PA
Sacks
TO
TD
PA Bonus
DK
Eagles
5400.0
$3,600
$24
4
1
0
0
6
Chiefs
5100.0
$3,400
$31
3
0
0
-1
2
*** Once again, Please click on this link and listen to Jim Coventry of Rotowire and me for a thorough preview of Super Bowl LVII.
Summary
Philadelphia does not need to change its recent recipe for success much to win this Super Bowl, so long as its offensive line continues to play at a high level. The Eagles may not set Super Bowl records in terms of efficiency (their 4.6 yards per carry as a team during the regular season ranked only 12th), but HC Nick Sirianni will not hesitate to keep pounding away at the Kansas City front seven in the unlikely event the Chiefs hold them in check in the first half. Sirianni also has no issue going for it on fourth-and-short, which is exactly how more coaches with elite offensive lines and running games should operate. There is a real chance the Eagles top the 172 rushing yards the Chiefs allowed to the Titans in Week 9 (an attack led by Malik Willis) and try to limit the number of possessions Kansas City has with an eye on limiting Mahomes' impact on the game.
The Chiefs are what they are at this point. HC Andy Reid is going to rely heavily on the passing game and they will go as far as Mahomes takes them. It is hard to see what advantages they have on the Eagles beyond Mahomes' ability to do the (near) impossible at times and Kelce's ability to get open almost at will. Reid will likely need to give RT Andrew Wylie help regularly as he tries to slow DEs Brandon Graham and Haason Reddick off the edge. Chris Jones will need to play one of the best games of his career because the Chiefs will appreciate any defender that can get the Eagles off-schedule offensively. LB Nick Bolton will need to diagnose Philly's RPOs quickly and Kansas City's secondary will need to minimize how much of an impact A.J. Brown and DeVonta Smith have on this game.
Super Bowl Prediction: Eagles 31, Chiefs 24

---
Doug Orth has written for FF Today since 2006 and been featured in USA TODAY's Fantasy Football Preview magazine since 2010. He is also a high-stakes player who often appears as a guest analyst on a number of national sports radio shows, such as Sirius XM's "Fantasy Drive." Doug is also a member of the Fantasy Sports Writers Association.