Injuries mounting. Six teams on bye this weekend (Arizona, Cincinnati, Indianapolis, Jacksonville, New York Giants and Philadelphia). That make's Week 9 one of the toughest for fantasy owners to assemble a viable lineup.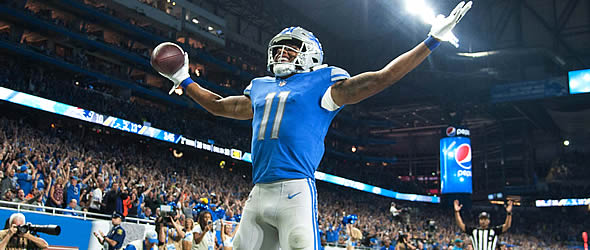 Truths

"With the truth, all given facts harmonize; but with what is false, the truth soon hits a wrong note." – Aristotle

1) All aboard the Marvin Jones train.
Here is how to go from a ghost to fantasy relevance in three days. Jones hadnít produced much since the arrival of Kenny Golladay last season, but Sunday he racked up 117 yards and two touchdowns. On Tuesday, the Detroit Lions sent Golden Tate to Philadelphia for a third-round pick opening up almost 10 targets a game. Jones and Golladay should be every week starters from here on out.
2) ďHeís (Kelvin Benjamin) just one Popeyeís biscuit away from being a tight endĒ, said football analyst Booger McFarland Monday night.
True. Benjamin might just as well try being a tight end, because his wide receiver numbers havenít been fantasy-worthy since leaving Carolina. He averaged 60.6 ypg with the Panthers and is averaging 34.2 ypg after being shuffled off to Buffalo midway through the 2017 season. Benjamin is listed at 6-foot-5, 245 lbs., but his hair might weigh that much. He needs to get out of northern New York as quickly as possible if he wants to be viable again.
3) Ryan Fitzpatrick in back in the saddle again.
True and heís going to be a fantasy stud again too. Heís averaging 31 FPts/G as a starter. That number would be even higher if he wasnít pulled at half-time of the game with the Bears. And the best news is that he was probably dropped in your league. Heís only owned in 10% of all Yahoo leagues. With all the receiving talent on the Bucs, itís a great team to be the quarterback. Your won/loss record might not be good because of the defense, but fantasy owners will love you.
4) What knee surgery?
Carson Wentz was averaging 25.1 FPts/G last season and was a candidate for the NFL MVP before the ACL injury against the Los Angeles Rams cost him the final three games of the regular season and the playoff run. After six games this season heís averaging Ö 25.1 FPts/G. The difference for his team is heís throwing for more yards (298 ypg vs. 253) and fewer touchdowns (2.16 TDs per game vs. 2.53). Thatís the difference between going 3-3 and posting an 11-2 record. The addition of Golden Tate can only help his fantasy production, but the lack of a running game will keep the Eagles from repeating a Super Bowl run.
5) Davante Adams could easily end up with better totals than Antonio Brown, Tyreek Hill or Adam Thielen.
Heís gotten very little press this season, at least compared to the other three guys mentioned, but Adams has produced numbers that place him right in the running for top receiver. Adams is averaging 15.0 FPts/G, ahead of Brown (14.7) and Hill (14.6) and trailing only Thielen (16.3). And while Thielen has to share the workload with Stefon Diggs, Brown with JuJu Smith-Schuster and Hill with Travis Kelce and Sammy Watkins, Adams has no such star wideout on the other side of the line.
Lies

ďA lie told often enough becomes the truth.Ē Ė Vladimir Lenin

1) The Steelersí James Conner can continue to produce top-five numbers (20.9 FPts/G) though the playoffs.
Sorry, no. See Alvin Kamara. Kamara averaged 24.3 FPts/G before Mark Ingramís return and 12.3 FPts/G after. Holdout LeíVeon Bell must return before Week 10 or he doesnít get credit for the year and wonít be eligible to be a free agent this offseason. How it plays out after this week is anyoneís guess, but if you own Conner you should already have a plan for the playoffs. Trading him now should also be considered as once Bell returns, Connerís fantasy value takes a gigantic hit.
2) After racking up 27.9 and 26.9 fantasy points the last two games, Marlon Mack should be considered elite.
Nice numbers, but they were against Buffalo and Oakland in a couple of blowout Colts wins. I like Mack, but the road gets a lot tougher after the bye. He faces three teams ranked top-10 in RB fantasy points allowed in the next four games. If someone wants to pay you for him like heís elite, take the deal. Like I always say, buy low, sell high.
3) The most important transaction at the deadline was either Tate or Demaryius Thomas.
Iím going to have to go elsewhere and say Ha Ha Clinton-Dix going to the Washington Redskins was the most significant. The Washington defense was already top-10 against the pass and top-five in points per game allowed (19.1) and the addition in Clinton-Dix can only help them. They face a lot of good fantasy quarterbacks going forward (Matt Ryan, Ryan Fitzpatrick, Deshaun Watson, and Carson Wentz x 2) and this will make it a lot tougher on the opposition.
4) If Jacksonville fans are calling for Blake Bortlesí head on a platter, why arenít Raiders fans doing the same thing?
They should be. Blake Bortles has thrown for 2,022 yards with 10 touchdowns and eight interceptions. Derek Carr has thrown for 2,027 yards, 10 touchdowns and eight interceptions. One is averaging 21.7 FPts/G the other 21.6 FPts/G. The Raiders are 1-6, the Jaguars, with a much better defense are 3-5.
5) Demaryius Thomas will be a better fantasy option in Houston because he has a better quarterback throwing to him in Deshaun Watson.
While itís true that Watson is much better than Case Keenum, Thomas didnít get any faster by traveling east from Denver to Houston. He didnít suddenly figure out how to separate from defenders. And he wonít be the deep speed threat that Will Fuller was, the man he will be replacing. In Denver, Thomas and Emmanuel Sanders saw similar target totals (56 and 65 respectively), but that wonít be the case in Houston where DeAndre Hopkins is the clear No. 1.
---
Steve Schwarz served as the fantasy sports editor of The Sports Network and is the 2014 FSWA Football Writer of the Year.