And so it begins … the five-month trek to Hard Rock Stadium in Miami for Super Bowl LIV kicks off on Thursday night in Chicago where the Bears host the Green Bay Packers. So let's get started.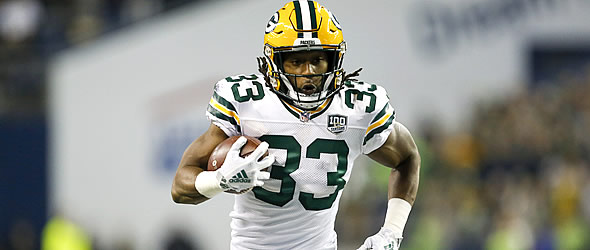 Truths
"Truth is the property of no individual but is the treasure of all men." - Ralph Waldo Emerson
1) Quarterback injuries are overblown.
Over the past five seasons, there were 20.2 starting quarterbacks who played at least 15-of-16 games (63-percent). Interestingly, top-10 quarterbacks were even more reliable. Thirty-eight of 50 top-10 quarterbacks (based on points-per-game) qualified for the list (76-percent). That's a better rate than top running backs where only 27-of-50 from the top-10 played 15-or-more (54-percent) and wide receivers (36-of-50 or 72-percent). Don't draft your backup quarterback too early as that pick is better used elsewhere.
2) Last season was the year of wide receiver proliferation.
In 2018, 22 wide receivers produced totals within five fantasy points of the league leader – Tyreek Hill (15.1 FPts/G). Meanwhile, only seven running backs and four quarterbacks produced within five points of their respective leaders – Todd Gurley (22.1 FPts/G) and Patrick Mahomes (30.9 FPts/G). You can wait on receivers, but not elite backs and passers. That doesn't mean taking a quarterback in the first round, just make sure you have an elite one on your roster.
3) I believe three "Tier 3" running backs will crack the top-10 this season.
The Packers' Aaron Jones should finally get a chance to be the full-time back in Green Bay and with the threat of Aaron Rodgers always foremost on a defensive coordinator's mind, it that gives Jones an opportunity to be a star. He's averaged 5.5 ypc for two seasons and if he gets 250 attempts that becomes 1,375 yards. Chris Carson became a star in the second half of last season (247-1,151-9) and that was while rushing just 15 times in the first two games. Leonard Fournette is healthy and quicker than last season and will be playing behind a competent quarterback in Nick Foles. He should return to 2017 form (14.9 FPts/G).
4) Jacoby Brissett will improve on his 2017 performance.
Andrew Luck's replacement went 276-of-469 for 3,098 yards, 13 TDs and seven INTs in 2017. His offensive line is better. His defense is a lot better so he won't be forced to play from far behind so often. He's two years older, wiser, and has had all preseason to prepare. FFToday projections have him at 3,785 yards, 23 TDs and 13 INTs and along with his running ability is worth about 20 FPts/G. He's not an everyday fantasy starter, but could be used in combination with another quarterback.

Lies

"Half the lies they tell about me aren't true." - Yogi Berra

1) Future Hall of Fame Drew Brees is no longer a top quarterback.
While it is true he's no longer the automatic 5,000-yard guy he was from 2011-16, he should improve on last season's numbers (3,992-32-5) and return to the top-five. Last year, an odd combination of blowouts and tough road games led to his lowest yardage total since 2005. The 2019 schedule looks favorable for Brees to post more "Brees-like" numbers. Just plan to avoid the Sunday night game in Chicago (Josh Allen plays Miami that week and Kyler Murray faces the Giants are viable options).
2) Mitchell Trubisky is start-worthy.
Don't be fooled by his 22.6 FPts/G average. It was built on monster three games. He scored 47 against Tampa Bay (six TD passes), 38.8 against the Patriots and 37.6 versus Detroit. In the other 11 games he averaged just 17.65 fantasy points. Do you really want a starting quarterback who "wins" you three games, but is no help in all the others? As an alternative example, Philip Rivers has just three games below 17 points and 13 games above 19 points while averaging 21.5 FPts/G.
3) Chris Godwin will be a better value than Dede Westbrook this season.
Godwin is getting a lot of play and an ADP of 39.8 (16th wideout off the board), but I think Westbrook (64.1) will be the better fantasy option in 2019. Godwin is still the second option in Tampa Bay, behind Mike Evans while Westbrook is the No. 1 guy in Jacksonville and finally has an accurate quarterback throwing to him. So Westbrook's modest 66-717-5 should see at least a 25-percent increase. Godwin (59-842-7) will also improve, but not by as much as "experts" are claiming. Godwin will be sharing targets with Evans, O.J. Howard and Cameron Brate. The tight end duo has combined for double-digit touchdown in both 2017 and 2018 and could produce as many as 15 touchdowns in 2019. Add in Evans' 8.0 TDs per season over the last five years and that doesn't leave many for Godwin. He might end up with 1,000 yards but fewer touchdowns.
4) Odell Beckham Jr. will produce enough to make his sixth-best wide receiver ADP "fair market value."
Sorry, no. Sure, Beckham (ADP 14.2) is a great talent, but he's not good at "sharing." He was the undisputed star in New York, but after the trade to Cleveland he's now got to share the ball with friend and talented wideout Jarvis Landry, star running back Nick Chubb, tight end David Njoku and after an eight-game suspension, 2017 Pro Bowler Kareem Hunt. He's also got to share the spotlight with quarterback Baker Mayfield. That might not work with Beckham's personal narrative of "look at me, I need to be the center of attention." I prefer Tyreek Hill (14.3), Evans (20.0) and even Antonio Brown (21.8) now that he's back to football over Beckham.