There have been a lot of surprising performance over the first three weeks, both good surprises (think Lamar Jackson, Mark Ingram and D.J. Chark) and bad ones (Baker Mayfield, Joe Mixon and Davante Adams). Top fantasy owners learn how to survive the bad ones and take advantage of the good ones to win championships.

Itís Week 4 and can you believe itís already the start of bye weeks? San Francisco and the New York Jets get the early rest and you should still be able to assemble a starting lineup given these arenít elite fantasy offenses.

Weather should not be a factor.

Truths

"Truth never damages a cause that is just." - Mahatma Gandhi
1) Hakim Laws has better hands than the Eagles' Nelson Agholor.
You are excused if you donít know the name Hakim Laws. He doesnít play professional football, but after saving young children from a burning building in Philadelphia, by catching them as their father dropped them to him, he commented, ďMy man just started throwing babies out the window. And we were catching them - unlike Agholor and all his mishaps.Ē
Gotta love knowledgeable Eagles fans. Agholor leads the Eagles wideouts in targets (28), receiving yards (168) and touchdowns (3), but dropped a possible game-winning pass against Atlanta and fumbled in the loss to Detroit on Sunday. Alshon Jeffery should be back from an injured calf this Thursday night and DeSean Jackson in a couple of weeks, so Agholorís fantasy value should drop quickly. If you can get value in a trade for Agholor, do it now.
2) Which of these names doesnít seem to belong among top fantasy QBs: Patrick Mahomes, Dak Prescott, Lamar Jackson, Russell Wilson or Matt Ryan?
The answer is Ö Russell Wilson. We were all expecting Wilson and the Seahawks offense to be wildly run-oriented, but through three games Wilson and the Seattle passing game has been dominant. After averaging just 26.7 passing attempts per game in 2018, Wilson is averaging 35 passes this season and completing them at a personal-record pace (71.4-percent). Heís also using his legs like he used to and together is averaging 31.1 FPts/G which is good enough for fourth-best. Despite the loss of his favorite target (Doug Baldwin to retirement), Wilson has found plenty of success with Ty Lockett, rookie D.K. Metcalf and tight end Will Dissly. His success should continue.
3) Neither Elliott, Cook nor Ingram will lead fantasy running backs in scoring at the end of the season.
Elliott or Cook may lead the league in rushing, but this trio of running backs isnít a big part of their teamís passing games. Elliott has five catches for 33 yards, Ingram six for 62 yards and nine for 79 yards. They are giving away too many points to backs like Christian McCaffrey (15-132), Alvin Kamara (17-179-1) and even Austin Ekeler (19-208-2).
4) If you thought that James Washington would explode just because he had played with new Steelers quarterback Mason Rudolph at Oklahoma State, you were wrong.
Unfortunately true. Washington saw just four targets, catching two for 14 yards. Diontae Johnson looked like he was the No.2 target behind JuJu Smith-Schuster. There havenít been many great college QB-WR/TE combos to continue their production in the NFL. Andrew Luck and Coby Fleener for the Colts was decent and for you older guys, Jim Plunkett and Randy Vataha of the Patriots. Interestingly, both duos went to Stanford. Someday, maybe Dwayne Haskins and Terry McLaurin can develop into a top duo, but it doesnít seem like it should be a factor for fantasy owners to consider when installing lineups.
5) While currently among the 12 tight end averaging double-digit fantasy points, Dissly, Witten and McDonald should not be considered everyday starters.
True. The trio of tight ends are not seeing enough target share and are completely touchdown dependent. Dissly has seen just 14 targets, McDonald 13 and Witten 12. Top-five tight ends are averaging 8.9 targets per game, double what this trio is seeing. Picking your spots against vulnerable teams like Arizona (league-worst 21.6 FPts/G allowed to TEs), Tampa, the Chargers, Miami and the Colts is a better way to go.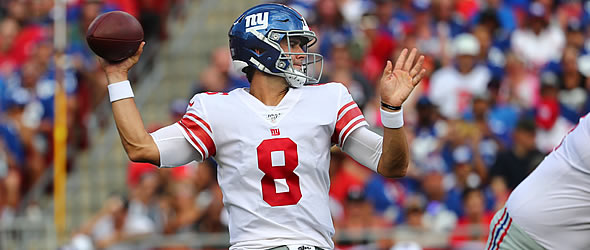 Lies
"Ask me no questions, and I'll tell you no lies." ? Oliver Goldsmith
1) Cam Newton is dealing with Lis franc injury and the timetable for his return is "unknown."
Newtonís timetable isnít unknown, itís directly related to Kyle Allenís performance. If Allen throws up a couple of clunkers in a row against Houston and Jacksonville, Newtonís foot will suddenly feel a lot better. If Allen continues to play well, Newton could be shut down for the rest of the season.
2) New Orleans and Miami are the two easiest defenses to play your quarterback against.
False. While New Orleans (34.9 FPts/G) and Miami (32.9) are yielding more fantasy points to opposing quarterbacks to date, after considering the quality of the quarterbacks producing those points the Arizona (32.0) defense is worse than their numbers indicate. New Orleans has faced; Deshaun Watson, Jared Goff and Russell Wilson. Miami has faces Jackson, Tom Brady and Prescott. Meanwhile, the Cardinals have made Matthew Stafford, Jackson and Kyle Allen look like superstars. You should start every quarterback that plays against Arizona until further notice (or at least through Week 7).
3) I didnít think Cooper Kupp would be ready to go at the start of the 2019 season after an ACL injury ended his season in Week 10 of 2018.
Heís currently ranked sixth among all receivers (20.8 FPts/G) after taking apart the Browns defense Monday night (11-102-2). In late August Jay Glazer reported that ďall his test scores, coming out of his breaks, agility, quickness, every test timed better than it was before he tore his ACL." Itís hard to believe some of the preseason reports, but this one was apparently correct. The Rams are a much better passing team with him out there, averaging 31.3 ppg and 296.5 net passing yards in 11 games with him and 29.0 ppg and 239.5 yards in 11 games without him since the start of 2018.
4) After his magnificent debut performance Daniel Jones (39.6 FPts) is a must start.
In Week 4 yes, but slow down a little bit. After all, he did it against lowly Tampa Bay (23-of-36 for 336 yards, 2 TDs passing and 2 TDs rushing). Jones could be good against Washington this weekend, with the Redskins on a short work week and vulnerable (28.1 FPts/G allowed), but the true test of whether he is ready for ďprime timeĒ will come in weeks 6 and 7 when he lines up against Minnesota and New England. Both the Vikings and Patriots will be ready for a Saquon-less Giants offense and you should look elsewhere for a starting quarterback.
5) The Tampa Bay Buccaneers will find a place-kicker Ö someday.
At this point in their futility, maybe not. The Bucs lost another game Sunday afternoon because their current kicker, Matt Gay, couldnít make a ďroutineĒ 34-yarder to beat the New York Giants. Their recent history with kickers in not pretty, even after using a second-round draft choice in 2016 on Roberto Aguayo out of Florida State. Aguayo had made 88.5-percent of his college kicks, but managed just 71-percent in the pros and didnít earn a second season.
Tampa Kickers
Year
Player
FG Att
FG Made
TB Avg
NFL Avg
2019
Matt Gay
9
7
77.8
80.7
2018
Chandler Catanzaro
15
11
73.3
84.7
2018
Cairo Santos
12
9
75.0
2017
Patrick Murray
23
19
82.6
84.3
2017
Nick Folk
11
6
54.5
2016
Roberto Aguayo
31
22
71.0
84.2
2015
Connor Barth
28
23
82.1
84.5
2015
Kyle Brindza
12
6
50.0
141
103
73.0
84.3