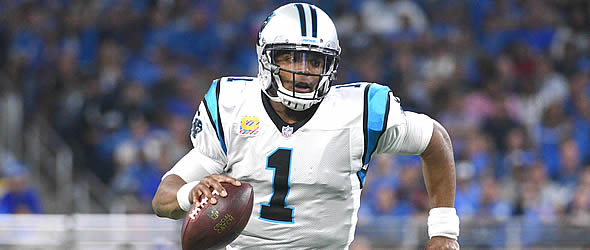 Let's start with the good news … sorry, there is none. OK, maybe the good news is that most veteran NFL quarterbacks have made enough money over the years and hopefully saved a lot to survive this upcoming dry spell in opportunities.

The bad news is overwhelming.

There are only 32 NFL teams and of those 32 starting quarterback positions at least 22 have "franchise level" quarterbacks already firmly entrenched and ready to go for Week 1 of 2020, whenever that might be.

That leaves 10 teams; Chicago, Cincinnati, Denver, Jacksonville, Las Vegas, Los Angeles Chargers, Miami, New England, Tennessee and Washington.

The Bears still want to believe in Mitchell Trubisky and at great expense to the salary cap brought in Nick Foles so there is no place for another expensive veteran.

The Broncos believe they have found their man in Drew Lock (2nd round pick out of Missouri in 2019), but in any case, Denver is currently strapped by the cap and likely can't fit a Newton-type contract in their 2020 budget.

The Raiders just picked up their veteran backup in Marcus Mariota to sit behind Derek Carr and are more likely to bring in a project than a 2020 starter.

And in Tennessee, the Titans just committed a king's ransom to Ryan Tannehill (four years, $118 million) and have barely enough to sign Derrick Henry to his long-term deal much less add another expensive quarterback to the fold.

Meanwhile, two teams are pretty much guaranteed to draft their "next" franchise quarterback in the first round of the 2020 NFL "Virtual" Draft scheduled for Thursday, April 23. The two who figure to start quickly; Joe Burrows of LSU and Tua Taglovailoa from Alabama, assuming they are healthy (I'm looking at you Tua). Based on most mock drafts they will likely play in Cincinnati and Miami.

Many of those same mock drafts have Justin Herbert of Oregon going in the first round to the Chargers where Tyrod Taylor would open the season as the starter and continue so long as he can carry the playoff-ready Chargers to the post-season. Given this pairing there wouldn't be room on the team for a Newton or Jameis Winston-type option.

Based on those assumptions, that leaves just three possible starting positions for the many free agent quarterbacks looking to catch on with a team. So then the question becomes whether the current group of free agent quarterbacks can land a starting gig in the final three "open" quarterback slots; Jacksonville New England or Washington.

Let's take a look at the top free agent quarterbacks.

Cam Newton – Newton has the best resume of any of this crop of free agents. He was the 2015 NFL MVP, he's been to three Pro Bowls, has a 68-55-1 career record, has thrown for 29,041 yards and 182 touchdown passes and run for 58 more. But his physical style has taken a toll on his body and he hasn't been healthy for at least two years. He hasn't been able to throw deep due to shoulder problems and most recently had foot surgery (Lisfranc).

The first question for any GM and head coach is whether Newton is healthy? Unfortunately, in the year of the coronavirus, teams haven't been able to see him on the field working out, or even give him a physical.

The second issue is his salary demand. If he is insistent on making something similar to the $16.7 million he took in last season, the result would be that both New England with just $2 million in cap space and Jacksonville with $14 million would be eliminated as options. Of course, a man who has already "earned" $121 million over his career should financially be able to take a one-year "prove it" deal if his ego will let him.

The most telling bit of information comes from his former head coach and the man who drafted him No.1 in 2011, Ron Rivera. Rivera, who is now the head coach in Washington where they actually have the most money to spend of the three remaining teams ($24 million), has made no effort to sign Newton.

"We have a young football team with a young quarterback," said Rivera. "We have a chance to establish this. Where we are right now we have made a commitment to young guys." The Redskins traded for former Panthers quarterback Kyle Allen, sending a fifth-round pick back to the Panthers this offseason. With Allen and 2019 first-round pick, Dwayne Haskins, on the roster, it makes little sense to sign Newton.

With Bill Belichick and the Patriots lack of cash and having shown no interest to date, it would seem the only possible pre-season starting spot for Newton would be in Jacksonville.

Are the Jaguars really ready to go to war with "The Moustache" Gardner Minshew and former Steelers backup Joshua Dobbs? Perhaps. Having traded Jaylen Ramsey, A.J. Bouye and Calais Campbell and with Yannick Ngakoue demanding a trade the team is more likely to be in full rebuild mode. A veteran quarterback on the downside of his career only makes sense if he wants to be a mentor. Does that sound like Newton?

I don't think so. I think the most likely scenario for Newton is that he sits and waits for a mid-season injury to a competitive team.

Jameis Winston – In my opinion, Winston's best season was his first when he accounted for 28 touchdowns (22 passing, six rushing) against just 15 interceptions. Though his passing yards per game have increased in each of his five seasons to a league-leading 319.3 in 2019, he's also been a turnover machine with 117 over the last four seasons including a stunning 42 in 2019.
Winston
Year
Record
Pa Yards
Pa TDs
Ru TDs
INTs
Fumbles
Total TO
2015
6-10
4042
22
6
15
6
21
2016
9-7
4090
28
1
18
10
28
2017
3-10
3504
19
1
11
15
26
2018
3-6
2992
19
1
14
7
21
2019
7-9
5109
33
1
30
12
42
I can't think of a single head coach who would willingly accept turnover numbers like this (2.52 per game over the last two seasons). Belichick would never stand for it. And Miami head coach Brian Flores is a disciple of his having spent 15 seasons with the Patriots.
On the other hand, Winston would still be the best backup in the league wherever he lands.
In my opinion, that backup landing spot will be in Pittsburgh. The Steelers proved they can be a force even with Mason Rudolph and Devlin "Duck" Hodges, both below-average quarterbacks, under center. Neither is as good as Winston, who would be a much better option behind Ben Roethlisberger (elbow surgery).
Joe Flacco – Flacco is a career "game manager" who got hot for one playoff series in 2012 and won a Super Bowl ring. He was horrible in 2019 in Denver after 11 years in Baltimore. Flacco managed just 227.8 passing yards per game, threw six touchdown passes and turned the ball over 14 times in eight games (six losses). When the Broncos finally turned the reins over to Drew Lock, the 23-year-old went 4-1 with an 89.7 quarterback rating and Flacco's fate was sealed.
There is likely no place for Flacco to get a chance to start, unless a team like Miami wants a veteran to play the first few games until Taglovailoa gets his feet wet, or isn't physically ready to go and the Dolphins already have that in Ryan Fitzpatrick. Flacco wouldn't be an improvement.
However, Flacco would be a solid veteran presence as a backup in Philadelphia where Josh McCown couldn't get the job done in the playoffs for injured Carson Wentz. Born and raised in nearby Audubon, NJ and a Delaware grad, Flacco could come "home" and be that guy in the playoffs if called upon. He'll have to take a huge pay cut (he made $18.5 million in 2019), but he might be willing to bide his time on a possible playoff-bound team near his hometown.
Blake Bortles – Free agent Bortles followed up his failed five-year Jacksonville stint by throwing two passes for the Rams last season. His 24-49 record doesn't help his cause nor his career 80.6 quarterback rating.
Bortles might get a chance to return to Los Angeles where the Rams have only John Wolford (played for the Arizona Hotshots of the short-lived AAF) behind Jared Goff. There has been some talk that Pete Carroll might have interest in Bortles as a backup for Russell Wilson. Fortunately for fantasy owners, the backup spot in Seattle is the equivalent of the witness protection program for quarterbacks. Wilson has started all 128 regular season games of his eight-year career (sorry for the jinx Russell) and his various backups have thrown a total of 47 passes over that span … including none in the past three seasons.
In either case, Bortles is unlikely to have any fantasy value in 2020.
Andy Dalton - Technically, he's not a free agent, but he is likely to be one in the near future based on his $17.7 million contract for 2020 (zero guaranteed) and the Bengals love of Ohio native Joe Burrows. The Bengals have tried to trade Dalton this offseason, but have found no partners. The result is, he should be released shortly. As we have seen, there are almost no places for Dalton to start despite his career winning record (70-61-2), 204 TDs-to-118 INTs, and 87.5 quarterback rating in nine seasons with the Bengals.
It would not surprise me if Dalton agrees to stay put in the "Queen City" at a backup salary and be the mentor for Burrows where the only other current roster options are Ryan Finley (career 0-3, 62. 1 quarterback rating) and Jacob Dolegala (no career NFL passing attempts).