The world is a mess, so why shouldn't it be the same for fantasy football?

OK, things might be getting better for football, where we have almost made it through the bye weeks portion of the schedule with none this weekend and just two byes remaining next week (Tampa Bay and Carolina). And we haven't had a postponement or a delayed game in many weeks despite numerous positive tests. Just two questions remain. Have you clinched your playoff spot? Is your playoff lineup as good as it can get? If either answer is "no" then you haven't completed your assignment. Get to work.

Byes: none

Truths

"We hold these truths to be self-evident that all men are created equal; that they are endowed by their Creator with certain unalienable rights; that among these are life, liberty, and the pursuit of happiness." – Declaration of Independence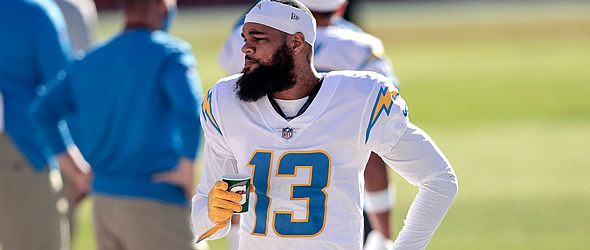 1) The silent wide receiver assassin - Keenan Allen.
True. While Davante Adams and Tyreek Hill are media darlings, Allen just keeps putting up huge numbers after huge numbers. Allen ranks third behind the other two guys for the 2020 season and is just 1.7 total points behind Hill for second overall (202.2-200.5). Incidentally, on Sunday Allen tied the all-time record (with Antonio Brown) for the fastest player to reach 600 career receptions (96 career games). With young Justin Hebert under center, Allenís numbers arenít likely to fade anytime soon.
2) Speaking of Hebert, he ranks fifth this season among quarterbacks (28.9 FPts/G) and should get better during the fantasy playoffs.
Fact. Hebert has a favorable schedule for the first rounds of the playoffs. The Chargers face Atlanta in Week 14 (ranked 32-of-32 yielding 30.4 FPts/G and the Raiders in Week 15 (ranked 25th) before a game against Denver in Week 16. In addition, heíll soon get another weapon back in running back Austin Ekeler, who is one of the best receiving backs in the league.
3) If you lost because Mike Evans was credited with an eight-yard reception on a second-forward pass you were screwed.
Fact. You canít throw two forward passes on one play, yet Tom Brady did just that and the official gamebook credits Evans with an eight-yard catch. It should have been called a fumble and an Evans fumble recovery. Of course, then Brady would have received a point for catching his own pass and he was not credited with a reception. Just a mess.
4) Duke Johnson hasnít done much in relief of David Johnson, but Week 12 is his time to shine.
Hopefully true. Johnson has disappointed fantasy owners who handcuffed him with David Johnson as heís managed just 11.9 fantasy points combined over two games. However, he faces the Detroit Lions this Thursday, who are the NFLís worst at defending opposing running backs, yielding 33.8 FPts/G.
5) Avoid the 49ers wideouts for a while.
Fact. San Francisco has a horrible schedule coming up facing the Rams, Bills and the Football Team over the next three weekends. All three rank in the top-10 for defending wide receivers with the Rams and Washington at the top and the Bills ninth. Even the return of Deebo Samuel (hamstring) and possible return of Brandon Aiyuk (Covid-19) wonít move the needle against this trio of defenses. In addition, Raheem Mostert (ankle) could return so expect an emphasis on the running game.

Lies

"Those that think it permissible to tell white lies soon grow color blind." – Austin O'Malley
1) With J.K. Dobbins and Mark Ingram testing positive, Gus Edwards is an obvious waiver claim and Thursday start.
Not so fast. While Edwards will certainly see added touches, running backs facing the Pittsburgh Steelers donít fare well. In fact, the Steelers have yielded just 17.4 FPts/G to opposing RBs and thatís No.2 in the league just 0.1 points behind league-leading New Orleans (173.8-173.9). And quarterback Lamar Jackson is always a threat to poach short-yardage rushing touchdowns. Edwards might not even produce double-digits. Also, with nine or 10 Ravens staff and players testing positive through Tuesday afternoon, there is a chance this game gets postponed if more positives show up.
2) Tom Brady doesnít miss Patriots running back James White.
False. White caught 72-of-95 balls last season for 645 yards and five touchdowns. The four Bucs backs have combined for 65-of-93 for 373 yards and one score this season. White misses TB12 too. Heís yet to find the end zone in 2020.
3) DK Metcalf over Terry McLaurin is an easy call right?
Hardly. Since they both came into the league in 2019, Metcalf has produced a 106-1762-16 for 379.3 fantasy points over 26 games. ďScary TerryĒ has posted a 120-1790-10 and 362 fantasy points in two less games. One has caught every ball from Russell Wilson, the other from Case Keenum, Dwayne Haskins, Kyle Allen and Alex Smith. Incidentally, both were drafted behind; NíKeal Harry, Mecole Hardman, JJ Arcega-Whiteside, Parris Campbell and Andy Isabella. Scouting department huh?
4) Matt Ryan can still be started even if Julio Jones is out for a game because he has plenty of other receivers.
Sorry no. Sure, Calvin Ridley, Russell Gage and Hayden Hurst are nice pass catchers, but there is only one statistic you need to know. Ryan with Julio in the lineup averages 23.3 FPts/G and without Julio averages 9.0. Class dismissed. Look elsewhere if Jonesí hamstring keeps him out of the lineup.
5) Tom Brady is a viable fantasy quarterback.
Heís more of a gamble than a sure thing these days. In fact, in his last 20 games heís failed to reach the 20-point mark in 13 games (65%). Heís averaging 20.74 fantasy points over that 20-game span which is only fantasy-worthy in two-quarterback leagues. Meanwhile, Carson Wentz is averaging 21.47 over the past 20 games and 22.4 FPts/G in 2020 and fantasy owners have already benched him (22% start rate). Bradyís start rate is still 69%. Apparently, there is still loyalty to the GOAT even if heís playing like a lamb.