Oh, the humanity. Covid-19 is ruining this NFL season just as it was staring to get good. On Monday of Week 17, a new high of 96 players went on the list, after more than 200 went on Covid hiatus last week. I hope your guys stay healthy for one last weekend and you get the Championship ring you worked so hard for all season.



Truths

"Truth is generally the best vindication against slander." Abraham Lincoln
1) If you are in a dynasty league and you can trade a young career WR13-24 for a better chance for the title this year … do it!
I would. If this year has taught us anything, it's that the future is far too unpredictable. Nothing is guaranteed. If you have a chance to win it all right now, this week, take the shot. Grab for the brass ring. Are you a big underdog? Take the winning leap. Don't go down without a fight. Make the long-shot waiver claim. As we see all too often, the best team doesn't always win.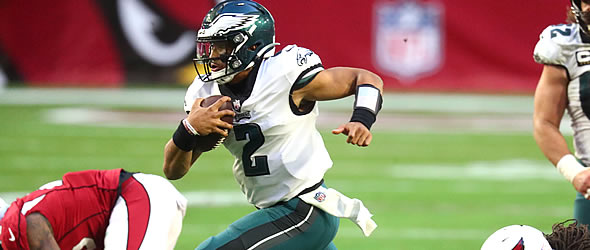 2) My preseason prediction for Jalen Hurts was wrong.
True. I thought that even if the OL stayed healthy (they have) and the young receivers were for real (DeVonta Smith will be a WR1 soon and tight end Dallas Goedert is a star in the making) that Hurtsí best level would be around top-12. Heís surpassed that (currently ranked seventh at 24.6 FPts/G) and this week in Washington heíll be elite because the team needs it. Miles Sanders (broken hand) is out and Jordan Howard is hurting. Hurts will have to run and pass for the Eagles to win this one. He produced 34.6 fantasy points against the WFT two weeks ago.
3) Considering their respective quarterbacks, Jalen Waddle has had a better rookie season than JaíMarr Chase.
Fact. Chase (68-1,163-10) gets passes from Joe Burrow, who ranks sixth among all fantasy quarterbacks (23.4 FPts/G) and have averaged 16.4 FPts/G. Meanwhile, Waddle (96-941-5) averages 16.2 FPts/G while catching passes from Tua Tagovailoa, who ranks 22nd at 18.5 FPts/G. Waddle is just six receptions from breaking the all-time rookie record held by Anquan Bolden (101 in 2003 with Arizona).
4) Falcons rookie Kyle Pitts ranks third in tight end receiving yards (941), but his lack of touchdown catches (1) keeps him from being a top-five fantasy tight end.
True. He currently ranks 10th averaging 11. 0 FPts/G. But the good news is that Year 2 usually sees huge improvement from elite tight ends throughout history. In the case of Pitts, a lot could depend on who is under center for Atlanta next season. Matt Ryan has always utilized his tight ends, a rookie quarterback might not.
Tight End TDs
TE
Year 1
Year 2
Mark Andrews
3
10
Travis Kelce
5
5
George Kittle
2
5
Rob Gronkowski
10
17
Zach Ertz
4
3
Tony Gonzalez
2
2
Antonio Gates
2
13
Jason Witten
1
6
Ozzie Newsome
2
9
Jimmy Graham
5
11
Greg Olsen
2
5
Dallas Clark
1
5
Kellen Winslow
2
9
Total TD Catches
41
100
5) The starting quarterback spot for the 2022 Pittsburgh Steelers should be a highly desired position.
Assuming that Ben Roethlisberger retires (which he should), the team has excellent skill position players for his successor. Wide receivers Diontae Johnson, Chase Claypool, perhaps JuJu Smith-Schuster (free agent but returning from a shoulder injury), rookie tight end Pat Freiermuth and rookie running back Najee Harris can help make a quarterback elite if the team just improves the offensive line.

Lies

"Everybody lies, but it doesn't matter because nobody listens." – Nick Diamos
1) Placing Carson Wentz on the Covid-19 list will obviously reduce Jonathan Taylor's effectiveness.
If itís due to a positive test and not close contact, the unvaccinated quarterback may watch from home, while rookie Sam Ehlinger (zero career passing attempts) should be under center as the Colts battle for a playoff spot. But for the season, Jonathan Taylor has rushed 87 times against an eight-or-more man front and produced 469 yards (5.39 ypc) and 11 touchdowns. Thatís not far off his overall 5.47 ypc this season. Beware, however, if linemen Quenton Nelson and Ryan Kelly donít return to the lineup or more guys end up on the Covid list. The matchup for Week 17 is ideal - Raiders rank 29th against opposing fantasy RBs.
2) Isnít it amazing how quickly New Orleans Saintsí Sean Payton became bad offensively after losing his Hall-of-Fame quarterback?
False. Yes, the Saints offense was simply horrible on Monday night. But that was with a third-string quarterback and massive Covid-19 list losses. He was 5-2 with Jameis Winston. The true test for Payton will be next season. Almost every coach (the 49ers transition from Joe Montana-to-Steve Young a rare exception), suffers after they lose their elite quarterback. Even the great Bill Belichick.
Team Scoring Rank
Manning - Indy
Tom Brady
Drew Brees
Year 2 after
18
11
x
Year 1 after
28
27
17
With HOF
4
7
5
With HOF
7
4
3
With HOF
13
2
3
With HOF
3
3
4
3) The 2022 quarterback free agent class can help turn a team around.
Sorry, no. I see nothing on the list that could make a team better. Here is a partial list of those available in a year when the college class appears to be very weak: Roethlisberger, Ryan Fitzpatrick, Andy Dalton, Nick Foles, Cam Newton, Tyrod Taylor, Jameis Winston, Jacoby Brissett, Teddy Bridgewater and Mitchell Trubisky. Now is NOT the time to be looking for a franchise quarterback. Well, unless you can trade for disgruntled Aaron Rodgers.
4) Patrick Mahomes is always a good start at quarterback.
Actually, in 2021 you want to start Mahomes when his team is on the road, as he is in Week 17 at Cincinnati. In six road games heís averaging 340 passing yards and three touchdowns, but in the ďfriendlyĒ confines of Arrowhead Stadium heís averaging just 252.2 passing yards and 1.67 touchdowns. For fantasy owners that translates to 31.1 FPts/G on the road and 22.6 FPts/G at home.
5) Baltimore quarterback Lamar Jackson is irreplaceable.
Apparently not, at least in the short-term for fantasy owners, as Head Coach John Harbaugh and OC Greg Roman have produced solid fantasy results from his backups; Tyler Huntley (30.0 FPts/G in two starts) and journeyman Josh Johnson (24.2 fantasy points last weekend). Jackson has averaged 24.7 FPts/G this season. Unfortunately, the team went 0-3 in those games, so while fantasy owners may have survived Jacksonís ankle sprain, the Ravens win percentage, and chance to make the 2021 playoffs, is a lot high with Jackson (career record of 37-12-0) at the controls.