Hopefully you survived last week's "six-team bye" weekend. There are still 16 more teams who have yet to take their byes this season. On the injury front, aside from waiting to hear about Josh Allen's elbow and Aaron Jones' ankle, it was a relatively good weekend.
Byes: Baltimore, Cincinnati, New England and New York Jets

Truths
"Get your facts first, and then you can distort them as much as you please." – Mark Twain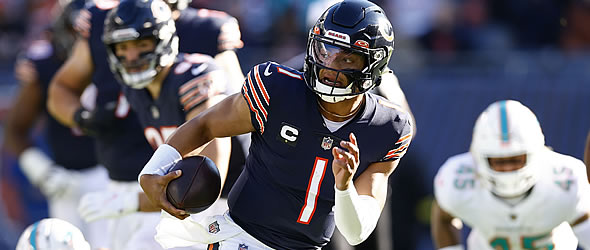 1) Since Week 5, Justin Fields is a top-five fantasy quarterback.
This is a fact. At 27.6 FPts/G, he's ranked No. 4 ahead of Tua Tagovailoa and Jalen Hurts, but behind Patrick Mahomes, Josh Allen and Joe Burrow. OK, sure, his 42 points in Week 9 distorts his production, but look at the direction his numbers have gone since Week 3 (10, 13.9, 19.1, 22.3, 27.2, 27.6 and 42). If that's not going to convince you he's become fantasy-worthy, nothing will. Fields is rostered in 70-percent of all leagues meaning he's still available for pickup in many leagues.
2) Hello, Jeff Saturday - Sam Ehlinger is not the answer.
I understand former head coach Frank Reich taking a shot with Ehlinger two weeks ago, but I think his play has shown us all we need to know. Ehlinger has passed for 304 yards total in two games, run for 54 and gone 0-2 while producing just 19 points. His fantasy production of 10.3 FPts/G is half that of Matt Ryan. Unless, the ultimate goal is a better draft choice, either Ryan or Nick Foles gives the team a better chance to win a football game.
3) Also since Week 5, the following quarterbacks rank 15th or lower; Lamar Jackson, Aaron Rodgers, Tom Brady, Justin Herbert, Matthew Stafford, David Carr and Russell Wilson.
It's a brand new world out there folks. Playing the "same old guys" won't cut it anymore. They aren't "plug and play" guys anymore. Matchups matter. Geno Smith is ranked 11th over that span, Taylor Heinicke 12th and Trevor Lawrence 14th. The young guys are taking over the top-10. Also note; Deshaun Watson is rostered in just 29-percent of teams.
4) Austin Ekeler's "touchdown parade" continued.
True. Since Week 5, he's produced 30.8 FPts/G by reaching the end zone 10 times in five games. It's helped that he is his quarterback Justin Herbert's most trusted hands as well as the best runner on the roster. He's at the peak of his value, in case you are actually thinking of trading him, as eventually both Keenan Allen and Mike Williams will return to the lineup and Ekeler's massive usage will drop. In Week 1-3 he saw 22 targets and in the last five games he's seen 48 targets.
5) Contrary to the Justin Fields argument, don't let Joe Mixon's one big game distort his fantasy value.
While his 55.1 fantasy points in Week 9 likely assured those who started him a victory, his trend has been flat all season. He's averaged just 14.6 FPts/G through the first eight games which didn't even get him in the top-15 running backs. Now he's No. 6 and on a bye. This might be the perfect time for "selling high."
Lies

"That which has always been accepted by everyone, everywhere, is almost certain to be false." – Paul Valery
1) Looking at season-long totals will tell you all you need to know.
False. When RBBCs have turned into a workhorse situation due to injury, trade, or increased/decreased productivity and opportunities, the numbers can change drastically. It's why using the FFToday statistical options of "last three" and "last five" games are extremely useful tools.
2) The Josh Allen injury is nothing to worry about, after all, didn't the quarterback throw a late-game Hail Mary about 60 yards?
If you start Allen, worry. This latest information: "Allen is being evaluated for a right elbow injury involving his ulnar collateral ligament and related nerves" is very concerning. Baseball pitchers with ulnar injuries frequently end up with either multiple weeks on the IL for rest or surgery (also known as Tommy John surgery with a nine month - one year recovery timeframe). Better start making a backup plan just in case it's the latter. Obviously, those who start wide receivers Stefon Diggs (23.5 FPts/G) and Gabriel Davis (12.4) are also extremely interested in any updates.
3) Tyreek Hill will suffer greatly by not catching passes from Patrick Mahomes.
We now see that this was a false preseason theory. He's averaging 23 FPts/G, the highest of his career. The best season he had with Mahomes was a 21.9 FPts/G in 2020 and 20.5 in 2018. The difference… targets per game. In Kansas City, Mahomes used all his weapons while this season Tua has been primarily locked in on Hill and Jaylen Waddle (7.7 targets per game). In most cases, more opportunities equal more production which explains why many fantasy owners watch snap counts, rushing attempts and targets more than yardage gained.
Tyreek Hill Career Targets per game
Year
Gms
Tgts
Avg
2016
16
83
5.2
2017
15
105
7.0
2018
16
137
8.6
2019
12
89
7.4
2020
15
135
9.0
2021
17
159
9.4
2022
9
100
11.1
4) Jameson Williams (ACL) could help you over the second half of the season and into the playoffs.
I thought this statement would be true in preseason, but I've turned the other way on Williams. It's looking more and more like the Lions' No. 1 draft choice (No. 12 overall) either won't even get on the field until mid-December, or possibly not at all. Detroit is not in playoff contention, so the only value for Williams is just to get him a small number of late-season snaps so he knows what the speed of the NFL game is like and let him get ready for 2023. If you have been holding out hope that Williams could help you in non-dynasty leagues, it's time to admit the experiment failed and use the roster spot for something more helpful (maybe a flyer on Case Keenum in case Josh Allen's injury is real or Watson).
5) Deebo Samuel is still an elite fantasy option, as he was in 2021, when he produced 21.1 FPts/G and was ranked No. 3 at the wideout position.
Incorrect. A significant portion of Samuel's value in 2021 derived from his production as a running back (84.5-of-338 fantasy points or 24.9%). By the third game in 2022 his role in the running game had been reduced to almost nothing. Since Week 3 he's managed a total of just 33 rushing yards and with the arrival of star running back Christian McCaffrey from Carolina that's likely to continue to be the case. As just a receiver, Samuel is averaging 7.2 FPts/G this season vs. 15.8 FPts/G in 2021. The bottom line is he's lost his rushing role and he's been much less efficient in the passing game. But the good news is that his "name" might still get you something good in a trade.