Its two weeks into an 18-week, 17-game season (12%) and trends are starting to emerge. This week we will look at five trends we think will continue and five trends we think are a mirage.



Truths

"There are only two ways of telling the complete truth - anonymously and posthumously." – Thomas Sewell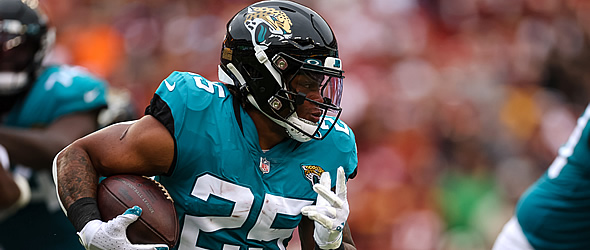 1) The Jaguars' James Robinson is the running back to roster in Jacksonville.
True. Despite the fact he's returning from what is usually a fantasy-worthy-ending Achilles injury and the prior close relationship between starting quarterback Trevor Lawrence and running back Travis Etienne. Robinson currently ranks sixth at the position producing 17.9 FPts/G vs. 8.4 for Etienne. Robinson has out-touched Etienne 37-18 and out-rushed him 130 yards to 67 yards.
2) "To my fantasy owners, sorry, touchdowns coming soon."
That's a direct Twitter quote, on Monday, from Bucs' running back Leonard Fournette and it makes me love him even more. He's combined for 211 yards from scrimmage (seventh among RBs, 14th overall), but has yet to reach the end zone, which is why he's the 20th-ranked back at 12.6 FPts/G. However, Fournette "knows" he's got to score to both help his team's struggling offense and keep fantasy owners happy.
3) Tyreek Hill hasn't missed a beat "trading in" elite quarterback Patrick Mahomes for "untested and doubted" Tua Tagovailoa.
Fact. Hill leads the NFL in receiving yards (284) and total yards from scrimmage (290) and is third to Stefon Diggs (35.5 FPts/G) and Cooper Kupp (32.8) in fantasy points per game (30). Maybe, it was Hill making Mahomes great by stretching defenses and not Mahomes making Hill elite due to his arm.
4) Tagovailoa's game against Baltimore reminded me of a great Dolphins' offense of the past.
I couldn't help but be reminded of the 1984 Miami offense led by Dan Marino (5,084 yards, 48 TDs), Mark Clayton (73-1,389-18) and Mark Duper (71-1,306-8) when I watched Tua, Hill and Jaylen Waddle. Currently, Tagovailoa is on a pace for 6,281 passing yards and 59 TDs, Hill for 2,414 receiving yards and 17 TDs and Waddle for 2,040 and 25 TDs. Obviously, the Ravens' secondary was missing multiple starters and these year-long numbers are inflated, but this passing offense is the real deal and fantasy owners should want to be part of it.
5) I was not sold on Amon-Ra St. Brown before the season, but I am now.
He was an elite wideout for the final six games of last season (24.9 FPts/G), but I thought that was primarily due to all the injuries in the 2021 Lions' wide receiver room. Even with D.J. Chark, Josh Reynolds, Kalif Raymond and Quintez Cephus all healthy, St. Brown has continued to produce (29.9 FPts/G). Eventually, first-round draft choice Jameson Williams (Alabama) will be activated, but I don't think he will take targets from St. Brown, it will be the other guys who give up their opportunities.

Lies

"If you believe everything you read, better not read." Japanese proverb
1) Andy Reid has finally found a way to make Clyde Edwards-Helaire a fantasy-worthy running back.
Sorry, I'm still not a believer. CEH has averaged just 11 touches per game through two weeks and I don't think any back can produce enough for an entire season given those limited touches. His 19.1 FPts/G will inevitably fall to flex-level production. Isiah Pacheco is seeing just as many rushing attempts and Jerick McKinnon is seeing almost as many targets. Eventually, free-agent signee Ronald Jones will see some work as well.
2) Greg Dortch is a viable long-term wide receiver option.
No. Dortch, who has averaged a solid 14.4 FPts/G, will eventually be replaced by Rondale Moore (hamstring) or Andy Isabella (back) and eventually DeAndre Hopkins (six-game suspension) in Week 7. However, as long as the trio of wideouts are sidelined, Dortch is a viable injury fill-in as he's hit double-digits in both games.
3) Kyle Pitts is the biggest disappointment of 2022 and should be traded.
It's true he may be the biggest disappointment through two games (4-38-0), but never "sell low." You won't get full value if you sell now. Besides, he can only improve as defenses begin to key on rookie wideout Drake London, who has been Marcus Mariota's top target (13-160-1). Mariota's favorite target in his years as the Tennessee starting quarterback was tight end Delanie Walker (14 career TD receptions, led team in receiving yards in two of his three non-injury seasons). Better days are ahead for Pitts.
4) I thought Cole Kmet could be a viable late-round sleeper tight end selection.
Oh my, was I wrong! He has just two targets and zero catches through two games. Backup TE Ryan Griffin has three targets and one catch, putting him ahead of Kmet. I, like many others, was fooled by his 60-612-0 from last season and his 12 red zone targets thinking he'd make better use of his goal line opportunities this season. None of that has happened and the Chicago offense is horrible. The team is 27th in scoring (14.5 PPG) and dead last (by a large margin) in passing yards (76.5 ypg vs. 227.7 ypg league average).
5) In Allen Lazard's return to the starting lineup he figured to take over as Aaron Rodgers' favorite target.
That didn't happen. Instead, Rodgers went for the "spread it around" theory and seven players saw at least three targets with the leader being veteran Sammy Watkins with four. Lazard did manage to catch a touchdown pass from five-yards out to prevent a completely horrible fantasy outing (9.3 fantasy points), but more was expected. We still have yet to figure out how the Packers' receiving hierarchy will be for this season and I can't recommend anyone at this point as an every week fantasy starter. It's a similar situation to that in Kansas City where JuJu Smith-Schuster, Marquez Valdes-Scantling and Mecole Hardman are all trying to be Mahomes' second-favorite target behind Travis Kelce, but none have stepped up at this point and none are averaging even 10 FPts/G so aren't fantasy-worthy starters.