The byes ease up this weekend with only two teams sitting, but the injuries continue to mount. Devon Achane and Justin Jefferson could miss significant time and Anthony Richardson will be sidelined for a number of weeks. Meanwhile, you better prepare for Week 7 when six teams go on bye. Now is not the time to slack off whether you are 5-0 or 0-5.
Byes: Green Bay and Pittsburgh

Truths
"There's no medals for trying. This isn't like eighth grade where everybody gets a trophy." – Bill Belichick
1) "To live in the past is to die in the present." – Also Bill Belichick
True. It's why I believe this will be Coach Belichick's last season in charge of the New England Patriots. He was a great coach in the past, helped greatly by having the "GOAT" at quarterback, but he's proven to be entirely mediocre at putting together an offense without Tom Brady. And in this NFL, its offenses which wins games and championships… not defense. The average winning score in the last 10 Super Bowls is 30.6 points (Belichick's Patriots, winning Super Bowl 53 by a score of 13-3, is an outlier not the norm these days).
2) Passing yards are not enough. You must throw touchdown passes or run for scores to be a fantasy-worthy quarterback.
Fact. C.J. Stroud (1,461 passing yards), Matthew Stafford (1,451) and Sam Howell (1,349) are top-six in passing yards, but are not top-12 in fantasy-points-per game. None of the three have thrown or rushed for more than seven touchdowns. Eleven of the top-12 fantasy passers (based of FPts/G) have double-digit touchdown production (The lone outlier is Lamar Jackson, who leads all quarterbacks in rushing yards).
3) The Colts' Anthony Richardson is NOT Cam Newton.
Richardson has already suffered two injuries in his first four games (concussion and AC joint) and will miss a few weeks with the shoulder injury. Newton played every single game in his first three seasons and missed just three games in his first seven seasons. I'm not sure I can hitch my wagon to Richardson in dynasty leagues based on these injury issues. His temporary replacement, Gardner Minshew, can be a viable fantasy starter. During his career, he's averaged 248.6 passing yards and 1.72 touchdowns per game as a starter for Jacksonville, Philadelphia and Indianapolis.
4) Devon Achane has supplanted Raheem Mostert as the guy.
Yes. Mostert still ranks No.4 in FPts/G (21.4), but most of his production was in the first three games. He's produced just 23.3 fantasy points over the last two games and much of that has been during "garbage time." Achane is the explosive, game-breaker, averaging an unbelievable 2.2 fantasy points per touch! Last season, Austin Ekeler led all running backs with 378.7 fantasy points and 22.3 FPts/G and averaged 1.2 fantasy points per touch. Mostert will still have top value, however, if Achane is placed on the IR and sits out four games.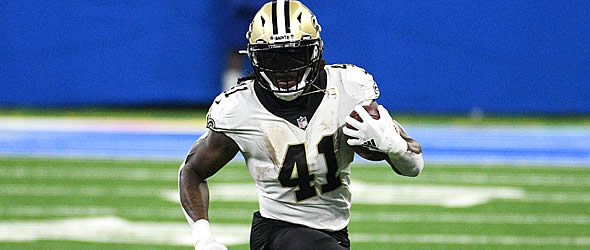 5) Alvin Kamara has jumped right into the top-10 after his three-game suspension, averaging 20.1 FPts/G, but he's still not getting into the end zone.
Kamara is doing it with volume (49 touches in two games), but I'd be concerned that his touchdown totals still aren't what they used to be. The former University of Tennessee running back produced 67 touchdowns in his first 73 NFL games (.92 per game), but just five in his last 17 games (.29 per game). This could come back to haunt fantasy owners if he can't improve in this area.

Lies

"We swallow greedily any lie that flatters us, but we sip only little-by-little at a truth we find bitter." – Denis Diderot"
1) Mahomes isn't producing like he has in the past, ranking sixth, at 24 FPts/G.
Actually, Mahomes is producing exactly as he has in the past. He produces just enough for his team to win football games. When his defense is giving up points by the bucketful, he does what is needed to win the game. In 2018, the Chiefs' defense couldn't stop anyone, so Mahomes and Andy Reid's offense went crazy scoring over 30 points per game. The next season, the defense was much better, and Mahomes did just enough to go 12-4, win the division and the Super Bowl. His defense is playing great this season, allowing just 16 points a game, so Mahomes doesn't need to go crazy to win games and he isn't.
Mahomes
Year
Pts For
Pts Against
Mahomes
2023
25.6
16.0
24.0
2022
29.2
21.7
28.6
2021
28.2
21.4
25.9
2020
29.6
22.6
28.8
2019
28.2
19.3
24.2
2018
35.3
26.3
30.9
2) Brock Purdy can't be a star quarterback because he was drafted in the seventh round and was Mr. Irrelevant.
He may not be a star just yet, but he's a top-10 fantasy option and has produced 20-or-more fantasy points in seven of his last eight regular season starts. He's got great weapons at all positions (Deebo Samuel, Brandon Aiyuk, George Kittle and Christian McCaffrey) an innovative coach and a good offensive line. Purdy has 11 combined touchdowns (nine passing, two on the ground) and has yet to throw an interception and ranks 10th at 22.8 FPts/G. By the way, four of the top-10 fantasy quarterbacks were not selected in the first round of their draft (Jalen Hurts, Kirk Cousins and Russell Wilson are the other three).
3) Now that Jonathan Taylor has signed his multi-year, big money deal, Zack Moss will disappear.
False. Moss has been producing much too well for the team to let him waste away on the pine. He's currently fifth among running backs averaging 20.9 FPts/G, 5.0 ypc and a touchdown per game. My guess is that at least for the next two to three games they will split time evenly and then Taylor, as long as he stays healthy and produces as he has in the past, will get a 65-35 split in backfield touches. Moss still has some value.
4) The Titans' Derrick Henry is finally starting to show his age.
Wrong. Don't mistake the team trying to keep Henry fresh for the end of the season with the team passing the torch to rookie running back Tyjae Spears. Henry gets better as the season progresses. Henry currently ranks just 20th averaging 12.8 FPts/G and could be a great trade target knowing he gets better as we get later in the season. He ranked fourth last season (19 FPts/G), first in 2021 (23.4), fifth in 2020 (20.9) and third in 2019 (20.0). Hard to get more consistent than that.
Henry
Henry Career
Yds/Att
Yds/G
TD/Game
September
3.86
67.7
0.50
October
4.47
77.7
0.77
November
5.13
75.6
0.83
December
5.47
96.5
1.00
January
5.37
141.3
1.00
5) Travis Kelce will once again dominate the tight end position.
Maybe. I'm starting to think that the Lions' Sam LaPorta might be just the guy to finally crack the Kelce tight end dynasty (Since 2018 Kelce has led the league at the position four of five seasons and finished second the other time). LaPorta currently ranks third, averaging 14.4 FPts/G and has yet to become a big part of the Detroit offense. He's only been targeted more than six times once this season. Those target numbers should rise. The rookie from Iowa is the next in a long line of good Iowa tight ends which includes; George Kittle, T.J. Hockenson, Noah Fant and one of my all-time favorites from the past Dallas Clark.