We are back to the bye weeks with four teams sidelined in Week 9 after a respite last weekend. Injuries, however, didnít stop. The most damaging was Kirk Cousinsí torn Achilles and its effect on the Vikings receivers. Other quarterback question marks include: Matthew Stafford, Tyrod Taylor, Kenny Pickett and whether Kyler Murray is ready to go for Arizona this Sunday or they choose Clayton Tune?
Byes: Denver, Detroit, Jacksonville, San Francisco

Truths
"Understanding what not to do sometimes is just as important as what you can do." – Bill Belichick
1) When rookie quarterback Anthony Richardson went down for the season, those who picked up his backup, have been handsomely rewarded.
True. Richardson averaged 24.4 FPts/G in the three full games before his season-ending shoulder injury, but Gardner Minshew has averaged 26 FPts/G in his three starts despite playing tough defenses like the Browns and Saints. That production ranks Minshew No.5 since Week 6. Who knew? The Colts receiving weapons of Michael Pittman Jr. and rookie Josh Downs have proven to be pretty good, particularly when defenses are keying on running backs Jonathan Taylor and Zack Moss. The backfield pair have also contributed 17 catches and 144 yards to Minshewís total.
2) Of the likely ďclaimableĒ quarterbacks, Mitchell Trubisky, is the best option for Week 9.
With all the quarterback injuries and four byes this weekend, if your starting QB isnít on the current roster and your options are; Clayton Tune (0% rostered) in Arizona, Brett Rypien (0% rostered) for the Rams, Mitchell Trubisky (0% rostered) in Pittsburgh, Tyson Bagent (5% rostered) with Chicago, P.J. Walker (1% rostered) with Cleveland, Jaren Hall (0% rostered) in Minnesota or Will Levis (6% rostered)Ö Iím going with Trubisky.
With so many unknowns, Iím going with the quarterback who has the best pass-catching group to help out their questionable quarterback. In this case, that means Pittsburgh (George Pickens and Diontae Johnson), Los Angeles Rams (Cooper Kupp and Puka Nacua) or Minnesota (Jordan Addison and T.J. Hockenson). Next Iíll weed out the young quarterbacks on the road because thatís too much to ask for an unknown in a loud and hostile environment. The Rams are going outdoors to frigid Green Bay and Minnesota is traveling to Atlanta, leaving my Week 9 choice as Trubisky versus Tennessee at home. I truly hope it isnít coming down to this option for anyone.
3) If you donít score touchdowns, you canít be an elite fantasy running back.
Fact. Derrick Henry is fifth in rushing yards (526), but 15th in fantasy points per game (14.2). James Cook is eighth in rushing yards (486) and 26th in fantasy points (12.2). Rookie Bijan Robinson is ninth in rushing yards and 19th in fantasy points (13.7). What do they have in common? None of them have scored more than three times this season. If running backs are in a bad offense, or if his quarterback is stealing too many of the short-yardage chances, heíll never be elite. Henry had been elite the last five season because in addition to yards heís produced double-digit touchdown totals, but this season doesnít look like heíll reach that mark.
4) Jahmyr Gibbs is at his peak fantasy value if you are thinking of trading him.
Gibbs produced 27.6 fantasy points against Baltimore in Week 7 and in front of the entire nation on Monday night improved on that to 29.9 points. He showed speed, power and receiving ability and the announced fawned over him for 60 minutes. Should you trade him? Remember how frustrated you were early in the season when David Montgomery was getting the majority of the work? Monty will be back after the Lionsí Week 9 bye. In the three games where both running backs were active, Montgomery saw 72% of the touches and Gibbs 27%. Although that may be closer to 50-50 after Gibbsí elite performances, donít expect this backfield to belong to the rookie. You should explore what other fantasy owners are willing to offer.
5) Speaking of peak value, look no further than the Ravensí Gus ĎThe BusĒ Edwards.
True. Edwards is coming off 21.4 fantasy points in Week 7 and 29.4 points last Sunday. Since the beginning of the 2022 season, itís his first two 20+ point performances and, in fact, he had only cracked double digits three other times. Heís not a pass catcher and despite four touchdowns in the last two games he doesnít score touchdowns (one in the previous 13 games). Sell, sell, and sell!

Lies

"Get your facts first, and then you can distort them as much as you please." – Mark Twain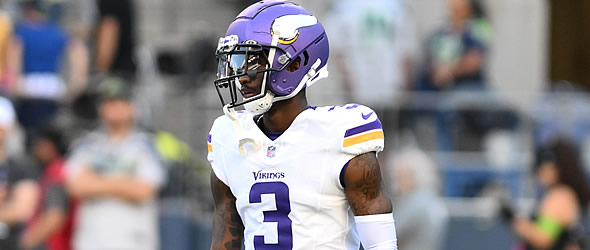 1) Trade Jordan Addison or Justin Jefferson and get what you can.
Iím going to have to say no. Without Cousins under center, their trade value has certainly taken a significant hit and you will likely be disappointed with what you get offered. You simply have to hope that, Hall, or Joshua Dobbs with a few weeks in the system, can play at a sufficient level where his receivers can produce a reasonable return. Iím not trading Addison and the only way Iím trading Jefferson, who is eligible to return from his hamstring injury in Week 10, is if there is some news which says heís seriously thinking of sitting out the rest of the season. Iím not trading either in dynasty leagues.
2) Trade Davante Adams.
NO! Itís not like Adams canít get open anymore. Itís not like heís dropping balls (yes, I know he did drop one Monday night). Although Adams managed just one reception for 11 yards on seven targets, with even average quarterback play he could have produced two touchdowns and 169 yards. Garoppolo missed a wide open Adams on first-and-10 from the Las Vegas 2-yard line (98-yard TD) early in the fourth quarter and again with five minutes remaining from the Las Vegas 40-yard line Adams was clear by 10 yards of the nearest defender (60-yard TD). Garoppolo canít play any worse and past performance says he will get better.
3) Travis Kelce must be using a Romulan cloaking device.
Currently, falseÖ until I can prove otherwise. How else do you explain his always being open despite the Chiefs having no other great receiving options. Kelce leads all tight ends in targets (9.7 per game), in receptions (7.7) and FPts/G (19.5). Since the top Kansas City wide receiver, rookie Rashee Rice averages just 10.5 FPts/G, and they have no other wideout option averaging even six points, wouldnít you think they should cover Kelce with at least two or three players at all times? Like a triangle and two in basketball? I assume these smart defensive coordinators have already tried that, so the only remaining hypothesis is my cloaking device theory.
4) Tyreek Hill has more receiving yards than the New York Jets have passing yards.
NoÖ but itís a lot closer than you might think. Hill, who said he would crack 2,000-yards receiving this season has 1,014 in eight games (which is on a pace for 2,154 yards) while the Jets offense has managed just 1,150 passing yards. Unlike Kelce, I understand how Hill is always open. Heís faster than anyone and his change of direction is elite. By the way, the current receiving record is 1,964 yards by Calvin Johnson in 2012 (16 games) and Hill is ahead of that pace too. Eagles wideout A.J. Brown is on pace for 1,995 yards after his NFL-record sixth consecutive day with at least 125 receiving yards.
5) Last week in this column I said ďThis is the week Kareem Hunt blows up.Ē
I said it and I was wrong. Of course in my defense, I, like many others, thought that Jerome Ford would be sidelined. He made a miraculous comeback from an ankle sprain which was expected to sideline him 1-2 games. It wasnít a complete failure, because Hunt scored for the third consecutive weekend, but I was expecting 20+ carries and he saw only 14 with 10 going to Pierre Strong and nine to Ford. Hunt is averaging almost 15 FPts/G the past three games, but is too reliant on touchdowns in this RBBC backfield to be counted on from week-to-week.