Dynasty fantasy football is very similar to investing in the stock market. I beg the pardon of the real-life humans who play football, but in this analogy, they are the asset – the stock. Dynasty players are essentially making bets on the future of those player assets, guessing whether they will explode, fizzle, or something in between.

As with the stock market, there can be wild swings in the relative value. It can be something as inane as a running backs coach talking up a player as a three-down back, and his value can swing wildly up. If a player has an injury late in the season, it can taint the view of that player among the public, lowering their perceived value. Values can even shift for no apparent reason at all.

The ultimate swings in valuation come with each year's NFL Draft. The draft can take a player from a premium dynasty asset to almost worthless. If a presumed starter, who did not have much draft capital invested in him, sees a player at the same position drafted early by his team, he knows his days are numbered. Even the current Aaron Rodgers situation goes back to a decision made by the Packers in the 2020 Draft, where they invested their first-round pick in a quarterback. Needless to say, that has caused a bit of drama.

For the rest of this article, I want to focus on five of the biggest winners coming out of the Draft, and then we'll consider five of the biggest losers. Some will be the rookies themselves, who were drafted into perfect (or rough) spots. Others will be veterans who were positively or negatively impacted.
Five Winners
1. The top rookie pass catchers – Ja'Marr Chase, Jaylen Waddle, DeVonta Smith, Kyle Pitts
This draft has not been viewed as a deep one, but there are certainly some excellent players at the top. Aside from a couple backs, the pass-catchers at the top have been inspiring the most attention and the draft worked out well for basically all of them.
Ja'Marr Chase was selected fifth overall and will be reunited with his college QB in Cincinnati, in a pass-happy offense.
Jaylen Waddle went to the Dolphins and will also be reunited with one of his college QBs, and should be utilized heavily from the start.
DeVonta Smith was also reunited with one of his college QBs in Philadelphia, and should walk into a heavy workload immediately.
Kyle Pitts was drafted before any wideout, to perhaps the most pass-heavy team in the league, the Falcons. He should make an immediate impact, even as a rookie tight end.
All of these players not only avoided bad situations; they landed in fantasy-friendly situations that should see them produce in a major way early in their career. Fantasy players can't really go wrong in selecting any of them.
2. RB Trey Sermon
Sermon has been flying a bit under the radar in many draft circles, and has been in the shadows behind other backs like Najee Harris, Travis Etienne, and Javonte Williams. However, there have been a few in the fantasy industry who have been tooting Sermon's horn – chiefly Matt Waldman of the Rookie Scouting Portfolio.
Whatever one thought of Sermon before the draft, it is clear he landed in an excellent spot – in an offense famous for its friendliness to running backs. The 49ers use outside zone runs more than almost any other team over the past few years, and that running scheme fits Sermon perfectly. Sure, one could argue that he has landed in a spot among a plethora of backs, and that is true. And one could also argue that Shanahan has lately refused to commit to one back, and that is also true. But if Sermon becomes what some think he can become, Shanahan won't be able to keep him off the field. For what it is costing to acquire him, he is worth the pick in dynasty leagues.
3. Jets fans
Jets fans have suffered through one of the worst runs in NFL history over the past 20 years. Even though it is not clear that will end any time soon, I say they are winners here because at least right now they have hope! Hope is better than nothing.
Many have stated that the Jets drafted the wrong quarterback in Zach Wilson, but that cannot be known yet. They drafted an exciting young quarterback at 2 overall, and added on one of the top offensive linemen, Alijah Vera-Tucker, who will team up with last year's first-round pick, Mekhi Becton, to help improve that unit. Then they drafted exciting receiver Elijah Moore in the second round, and exciting running back Michael Carter in the fourth.
This offense has not had such exciting pieces in my memory, so let's all be just a bit happy for the Jets fans, even if the glow doesn't last.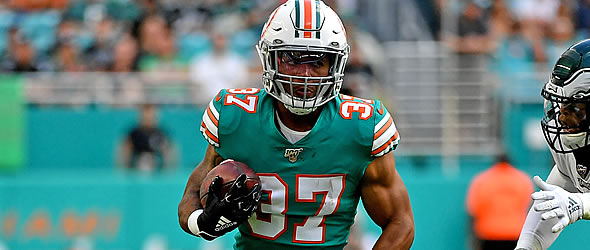 4. Mike Davis, Chase Edmonds, & Myles Gaskin
These three incumbent starting running backs were likely holding their breath for the entire draft, and they all let out a big exhale when we got to Round 6.
Mike Davis was signed by the Falcons this offseason, and many thought he would again be relegated to a back-up role once the draft came. While there were reports that the Falcons were considering a back in the draft, they did not take one. That leaves Davis with a very firm hold on the starting job, and he will see his draft stock rocket up toward the early rounds.
Chase Edmonds had already seen some of his potential workload fall off when the Cardinals signed James Conner, but he is still the starter after the Cardinals also did not draft a back. He will likely lose goal-line work to Conner, but I expect Edmonds to receive 15+ touches every week. With his electric running ability, he should be a very nice fantasy asset this season.
Many connected the Dolphins with the top backs in the draft but they did not draft one (Gerrid Doaks) until the seventh round. That leaves Gaskin firmly entrenched as the starter this season. Though he is small and not that fast, he is a skilled runner with excellent vision and intelligence. He will still be undervalued in drafts, but his stock will certainly rise now.
5. WR Josh Palmer & WR Cornell Powell
Two receivers who have been under the radar landed in intriguing spots in the AFC West. Josh Palmer was drafted by the Chargers with the 77th overall pick. He was not very productive in college, but that was because Tennessee – which has had terrible quarterbacking. He is 6'2", 209 pounds and ran a 4.51 40-yard dash. He has all the skills needed to thrive with young quarterback Justin Herbert, and could see the field immediately. At the least, he is likely to replace Mike Williams in the starting lineup by next season.
Cornell Powell was even less productive in college, failing to produce until he was a fifth-year senior. Many wrote him off because of this, even though he was a top recruit coming out of high school and had an excellent final season at Clemson. He fell all the way to the fifth round, to pick 181, likely due to the productivity concerns. But he landed with the Kansas City Chiefs. They not only are a great offense, but with Sammy Watkins gone, they really need a receiver to step up beside Tyreek Hill. Some think it will be Byron Pringle, but my money is on Powell – perhaps not this season, but by 2022.
Five Losers
1. RB James Robinson and RB Travis Etienne
Many will point to James Robinson as a loser from this draft, since the Jaguars decided to go against the trends and select running back Travis Etienne in the first round. In my view that selection makes both Robinson and Etienne losers.
It is clear to me that Robinson is the better back at this point, and I was low on Etienne coming into the draft. He is a speed guy who isn't that fast, and a pass-catching back who isn't that good at catching the ball. Now, with first-round draft capital, he will certainly be used, sapping Robinson's value. When the coaches see that Robinson is better, he will also get work but neither is likely to get enough work to be a solid fantasy option.
2. WR Preston Williams
Williams showed a lot of promise when he entered the league, as he has great balls skills and great length. But now, with the Dolphins signing Will Fuller and drafting Jaylen Waddle to go along side DeVante Parker, I think Williams will ride the bench or even be cut.
It shows you how quickly players from a former regime, or players without much draft capital invested in them, can be replaced and find themselves on the outs. If you invested in Williams, you should likely hold and see if he perhaps lands somewhere else, or regains more work next season if Will Fuller leaves. But many will have to cut him.

3. RB Raheem Mostert
I was among those who believed in Mostert's talent after his very nice season in 2019. I thought he could blow up in 2020, but it just wasn't to be. He produced and then got hurt, over and over. By the end of the season, Jeff Wilson was getting more work.
I think Kyle Shanahan has tired of his backs struggling with injuries and/or ineffectiveness, and he traded up to get Trey Sermon. In my view, Sermon is his back of the future. Right when that choice was made, instantly Mostert became a lame-duck player, in the final year of his deal, whom the coaching staff has no reason to push into the lineup. He is a big loser from this draft, even though the 49ers already had a multitude of backs on the roster.
4. TE Hayden Hurst
Hurst was drafted in the first round (25th overall) of the 2018 Draft, ahead of teammate Lamar Jackson. But his career simply has never taken off. He fizzled in Baltimore, and saw Mark Andrews soar above him and dominate at tight end. Then he was traded to the Falcons and was very hit or miss last season. He struggled even in a high-volume passing offense to consistently produce.
Now he has been replaced as the starter by Kyle Pitts, one of the most promising tight end prospects ever. Hurst will likely still play a good amount of snaps, but he either has or will soon be relegated to a backup role.
5. RB Chuba Hubbard

I felt confident before the Draft that Chuba Hubbard was not going to pan out for fantasy, based on his awful pre-draft testing. He is another player who has been known for his speed but was not fast when tested. He is also not a very good back overall, with poor vision and very little contact balance.
He was drafted behind likely the top back in the league, Christian McCaffrey. I could see him providing a couple touches when McCaffrey needs some air, but I could also see him relegated fully to special teams. His value is nil at this point.
---
Kevin Scott is on Twitter @kevinscottff. He has been playing fantasy for over 20 years and has made over $100,000 playing in dynasty and redraft leagues.