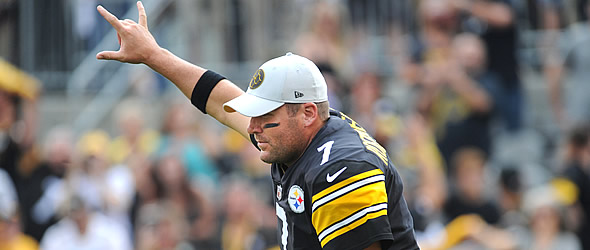 With no clear cut plays at the position it wouldn't hurt to grab Big Ben in highest total game on the slate.
Note: Salary amounts are DraftKings pricing
Quarterbacks
H2H/Cash - Ben Roethlisberger @ New Orleans - $6,700
There are not a ton of attractive cash game quarterbacks this week on the main Sunday slate, and those that could be strong plays like Andrew Luck or Kirk Cousins could have their fantasy value marginalized by strong performances by their respective running backs and defenses. For this reason, I am opting to go with the most expensive quarterback this week in cash and play Big Ben against the Saints in what could be a very high scoring game. Although it does give me a big of pause knowing that Roethlisberger failed to reach 20 fantasy points in his last three games, including a shocking 18-point performance against the Raiders, he should find more success this week against a Saints team that ranks first in most fantasy points allowed to quarterbacks.
Other options to consider - Andrew Luck vs. NY Giants & Drew Brees vs. Pittsburgh
GPP - Dak Prescott vs. Tampa Bay- $5,700
Prescott enters Sunday's game against the Bucs on the heels of arguably the worst game of his young career, with 206 passing yards and zero touchdowns in Indy's 23-0 shutout victory over the Cowboys. A home game against the Bucs is exactly what Dak and the Dallas offense needs to get back on track, and Dak admitted after the game against the Colts he made a mistake not running the ball more.
Other options to consider - Mitchell Trubisky @ San Francisco & Taylor Heinicke vs. Atlanta
Fade - Jameis Winston @ Dallas - $5,500
Winston scored just five fantasy points last week in a difficult road matchup against the Ravens in Baltimore. While I don't think he will do as poorly this week against Dallas, the Cowboys have been tough at home this season and could present a low-scoring opportunity for Winston.
Running Backs
H2H/Cash - Nick Chubb vs. Cincinnati - $7,300
With at least one rushing touchdown or 100 yards in six of his last seven games, Nick Chubb has been a model of consistency this season since taking over the lead running back role for the Browns. Cash game players want to make sure they do not start a dud player at running back, especially one who could get hurt by the possibility of a negative game script. The Browns should not have a problem beating their divisional rival this week with Chubb benefitting from a ton of second-half closer work against a defense that allows the fifth-most points to opposing running backs. Look for a safe floor of around 75 yards and a score from Chubb with the upside of a monster game with multiple touchdown runs.
Other options to consider - Christian McCaffrey vs. Atlanta & Dalvin Cook @ Detroit
GPP - Marlon Mack vs. NY Giants - $5,500
Mack is without question my favorite sub-6k player this week with a juicy game at home against the Giants. Mack was a fumble away from posting his third 30-point perforce of the season in a much more difficult game against the Cowboys, while the Giants have all but phoned in this season as evident to the 175-yard and two touchdown game that Derrick Henry laid on them last week. As my start of the week, I am playing Mack on nearly all of my tickets this week, and his price tag gives owners flexibly to target more expensive wide receivers.
Other options to consider - Jaylen Samuels @ New Orleans & Jamaal Williams @ NY Jets
Fade - Joe Mixon vs. Cleveland - $7,100
Mixon has been one of my favorite DFS plays this season with at least 20 fantasy points in three of his last four games. Not only has Mixon topped over 100 yards in consecutive weeks, but he has also done so with Jeff Driskel under center and wide receiver A.J. Green out for the season with a foot injury. I fear that this game could get out of hand quickly for the Bengals and Mixon is dealing with wrist and thigh injuries that could lead to him getting a smaller workload than usual. I'd much rather pay the extra $100 for Chubb in the same matchup.
Wide Receivers
H2H/Cash - Julian Edelman - $7,200
The loss of Josh Gordon to his latest off field issue will open the door for more targets for Edelman, Chris Hogan, and Rob Gronkowski. While there is some hope among Hogan truthers this will be the moment when Hogan comes through with a big game, I would rather pay for the volume that Edelman provides, especially with Hogan lining up outside against Tradevious White.

Other options to consider - Amari Cooper vs. Tampa Bay & DeAndre Hopkins @ Philadelphia
GPP - Robby Anderson vs. Green Bay - $4,800
Anderson has everything that GPP owners are looking for in a value wide receiver. He has no fewer than seven targets in each of his last three games, including 11 targets last week against the Texans. He has a home matchup against a secondary that ranks fifth in fantasy points allowed to wide receivers, and he fits well into budgets so owners can pay up for expensive running backs and other WRs.
Other options to consider - Chris Hogan vs. Buffalo & Demaryius Thomas @ Philadelphia
Fade - Stefon Diggs @ Detroit - $5,100
Diggs has been the Vikings wide receiver to own in fantasy over the past few weeks as Adam Thielen has come crashing down from his heights from earlier in the season. With Thielen working in the slot against a Lions secondary that ranks in the bottom quarter in points allowed from slot receivers, I anticipate this game will be a heavy dose of Thielen and Dalvin Cook, and not so much of Diggs on the outside against Darius Slay.
Tight End
H2H/Cash - Eric Ebron vs. NY Giants $5,800
It will take a significant leap of faith to play any of the top-tier tight ends after the disastrous week that Eric Ebron, Rob Gronkowski, and Zach Ertz delivered in Week 15. The tight end is a wasteland that should most likely be avoided at possible with a low-cost option like Jesse James or Ben Watson. If you insist on paying up for an expensive tight end this week, I would go with Ebron at home against a Giants team that ranks in the middle of the pack against opposing TEs. While I anticipate this will be a monster game for Marlon Mack and the ground attack, Ebron is always a threat for multi-touchdowns.
Other options to consider - David Njoku vs. Cincinnati & Evan Engram @ Indianapolis
GPP - Austin Hooper @ Carolina— $3,700
For some reason, the linebacking tandem of Luke Kuchely and Thomas Davis are studs against the run but weak against covering tight ends. The Falcons know this full well and will get Austin Hooper active early in this game.
Other options to consider - Chris Herndon vs. Green Bay & Ian Thomas vs. Atlanta
Fade - Zach Ertz vs. Houston — $5,900
It may sound crazy to recommend fading the second-most expensive tight end in a must-win game for the Eagles against a Houston team that ranks seventh in points allowed to tight ends. My logic here is the lack of a connection between Nick Foles and Ertz, something that was painfully evident last week against the Rams.
Defense & Special Teams
High Priced Option Worthy of the Cost: Bears ($3,500) vs. 49ers
Well Priced with Upside: Patriots ($2,500) vs. Bills