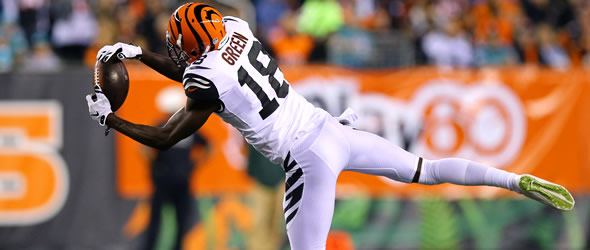 The Bucs have been torched by No.1 receivers all season long and this week should be no exception.
Note: Salary amounts are Draftkings pricing
Quarterbacks
H2H/Cash - Andrew Luck @ Oakland - $6,300
With a consistent floor of at least 22 fantasy points in his last two games and a ceiling of as high as 40 against Houston Week 4, Andrew Luck has been a stud DFS quarterback for the past month. A team in full rebuild mode with sites on Las Vegas, the Raiders allow the fifth-most points to opposing quarterbacks. Although Andy Dalton at home is also an excellent option for cash game players, Luck provides less of a question mark and a higher floor.
Other options to consider - Andy Dalton vs. Tampa Bay & Matthew Stafford vs. Seattle
GPP - Jameis Winston @ Cincinnati - $6,000
Winston threw the ball a combined 93 times in his last two games for 760 yards. I always try to target quarterbacks on teams with good offenses and bad defenses, especially if they are inexpensive relative to their projected total. Winston hits the mark on those factors and should have another great game against a Bengal defense that allows the fifth-most points to opposing quarterbacks. Pair Winston with Chris Godwin and O.J. Howard for an inexpensive GPP game stack with high upside.
Other options to consider - Mitchell Trubisky vs. NY Jets & Ben Roethlisberger vs. Cleveland
Fade - Patrick Mahomes vs. Denver - $7,000
Benching Mahomes might seem ludicrous to most readers based on the fact that Mahomes scored an average of 34 fantasy points in his last two games. While I do think Mahomes will put up points and will be a solid start, I anticipate that the Chiefs will focus on running the ball this week against a Denver team that allows the second-most rushing yards this season. Mahomes will certainly get his, I just think he may not put up the monster numbers owners have come to expect.
Running Backs
H2H/Cash - Kareem Hunt vs. Denver - $7,100
For me to recommend fading a player like Patrick Mahomes, logic would tell you that I must be high on Kareem Hunt. After a slow start to the season, Hunt has been one of the most consistent fantasy running backs not named Todd Gurley, with at least one touchdown dating back to Week 3 against the 49ers. Paring Hunt with James Conner this week is an excellent foundation in cash games that should give you a solid chance to win money.
Other options to consider - James Conner vs. Cleveland & Chris Carson @ Detroit
GPP - Phillip Lindsay @ Kansas City - $5,200
As a Royce Freeman apologist, Phillip Lindsay has been a thorn in my side all season, taking carries away from Freeman and outplaying his fellow rookie in the Denver backfield. With Freeman ruled out for the game with an ankle sprain, Lindsay should see a career-high in carries and around five receptions out of the backfield. The only worry is if Vance Joseph and the Denver coaching staff continue to make a bad choice by involving Devontae Booker more than they should.
Other options to consider - Duke Johnson Jr. @ Pittsburgh & Raheem Mostert @ Arizona
Fade - Marlon Mack @ Oakland - $5,400
After a breakout 34.9-point game last week against the Bills that included 159 total yards and two touchdowns, Marlon Mack (ankle) is a favorite play this week for many fantasy analysts. I love Mack as a player and the matchup against the Raiders is excellent, I just donít think the Colts will need to run Mack as much in this game and his shaky injury status is concerning.
Wide Receivers
H2H/Cash - A.J. Green vs. Tampa Bay- $8,000
Playing studs against the Bucs pass defense has been a recipe for success for cash game players this year. Although Green is not on the same level as elite fantasy options like Adam Thielen, he should get at least ten targets for the fourth consecutive game, and the Bucs have allowed at least 100 yards or a score to No.1 receivers each week in 2018. Cash game players pay up for guaranteed production, and Green, this week against Tampa Bay, is as close to a sure thing that you can get.
Other options to consider - JuJu Smith-Schuster vs. Cleveland & Robert Woods vs. Green Bay
GPP - Chris Godwin vs. Cincinnati - $4,500
Some may argue that Godwin is more of a cash play than a tournament option because he has yet to put up a big game or score more than one touchdown in a week. But I argue that he is an excellent tournament play in the fact that he gives you a ton of upside as one of the favorite red zone targets for Jameis Winston in what could be a high-scoring game at Paul Brown Stadium. His $4,500 price tag makes him a nice play, regardless of the format.
Other options to consider - DeSean Jackson vs. Cincinnati & Geronimo Allison @ L.A. Rams
Fade - Allen Robinson vs. NY Jets - $5,600
The matchup at home against the Jets is great, and so is his price, but I am staying away from Robinson if he suits up on Sunday. Groin injuries can flare up at any time, and I anticipate that the Bears will have this game locked up by halftime. If you are looking for wide receiver shares in this game, I recommend going with Taylor Gabriel and pocket the $500 savings.
Tight End
H2H/Cash - Trey Burton vs. NY Jets - $4,800
With a touchdown in each of his last three games and two weeks with at least 86 receiving yards, Trey Burton looks to be building a strong rapport with Mitchell Trubisky. The groin injury that will either limit or keep Allen Robinson out of the game will benefit Trubisky with more targets.
Other options to consider - David Njoku @ Pittsburgh & Jared Cook vs. Indianapolis
GPP - Vance McDonald vs. Cleveland - $3,700
McDonald posted an impressive line against the Bengals before the bye with seven catches for 68 yards on a season-high eight targets. Will he continue to be active in the passing game, or will he get just one catch for six yards like he did Week 5 against the Falcons? His inconsistency makes him a risk in cash games, but he is an attractive option in GPP with a sky-high ceiling.
Other options to consider - C.J. Uzomah vs. Tampa Bay & O.J. Howard @ Cincinnati
Fade - Travis Kelce vs. Denver - $6,800
I am fading Kelce this week not because I think he will do poorly, but more so because I don't think he will live up to his $6,800 salary and outproduce other players like Burton or David Njoku. Although he is due for a touchdown or two after failing to score since Week 4, I think the Chiefs will run the ball and find success beating the Broncos deep.
Defense & Special Teams
High Priced Option Worthy of the Cost: Bears ($4,100) vs. Jets
Well Priced with Upside: Steelers ($2,300) vs. Browns