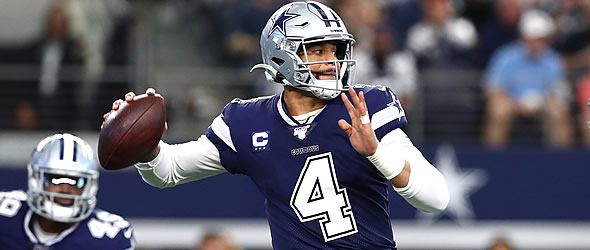 Dak Prescott averaged more fantasy points per game than Patrick Mahomes last season.


For the second consecutive season, a quarterback ranked outside the top-10 entering the year on most big boards ran away with the top spot in end of season rankings. Like Patrick Mahomes last season, Lamar Jackson turned out to be a cheat-code, league-winning asset for in 2019.

Jackson more than lived up to his hype by breaking Michael Vickís single-season rushing record. He also led the league in passing touchdowns, effectively making Jackson two elite players in one, and the highest-scoring quarterback on the season by a margin of over 50 points.

Will there be a third consecutive breakout quarterback in 2020? Only time will tell. One thing is for sure, a changing of the guard at the quarterback position is in full swing, with a collection of talented, young signal-callers taking over the elite ranks for fantasy QBs.

Below are my way too early quarterback rankings for 2020. Keep in mind that free agency, the NFL draft, injuries, and roster moves over the next six months will significantly affect these rankings.

It may surprise some that I have Patrick Mahomes ranked over Lamar Jackson based on how Jackson dominated the quarterback position for fantasy football last year. The gap between the two is slight, but I have Mahomes TD rate jumping up closer to 6 % from the 5.4% he had last season, giving him the most projected passing touchdowns in the league next season. I also have Jacksonís rushing production going down a bit, and his passing touchdown total dropping to 32. Jackson was nothing short of a revelation last season. He rushed for more yards and touchdowns that Leonard Fournette, while also leading the league in passing touchdowns. I would not fault anyone for taking him first over Mahomes, but I would caution that I donít project him to lead the league in passing touchdowns again in 2020, and I anticipate his rushing yardage will come down as well. Watson rushed for the same number of rushing touchdowns as Jackson (7), and tied his career-best with 26 passing touchdowns despite playing in only 15 games. His 25.3 points per game put him fourth overall (minimum of 10 games), and he topped 67% for his completion percentage for a second-straight season. His overall ceiling may not be as high as Jackson or Mahomes, but he is a solid third option for owners who miss out on those two and could be a much better value in drafts. Wilson topped 4000 passing yards for only the fourth time in his career with 31 passing touchdowns and three rushing TDs. His five interceptions were the lowest of his career, and he has arguably his best receiving corps since joining the league in 2012. If D.K. Metcalf continues to blossom into a star next to Tyler Lockett, Wilson should once again be a top-5 fantasy quarterback. Prescott averaged more fantasy points per game than Patrick Mahomes last season and trailed only Jameis Winston in passing yards. He set career highs in passing yards and passing touchdowns, yet his rushing touchdown production was cut in half from six to three. I like the addition of Mike McCarthy as head coach, and Dak should still be productive even if Amari Cooper does not get resigned by the team. Everything we thought about Jameis Winston playing under Bruce Arians came true last season. He led the league in passing yards and played with a no-risk-it, no-biscuit mentality Arians loves. Unfortunately, Winston also led the league in interceptions, becoming the first player to throw for 30 touchdowns and 30 interceptions in a season. For fantasy purposes, Winston was a stud, with 26.2 points per game, behind only Lamar Jackson. If Winston stays in Tampa Bay, I feel comfortable drafting him here for the upside he provides. If he goes to any other team, I will not take him as a QB1. Another surprise ranking to many, Brees threw 27 passing touchdowns last season in just 11 games, as the vaunted New Orleans rushing attack with Alvin Kamara struggled out of the gate. I anticipate Brees to play this season and put up nearly 24 points per game as he did in 2019. The Saints offensive line was not as dominant due to injuries and the loss of center Max Unger to retirement last season, and I anticipate those struggles will continue somewhat into 2020, forcing Brees to throw more than usual. If the pesky Taysom Hill leaves via free agency, I love Brees even more. Murray finished as the QB 7 in total fantasy points per game and QB12 in average points per game in his rookie season. Not bad considering the pressure the rookie had on him after getting drafted first overall by the Cardinals. With another full offseason under his belt and a season of experience understanding the speed of the NFL game, I anticipate Murray will be a top 10 QB in 2020 with the highest upside of anyone ranked outside my top 5. If you are looking for that next QB to breakout and be the QB1, it could be Murray. He could also have a sophomore slump, which is why I have him ranked here and not higher. Only seven running backs scored more rushing touchdowns that Josh Allen in 2019, and his nine interceptions were three fewer than his rookie season, despite throwing 141 more passes. If he can get his completion percentage up around 65%, Allen could be an elite fantasy quarterback in his third year. Ryan dropped nearly three full points per game from his 2018 season, with nine fewest passing touchdowns, and his completion percentage went from nearly 70% to 66%. Iím not a big fan of Ryan, especially considering how he has some of the best weapons in the league but doesnít seem to do enough with them. He will finish again as a QB1 and will give you some big games, but overall, I am not super excited about owning him in 2020. Wentz quietly had a solid season last year, with 27 passing touchdowns, 4039 passing yards, and only seven interceptions. He achieved these stats despite an injury-depleted wide receiving corps. Imagine how well he would have played with a healthy DeSean Jackson and Miles Sanders playing the entire season the way he did down the stretch. Wentz could be one of the biggest values in fantasy this season. The former fantasy god is now a mere mortal. Rodgers barely topped 20 fantasy points per game, and he hasnít topped 30 passing touchdowns in a season since 2016. I am the president of the Aaron Rodgers fan club, and I think he is still one of the most physically gifted quarterbacks in the league, but for fantasy purposes, he is a borderline QB1 at this point in his career.