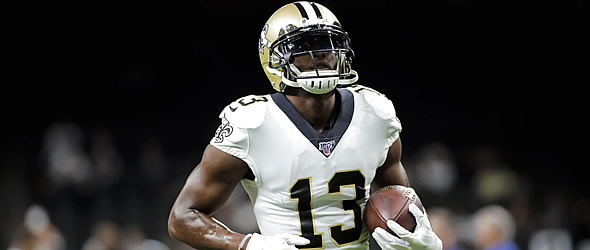 Michael Thomas has posted three straight seasons of 100-plus receptions and 1200-plus yards.


2019 proved to be a rough year for owners who used a first-round draft pick on a wide receiver. According to fantasypros.com average draft portion data, both of the two first-round wide receivers taken, DeAndre Hopkins and Davante Adams, failed to finish as a top-5 wide receiver.

Three second-round wide receivers, JuJu Smith-Schuster, Odell Beckham Jr., and Antonio Brown, finished outside the top 30 of their respective position, with Brown going AWOL and currently looking to convince a team to give him another shot after burning bridges with the Raiders and Patriots.

2019 was not all bad for fantasy wide receivers, as Kenny Golladay and Chris Godwin emerged as fantasy superstars, DeVante Parker finally lived up to the hype that made him a sleeper four years ago, and Michael Thomas delivered a season for the ages, with a record 149 receptions to go along with 1725 receiving yards and nine touchdowns.

Below are my 2020 way too early fantasy football wide receiver rankings.

There are two certainties in fantasy this season. Christian McCaffrey should be the first running back and player taken off the board, and Michael Thomas should be the No.1 WR taken. The volume, production, offensive scheme, and rapport are all the same from last season. Donít overthink this one.

He was the No.1 wide receiver in fantasy in 2018 and finished as a top-10 wide receiver last year despite a massive drop in production on the ground. Sammy Watkins may leave the team, and Hill should get back some of that lost value in the running game. Like Thomas, Hill has the same system in place and the same skill position players. The sky is the limit.

Hopkins topped 100 catches and 1100 receiving yards despite playing in only 15 games. His touchdown production of seven was a disappointment and only the second time since 2015 in which he failed to top double-digits in TDs. I think he bounces back in that department and finishes as a top-5 WR this year.

Injuries limited Adams to just 12 games in 2019, and the Packers evolved into more of a running team. While I do expect Aaron Jones to continue to be a stud, Adamsí touchdown production of just five should jump back up to closer to ten. All of the other metrics were on pace with his breakout season in 2018, so donít be shy to take Adams in the early part of the second round.

Death, taxes, the sun coming up in the east, and Julio Jones not scoring many touchdowns are things that fantasy owners know as certainties in life. Despite the head-scratching inability to score, Jones continues to be a volume monster and still produces top-5 numbers without seeing the end zone.

I tend to be higher on Golladay than most. I would like to see his catch rate jump into the 60% range, but there is no denying the fact he scored 11 receiving touchdowns with terrible quarterback play after Matthew Stafford went down. With news of the Lions keeping Stafford at the helm, I would even consider taking Golladay over Julio in non-PPR formats.

The next two players in my rankings depend heavily on the assumption that Jameis Winston will be the quarterback in Tampa Bay. If the Bucs go elsewhere, especially Philip Rivers, I will drop Evans and Godwin down a few slots.

You will be hard-pressed to find a better route runner than Godwin, and his hands are some of the best in the league. Godwin proved to be the best third-year breakout candidate last season, setting career marks in targets, receptions, yards, and touchdowns. I like the talent and system regardless of quarterback, but the fearlessness of Winston is what sustained two top-5 wideouts in Tampa Bay.

With five touchdowns in his first five games and to monster yardage performances, Cooper looked like he was the steal of the draft. Then Cooper did his typical disappearing act when his owners needed him most, with five catches for 43 yards and no touchdowns in Weeks 15 and 16. Despite the negatives, if he signs with the Cowboys and can stay healthy, he will be a lock for 1100 yards and between 8 and 12 touchdowns.

Moore took a massive jump in targets, yards, and receptions in his second season in the league, but for some reason, the touchdowns didnít follow, with Christian McCaffrey scooping up nearly all of the TDs for the Panthers. Four touchdowns on 87 catches is a seriously low touchdown rate, giving Moore lots of room to grow and blossom into a stud.

OBJ is too talented of a player to put up numbers like he did last season with the Browns. With a new head coach and offensive approach, Iím betting on the Browns finding a way of maximizing Odellís skills in what could be a monster bounce-back season.

I went back and forth between Courtland Sutton and Robinson here. Both are worthy of the 12th spot, but I went with Robinson based on the impressive target share he enjoyed in the final six games of the season when he averaged 11 targets per game. Sure, they are Mitchell Trubisky targets, but Robinson still found a way to produce and will again in 2020.