8/30/11



Every draft pick you make could be the difference between fantasy glory and fantasy doom, so it is important that you make every pick count. Here are my list of ten players who, based on their ADP and situation, you should avoid at all costs during your draft.

Note: ADP based on 10-team standard scoring league.



Quarterbacks:






(ADP: 4.10)



At some point this year Manning will play football, most likely at a high level. The problem is, nobody seems to know exactly when this will happen. Even if Manning plays the first week, which is looking more and more doubtful, he will certainly have to shake off the rust, and from what we know of his healing process, the injury may not fully heal for many weeks into the season. The injury of course raises all sorts of red flags on drafting Manning, but the truth is, even if Manning were 100% right now, there are several other QBs who should offer similar stats at a lower draft position. Tony Romo, Matt Schaub, Ben Roethlisberger, and Matt Ryan can all be drafted one to three rounds after Manning, and all have the potential to match or outshine with less risk.




(ADP: 11.07)



Depending on your league size, Kolb may or may not be drafted as a starter; but I included him here because the hype train seems to be at full speed and I believe it is a bit premature. Kolb certainly has some talent, and he will be throwing to one of the league's best wideouts, but that is where the good news ends. The truth is, the games that Kolb has played well in have been against lesser talent, the Cardinals do not really have anyone to throw to besides Fitzgerald, the offensive line is far from elite, and the running game will probably be even worse than last year. I have seen Kolb going as high as the mid-ninth round, and I believe this is a total reach considering the other quarterbacks available. Joe Flacco and Jay Cutler are two guys that stand out to me as better choices than Kolb—and they are going later.



Running Backs:






(ADP: 2.04)



McFadden had a breakout year in 2010, but I do not expect similar numbers from him this year, and because he is being drafted as a low-end RB1, he will indeed be a draft killer. We all know about McFadden's injury history, which is reason enough to drop him down a bit, but that is just where the problems start. The Raiders certainly have some speed at receiver, but at this point they don't have a single guy who will force teams to take guys out of the box to defend the pass. Their best pass catcher in 2010 was Zach Miller, whose defection to Seattle means even more defensive attention on Oakland's run. Add this all to the fact that the O-line took a hit by losing Robert Gallery, and the defense will probably take a step back with the loss of Nnamdi Asomugha (meaning more shootouts), and you have a situation that would be difficult for any running back, much less an injury-prone one who has had only one successful season (under a different coach, no less). Around the spot at which most are taking McFadden, I'd much rather have Matt Forte, Frank Gore, Michael Turner, or Steven Jackson, who can come close to matching McFadden's upside while having a much better track record of success.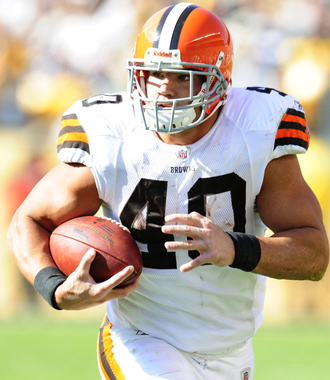 You're overpaying for Peyton Hillis as a high-end RB2.




(ADP: 3.06)



No, it is not because of the Madden curse that I include Hillis in this list, but if you believe in that sort of thing, then this should only confirm your feelings. I think Hillis is a fine player and relatively safe to put up decent numbers, but to get him you will have to significantly overpay— reason enough to be labeled a draft killer. Hillis is a tough runner who should get most of the goal-line carries behind a good offensive line, but those are about the only positives. He clearly wore down last year, and he is likely to do the same this year if given a similar workload. The offense around Hillis is very conservative, and defenses will be concentrating most of their attention on the run since there are no other dangerous playmakers on the team. In addition, Montario Hardesty, who the Browns drafted high last year, will certainly be worked into the mix to lessen the load, and chances are the Browns will find a way to get Brandon Jackson involved on passing downs once he returns from his turf toe injury. At the price of a high-end RB2, you could certainly do better with guys like Shonn Greene, Ahmad Bradshaw, LeGarrette Blount, and even Felix Jones, who are all being drafted behind Hillis and offer bigger upside.




(ADP: 7.03)



Green-Ellis had a breakout year in 2010 thanks in large part to getting most of the goal-line carries for the Patriots. The trouble is that Belichick is famous for using a committee approach with his stable of running backs, and the stable got even larger this year: Stevan Ridley and Shane Vereen have been added to the mix. With Vereen being a second-round pick and Ridley having an excellent preseason, both will steal some carries from BJGE this year, possibly even at the goal line. Add this to the fact that Danny Woodhead has the third-down back position locked up, and the opportunity for BJGE to produce is even smaller than last year. Finally, the Patriots love to throw the ball on any down and situation, and BJGE is not much of a pass catcher (only 12 receptions in 2010), so do not expect big numbers in that regard either. If you are looking for a RB in the early seventh round, do yourself a favor and pass on BJGE. Instead, look for guys like Fred Jackson, Joseph Addai, and Tim Hightower, who can all be had later and will probably out-produce "the lawfirm" anyway.




(ADP: 7.04)



What do you get when you have a back who does not catch many passes, averages less than four yards per carry, has a ton of carries over the past two years, and will now see more eight-man fronts than at any point in his career? A big disappointment is the answer, and it comes in the form of Cedric Benson. Benson was not bad last year, but most of his fantasy points were reliant on touchdowns because, despite getting a ton of touches (321), he only eclipsed the 100-yard mark in three games. This year he has a rookie quarterback and less imposing receiving threats around him to take the heat off the running game. With much more explosive RBs available around Benson's ADP, do yourself a favor and take someone with some real upside (Beanie Wells, Mike Tolbert, even Reggie Bush) who may actually win some games for you, rather than just fill a roster spot as dead weight.



Wide Receivers:






(ADP: 5.10)



There was a stretch last year where Colston fooled us into thinking he might be back to his former elite WR self, but this hope was quickly dashed when he got hurt… again. Now, after yet another knee surgery, let us not be fooled again by distant memories of greatness. Besides the injury risk that Colston will carry with him for the rest of his career, the Saints' other wide receivers have emerged over the past few years, and for once the team may actually have a real goal-line back in Mark Ingram. Ingram may vulture touchdowns from Colston, who has been one of Brees' favorite red-zone targets. With all the risk Colston brings, skip him on draft day and aim for a receiver around the same ADP with higher upside and a safer path to success. These guys would include Steve Johnson, Santonio Holmes, and Jeremy Maclin.




(ADP: 4.04)



In 2010, Bowe finally had the year many thought he should have had when he first entered the league. After being somewhat of a bust his first few seasons, Bowe led the league in touchdown receptions last year and put up respectable yardage totals as well. The scary thing about taking Bowe is that not only will his abnormally high touchdown numbers drop, but defenses have caught onto his act and he may slow down significantly this year. Including the Chiefs' playoff loss and their last five games of the regular season, Bowe averaged just a little more than two receptions per game and had only one touchdown. The Chiefs also used a first-round pick on wide receiver Jonathan Baldwin and signed a Todd Haley favorite, Steve Breaston. These two will both take targets away from Bowe. There is no doubt that Bowe is talented and will certainly have some good games, but at his ADP, you are paying a high-end WR2 price—or even a low-end WR1 price—for a guy who will likely be a very low-end WR2. Instead of killing your draft by taking Bowe, grab a guy like Wes Welker or Brandon Marshall who has a similar upside with a more proven track record.




(ADP: 8.09)



As a free agent, Rice had the opportunity to go where he could have a great quarterback throwing him perfect balls many times a game and be among an excellent supporting cast. Instead, Rice chose Seattle, where they might just have the worst quarterback situation in the league and where there is very little talent to take the pressure off Rice. Add this to the fact that Rice is coming off a major hip injury and still recovering from other minor issues, and you have the makings of an absolutely cringe-worthy year. At his current ADP, Rice is not a huge risk, but in that range there are many other players on more stable offenses that could help your team much more than Rice will. Go for Lance Moore, Mike Thomas, or Lee Evans instead.



Tight Ends:






(ADP: 4.05)



Just as most people would advise not breaking the ice on defenses early, the same could be said for tight ends, and Gates is almost always the first taken. I know, I know, he was having an epic season last year before getting hurt, on par with any first-tier fantasy WR in the league. The thing is, he did get hurt (again), and Gates was the only above-average pass-catching talent in San Diego for much of the year. Gates is still dealing with foot and toe issues, and Vincent Jackson is back this season and may actually get targeted more than Gates. In addition, a healthy Ryan Matthews may mean a bit less passing, and Mike Tolbert at the goal-line may mean less red-zone targets for Gates. While Gates will more than likely finish as a top-3 or top-4 tight end again, he is being taken a full one to three rounds before other tight ends who will likely put up similar stats. Instead of killing your draft by taking Gates in the fourth, take a different position. Then grab a guy like Dallas Clark, Jason Witten, or Vernon Davis later, and count on top-5 tight end numbers.


Suggestions, comments? E-mail me.