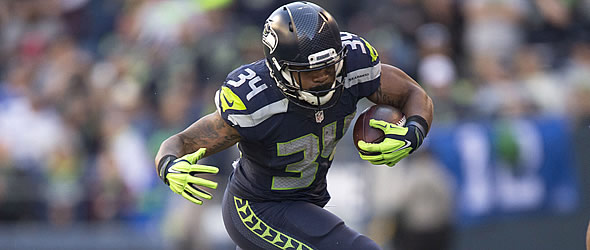 Shaky pass pro from Prosise and the release of Michael gives Rawls a clearer path to playing time.




Week 10 Review



Let's start out by taking a look at last week…



Hits:



(Buy) Kenneth Dixon: Dixon easily had his best game as a rookie returning from injury with 6 carries for 38 yards and 5 catches for 48 yards. This usage is and yard total is on a clear upward trend and his flex appeal in PPR leagues is strong. If you bought in, Iím almost positive it was cheap and you could be in for some big games. If itís a keeper/dynasty league, he is 100% the future.

(Sell) DuJuan Harris: Harris took a backseat to Carlos Hyde and went back into the land of fantasy obscurity. If you sold him to a Chip Kelly fan as a high upside back, more power to you!

(Sell) Chris Ivory: Another game playing from behind. Another Jaguars game where the run game got abandoned. Hopefully you sold while you could.

(Buy) LeíVeon Bell: I got called out in the comments for putting Bell as a "buy-low" but nevertheless he has shown his true colors. After weeks of solid usage but less than elite numbers, he had his breakout game. In one league I watched Derek Carr and T.Y. Hilton get traded for Bell… I think some Bell owners were down the past few weeks with the exit of Roethlisberger and RB2 games from their stud RB.



Misses:



(Buy) Jarvis Landry: Landry has been held in check for a few weeks now so I am forced to put him in the miss column. I feel like he has good games in front of him, but I must hold myself accountable.

(Sell) Colin Kaepernick: Kaepernick has been decent in recent games. Against Arizona he actually looked viable by throwing and running for a TD. The 55 rushing yards is a nice boost as well. Swing and a MISS!

(Buy) Emmanuel Sanders: Like Landry, I still feel Sanders has good production in front of him, but it was Demaryius Thomas who had the touchdown, more catches, and yards so I have to take the L here.


Trade Recommendations After Ten Weeks:

I made quite a few shifts this week considering all that has happened. Rogers is emerging as a weekly contributor so we'll keep him undecided until further production or regression. Benjamin has seen consistent targets but isn't turning it into much production fantasy wise. Newton has been shaky but doesn't warrant a miss yet. Blount scored 3 touchdowns against Seattle and has SF this week so he could easily go to the misses column. Robinson has been scoring and getting more looks so he could easily go to the hits. Hunter Henry got moved to a hit as a sell as Gates looks ageless.




Week 11





The Bait:



C.J. Prosise: If youíre able to pick him up this week and start him, I definitely would. His numbers last week against New England speak for themselves (153 total yards and 7 catches). Prosise showed well in the pass game and should get 10 carries to boot this week. The return of Rawls after a Christine Michael departure says it all however. Prosise is not a between the tackles runner and struggles mightily in pass protection which is the most important aspect to NFL success as a RB. Luckily he lines up in the slot and out wide so he still has a place on the team. This could spell success in deeper league PPR formats, but his ceiling is certainly capped at the moment. I think you know who will be in the buy-low sectionÖ

Jordy Nelson: Coming off his best game of the year where 3 quarters of the game was garbage-time, Nelson is a prime sell high candidate. Why you ask? Mainly because of schedule (@WAS, @PHI, HOU, SEA, @CHI, MIN) but also because the Packers offense is sputtering out of control without an established run game. Enter James Starks and Christine Michael. Sell now while the getting is good and you can capitalize on a stud in return.



Buy-Low Candidates:



DeAndre Hopkins: I have zero investment in fantasy in Hopkins at the moment, and I feel like Iím going to miss out big time in the next few weeks as he has a soft schedule (@OAK, SD, @GB, @IND, JAX, CIN). Will Fuller has also been absent from the stat sheet since week 4. Iím not saying give up the farm here, but give up one or two marginal talents for Hopkins, and you will be rewarded generously.

Thomas Rawls: The Seahawks have nearly the toughest schedule coming up for RBs (ranked 31st on Fantasy Pros), but when you factor in the volume and lock on goal-line work I really consider Rawls a prime bounce-back candidate. It might take him a few weeks to get going, but keep in mind that Rawls averaged 5.6 YPC last year and should be able to pick up where he left off with the Seahawks offense on a serious upward trend. Buy now but beware of the tough matchups ahead.

Brandon Marshall: Since Week 5, Marshall has been a fantasy bust. A trip to New England should fix that. In his last matchup with the Pats, Marshall had 8 catches for 115 yards and 2 scores. The Patriots defense is awful lately and then Marshall will get to feast on IND, SF, MIA, and then NE again for the fantasy super bowl (in most leagues). Snag him while you can and thank me later.

I'm constantly wheeling and dealing so hit me up on twitter, the comments section, and/or email for advice. At the end of the season I will do a review again of all my recommendations and bring in real life examples of all trades that I've either helped broker or completed myself.

As always keep those conversations active and hopefully you can land some premier talent!

---
Follow me on twitter @ZeroRBJoe for any questions about trades, lineups, or anything fantasy football related.