Last Week's Question: Is 2016 the right year to push for dynasty leagues?

In last week's column, I reviewed high-impact rookies at every skill position, including Carson Wentz and Dak Prescott at QB, Ezekiel Elliott at RB, Will Fuller and Sterling Shepard at WR, and Hunter Henry at TE. The purpose of the column was to point out the success all of these players enjoyed through the first quarter of the season—not to predict great things for any of them in Week 5. But most of them delivered on Sunday just the same.

Wentz had a solid game (238 yards passing with 2 TDs and 1 pick). Prescott posted roughly similar numbers (except that one of his TDs came on the ground and his single turnover was a fumble instead of an interception). Elliott had an electrifying performance with 134 yards rushing, 37 receiving, and 2 TDs (one of them a 60-yard scamper). Henry had a perfectly respectable day for a tight end (with 74 receiving yards and a TD). Only the receivers disappointed, but Fuller's lackluster performance (1 catch for 4 yards) came against the smothering defense of the Vikings, and Shepard's dudly day (2 catches for 14 yards) may have had more to do with Eli Manning's discombobulation than his own lack of experience.

Since there doesn't seem to be anything fluky about the impact that rookies are having on offenses throughout the NFL, I hoped to hear from readers who would make the case for dynasty leagues (with their emphasis on incoming players). Unfortunately, my question drew no comments and no emails. Maybe FFers are less impressed by rookies than I am; maybe my column simply doesn't reach dynasty enthusiasts; or maybe readers were just too busy to respond last week. Whatever the reason for the lack of responses, I think the fact that rookies are succeeding in every important offensive position bears more commentary than it has received so far in 2016.

I therefore welcome belated commentary on the question I posed last week as well as alternative questions from readers who have a more interesting approach to the subject. For the time being, however, Q&A moves on to the next subject.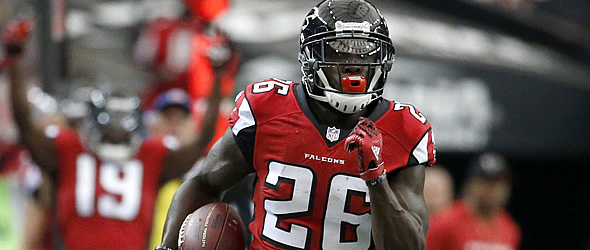 Tevin Coleman is just one example of a RB handcuff that's providing exceptional value each week.





This Week's Question: Is zero-RB irrelevant in the age of golden handcuffs?



Maybe it's hyperbolic for me to call the current NFL moment "the age of golden handcuffs," but it reflects my envy of anyone who drafted Devonta Freeman early and Tevin Coleman late in 2016. The two Atlanta backs are both top 10 RBs so far this season, so I can only congratulate the Freeman owners who decided that Coleman was worth a handcuff—even though they were wrong.

They weren't wrong to grab Coleman, but they were wrong to assume that Freeman would have to miss time for Coleman to become a starter. Ordinarily, fantasy owners have to be strapped for RBs to start two from the same team, but in light of how well the Falcon RBs performed against an elite Denver offense (286 yards between them), anyone who owns the pair is likely to start both and look forward to the results.

Coleman is only the most prominent success story of handcuff-able RBs. I don't know how many Thomas Rawls owners handcuffed Christine Michael, but it was probably more than those who nabbed Isaiah Crowell after Duke Johnson, which was probably more than those who shored up Jeremy Langford with Jordan Howard. Whether injury was the catalyst of discovery in these backfields or not, it seems as if the better back may have been the one ranked lower by the coaching staff and the fantasy community in the preseason.

The early-season value of DeAngelo Williams, Spencer Ware, and LeGarrette Blount was obvious in the absence of Le'Veon Bell, Jamaal Charles, and Dion Lewis, so these handcuffs were expensive (but probably worth the cost in the minds of those who splurged on them).

Considering that 6 of the top 10 running backs according to ESPN's preseason draft ranks have been mostly absent (Bell), injured (Adrian Peterson and Doug Martin) or disappointing (Todd Gurley, Lamar Miller, and Eddie Lacy), it seems as if 2016 should be another banner year for zero-RB enthusiasts.

But those who went with high-profile WRs in the early rounds ran into problems of their own, as Odell Beckham Jr., DeAndre Hopkins, Dez Bryant, Allen Robinson, Alshon Jeffery, Brandin Cooks, Sammy Watkins, Brandon Marshall, and Keenan Allen have all failed to justify their high ADP so far this season. It's surprising that Sammie Coates has outperformed all of these celebrity wideouts through Week 5, but even more surprising to zero-RB enthusiasts that so many of them have missed significant time due to injury (Bryant, Watkins, Marshall, and Allen). Part of the logic for going zero-RB is that WRs are supposed to be less injury-prone than RBs, but the top-flight WRs have kept pace with the top-flight RBs on the injury front so far this year.

So now that we're more than a month into the season, I'm curious about whether we can say that any particular draft strategy appears to have paid off in 2016. Whether the first-place team in your league went zero-RB or not, my guess is that the player that most differentiates that team from the competition is probably a running back who started the season as a backup/handcuff to another, more highly touted RB.

Am I right? If you have a couple of minutes to evaluate the roster and draft strategy of the first-place team in your league, please either comment below or email me with your sense of what sets that team apart in your league.

Survivor Pool Picks - Week 6 (Courtesy of Matthew Schiff)



#3 New England over Cincinnati:(3-2, JAX, OAK, DAL, MIN, PIT)



Tom Brady is back in a big way. He cleaned Cleveland's clock in Week 5, and this week he goes up against the other NFL team from Ohio. Even though Andy Dalton and the Bengals are more talented than the Browns, the Patriots' stingy defense (which has allowed only 74 points this season) should have little trouble making Cincy look every bit as inept as Cleveland. The Bengals will be hard pressed to keep up with the Patriots' methodical offense, which is already reminding spectators of Bill Belichick's last Super Bowl run. Take the Pats and enjoy a leisurely Sunday on the couch.



#2: Tennessee over Cleveland: (4-1, HOU, AZ, CAR, WAS. GB)



Cody Kessler should be back under center for the Browns. He's received a lot of praise from Hue Jackson, but it's difficult to say how much of that praise stems from Kessler's talent and how much is attributable to the fact that he isn't Charlie Whitehurst, who was ineffectual enough in relief of Kessler to be cut earlier this week. (Aside: If you don't know why Whitehurst is nicknamed "Clipboard Jesus," you really need to look at a picture of him.) While the Browns were riding their quarterback carousel in Week 5, Tennessee's Marcus Mariota was busy reminding the world why he was considered a possible franchise quarterback. Those inclined to dismiss his 4 TD performance merely because it came against Miami's 29th-ranked defense would do well to remember that the Brown D is ranked 30th. The Titans have a good defense and a much-better-than-expected running game, which should be enough for them to win a contest at home against a young Browns team that is still trying to find its identity.



#1: Pittsburgh over Miami: (5-0, SEA, CAR, MIA, CIN, NE)



Dolphins faithful are trying to trick themselves into believing that the likely return of Arian Foster in Week 6 will be enough to get the team's dysfunctional offense back on track. The problem is that there's no reason to think Foster's hamstring is the key to helping QB Ryan Tannehill understand how to distribute the ball effectively within Adam Gase's system. Even if the Dolphins magically started playing well enough to compete with average NFL teams, their challenge this week is to defeat the elite Steelers, whose arsenal of Ben Roethlisberger, Le'Veon Bell, and Antonio Brown was daunting enough even before Sammie Coates emerged as an additional threat. What does it take to beat the Steelers? Something better than a team that is in the bottom 5 on both offense and defense, as the Dolphins are. Take the Steelers this week if you're uneasy about either of the two choices above.

---
Mike Davis has been writing about fantasy football since 1999--and playing video games even longer than that. His latest novel (concerning a gamer who gets trapped inside Nethack after eating too many shrooms) can be found here.