It was another week full of…well, a little bit of everything. Unfortunately, "everything" included another huge injury in addition to the excellence, failure, surprise, and disappointment that make up the weekly soap opera we call fantasy football. We'll get the bad news out of the way first…

Just When it was Starting to Look Better…

The touchdown was scored…another silly celebration ensued…and owners of Odell Beckham Jr. were beginning to feel as if the player they drafted to be the cornerstone of their team was finally getting healthy enough to be himself on the field. Less than an hour later, all of that optimism came crashing down as Beckham fractured his ankle with four minutes remaining in the game. Earlier, the Giants had lost both Sterling Shepard and Brandon Marshall to ankle injuries of their own. Eli Manning's best fantasy games of the season are now behind him as defenses will have little trouble game planning for an offense without any real weapons. In theory, Sterling Shepard's role could increase dramatically once he returns to action as might the role of TE Evan Engram. But, neither of those guys plays like Beckham and just like Dalvin Cook's injury last week, this one is going to hurt fantasy teams in the worst way. Well wishes to both men.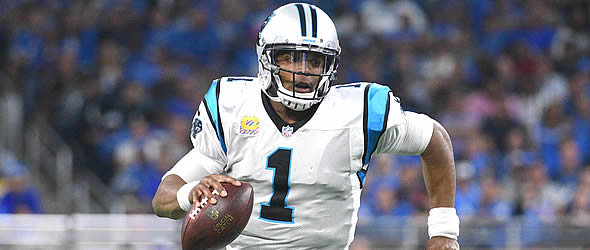 A three-touichdown effort on Sunday brings Newton's TD total to 7 over the last two weeks.
Cam I Am
Does anybody know what happened to Cam Newton between Weeks 3 and 4 of this season? After looking like one of the worst fantasy quarterbacks on the planet exiting September, Newton has taken October by storm, producing 671 passing yards and 7 TDs in the two games since the calendar change. And, he's turning Devin Funchess (3 TDs in the past two games) and Ed Dickson (170+ receiving yards vs. Detroit) into weekly lineup options. Rarely does the switch flip like this for a player, much less a quarterback, but Newton is looking like the Cam of 2015 and a solid QB1 moving forward. With the Panthers struggling to run the ball, look for Newton to continue trying to beat teams downfield. And the scary part about what he accomplished on Sunday was that he did all his damage (355 passing yards, 3 TDs) without any ground stats. Impressive.
The Rise of Leonard Amidst The Fall of Ben
Putting fantasy football aside for a moment, who saw the Jaguars pounding the Steelers into submission on Sunday coming? Neither the Ravens nor the Steelers probably want anything to do with Jacksonville for the rest of this season and beyond. Putting the fantasy glasses back on, it was another coming out party for an NFL rookie, but in reality the party started back in Week 1. Leonard Fournette IS the Jaguars offense and on Sunday, he reminded us that not only is he solid in the red zone, he can also make explosive plays. 90-yard touchdown runs can change the entire course of a fantasy game in a few seconds and that was what turned Fournette's day from very good to great. I know I got cold feet on Fournette and traded him away in one league prior to the season starting. Oh, to go back and do that over again.
On the other side of the ball, there was Ben Roethlisberger throwing 5 interceptions. Almost anybody else would have been benched for such a mockery, but Ben's accomplishments over the years earned him the right to stay in and keep fighting. The question is: How much more does Ben have left in the tank? He's way off the QB1 radar right now in spite of having arguably the league's best RB and WR at his disposal.
The Incredible Shrinking Men
In what is looking like a bad year for wide receivers (more on that momentarily), four supposed marquee wideouts were quiet on Sunday for at least the second week in a row. To be fair, none compare the total disappearing act that is Amari Cooper. Hopefully, you were smart enough to stick Cooper on the bench this past weekend so that his 1 catch for 8 yards didn't lose you a game, but for some, he may have still been in the lineup due to a lack of other options. Cooper is easily headed for Biggest Bust of the 2017 season unless things change in a hurry. Maybe he isn't fully healthy…or maybe he'll pull a Cam Newton and rise from the ashes so to speak. At this point, Michael Crabtree should be drawing the stronger cornerbacks in coverage, so Cooper will likely get his chances in the weeks to come. As for the other "shrinking" WR1-types, Alshon Jeffery and Doug Baldwin were both held below 45 yards on Sunday for the third time this season. At least they caught a ball - something that can't be said for the enigmatic Sammy Watkins.
Welcome Back, Mr. Martin!
The stats will suggest that Doug Martin had a very solid, but not spectacular debut performance on Thursday night vs. New England. After all, Martin ran for 74 yards, caught one pass, and scored one TD. But, he also averaged nearly 6 yards a carry and looked greasy fast doing it. Martin is sure to get more than 14 touches in a game moving forward, and it doesn't take an insider to tell you that his arrow is pointing up. In a world where true stud RBs hardly exist anymore, Martin has a chance to be a throwback to a time when RBs reigned supreme. Expect 20+ touches a game and top-ten numbers at the position. Feels good to share good news alongside the not-so-good.
A.J. and DeAndre Save the Day
Getting back to wide receivers, last week we shared the shocking truth that no fantasy wideouts scored 20 points or more in a game in Week 4. That's with all 32 teams in action, mind you. And, it almost happened again this week except for the early Sunday heroics of A.J. Green and the late Sunday performance of DeAndre Hopkins. Green did most of his damage in the first half vs. Buffalo, while Hopkins ripped the Chiefs to shreds in the fourth quarter. Both guys will be on a bye each of the next two weeks, but the second half of the season should provide more of the same in terms of explosiveness from these two. With Beckham out, Julio Jones struggling somewhat with health, and few younger WRs emerging, hitching your wagon to one of these two down the stretch could lead you to a title. It's something to consider if you're looking to package a couple of solid players in a trade for someone truly elite. As an aside, a shout-out at WR is also in order for T.Y. Hilton. After 170 yards receiving this weekend, it's becoming obvious that you're an elite player no matter who is throwing you the ball.
Something Old, Something New (Green Bay Edition)
Aaron Rodgers led the Packers (and fantasy teams everywhere) to a last-minute victory on Sunday to the surprise of…well, no one. In recent years, Rodgers has been a touchdown machine much more so than a big yardage guy and with three more this weekend, he's now up to 13 on the season including three or more in three consecutive weeks. What wasn't expected from Green Bay on Sunday was the presence of a 100-yard rusher named Aaron Jones. Jones's emergence is good news for Packers, but could be bad news for owners of Ty Montgomery as a timeshare will likely emerge from Jones' success. Yet another RB situation to possibly avoid once both guys are healthy. The problem is, if you ignore every situation in which there are shared carries among two or more RBs, you're basically avoiding everyone except the two Los Angeles teams, Pittsburgh, and Jacksonville. Good luck with that.
Re-Shaping the Landscape that is QB1
Last week, it was noted that we weren't ready to anoint Deshaun Watson as a QB1 just yet, but it's time to change that. Watson can hurt you with his legs as well as his arm and his willingness to sling it deep to two wide receivers who can go and get it (Hopkins, Fuller) should lead to more big days, particularly if the Texans defense continues to struggle.
The other QB from the Houston-Kansas City game has also moved firmly into QB1 status. It just doesn't feel right to declare Alex Smith a QB1, but the numbers suggest othwerwise. Sprinkle in Carson Wentz and Dak Prescott, and you've got a changing of the guard at the position So, if these four signal callers are now QB1 material, who is no longer at that level? We mentioned Big Ben earlier, but you can also throw in Matthew Stafford and Derek Carr, even when he's healthy. We're not ready to suggest Matt Ryan and Marcus Mariota don't belong… just yet.
Monday Night Musings
Chances are if you were counting on someone on Monday night to come through for you with a big game, it didn't happen. That would include Stefon Diggs, who pulled an Amari Cooper and caught one ball for four yards. It also includes Tarik Cohen (less than 20 total yards) who is coming back to Earth after an exciting start. That's what happens when players play way above expectations in early weeks. More interesting was the stellar play of Jerick McKinnon who gained the upper hand on Latavius Murray for Dalvin Cook's former job. McKinnon's 146 yards on 22 touches makes him the favorite going forward for production on a team that will continue to try to establish the run to complement a solid defense. As for Chicago, Jordan Howard continues to look like the only player worth starting on a fantasy team.
The Dreaded TD Vulture
In conclusion this week, we want to tip our caps to the dreaded TD vulture. Kareem Hunt and Ezekiel Elliott owners are not too fond of these individuals after they stole likely touchdowns on Sunday. So, here's to you, Charcandrick West and Cole Beasley. Since no one started you, all you did was mess up the fantasy fortunes of many with multiple touchdowns apiece. Well done, sirs.
That's a wrap for the Buzz for Week 5. An intriguing season gets more interesting each week. Until next Tuesday…