Where Aggravation Leads To Prospecting




9/24/09



Aggressiveness is a characteristic that tends to reward fantasy owners more times than not. In the NFL, an offensive line will sometimes hold up long enough to give the quarterback enough time to beat man coverage down the field and make the defense look foolish against a fierce pass rush. More often than not, though, when a defense brings the heat and forces the action, crisis management becomes the name of the game for the opposing team.

In that same vein, I hope to apply that same kind of pressure to the owners in all of my leagues by beating my opponents to the punch in regards to personnel moves. Sometimes, reaching a conclusion about a player too quickly is much like trying to blitz Peyton Manning – dangerous and painful. However, coming to a correct conclusion two weeks or two minutes quicker than your opponents is considered foresight. Fantasy owners can be a uneasy lot, knowing that one two-or-three-game losing streak can wreak irreparable damage to his/her team's chances to make a visit to the fantasy postseason. But just as it is in the NFL and in life, it's hard to land the big prize by playing scared. Thus, I will strive each week to help each of you become a smart blitzer, so to speak.
---
Once in an accident, twice is a pattern, three times is a trend.

While there have been several variations of this saying over time, I think it holds particularly true in fantasy football. In a sport where each passing week eliminates 6.25% of our potential 16-game fantasy schedule, nearly 20% of the season is over before we get to reach the trend stage. Unfortunately, in most competitive leagues, we have to make our decisions on players - particularly free agents or unexpected consecutive huge performances from a later-round pick - long before they string together three consecutive strong games. Likewise, a number of owners who drafted Matt Forte No. 1 overall may be staring at an 0-2 record and feel as if they can't afford to see if OC Ron Turner will make him the centerpiece of the offense again. Sometimes, it is not about the number of touches (although that helps), but more about the manner in which those touches are received. After saying all offseason about how they would remain a running team, the Bears have been Jay Cutler-centric, attempting 36 and 38 passes in the first two weeks of the season. (For what it is worth, expect the "old" Forte to return this week.)

For as much as drafting your team is the apex of the early part of the fantasy football season, then setting your lineup each weekend can sometimes be one of the most excruciating aspect of this game.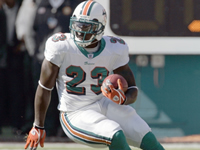 "Free Ronnie Brown!"
Case in point: just like many of his owners, my biggest dilemma this week on each of my money-league teams centered on Ronnie Brown. Anybody who has read my columns or e-mailed me about the Dolphins' RB over the summer knows that I am extremely high on him. Of course, I can manufacture all the enthusiasm I want to on a certain player, but if that enthusiasm isn't returned in kind by the team's coaching staff, my opinion on that player means next to nothing. In Week 1, Brown saw 13 touches vs. Atlanta in a game that was never all that much out of hand. Because I was limited in how much of that Week 1 contest I was actually able to watch, I steadfastly stuck to Brown in my starting lineup until HC Tony Sparano unleashed his gem of a quote this past weekend to the Palm Beach Post, "There is no real star in this bunch of guys." While that quote would have been spot-on about his receivers, it couldn't be further from the truth at RB, which is why coaches can only be trusted some of the time in the media. Although Ricky Williams looks very quick and light on his feet for a 32-year-old back (and would be a good alternative to some of the backs currently starting in the league), he is merely just another RB at this stage of his career. Brown, as he showed on Monday Night Football, is special. And the truth of the matter is that if the Dolphins' coaches really felt Brown was not clearly a better back, Williams would steal a snap every now and then in the "Wildcat".
Because I was fortunate enough to land high-quality RB depth on each of my money league teams, I begrudgingly placed Brown on the bench in every league I had him because – although I won each game with him in the lineup in Week 1 - even the best fantasy teams will struggle if their RB2 is only going to see 13 touches. Certainly, if Sparano has "no real star" among his RBs, then I had little reason to believe that he or OC Dan Henning would do anything to help Brown prove him wrong. After all, the Falcons are not too dissimilar to the Colts in terms of how the teams are built or their defensive personnel.
Thus, like much of the fantasy football nation, I wanted to take a really hard, uninterrupted look at the Dolphins' offense on Monday Night Football. In what was one of the most entertaining yet perplexing games I have seen in some time, Miami not only evoked visions of the Jacksonville Jaguars' legendary trampling of the Colts' run defense back in 2006, but also brought to mind Super Bowl XXV (1991) in which the Bill Parcells-coached Giants controlled the clock for over 40 minutes behind a punishing ground game to stymie an explosive Buffalo Bills' offense. From a fantasy perspective, in the end, I saw exactly what I had hoped to see from Brown - a powerful and explosive RB working out of the "Wildcat" 10-15 times behind a dominant run-blocking offensive line who finished off his runs. Though I am not anti-Ricky, Williams was seeing the hole just like Brown, but he was not falling forward on contact.
It was after watching the MNF game I started thinking about this week's article and how I was going to describe my feelings on how I feel about running back by committee (RBBC), time-shares and all the different kinds of specialty backs in the game today. Throwing out a game like the Dolphins-Colts tilt in which Miami ran the ball 49 times (because those types of games just don't happen all that often), RBBC - or whatever you want to call it - is really a pretty good idea from a NFL football standpoint, although it can be quite the drain for fantasy owners. Even though the NFL continues to evolve into more of a passing league each year, most coaches are sharp enough to realize that running the football effectively will always be every bit as important, if not more so. RBBC would also appear to preserve the long-term health of backs as well.
My problem with "sharing the load" is how some teams execute it and what it means when teams get inside the red zone. As for how they share the load, most teams have one clear-cut RB that coaches have no reservations about starting (the Dolphins are a fine example). For those teams, it blows my mind that the coaching staff believes that alternating series is the best way to go. For teams like the Dolphins, the coaching staff is voluntarily taking opportunities away from their best player to give more touches to a lesser player. For Brown or any other RB of his ilk, most NFL RBs don't require a 15-20 minute break to recover from the last series. From a strategic standpoint, I believe it would also be harder for a defense to prepare if they didn't know when Williams would replace Brown during a drive. I have a much easier time understanding sprinkling a dash of Williams into each drive than I do giving a player a set number of series because, in the end, that methodology will lead to games in which Williams will see more touches than Brown because the former is more of a plodder than the latter, thus requiring more carries to put up the same numbers.
In my quest to illustrate why Brown needs to see the ball more often, allow me to put some numbers into perspective since the new coaching staff took over in Miami prior to the 2008 season, the Dolphins are 6-1 and average 22 points/game in contests where Brown sees at least 15 carries, in which the RB averages 4.9 yards/carry and over 18 fantasy points/game in non-PPR leagues. In the 12 non-15-carry games, the team is 5-7 and averages 19 points/game, in which Brown averages 3.6 YPC and less than eight fantasy points/game. While the team point differential isn't as much as one might expect, the Dolphins are bound to get into a lot of close, lower-scoring games with their brand of football where a field goal difference can easily be the difference between a win and a loss. From a fantasy perspective, the YPC and fantasy point differences are very telling. There are any number of reasons why the disparity is what it is in both cases - including the quality of opponent or his fatigue near the end of last season after recovering from ACL surgery - but it might also suggest that Brown simply isn't getting enough work.
As much as alternating series gripes me, the concept of goal-line backs irritates me even more. Sure, just like any other part of football, there are certain players who perform better in certain aspects of the game better than others. No one would question current players like Kevin Faulk or former ones such as Larry Centers, Warrick Dunn and Michael Pittman were usually (or currently are) their team's best "receiving" backs and, thus, receive the bulk of their team's passing game work at the RB position. But unlike a 3-point specialist in basketball or a lefty specialist in baseball, I firmly believe the idea of a designated goal-line back is, for the most part, unnecessary. Again, there are exceptions, but I am hard-pressed to understand the notion that one player is a better runner for the first 80-90 yards of the football field and then another runner is better at finishing it off. The same qualities that enable running backs to succeed on the back half of the 50 are the same ones that enable them to thrive on the front half. Anyone who watched RBs such as Marcus Allen 10-20 years ago or Priest Holmes earlier this decade will be the first to tell you that converting at the stripe is less about being the Incredible Hulk and more about vision and balance - the same qualities that allow rushers to succeed in the middle of the field. For every "power back" like Emmitt Smith, Walter Payton or John Riggins that appear on the all-time leaderboard for rushing TDs, there is a "finesse back" like Shaun Alexander, Barry Sanders, Holmes, Allen or Tony Dorsett who have also been every bit as proficient at the goal line.
Even RBs that used to get knocked for their goal-line woes (Edgerrin James, Fred Taylor to name a couple) were brought in to Seattle and New England, respectively, with the idea they would assume goal-line duties. I assure each of you that one offseason did not change either back's profile, but in a football world where many teams alternate series with their RBs, I suppose it only makes sense that some teams need a third RB to do the job that one runner used to be able to do all by himself less than 10 years ago. In the age of specialization, this is one specialized area that I will probably never understand. I think what it provides in terms of making two or three players feel like they are contributing, it subtracts in terms of the offense's overall effectiveness.
With that topic off my chest, I suppose it is only appropriate that I continue discussing workloads. However, rather than continue to"Free Ronnie Brown" diatribe, I would like to introduce a RB workload and WR/TE target tool that I feel will assist owners in any kind of league. It's not so much a creation as it is a different (but what I believe to be a more efficient) way to present the same material you can find on any site that provides that kind of information. Essentially, rather than going page-to-page looking at workload/touch totals, I feel it is more helpful to put them all on one page so it is much easier to compare and contrast, something I feel is particularly helpful when trying to come up with trade offers. I'll spare you the background story, but suffice it to say that when I have put the time into doing this research, I have generally been able to uncover some diamonds in the rough.
For RBs this week, I drew the line at 18 touches (nine/game) and for WRs/TEs, I stopped at five targets/game. Those are hardly foolproof limits, but once we get lower than those numbers, we are typically dealing with role players at best, which should be available on your league's waiver wire or on the cheap from an owner holding onto that player to fill out his/her roster. As you will see, there are some notable exceptions on each list, but expect most of those players to find their way back up the chart before long.

Quick Hits: In the unlikely event an owner landed Cedric Benson and Fred Jackson with the idea that a former first-round bust and a Coe College product would lead the league in touches after two weeks, congrats. My opinion on Benson hasn't changed – even though this is the best he has looked as a pro – because he just does not offer the breakaway threat than can make a good offense a great one. As for Jackson, he may have just worked himself into a fairly substantial share of playing time once Marshawn Lynch returns.
I was bearish on Portis before the season and I'm afraid it's not going to get any better. I had hoped that the Redskins' offensive woes in 2008 were due to the transition in learning HC Jim Zorn's offense. After observing most of Washington's first two games this season, it's become clear to me that Zorn is just not a very good play caller and game manager. With Ladell Betts stealing more and more of his field time, Portis may struggle to post RB2 numbers some weeks.
With 19 touches last week, it may be time to buy Moreno. If the first two weeks are any indication, Buckhalter is going to get his fair share of work, but apparently McDaniels isn't holding the rookie's preseason injury woes against him.
Notable players left off the list: LenDale White, LaDainian Tomlinson, Felix Jones, Chris "Beanie" Wells

Quick Hits: It's no surprise after two weeks the WR leaderboard looks a tornado went through every fantasy owner's rankings; it happens just about every year. However, the Panthers' Steve Smith could be poised for one of his biggest seasons yet. We all know how Jake Delhomme tends to lock onto him, but at his current rate, the mighty mite is on pace for 224 targets. He probably won't get quite that many, but Carolina's defense is going even worse than I thought it was going to be, so Carolina's passing game may be forced to air it out a lot.
Not many people have ever questioned the potential of Laurent Robinson or Mario Manningham since they came into the league, but it is quite surprising to see how quickly they have started this season. Staying healthy has always been Robinson's biggest question mark while Manningham had been stuck behind Amani Toomer and Plaxico Burress since he entered the NFL. I suspect we haven't heard the last of Domenik Hixon or Hakeem Nicks just yet, so don't go too crazy with your expectations for Manningham. With that said, his off- and preseason work with longtime WR Keenan McCardell is paying off and with another strong showing or two in the coming weeks, he may just lock down the starting job and produce like a low-end fantasy WR2.
Two games, 32 total targets for the Pats' slot WRs, with 16 coming in each game. If you enjoy the unappreciated science of handcuffing your WR, it may be worth it for Welker owners to secure Julian Edelman. The rookie will be useless in fantasy leagues if Welker finishes out the schedule, but if the former Dolphin continues to have problems with his knee, Edelman does a fine Welker impression and would produce at a level just south of the vet if he were asked to fill his shoes again in Week 3 or beyond – he is no fluke.
Here's an idea for the Bears…rather than removing your best possession receiver (and Cutler's favorite target) Earl Bennett from the game, how about if you consider having deep threat Johnny Knox share snaps with deep threat Devin Hester? That way, Hester could return to full-time special teams work and the team wouldn't be out both a starting WR and punt returner if he were to get injured.
Consider picking up Jerramy Stevens if you are in the market for a TE with a bit of fantasy upside. Once former OC Jeff Jagodzinski was canned late in the preseason, I wasn't sure the Bucs would feature their TEs all that much. With 33 targets between Stevens and Winslow, they are definitely still getting their opportunities.
Notable players left off the list: Percy Harvin, Terrell Owens, Zach Miller, Laveranues Coles, Bernard Berrian, Antonio Bryant
College Spotlight
I'd like to cap off this edition of the Blitz by following through on a segment I mentioned a couple of weeks ago. I won't always pick the most obvious college players, but I will tend to focus my attention on a player who I firmly believe has a chance at being fantasy-worthy in 2010. Just like any good talent evaluator, I will only write about a player if I have seen him play on multiple occasions. (If by chance I break that rule, I will make it known in my evaluation.)
Jahvid Best, RB Cal (5-10, 195)
After a pair of strong games to start of last season, Best burst onto the national scene with a three-game run to close out the 2008 campaign. Over that stretch, he posted a mind-boggling 698 rushing yards and nine total TDs (in which his lowest rushing total in a single game was 186 yards) despite not seeing more than 20 carries in any of those contests. Say what you will about Pac-10 defenses, but Best is averaging over eight yards per carry in his career. We should get a good idea of just how much his game has grown in a couple of weeks when the Golden Bears host USC, which was the last opponent to hold Best under the 100-yard mark (seven-game streak of surpassing the century mark).
Unlike some of the recent Cal backs to make it into the NFL (J.J. Arrington, Justin Forsett, to name a few), Best will be more than a situational RB when he decides to go pro, which will probably after the completion of the 2009 season. When the 20-year-old junior first receives the ball from quarterback Kevin Riley, he is more patient than most NFL rushers waiting for the offensive line to create a crease for him to run through. Once the hole develops, Best has the vision to recognize it and is powerful enough to break an arm tackle or elusive enough to make the first defender miss. From that point on, his acceleration allows him to pull away from opposing defensive backs. Furthermore, he is NFL-ready as a receiver. On a number of occasions vs. Minnesota last Saturday, Cal split him out wide and utilized that aspect of his game as well. Don't dwell on the fact that he has only seven catches through three games as his numbers in passing game numbers would likely be better if the Golden Bears had needed him late in their first two games of the season. The one knock on Best right now would be his size, but like most young RBs, he'll likely keep adding muscle over the next few offseasons and, in his case, be up to 205 by the start of next summer. He already has the leg strength necessary to be a good blocker in pass pro, but he will want to get a bit thicker above the waist to excel in that area of his game as well as to better absorb the punishment that an NFL running back takes. Because of his natural talents and Cal's strong o-line, I have yet to see if Best has some of the moves (spin move, stiff arm) necessary to make him even more of a nightmare for opponents – which is one more reason why I want to see him vs. USC.