The Best and Worst Of Times




12/23/10



Aggressiveness is a characteristic that tends to reward fantasy owners more times than not. In the NFL, an offensive line will sometimes hold up long enough to give the quarterback enough time to beat man coverage down the field and make the defense look foolish against a fierce pass rush. More often than not, though, when a defense brings the heat and forces the action, crisis management becomes the name of the game for the opposing team.

In that same vein, I hope to apply that same kind of pressure to the owners in all of my leagues by beating my opponents to the punch in regards to personnel moves. Sometimes, reaching a conclusion about a player too quickly is much like trying to blitz Peyton Manning – dangerous and painful. However, coming to a correct conclusion two weeks or two minutes quicker than your opponents is considered foresight. Fantasy owners can be a uneasy lot, knowing that one two-or-three-game losing streak can wreak irreparable damage to his/her team's chances to make a visit to the fantasy postseason. But just as it is in the NFL and in life, it's hard to land the big prize by playing scared. Thus, I will strive each week to help each of you become a smart blitzer, so to speak.
---
As a believer in the theory that fantasy football is much more skill than luck, I've maintained for some time now that skill helps you navigate the fantasy regular season while luck plays a much bigger role in the playoffs. Why do I believe this?
For one, the margin for error is slimmer because the likelihood that your league's postseason features the top 4-6 scoring teams is pretty high. (On average, I would say one team in each league slips in that shouldn't probably have made it.) Going on a three-game winning streak – two if you have a Week 14 bye or Week 15 playoff start – against your league's best teams is a daunting task. For all the planning and projecting I do for the postseason, it is not always feasible to secure the highest-scoring team in your league for three straight weeks late in the season.
A second factor to consider is that during fantasy playoff time, we are at the point of the NFL season when some of the lesser teams are setting their sights on next year or their offseason plans. In other cases, teams are playing to win but have been ravaged by injury. About this time each year, we are reminded why the NFL should maintain its 16-game schedule and not attempt to go to an 18-game slate. Despite the increased attention paid to player safety in recent years, the fact remains that teams like the Colts and Bengals have nearly 20 players on IR already and will probably surpass that mark before the end of the season. Other players – Maurice Jones-Drew, Adrian Peterson and Arian Foster come immediately to mind – are now becoming injury concerns after providing their owners with good or elite production all season long.
As I mentioned several times throughout the season, fantasy football is a 16-week marathon. Pretenders can look good for a quarter or even half of the race, but at some point, the grind of the season will expose a team. In the worst-case scenario, a relatively healthy fantasy team can lose it all in one bad playoff showing.
The best example of a team I own that encompasses everything I have discussed up to this point is one of my big-money teams that saw its season end last week. My regular lineup – the one I had played for several weeks leading up to Week 15 in this PPR league – is below:
After beginning the season 1-2, this team ripped off 10 straight wins, captured the points title going away and secured a No. 1 seed. Despite some poor matchups in Week 15 (Steelers and Jets played each other, making Holmes and Wallace somewhat dicey plays), I was confident in my ability to pull out a win over a team I outscored in 10 of 13 weeks during the fantasy regular season. Little did I know that I was going to be handed one of the more painful losses of my fantasy career.
Losing Rodgers last week was painful (while I was on a bye), but thankfully I knew I had Jon Kitna in reserve in a relatively soft matchup against the Redskins. What I did not expect was Foster's 15 rushing yards (and injury), Charles just missing out on a long TD run (and cramping which forced him from the game), Holmes suffering a turf toe at some point, Wayne's worst fantasy performance against the Jags since Week 2 of the 2005 season or the Giants' surrendering 35 points over a quarter and a half after holding the Eagles to three points through 2 ˝ quarters. Had any of these freak occurrences not happened this week, I would have enjoyed putting both of my big-money teams in the title game.
Believe it or not, I'm not asking for sympathy. I offer up this cautionary tale as an example of to the cruel reality that sometimes strikes your fantasy team at the worst possible time. A person cannot play this game for very long without learning that a great team doesn't always take home the fantasy title. What it goes to show you is that despite thorough analysis and research, a dream season can end with a thud.
On a more positive note, I am proud to announce that FF Today is back in the SOFA Auction League title game for the first time since 2006, when the good guys defeated Rotoworld. As luck would have it, the two "fantasy powers" meet again in 2010. While not at the level of Patriots-Colts, it is interesting to note this will be the fourth time in five years the two sites have met in the playoffs. In my first year in the league in 2009, I guided FF Today to the eighth-highest point total in league history. With any luck in Week 16, I'll find my way into the top four this season. But all the scoring in previous weeks only looks good if it continues through Championship Week and leads to a title.
********
With apologies to my loyal readers who count on my workload/target breakdowns each week, I like to close each fantasy regular season by setting the stage for next season. My rationale for doing this is that I feel I perform a much greater good by establishing a baseline for keeper and dynasty league owners while also paving a path for owners in redraft leagues. Last season's pre-Christmas piece, A Matter of Trust, took a look at the few players that were the most consistent fantasy players in the game over the past two seasons. I'd like to do the same thing again this season. (Please refer to the article for further explanation if you require it.)
Using consistency scores over the last two seasons, I decided to investigate which players have been solid "foundation pieces" over the last two seasons. Just as in school where 70% is a passing score, winning about 70% of your games during a 13-week fantasy regular season will leave you with a 9-4 record (.692 winning %), which will almost always get you a playoff berth - if not a division title and first-round bye. Using that same rationale, I'm setting the bar at 70% consistency for all fantasy players (or players who are subpar less than 30% of the time) across the board.
Because the "measuring sticks" change each year, I cannot provide a firm fantasy point average for each position, but rather the "subpar level" that each position recorded that season. At QB, that measuring stick is 19.22 this season and 17.83 fantasy points/game for 2009. At RB, the numbers are 12.29 and 12.95. WRs check in at 12.31 and 11.38 and TEs hover around 10.79 and 10.56, respectively. Lastly, this analysis s for 12-team PPR leagues (all TDs worth six points) that require one starting QB and TE, two starting RBs and three starting WRs.) Finally, I set the bar at a minimum of eight games played…I think you'll be surprised by the results.
That's it, folks…that's the list. Over the last two seasons, only three players have hit the aforementioned benchmarks in 2009 and 2010. Taken one step further, Fitzgerald is the only player in all of fantasy to "pass" this test in each of the past three seasons. Consider the magnitude of this list for a minute if you would. At QB, you need your fantasy signal-caller to surpass 200 yards passing and two scores in seven of every 10 games. At RB, the averages are 60 yards and a score or 100 total yards with a couple of receptions. At WR, five catches for 70 yards will do the trick and, at TE, five catches for 50 yards is just about enough.
Perhaps I'm being a bit unfair at setting the cutoff at 30%. For those of you wanting to know, here is the list of additional players that would make the cut over the last two seasons if I raised the bar to 35%:
If we were to make the cutoff at 40%, we'd also be assuming that 8-5 (.615 winning %) always gets fantasy owners into the playoffs, which it does not. And we all know that somewhere along the way, at least one of our fantasy opponents will make you their Super Bowl, which shrinks the margin of error even further. Granted, not all of your consistent players are going to hit rock bottom in the same week, so I understand this analysis is a bit lacking in some areas. With that said, it's becoming easier to see why the gap between the #1 team and #10 team is about three games in competitive leagues - we are dealing with a lot of mediocre fantasy players, some much more so than others.
Granted, this season has been unusual even by the standards fantasy owners have become accustomed to over the years. Peyton Manning, Philip Rivers, Drew Brees, Chris Johnson, Maurice Jones-Drew, LaDainian Tomlinson, Greg Jennings and Vernon Davis all find themselves less than 1% off the 35% mark in 2010 and only need to perform at the aforementioned scoring benchmarks over the final two weeks to qualify this season. Regardless, the point still should be made that in-season management (and a bit of luck) goes a long way to securing fantasy championships.
********
As I write the Blitz for the final time in 2010, I'll leave you with a short to-do list in order to improve as a fantasy owner in time for next year. (Believe me, I'm a far-from-perfect fantasy owner!):
At the end of each season, I like to sit back and take inventory on what exactly happened along with any thoughts about how that could potentially impact the next season. Just like with anything else, the sooner you complete this process, the more you'll likely remember what happened and how it happened. Case in point: Anquan Boldin was the ninth-best WR in PPR leagues after Week 7 (averaging 17.1 fantasy points/game). Since the Ravens' Week 8 bye, he is averaging less than 10 points/game (9.1 to be exact), good for 57th place at his position. Are we really to believe one of the great receivers in the league is trending down at age 30? Probably not, as opponents began to double team him or use bracket coverage on him consistently about the same time his stats started declining. With viable threats all over the field, Joe Flacco simply doesn't need to force-feed his stud receiver the ball. Now, if Derrick Mason was to retire, T.J. Houshmandzadeh leaves in free agency and Todd Heap's $4.6 M salary for 2011 is deemed to be too much for an injury-prone TE with two talented rookies at his position in reserve, Boldin quickly becomes a 10-target/game receiver again.
Here are some other situations to consider: Does Ryan Fitzpatrick's mid-season emergence in mean Buffalo doesn't draft a QB this spring? If they do draft a top-tier prospect, does that negatively/positively affect the value of someone like Steve Johnson? Does the complete restructuring the Bengals are almost certain to undergo turn them into a fantasy black hole? Is Peyton Hillis' recent decline due a heavy workload or because defenses have realized he is the only reliable source of offense for the Browns?
Something else I like to do as the current fantasy season winds down is get a head start on the talent evaluation period for the next fantasy season. This not only includes watching every bit of NFL playoff action I can, but also involves taking in as many of the college bowl games as possible. (Bowl season is a great time to evaluate talent as well as seeing which players can perform when the pressure is at its apex.) With over 70 teams playing in the college postseason nowadays, the chances that you will see next year's fantasy rookie contributors in action are very high.
I also try to form a "wish list" for each team (do the Redskins select University of Washington Jake Locker or try to convince us that Rex Grossman or John Beck is the future, for example), understanding that an addition/subtraction from one area of a team affects several players. The trick is understanding which additions/subtractions help take pressure off the players on a team (and thereby increase their effectiveness) and which additions/subtractions put more pressure on players (causing you to decide whether a player on his old team will get more touches, see more double teams or something else entirely).
Does that sound like a lot? It's not. And understand going in, you will be wrong more than you care to admit. But this preparation helps you hit the ground running a lot easier in May and June when it is time to start forming some opinions about the upcoming season while your competition is, well, not doing much football-related.
Lastly, I try to put together a mini-Big Board at the end of the fantasy season to leave me with some impression of how I feel about the top 50-100 players heading into next season. Just for fun, I'll put together a top 20 list (PPR scoring) that is subject to change about as quickly as I submit this article. After each player, I will provide a brief explanation as to the concerns his fantasy owners should have entering the offseason.
1. Arian Foster
It's hard to argue with the top-scoring fantasy player as the top fantasy prospect for next season. However, I am slightly concerned by the return of second-round rookie Ben Tate (does he steal significant snaps or just replace Derrick Ward?) and any changes Houston may make with its coaching staff (HC Gary Kubiak, OC Rick Dennison). I tend to believe he'll remain the clear-cut feature back and that Kubiak/Dennison will return, but none of the above occurrences are locks to happen.
2. LeSean McCoy
Is it crazy to believe this high ranking is possible for a RB who often gets less than 15 carries/game? It shouldn't be. Brian Westbrook was a fantasy force in this offense for years and that was without the threat of Michael Vick to scare opposing defenses. My concerns in regards to McCoy are that Vick takes a lot of hits (and without his QB, he goes from a top fantasy player to an above-average one) and that his biggest competition for scoring TDs on the ground is the very player handing him the ball.
3. Jamaal Charles
As mentioned in this column a couple of weeks ago, Charles is in rarified air in terms of his current 6.4 YPC. His biggest concern heading into the offseason is the same one it was heading into this season: how much work will Thomas Jones steal from him? With his role becoming more certain, the Chiefs becoming a stable franchise again and his new contract befitting of an upper-echelon RB, Charles should be a strong and stable fantasy force – with great upside – in 2011.
4. Chris Johnson
Last summer, CJ's preseason contract demands and threat of a holdout made him a bit of a risk. This season, the potential losses of Vince Young and HC Jeff Fisher may be the biggest concerns. If Fisher goes, the commitment to a strong running game may leave with him while a VY departure keeps the opponents' focus solely on stopping Johnson. It's hard to put a RB with his talent and established role at #4, but there is reason for concern here in 2011.
5. Aaron Rodgers
This ranking is sure to create some controversy, but I don't believe there is a finer fantasy QB available. Consider for a second that Rodgers lost his RB (Ryan Grant) in Week 1 and most-talented playmaker in the passing game (TE Jermichael Finley) in Week 5. Throw in a three-game stretch in which trusted security blanket Donald Driver was either unavailable or shouldn't have played and you have a QB who is still carrying fantasy teams. My only concern with Rodgers in 2011 is if he will be asked to carry the Packers' ground game again and what that would mean for him in the durability department.
6. Michael Vick
Without a doubt, we have seen this year what can happen when an ultra-athletic QB can do when he learns how to play the position and is open to coaching. Still, this ranking scares me and it has nothing to do with his off-field history because he refuses to slide when he leaves the pocket and isn't exactly built to take a great deal of punishment, Vick is a poor bet each year to play a full slate of games. But, oh, what he can do when healthy…
7. Ray Rice
Meet this fantasy generation's version of Tiki Barber. Because Thunder (with Willis McGahee playing the role of Ron Dayne) continues to cap the scoring potential of Lightning, Rice owners can only hope that McGahee's hefty 2011 salary is traded/released in the offseason and OC Cam Cameron elects to see what the Rutgers alum can do with his 300+ touches AND goal-line duties. Whereas many of the players on this list will have slight-to-significant concerns to overcome in 2011, Rice only needs a player who should already be off the roster to leave in order to soar up this list.
8. Adrian Peterson
This ranking has nothing to do with his immense talent and everything to do with the situation in Minnesota. AP was a stud before Brett Favre and will still be one after he retires, but expecting him to put up his typical numbers with Joe Webb or a rookie QB next season behind an offensive line that is not what it once was may be asking too much. He'll probably extend his four-year stretch of at least 10 TDs and 4.4 YPC to five in 2011, but a lot of work needs to get done in Minnesota this offseason if owners expect him to be the #1 RB next season.
9. Andre Johnson
It's easy to forget when AJ is putting up the numbers he is this season that he has done it for the most part on an ankle that isn't anywhere close to 100%. Whereas many players enter the offseason with potential threats to their workload or targets, that does not appear to be the case for Johnson anytime soon. Only Owen Daniels is a viable weekly threat – besides Johnson – in this offense, but Daniels' return to full health should mean Johnson draws less attention. Combine that with a thriving ground game and Johnson could enjoy a career season in 2011 if he can stay healthy.
10. Roddy White
Much like Andre Johnson, White's situation could not be much better for his fantasy prospects. Tony Gonzalez (assuming he doesn't retire) will still draw enough coverage to him that White doesn't always have to face impossible coverage. Matt Ryan also trusts him in any situation, meaning he is about as matchup-proof as receivers get. White falls just behind AJ on this list because of Gonzalez's age and inevitable decline. If he ends up retiring after the season, White's numbers could fall back to pre-Gonzo levels.
11. Calvin Johnson
Much like he did in 2008, "Megatron" is once again showing the world what he is capable of despite a revolving door at the QB position. His biggest concern, as was the case in 2009, is staying healthy because his floor each season is about 1,200 yards and 10 TDs. If Detroit is ever able to keep Matthew Stafford, Jahvid Best and Johnson healthy for an entire season, this receiver could post numbers that would rival some of Randy Moss' best seasons.
12. Drew Brees
People are going to look at Brees' high INT total this season and say 2010 was a disappointing season for the QB. But let's keep in mind that much like Aaron Rodgers, he missed his RB (Pierre Thomas) and one of his most dynamic playmakers in the passing game (Reggie Bush). And despite that, he's very likely to eclipse 4,300 yards passing and 34 TDs for the third straight season. Further consider rookie TE Jimmy Graham is only going to make this offense harder to defend. In such an attack-oriented offense with so many weapons and no one threatening his job, he's about as sure of a thing as there is in fantasy.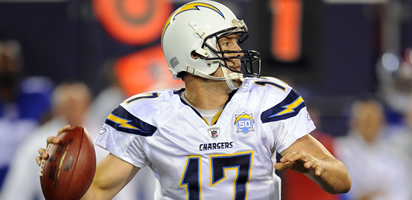 Philip Rivers: In case you hadn't noticed... he's good.
13. Philip Rivers
In case you hadn't noticed, Rivers is an elite QB. And what he has done with an ever-changing cast of receivers and tight ends is nothing short of amazing, so his ranking behind Brees is a matter of personal preference. His concerns going forward: 1) the unlikely return of Vincent Jackson and Darren Sproles and 2) the healthy return of Antonio Gates. As I have already stated, he overcome injury after injury in 2010, so it will take something like HC Norv Turner putting a heavier emphasis on the running game to alter this ranking downward.
14. Peyton Manning
It's hard to remember before tossing 11 INTs over a three-game stretch, Manning had six zero-pick games through 10 weeks. But regardless of his recent rough spell, it is the same as it always was for Manning. He will carry this offense and hope the running game holds up its end on occasion. But unlike the other QBs on this list, his concerns are a bit troubling for the first time in his career. At what point does the porous offensive line expose him to injury? And, heading into his age-35 season, how much longer can he be expected to post his ho-hum 4,500-yard, 30-TD seasons?
15. Darren McFadden
If it weren't for his history with hamstring injuries, McFadden might be considered for a top-five spot on this list. His 2011 concerns for fantasy owners are pretty clear: 1) does Michael Bush continue to be an occasional thorn in his side, 2) does OC Hue Jackson get a head-coaching nod, and 3) can any Raiders' offensive player be trusted with a first-round pick in fantasy? There's enough risk here that a second-round pick in 12-team league is warranted, but he has enough talent to be the top fantasy RB in 2011 if he stays healthy and none of his aforementioned concerns sabotage his numbers.
16. Tom Brady
It seems almost unthinkable to make a three-time Super Bowl champion QB who has a 31:4 TD-INT ratio the sixth-ranked signal-caller on this list. But the difference between Brady and every other QB listed so far is that he isn't always the sole reason his offense does so well. Because the offense is balanced and the gameplan each week is more matchup-specific than any other team in the league, Brady will sometimes post decent – rather than stellar – passing totals. As a result, his major concern is his own offense's balance, something that doesn't figure to change anytime soon.
17. Rashard Mendenhall
Just about every Steelers' offensive linemen (especially RT Willie Colon and LT Max Starks) has missed substantial time and/or has logged some serious time at a different position than the one he started the season at, which makes Mendenhall' 2010 season rather remarkable. Considering just how much turmoil his blockers have experienced, it's a pretty good bet that we've seen the floor of Mendenhall's fantasy potential this season, which is pretty darn good. Assuming he continues to hold off the likes of Isaac Redman for goal line work, Mendy's biggest concern in 2011 is a repeat of this year.
18. Peyton Hillis
I know, I know…seems awful low for a breakout RB, right? To be honest, it probably is. With his all-around production, only a weak supporting cast figures to slow him down. As we have seen lately, teams have finally wised up on letting someone other than Hillis beat them. My main worry, however, may be a more legitimate but forgotten concern – the return of Montario Hardesty. Because the second-round runner has been an injury risk for some time, it may not be a huge threat. But if we combine the lack of a passing game staple with a threat to his touches, then perhaps it becomes clearer as to why Hillis may not be worth a first-round pick next season.
19. Maurice Jones-Drew
Despite the fact he has performed at a top-10 fantasy RB level in each of his two seasons as the Jags' feature back, MJD has yet to put together a complete season. In 2009, he was the main weapon in the red zone (16 TDs) but his workload was somewhat inconsistent and he did not produce at a high level in fantasy over the second half of the season. This year, it has been just the opposite. With his work in the passing game decreasing for the second straight season and Rashad Jennings starting to relieve him more often, owners would be wise to lower their expectations for a RB the Jags just don't seem to know how to use correctly. Suffice it to say, this ranking is more of an indictment on Jacksonville's usage of MJD than it is a slap in the face to his talent.
20. Steven Jackson
One of my favorite all-time college players, it is sad that Jackson is closer to the end of his pro career than the beginning. Based solely on his age (27), Jackson should just now be entering his prime. But with 1,843 carries (and counting) and 2,163 regular season touches already on his odometer, he's going to need Sam Bradford & Co. to help keep him among the low-end RB1 – which is exactly what I expect to happen in 2011 and possibly 2012. However, for Jackson to keep this ranking (over someone like Jahvid Best or Hakeem Nicks), the Rams will need to find a legit WR1 so Jackson is not always playing against an eight-man box.
Just missed the list: Reggie Wayne, Hakeem Nicks, Jahvid Best, Michael Turner, Antonio Gates
Let the debate begin…please check out the "Road to the Super Bowl" series coming your way in two weeks. Until then, Happy Holidays!!!

Suggestions, comments, musings about the article or fantasy football in general? e-mail me.