Preseason Schedule Analysis




7/12/11



During the late 19th century, an experimental psychologist named Hermann Ebbinghaus coined a term called the "serial position effect". The two main concepts from his research were called the "primacy effect" and the "recency effect". The primacy effect is remembering the first items in a list better due to increased rehearsal and commitment to long-term memory. The recency effect refers to the fact that we remember the most recent information better because it is still stored in short-term memory.

For the purposes of this article, I'm going to spare my loyal readers from any further history lessons (or at least flashbacks to their college psychology and sociology lectures). What I will do, however, is modernize the primacy vs. recency debate as it relates to fantasy football. It may come as little surprise that fantasy owners - as a whole – are a what-have-you-done-for-me-lately bunch, so we will be spending more time on the recency side than we will on the primacy part over the next two weeks. Specifically, I want to examine how often a fantasy playoff standout uses a strong finish from the previous season as a springboard to a breakout campaign the following year.

Ideally, I hope to reach some solid conclusions rationale on why some players can recreate their magical end-of-season runs while others cannot. Since the elite players tend to remain elite from year to year (and generate most of the word count with a lot of fantasy analysts), the majority of this article will be devoted to the players such as Arian Foster – a relative unknown fantasy property that flashed some production at the tail end of the 2009 season, which served as a precursor to the 2010 season. I also want to avoid players who were rookies during the season of their fantasy playoff emergence in this study simply because many first-year players who end up contributing late in the season are typically high-round picks expected to do so at some point. In addition, I want to stay away from players such as Darren McFadden and Michael Vick – players who starred all season long in 2010. It may help to consider this a study of mostly young veterans who took advantage of their opportunity to shine during the fantasy postseason.

As a reference point, I will include the top finishers – the number of which will vary by year – at each position for some perspective. Ultimately, I want the numbers to speak for themselves with many of the listed players while I discuss the worthy fantasy playoff standouts over the last couple of seasons and their prospects going forward. In the end, I want to answer the questions: 1) why did he have success? 2) how long did it last? and 3) does he have a shot at fantasy relevance this season?

Because of the volume of information I will be sifting through, I will keep this study focused on the last three seasons (the 2008 standouts leading into 2009, the 2009 stars leading into 2010 and what I feel last season's breakouts mean for 2011). Before I start, allow me to explain each of the abbreviations in the columns below to eliminate any confusion. For example:

08 FP – 2008 Fantasy Playoffs (Weeks 14-16)
09-1st – First half of 2009 season (Weeks 1-7)
09-2nd - Second half of 2009 season (Weeks 8-13)

2008

What worked in 2008: Playing time and supporting cast. While New England lost Tom Brady in Week 1, it didn't lose Randy Moss and Wes Welker. Yes, the drop-off in quarterback play was significant considering Brady's record-setting 2007 season, but Cassel was able to carry substantial fantasy value because he gave owners a little something in the running game (270 yards and two TDs).

How long he maintained fantasy relevancy: To this day. While his 2009 trade may end up being better remembered for the turmoil it caused (i.e. Jay Cutler), Cassel turned his 2008 audition with the Pats into a starting gig with the Chiefs.

Chances at fantasy success in 2011: Very good. The improvements Kansas City has made to its offense during the Todd Haley-Scott Pioli regime are impressive. First and foremost, defenses will be forced to account for Jamaal Charles and the Chiefs' running game before they worry about Cassel. When Cassel does pass this year, he will have two extremely talented receivers to throw to (even if one is as raw as Jonathan Baldwin) and a tight end in Tony Moeaki who figures to command respect over the middle of the field for the next 5-8 years. Of course, Charles is a big-play threat whenever he gets the ball in his hands as well. Because the schedule will be more challenging in 2011, Cassel's near 4:1 TD-INT ratio is unlikely to happen again. Critics will point out that for all his success last season, he still could not manage to complete 60% of his passes despite an easy schedule and a strong running game.

What worked in 2008: Lack of QB talent in front of him combined with a flexible and creative offensive mind. When then-OC Chan Gailey couldn't make the Damon Huard-Brodie Croyle experiment work, the Chiefs turned to a green second-year QB from Coastal Carolina to generate some semblance of offense, starting in Week 8. The unknown quantity quickly became a household name for fantasy owners, emerging as the second-half darling of the 2008 season when Gailey transformed his offense into what Thigpen did best in college – working out of the shotgun with the opportunity to use his improvisational skills.

How long he maintained fantasy relevancy: He didn't. Gailey left just before the start of the 2009 season when Haley must have determined there were too many offensive cooks in the kitchen. With Pioli and Haley squarely in the corner of newly-acquired Matt Cassel, Thigpen wasn't going to have a shot at building on his 2008 success. He was ultimately traded to Miami.

Chances at fantasy success in 2011: Somewhere between slim and nonexistent. Barring a reunion with Gailey or some other offensive guru who will build his offense around Thigpen's aforementioned strengths, Thigpen may be resigned to the life of a journeyman backup.

What worked in 2008: Opportunity at just the right time. Regular starter Gus Frerotte suffered a back injury early in Week 14, which paved the way for Jackson to reward fantasy owners who gambled on the third-year player. Jackson only needed 17 pass attempts in Week 15 to throw for four scores vs. Arizona before another stellar performance one week later (233 passing yards, two TDs and 76 yards rushing).

How long he maintained fantasy relevancy: Not long. Jackson appeared to have a shot to return as a starter in 2009 even after Sage Rosenfels was acquired in an offseason deal with Houston, but any chance that T-Jack had to repeat his success evaporated after Brett Favre postponed retirement for the umpteenth time and joined the Vikings.

Chances at fantasy success in 2011: Slim. Minnesota did not tender Jackson when it had the chance and has committed to rookie Christian Ponder, so Jackson will probably not return to the Vikings. The five-year veteran has been rumored to Seattle as competition for Charlie Whitehurst for most of the summer (if Matt Hasselbeck is not brought back) and would also be an interesting addition for Philadelphia should the Eagles deal Kevin Kolb. However, with such little game action since 2008, Jackson will probably not get a shot the starter's job he so desperately wants.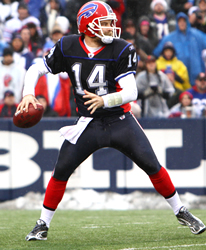 Can Ryan Fitzpatrick quarterback a successful fantasy team? Chances are good.

What worked in 2008: Playing time. To be fair, Fitzpatrick's true breakout came last season with Buffalo. However, he received his first chance to show his wares as a starter with Cincinnati early in the 2008 season when Carson Palmer was lost for the season. Although he was uneven throughout the season and didn't carry owners through the entire fantasy playoffs with the Bengals, Fitzpatrick saved his best performance of the season for Week 15 against Washington, showing his all-around game with 200-plus yards passing, one passing TD and one rushing score.

How long he maintained fantasy relevancy: To this day, although it' been a bit of a rollercoaster since his days in Cincinnati. In 2009, Fitzpatrick mostly watched as Trent Edwards continue to make the Buffalo offense almost miserable to watch until Week 11, when the Bills turned to the Harvard alum as the starter for the remainder of the season (although he did not play in Week 16). Fitzpatrick entered 2010 in a three-way battle for the starter's job, a fight Gailey suggested Edwards won with relative ease. That impressiveness lasted all of two starts before the team released Edwards, allowing Fitzpatrick to grab the top spot by Week 3. The Bills' offense picked up immediately as a result.

Chances at fantasy success in 2011: Good. With fewer questions in the backfield, the same supporting cast and the kind of job stability that he has not experienced as a pro, Fitzpatrick can be expected to sling the ball around the field in much the same way he did last season. His 2010 second-half swoon is concerning, but he has QB1 upside in 12-team leagues – as he showed last year – although defenses appeared to be ready for him as the season wore on. Owners should use his second-half numbers as a baseline for 2011 and hope that he'll adjust to the league just like it adjusted to him.


What worked in 2008: A removal of the obstacles standing in his way. Injuries to Felix Jones (season-ending torn hamstring in Week 6 and a torn ligament in his toe during his rehab) and Marion Barber (toe) paved the way for Choice to work his way into owners' hearts just in time for the fantasy playoffs three years ago when he got his first start of the season in Week 14 vs. Pittsburgh. He was so impressive in that game (166 total yards) that he watched an injured Barber start the following week. After watching Barber average 0.25 yards on his eight rushes, Choice sparked the Cowboys with 91 yards on the ground and a score on just nine carries in a win over the Giants. Thankfully for Choice's fantasy owners, Dallas learned its lesson the following week when he posted 115 total yards and a score against Baltimore in Week 16.

How long he maintained fantasy relevancy: Not as long as one would think. In what continues to be one of the greater mysteries in the NFL (at least in my opinion), Choice cannot seem to crack the RB rotation in Dallas. Despite one career fumble and a 4.8 career YPC to his credit, new HC Jason Garrett (the team's OC for Choice's entire pro career) has been reluctant to play Choice ahead of Jones (who the team does not believe is an every-down RB) and Barber (a player who has been in decline for a couple of years now and is on the verge of being released).

Chances at fantasy success in 2011: Worse than they should be. There have been any number of theories thrown out as to why Choice has been a forgotten man in Dallas' backfield, from the ridiculous (his inability to contribute on special teams) to the reasonable (his broken tackle rate –as measured by Pro Football Focus – was dead-last in the league in 2010). Still, it is hard to blame Choice for an unwillingness to run as hard as he could when he knows his effort isn't likely to be appreciated by his coaches or owner. Logic suggests that Choice will move into Barber's role as a goal-line/short-yardage RB once the latter is released, but now rookie DeMarco Murray stands in the way of his shot at any kind of regular playing time. Choice is not an elite runner by any means, but his present and future owners will be hoping the Cowboys do the right thing and either deal or release him after the lockout ends if they have no intention to let him play regularly.

What worked in 2008: It wasn't Ray Rice's time yet. There was a time not so long ago that Rice was the low man on the totem pole in the Ravens' backfield. His usage was spotty at best during his rookie season, but a calf injury to Rice in Week 14 turned this 600-touch backfield into a two-man show with McClain and Willis McGahee carrying the rock. McClain had already emerged as the lead back of the three-man committee in Week 12, but Rice's injury and McGahee's lack of consistent productivity paved the way for the second-year back to post 20+ carries during each week of the fantasy postseason. What McClain lacked in efficiency, he made up for in volume, allowing him to post solid fantasy totals in each contest despite facing three top run defenses over that time (well, Dallas entered Week 16 with a good run defense before Baltimore annihilated it).

How long he maintained fantasy relevancy: Not very long. By the time 2009 rolled around, Rice was healthy and making his case for the starting job with an incredible offseason while McGahee was tabbed as the goal-line back, which allowed McClain to return to his drafted position of fullback.

Chances at fantasy success in 2011: Not bad, but not great either. McGahee seems certain to leave Baltimore for greener pastures, which should free up McClain to step into the goal-line back role. However, as long as Rice stays healthy, he will be the team's touch leader by a large margin. Unlike last season, though, McClain warrants consideration as a late-round option since Baltimore appears pretty steadfast in its belief that Rice needs to get pulled in short-yardage situations in order to keep him fresh throughout the season.

What worked in 2008: Contract-year push? As the Giants' "Earth, Wind and Fire" days were coming to an end in 2008, it was becoming increasingly obvious Ward would not get his big payday from his current employer. While the middle of the season definitely caught the eye of real and fantasy general managers alike, Ward's contract-year push may have been gift-wrapped for him in Week 16 when he ran for 215 yards on 15 carries against Carolina. Because he offered more of a receiving threat than Brandon Jacobs in the passing game, Ward was able to remain viable in fantasy leagues throughout the second half of the season, recording just two games (in PPR leagues) in which he failed to eclipse 11 fantasy points.

How long he maintained fantasy relevancy: Ward's fall from grace was about as swift as his rapid ascent, although he did manage to flash his 2008 form on occasion with the Texans last fall. Perhaps no highly-paid RB in recent memory has went from big contract to second-string in the same offseason, but Ward found himself in that very spot when Cadillac Williams cemented his place as the starter in 2009 with solid play during the preseason. Ward was thrown into the mix on occasion during his one season with Tampa Bay, but a supposed lack of focus and effort was enough to let him go prior to the start of the 2010 campaign.

Chances at fantasy success in 2011: Poor. As long as Arian Foster is healthy, there isn't likely to be many opportunities for other Texans' RBs to get in on the action. When Foster does need a rest, Houston could very well turn to Ben Tate, who received clearance on his fractured fibula and torn right ankle ligaments back in February. Ward was highly productive in 2010, but Tate has youth and talent on his side, so the latter could easily relegate the former into a RB3 spot on the Texans' depth chart.

2009

What worked in 2009: Despite the advantage of working behind of the league's best rushing attacks, Jake Delhomme was a turnover machine in 2009, which forced HC John Fox to begrudgingly turn to Moore late in the season. Of course, Moore introduced the big passing play into the Panthers' offense while turning in a sparkling 8:2 TD-INT ratio over the final five games of the season. In fact, Moore's insertion in the lineup helped Steve Smith's fantasy owners remember what it was like for him to get down the field and score touchdowns on a regular basis.

How long he maintained fantasy relevancy: Long enough into fooling some owners to draft him in 2010. Despite Carolina's selection of Jimmy Clausen and Tony Pike in the 2010 draft, Moore seemed to be in good shape to keep the starting job so long as he could carry over some of his great play from the season before. But it was not to be, as over the first two weeks of 2010, Moore morphed into the same turnover-laden QB he replaced and was pulled for Clausen. He returned to the starting lineup and flashed his 2009 form in Carolina's win vs. San Francisco in Week 7, but he saw his season end due to a torn labrum just two weeks later.

Chances at fantasy success in 2011: Well below average. Unlike Thigpen and Jackson, Moore isn't necessarily a "system QB" in which he needs the offense built around him in order to post decent numbers. But with Clausen and Cam Newton now likely to take the majority of snaps, Moore may not get another shot with Carolina. Before he figures out where he will suit up next, however, he needs to prove his shoulder is at least as strong as it was pre-injury. Miami has been rumored to be a fit as a backup/threat to Chad Henne and Seattle would make sense as well should Matt Hasselbeck leave as a free agent.

What worked in 2009: The ability to stay in the same offensive system for the second straight season. Commentators often like to remind their viewers just how often Campbell has experienced change in his offensive system from one season to the next throughout his college and pro career. In this case, the 2009 season was Campbell's second with HC Jim Zorn. While his numbers weren't eye-popping during the fantasy playoffs, Campbell deserves some sort of reward for the level of production he was able to maintain in a poor offensive system (scheme as well as fit) with a sorry excuse for an offensive line and a weak overall supporting cast. While Campbell's Redskin team posted a bagel in Week 16, it does not diminish the fact (in my mind at least) that he was a strong finisher in 2009.

How long he maintained fantasy relevancy: To this day, with a few hiccups to start 2010. (I debated putting Campbell in the 2010 breakouts below because he was a standout the final four weeks of the fantasy season last year, but felt as he announced his presence in 2009 overcoming all the obstacles he faced in his final days with Washington.) Given the amount of support Al Davis and new HC Hue Jackson are showing Campbell, it's fair to say that ex-HC Tom Cable must have been Bruce Gradkowski's biggest supporter. But once the Raiders hitched their wagon to Campbell for good in Week 13, they became a high-scoring offense, averaging 31 points/game for the rest of the 2010 season.

Chances at fantasy success in 2011: Slightly above average. Campbell's track record speaks for itself when he has played in the same offense in two straight seasons. Oakland's receiving corps isn't stellar, but Zach Miller (if he returns as expected) and the running game are top-notch. There is definite upside for fantasy owners here in 2011, but that upside will depend heavily on the return of Miller, the durability of Darren McFadden and continued growth of Jacoby Ford.


Ahmad Bradshaw

What worked in 2009: The removal of one member from the band ("Earth, Wind and Fire") and an injury to the other member. With Derrick Ward off to Tampa in 2009, the Giants were left to split their workload in the backfield to Brandon Jacobs and Bradshaw. Although Jacobs did manage to stay on the field for the most part, he ran tentative for most of the season and his dip in YPC reflected it (3.7 YPC in 2009 after a 5.0 clip in 2008). A shift in the workload took place around midseason and although Bradshaw did not receive a large increase in touches, he saved his best for last when Jacobs struggled with a knee issue at fantasy playoff time. With an even split of the workload in the final weeks, Bradshaw gave us a glimpse of what he would give his owners in 2010, posting huge fantasy numbers in Weeks 14 and 15 with three rushing TDs and more regular work in the passing game than he had seen all season long.

How long he maintained fantasy relevancy: To this day. Bradshaw was one of the fortunate few in this review so far to have his success in the fantasy postseason on year serve as a precursor to his production for the next season. While he has seen his YPC fall in each of his four seasons in the league, that trend can be somewhat expected given the increasing workloads over that same time. And his present and future owners have to be thrilled that Bradshaw not only plays through pain, but he also produces when he is hurting as well. After being considered an injury risk a year or two ago, he put together his first 16-game season and did it while posting over 300 touches.

Chances at fantasy success in 2011: Great. While it is expected that Bradshaw will remain with the team, he is slated to be a free agent (although the new CBA will have something to say about whether he is restricted or unrestricted.) Assuming he remains with the team, he is a solid bet to at least maintain his 2010 value because HC Tom Coughlin will always make running the ball a priority plus the Giants' offensive line should be able to put together a better showing than it did in 2010.

What worked in 2009: An injury to his backfield partner. Stewart is one of the rare players who could even be considered as a two-time fantasy playoff standout. To say Carolina's rushing attack in 2008 was ridiculously productive would be like saying Chris Johnson is a bit fast. In all seriousness, Stewart and "Double Trouble" partner DeAngelo Williams marched their way through opposing defenses to the tune of 2,500-plus total yards and 30 TDs. In 2009, Williams succumbed to an ankle injury in Week 15 – just in time for Stewart to dominate in the fantasy playoffs to the tune of 315 rushing yards and three total TDs.

How long he maintained fantasy relevancy: To this day, with the added bonus of potentially being his team's lead back this season. While it could be argued that Williams has done a great deal for Stewart's long-term success, fantasy owners would love to see what he could do in a feature-back role. In a part-time role over his first three seasons, the 5-10, 235-pound specimen has rushed for over 2,700 yards and scored 24 total TDs.

Chances at fantasy success in 2011: Great (if Williams returns) to excellent (if Williams leaves). Stewart hasn't been trusted as a receiver much in his time as a Panther, but there is definite potential for Michael Turner-like (circa 2008) production should the fourth-year back be trusted with 300-plus carries in 2011. Mike Goodson figures to steal some value as the passing-down specialist and will probably be in line for 25-30% of the work in this backfield, but the Panthers will be a run-heavy team that will be more than happy to let Stewart carry the offense while easing Cam Newton into the pro game. The upside here is through the roof should Williams depart via free agency because Newton will routinely occupy the backside LB with his ability as a runner, meaning Stewart should benefit from the same lack of pursuit that has allowed Chris Johnson and LeSean McCoy to enjoy career years with Vince Young and Michael Vick, respectively.

What worked in 2009: HC Eric Mangini finally got out of his way. Because I basically documented Harrison's 2009 fantasy playoff run in last summer's "Second-Half Awakenings", I'll spare each of you a long-winded recap here.

How long he maintained fantasy relevancy: About two weeks, depending on how "relevancy" is defined. While no one will argue Peyton Hillis' made the most of his opportunity in 2010, Mangini's dislike for Harrison must have really run deep to bench a player who rushed for 571 yards and five TDs over the final three weeks of the 2009 season, basically allowing Mangini to keep his job a year longer than he probably deserved.

Chances at fantasy success in 2011: Very slim. Following a midseason trade to the Eagles, Harrison became a clear reserve behind LeSean McCoy. Barring an injury to the current starter, Harrison should plan on more time on the sideline this season as the Eagles have made it known they want to maintain (if not increase) McCoy's workload in 2011. Philadelphia also drafted Dion Lewis, which may make Harrison expendable with a decent camp (if there is one this year). The best situation for Harrison if he is released may be a place like Miami, where he could serve as non-threatening but viable backup to rookie Daniel Thomas.

What worked in 2009: A blow-up by a KC institution. Ok, while the term "institution" may be a bit strong, Larry Johnson had a tight grip on the starting job even as he was sporting a dreadful 2.9 YPC through seven games. Despite some ups and downs, Charles was starting to "grow on" HC Todd Haley as the first half of the season wore on. But it wasn't until Johnson ranted about the coach (which led to LJ's suspension, then release) that Charles got his first full-time shot. The results were immediate, although he saved his best for last, rushing for 658 yards and four scores from Weeks 14-17.

How long he maintained fantasy relevancy: To this day, although his owners will say they dodged a pretty big scare last season. Initially, the addition of Thomas Jones looked like a move by a team wanting to bring in solid, hard-working veterans to foster a new winning culture in KC. As the summer progressed, Haley seemed willing to roll with Jones as the starter rather than do what seemed obvious: give Charles as many opportunities to break the big play as possible. Things eventually worked out for Charles and his owners as the season progressed because the Chiefs were so good at running the ball in 2010, although one can only imagine what his final numbers could have been with more carries with his 6.4 YPC. As it was, he finished with over 1,900 total yards (1,467 rushing) and eight scores on just 275 touches.

Chances at fantasy success in 2011: Excellent. While 300 carries seems unlikely, Haley has suggested that he is ready to increase the workload for his most explosive player from the 230 he had last season. With a mind-boggling career YPC of 6.0, Charles doesn't require an exorbitant number of attempts to lead the league in rushing or even challenge Eric Dickerson's single-season rushing yardage mark. (For those that think is ridiculous, he would need around 350 carries at a 6.0 YPC clip and about 330 if he can maintain last year's pace of 6.4 YPC to break the all-time single season mark.) Jones figures to serve as the occasional nuisance for Charles' owners this season, but not near to the degree he did last year.

What worked in 2009: Opportunity – caused primarily by Steve Slaton's fumbling woes – and a lack of RB depth in Houston. Obviously, a player does not typically ascend from practice squader to fantasy playoff standout very often in the same year unless there are overriding circumstances. The two backs behind Slaton at the time – Chris Brown and Ryan Moats – each had issues which eliminated them from being considered a long-term alternative in Houston, so when Slaton's neck pain (and resulting fumbling issues) became too much to bear, the Texans turned to an undrafted free agent find who slid out of the draft due mostly to "character concerns". After drawing praise for his work in the passing game in Week 14 (four catches, 54 yards), Foster put up a dud the next week when Moats received the most work. Undeterred, Foster gave fantasy owners a pretty strong indication of what was about to come in 2010 when he ran for 97 yards and a score in Week 16 before following that up with a 145-total yard, two-TD performance in the season finale vs. New England.

How long he maintained fantasy relevancy: To this day. Foster's rise to fantasy prominence didn't come without a bit of drama last season. Houston used a second-round pick on Ben Tate with the idea that he would push Foster for the starting job at the very least, if not join him in a committee attack. However, a preseason injury to Tate gave Foster all the room he needed to breathe, so when Foster impressed in exhibition play, HC Gary Kubiak had little choice but to see what his lone healthy RB could do in full-time action since Slaton wasn't ready for action quite yet.

Chances at fantasy success in 2011: Excellent. As good as Foster was in 2010, there is plenty of reason to believe he could be even better this season. The offensive line doesn't figure to change, the offensive braintrust remains intact, the passing game should be more potent and the defense should be much improved. While the last two observations could hurt a different RB in a different situation, Foster should benefit since defenses will constantly need to make the choice as to whether it needs to focus on the running game and let Andre Johnson and Owen Daniels run free or vice versa. Similarly, a strong defense should, in theory, allow Houston to lean on the running game at the end of games much more than it did last season. Foster has a very strong case to be the No. 1 overall pick in just about every fantasy league draft this summer.

2010

What worked in 2010: Good timing. What more is there to say? The Grossman march to QB1 status in Washington started about the time Mike Shanahan announced to the world the ex-Bear was the preferred option when the team needed to run its two-minute drill around midseason. However, the good timing part of this equation (at least for fantasy owners) was the fact the Redskins decided to pull the plug on Donovan McNabb following a one-point loss to Tampa Bay in Week 14. Grossman's luck continued for two more weeks when he had the good fortune of playing against two of the worst secondaries in the league last season, Dallas and Jacksonville, in Weeks 15 and 16.

Chances at fantasy success in 2011: Very slim. Is this something we really want (or need) to debate again? Really? Grossman was so impressive that Team Shanahan has unofficially named John Beck as the likely Week 1 starter despite the fact the BYU alum hasn't thrown a regular-season pass in the NFL since 2007. As radioactive as Brandon Lloyd was in most fantasy leagues early last season (due to the number of times he had burned owners in the past), Grossman is his equal in that regard at QB. The Shanahans have a solid track record at getting the most from their quarterbacks, but to say Grossman is a viable 16-game option for the Redskins – much less fantasy owners – is a stretch of epic proportions.

What worked in 2010: He stayed healthy (at least by his standards). Since joining the Broncos as a fifth-round pick in 2008, Torain has been besieged by injury, a fact which caused him to play in just two games since joining the NFL. However, for parts of 10 games last season, he was able to carry the load for small stretches of the season. Of course, the other important factor for a third-string RB to move into the starting lineup at any part of the season is benefitting from chaos on the depth chart in front of him. Starter Clinton Portis was basically done for the season after Week 4 – he made a cameo in Week 11 – and second-stringer Larry Johnson was jettisoned after Week 2 when HC Mike Shanahan cut him for losing 10 yards on a single carry. Although Keiland Williams did shine - at least for his fantasy owners – in a couple of games that Torain was forced to miss, Williams was typically relegated to third-down work when Torain was able to start.

Chances at fantasy success in 2011: Decent. It's hard enough to get a gauge on what Shanahan is thinking at any point during the season in regards to his backfield, so any thoughts here are pure conjecture. Either way, the biggest competition he will face heading into 2011 is from fourth-round rookie Roy Helu, a player Shanahan has compared favorably to a young Portis (who he had in Denver). While the comparison is a stretch, Helu is a real threat to Torain's job and will probably overtake him at some point this season because he is a big-play threat whereas the veteran is more of a grinder. Of course, until Torain can actually prove his durability over the course of an entire season, Torain won't be a great option for the Redskins or fantasy owners alike. Then again, given that Helu isn't the most durable player either, the two players may end up supplanting each other as a starter a few times in 2011.

What worked in 2010: Maurice Jones-Drew's knee finally caught up to him. Although MJD downplayed some meniscus soreness that caused him to take it easy during the preseason, it became obvious after the fact that he and the team weren't being entirely honest with fantasy owners when he started coming out of the game in certain red-zone situations – a realm in which he made his name in previous seasons. Jones-Drew managed to play through Week 15, but Jennings started putting himself on the fantasy radar a few weeks earlier in Week 12 with scores in three straight contests. Jennings did not see a great deal of work on the ground in MJD's final game, but seven catches for 64 yards likely saved the day for anyone using Jennings at that point. Jennings didn't exactly tear it up in his Week 16 start, but he did give the league a peek at his ability to carry the load in Week 17, accumulating 142 total yards and a rushing TD against Houston.

Chances at fantasy success in 2011: Better than one might expect. There seems to be an awful lot of pessimism coming out of Jacksonville regarding MJD's knee. While he expects his knee to be 100% by the first of August, MJD told the Florida Times Union that he felt the Jags were "going to be kind of anxious to throw Rashad (Jennings) in, and they're already kind of scared of my knee". It should be noted that, in the same article, OC Dirk Koetter told the paper "there's been no discussions in the offensive staff room of Maurice's knee". With that said, Jennings has proven he is more than just a typical backup with a 5.37 YPC average over his first two seasons in limited duty. It says here that rumors of a true committee attack are unlikely to come to fruition, but expect Jacksonville to limit MJD's workload anytime it senses his knee may be acting up. Owners will want to consider Jennings a mandatory handcuff for MJD until further notice.



While I used different words to describe each of the aforementioned players' chance to experience fantasy success in 2011, only four of the first 14 players I discussed above went on to enjoy significant success the following season – and each player was a running back. Some quick conclusions I can draw from this small sample size are:
a "fluke QB" will get exposed more quickly in the NFL because of the complexity of the position and all the different variables that contribute to the success of the position. While there is an old cliché that states a quarterback is the most important player to his team in all of the major sports, there is also a lesser known saying that quarterback is the most dependent position to play in all of sports. When the dependence of the position combines with a changing supporting cast/offensive philosophy/increase in the difficulty of schedule, it is no wonder a QB gets exposed, especially when defensive coordinators make stopping him the most important thing they do when preparing to play against his team the following season.


running backs tend to enjoy a bit more sustained success following their breakout for the simple fact most coaches would like nothing more than a bellcow RB and a strong running game. So, when they identify their new backfield offensive centerpiece, coaches and general managers will often use a great deal of resources the following year or two to accentuate the running back's effectiveness, such as adding a blue-chip talent on the offensive line or a situational deep threat at WR to keep defenses from crowding the box.
Without question, I have only touched on two of (what are likely) many reasons why RBs have a better shot at carrying over their late-season success in one season into the next season. I also understand the rigid guidelines I have set may account for the short "honeymoon" period of most of these players. Either way, for the sake of time and space this week, I will keep it limited to these two thoughts although I would be interested to hear any perspectives you may have on this study at the midway point. As I move on to WRs and TEs next week, it will be interesting to see what parallels exist between those positions and the ones we discussed today.

Suggestions, comments, musings about the article or fantasy football in general? E-mail me.
---
Doug Orth has written for FF Today since 2006, appeared in USA Today's Fantasy Football Preview magazine in each of the last two seasons and served as a weekly fantasy football analyst for 106.7 The Fan in Washington, D.C. this past season. He is also a member of the Fantasy Sports Writers Association. You can also follow him on Twitter.