Preseason Schedule Analysis




7/5/11



Last week, I released the bottom half (and then some) of my top 20 rookies to watch as we hopefully near the start of another fantasy season. While I was questioned a bit for some of my omissions from the top 20 (namely Delone Carter and Greg Salas), it is this same difference of opinion that sparks debate and leads to draft-day reaches and slides as well as overrated and underrated rookie picks in redraft, keeper and dynasty leagues. The beauty of early July is that everyone has opinions and no one is right or wrong and, thus, the chances that at least one of the group of Carter, Salas or any other number of rookies creeps into my top 20 before the start of the season are pretty good. But as I stated in the first part of the rookie series, this is simply one early snapshot of a collection of pictures that will change several times between now and the start of the season.

As we discussed last week, a good part of the preparation process every summer is trying to figure out just how much impact the newcomers can have in fantasy for the upcoming season. In most cases, running backs steal the show when it comes to immediate contributions, although that notion has been challenged in recent years by the rookie campaigns of players such as Matt Ryan, Sam Bradford, Hakeem Nicks, Dez Bryant, Aaron Hernandez and Rob Gronkowski. Even the notion that a rookie who goes through a long holdout cannot be productive in his first year has taken a beating by the likes of Michael Crabtree. However, owners can start their path to fantasy glory every year by asking themselves a few questions when it comes to rookie evaluation for fantasy purposes:


Is he in a position to succeed?

For a RB, does he have a good line to run behind and an OC that likes to run the ball? For a QB, does he have a good pass-blocking line and 2-3 decent options in the passing game? For a WR or TE, does he have a good QB throwing him the ball? Does he operate opposite a star WR or is he being counted on to carry the passing game?



Is he an offensive building block, complementary piece or role player?





Does his "style" fit in the team's offense?

(Unfortunately, we can't take for granted that teams and their personnel departments do this.) For example, does Mark Ingram's power and vision fit into New Orleans' pass-heavy offensive scheme? Does Julio Jones possess enough eye-popping talent to find an immediate fantasy-worthy niche in Atlanta? Does Daniel Thomas bring something new to the Miami backfield or is he just a younger Ronnie Brown? Does A.J. Green's natural talent allow him to assume WR1 duties right away in Cincinnati? Does Jonathan Baldwin's size and speed mean instant success in the run-oriented Chiefs' offense? Was Baldwin trapped in a no-win situation in college and were his work-ethic and character concerns overblown? Or will Chiefs HC Todd Haley be forced to "break him down" in the same way he did Dwayne Bowe in order to get him to fall in line?
Certainly, there are more questions that can be asked, but to establish a baseline on a rookie, I think this gives us a pretty good start. At the very least, I hope to provide each of you my initial assessments on the incoming class (complete with player strengths and weaknesses) before I really buckle down on player evaluations next month with the release of the first round of PSAs.
Note: The rankings below are for the 2011 season only and are ranked in order of likelihood of fantasy impact. (For example, QBs like Christian Ponder or Andy Dalton may accrue more fantasy points given their position, but the chances of them impacting a fantasy team are slimmer than say, a potential fantasy WR3 in a three-WR league, because the WR could be an every-week starter.)
Reasons to like Helu: If there is one coach who knows how to spot a good RB fit for his offensive system, it is HC Mike Shanahan. In Helu, Shanny may have found another late-round gem for his one-cut, zone-read running game. The two-time 1,000-yard rusher at Nebraska showed explosion time after time in his final season with the Huskers, breaking seven runs of 50+ yards in 2010 alone – including three in the same game – and went on to drop the jaws of scouts at the Combine with his performance in the running and position drills. Shanahan has even gone so far as to compare Helu to an early-career Clinton Portis for his speed and game-breaking ability – which is admittedly a stretch – but the point is still well-taken that Washington has big plans for the rookie. The Redskins don't exactly possess a world of competition for Helu in his inaugural season either, as Ryan Torain cannot stay healthy for any length of time, Keiland Williams is probably no more than a third-down back and the likes of James Davis and fellow rookie Evan Royster likely battling each other for the final RB slot on the roster.
Reasons to dislike Helu: While Shanahan's zone-blocking scheme has produced a number of unlikely stars since his early days in Denver, his RBs have shown a tendency to break down quickly over the years. Helu didn't prove to be the most durable RB in his time at Nebraska, so it's fair to wonder if he'll ever stay healthy long enough to become a feature back. Despite good size for a RB (6-0, 220), Helu isn't exactly the most physical runner. Speaking of which, Helu's potential to become a feature-back could be questioned from a production standpoint as well since he often gave way to Rex Burkhead in the Husker backfield. For example, Helu combined for 85 yards rushing in the two games leading up to his 307-yard, three-score outburst vs. Missouri this past season, but then failed to eclipse the century mark in rushing in any of the team's final six contests. There is also the matter of Shanahan favorite Torain, who figures to be the lead back in a committee with Helu – at least for as long as the injury-prone vet can stay healthy.
Fantasy Assessment: As always, caution is advised when it comes to a Shanahan running back, especially one who enters the league with durability issues. Any veteran fantasy owner also knows how quirky Shanahan can be with his rotation at RB – usually rolling with the "hot hand" – so getting solid fantasy RB2 or flex production with Helu this season could be a hit-or-miss proposition. With that said, the depth chart at RB is not exactly a daunting obstacle for Helu, so the potential is there for him to take the starting job and run with it at some point during the season if he can withstand the punishment. Owners should keep their optimism in check, however, because as I touched on last week with Leonard Hankerson, the Redskins do not boast a wealth of offensive weapons nor do they have a passing game right now that strikes fear into the hearts of defensive coordinators.
Fearless early-July prediction (12 games): 165 rushes for 730 yards and five TDs; 24 receptions for 210 yards and one TD
Reasons to like Little: In a draft that featured its fair share of size-speed types at receiver, Little is right up there at the top of the class with the likes of Julio Jones and Jonathan Baldwin. Despite sitting out the 2010 season at North Carolina due to suspension, there is little question that Little is like a running back after the catch in large part because he played the position for a short time as a Tar Heel. This means he is not afraid of contact or going over the middle and will fight for extra yards – a positive for any receiver hoping to stick in a West Coast offense. At 6-2, 230 and with a 40+ inch vertical jump, Little can win just about any physical battle with a cornerback, be it with a ball thrown right at him or a jump-ball down the field. In Cleveland, he joins an offense that has a bit of talent at the position but desperate for a WR1 to emerge. It only helps his cause that UNC's offense was remarkably similar to the one he will be operating in as a Brown.
Reasons to dislike Little: Unfortunately, Little's college career will likely be remembered by most for how it ended, namely sitting out his final season for violating the NCAA's extra benefit rule. In league circles, that kind of oversight usually gets labeled as a "character red-flag". But unlike the "character" concerns that we discussed last week with Baldwin, Little showed a fair amount of selflessness when he agreed as a top recruit to move to running back to help the team deal with injuries at the position in 2007 before he moved back to receiver midway through the 2008 campaign. While that transition helped North Carolina through a tough spot, it likely slowed his development as a receiver. This means he has some work to do to polish his route-running techniques, blocking and catching the ball with his hands consistently (as opposed to body-catching).
Fantasy Assessment: If team president Mike Holmgren has anything to say about it, Little was one of the draft's few "home-run hitters". New Browns HC Pat Shurmur tends to believe Little's transition from second-round pick to the team's leading receiver will happen sooner than later. And with Mohamed Massaquoi and Brian Robiskie as his stiffest competition, he may very well get the chance to lead the team in receiving this season. But fantasy owners would be wise to squash any thoughts of seeing a repeat of Tampa Bay's Mike Williams in Cleveland in 2011. There are similarities, but there are also dramatic differences, namely that Colt McCoy is not Josh Freeman. Little is reportedly quite comfortable with his new offense already because most of the terminology is the same – so if that ends up being the case – then the former running back can spend most of his time honing his craft as opposed to learning verbiage.
Fearless early-July prediction: 46 receptions for 620 yards and four TDs
Reasons to like Leshoure: No single RB in April's draft offers the kind of size, weight and speed Leshoure does. At 6-0 and 227 pounds, the former Illinois standout should have no problem logging 250-300 carries if the Lions ever need him to do so. The sixth-leading rusher in school history, Leshoure is a well-rounded RB with very few glaring weaknesses, much like the player he models his game after (Steven Jackson). It should be noted that HC Jim Schwartz plans on using him in the closer role (such as the four-minute drill at the end of games as well as the goal-line back). That role should be an advantageous one since the Lions are assembling a wealth of offensive talent as well as a defense that is built to Schwartz's satisfaction, both of which should enable Detroit to stick with the running game longer and give Leshoure several opportunities to convert inside the five-yard line. And dating back to his college days, new backfield mate Jahvid Best has built a reputation for being an injury-prone back, so Leshoure has a good shot at assuming the feature-back role at least a couple of games each season.
Reasons to dislike Leshoure: There is very little not to like about Leshoure's resume, outside of the fact that he only enjoyed one year as the full-time back for the Illini – something that obviously he could not fully control. As is the case with most college running backs, Leshoure will need work with the finer parts of the passing game such as route-running and blitz pickup, although he will have time to work on both skills with Best likely occupying most of the snaps on passing downs right away. Speaking of Best, his presence caps Leshoure's immediate impact prospects since the second-year back is one of the more explosive young running backs in the NFL in Best. Because Best played most of the season with two turf toes, most fans that blinked at the start of last season deprived themselves of the chance to see what a special talent the second-year back is. The main concern at this point – for Best and Leshoure – is the Lions' offensive line. Since the team did not address the front five in the draft, both backs will be forced to run behind the same offensive line that was unable to get even one of five RBs over 4.0 YPC in 2010.
Fantasy Assessment: The comparisons to Jackson (of which there have been a few) are a bit unfair since the current Ram RB entered the league with better breakaway speed and a more developed understanding of the passing game; a better pro comparison is former Illinois RB Rashard Mendenhall. Considering Schwartz ran the Titans' defense at the same time Chris Johnson and LenDale White terrorized opposing defenses a few years ago, it's a fair bet that Best will play a poor man's version of the former (in terms of overall touches) while Leshoure is a more talented version of the latter. Schwartz already said as much back in late May regarding the players' roles. As we discussed earlier, however, if Best continues to absorb injuries at the rate he has over the last three years, Leshoure will have ample opportunity to give his owners a few RB2-worthy performances this year.
Fearless early-July prediction: 120 rushes for 450 yards and six TDs; 15 receptions for 90 yards
7. Christian Ponder, QB Minnesota
Reasons to like Ponder: If classroom intelligence carries over even a little bit to the football field, Ponder will have a nice, long NFL career. Ponder also receives high marks for his leadership ability and has already proven that part, organizing a player workout for some of his future teammates during the lockout. The three-year starter for Florida State was considered one of the most accurate passers in this draft whether he is in the pocket or on the run. Because he is an above-average athlete, Ponder should be able to help out his offense on occasion by scrambling for the first down. Much like Sam Bradford, Ponder is one of the few college quarterbacks nowadays who is not strictly a "spread QB", so the footwork concerns that accompany such players do not apply near as much to him since the Seminoles operate as much under center as they do out of shotgun. However, the biggest reason to like Ponder's chances for early-career success has more to do with his esteemed OC (former QB coach Bill Musgrave, who has been credited with the quick maturation of Matt Ryan) and his supporting cast. With Adrian Peterson entrenched as one of the elite RBs in the league and Percy Harvin continuing to grow as a receiver, Ponder has some established veterans to ease his transition.
Reasons to dislike Ponder: The top concern for the Vikings has to be Ponder's durability. He missed the final three games of the 2009 season with a separated right shoulder and suffered more injuries to this throwing arm (including undergoing two surgeries on his elbow) in 2010. Assuming Musgrave's run-first philosophy allows Ponder to last a full season, the second-biggest worry the rookie QB brings to the table is somewhat questionable on-field decision-making. Even though arm strength is often overrated, Ponder has been known to force a ball or two into a tight spot where only the strongest-armed QBs would dare throw. And despite being labeled as a "West Coast quarterback" throughout the draft process, he appears to struggle while going through his progressions and his presence in the pocket is shaky.
Fantasy Assessment: Ponder will enter this season with a chip on his shoulder since his selection at #12 overall has often been referred to as the biggest reach of the first round. The first part fantasy owners (as well as Vikings' fans) need to understand is that Ponder is not the kind of special talent that will make an offensive coordinator change his philosophy. However, no one should read that as Ponder has no chance to succeed, because with his intangibles and athleticism, he has a pretty good shot. To what degree he thrives will depend on how long he can remain healthy and how much Musgrave makes sure he keeps the offensive focus on Peterson first. The best thing Minnesota can do to ensure his success in 2010 and beyond is to make sure it finds a way to re-sign playmakers like Sidney Rice and cultivate its young talent (such as second-round TE Kyle Rudolph).
Fearless early-July prediction (14 games): 248-of-420 for 2775 yards, 14 TD and 15 INT; 55 rushes for 200 yards and one TD
Reasons to like Dalton: As his college stats will attest, Dalton is a pretty solid decision-maker (career 71:30 TD-to-INT ratio). While there is no cookie-cutter mold for all QBs, the success rate of four-year starters such as Dalton has been identified as one of several key components that allows rookie signal-callers to flourish more so than their early-entrant counterparts. Much like Ponder above, Dalton scores high in the "intangibles" department, clearly establishing himself as an intelligent, hard-working team leader who has proven to be a winner. Despite not possessing any experience in the West Coast offense he will asked to run as a Bengal, the two-time Mountain West Conference Player of the Year is a solid fit for the offense as he possesses accuracy on short and intermediate pass routes with just enough mobility to make something happen as a scrambler. With or without Chad Ochocinco on the roster in 2011 (the latter of which is most likely), Dalton should have a pretty talented group of receivers to throw to, including highly-regarded first-rounder A.J. Green, 2010 breakthrough player Jerome Simpson, the elusive Jordan Shipley in the slot and an incredibly talented TE in Jermaine Gresham. And with longtime starter Carson Palmer all but out of the picture, Dalton's path to the starting role should be clear.
Reasons to dislike Dalton: As is the norm from college QBs nowadays, Dalton will need to make the transition from a spread-heavy offensive attack to the West Coast offense new HC Jay Gruden will install in Cincinnati. Therefore, it may take a while for Dalton to adjust to consistently reading defenses under center and during his drop as opposed to running if/when his first option is covered. Even though Palmer has disappointed more than he has impressed of late, Dalton will be asked to follow in the footsteps of one of the best quarterbacks in franchise history, which can be a difficult task for most rookies. While the Bengals will do their best to lean on the ground game, Cedric Benson is an average NFL RB at best and isn't all that dynamic in the passing game.
Fantasy Assessment: The reasons Dalton ranks slightly higher on this list than Ponder are twofold: durability and (the likelihood there will be a) lack of competition for the top spot. And if we factor in the likely free-agent departure of Sidney Rice in Minnesota, then Dalton may have a slight edge in supporting cast as well. Unlike Ponder, Dalton is pretty much assured of lining up with a depth chart full of receivers and tight ends that – while young and inexperienced – are mismatches for most defenses. And despite Cincinnati's desire to return to physical football, four games a season against defenses like Pittsburgh and Baltimore will ensure that Dalton will need to play well soon if the Bengals are to win their second division crown in three years. Dalton's rookie-year prospects are pretty fair considering his supporting cast, but it's never easy for fantasy owners to trust a first-year QB. A top-20 finish at his position is possible, but anything more than that should not be expected. As long as owners consider him as a low-end QB2 in 12-team leagues, they should not be disappointed.
Fearless early-July prediction: 253-of-445 for 2970 yards, 15 TD and 16 INT; 45 rushes for 220 yards and two TD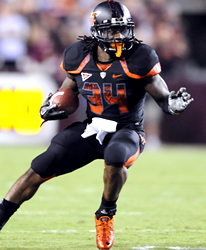 Knocks on Williams include size and injury history.
Reasons to like Williams: Much like some of the more established backs in the league right now, Williams doesn't possess one great Combine number that makes the eyeballs of scouts pop (although his 10-yard split of 1.53 seconds and 40-inch vertical jump are very good marks). However, as those two aforementioned marks do show, Williams is an explosive runner who just happens to possess outstanding vision and instincts. At 5-9 and 212 pounds, Williams is a strong inside runner and will make defenders pay in the hole if they are not prepared for contact. Despite meager receiving totals at Virginia Tech, Williams has shown good hands as a receiver, so much so that HC Ken Whisenhunt believes that it is one of his two more notable characteristics as a running back. The 2009 Atlantic Coast Conference Rookie of the Year has elicited comparisons to a young Clinton Portis and LeSean McCoy, which should be quite telling to the amount of upside he possesses. While Chris "Beanie" Wells and Tim Hightower will begin the season ahead of him on the depth chart, neither runner has shown the ability yet as a pro to stay healthy and/or hold on to the ball consistently.
Reasons to dislike Williams: The biggest knocks on Williams have to do with his size and recent injury history. While the former knock is often overrated as it relates to runners, the rookie's torn hamstring in 2010 as a Hokie warrants a bit more concern. After exploding onto the scene as a redshirt freshman in 2009 (1,655 yards and 21 rushing touchdowns on 293 carries), Williams suffered the hamstring injury early in the third game of the season and was forced to miss four games. When he returned, he didn't show near the consistency he did one year earlier and was asked to be part of a three-man RB committee. Although Wells and Hightower haven't shown great durability or ball-control skills yet in their careers, one is a proven red-zone threat while the other is a former first-rounder the team still believes in, so a bad camp for Williams could easily land him third on the depth chart.
Fantasy Assessment: Without a doubt, Williams is the biggest wild-card on this top 20 list. As easy as it would be to slot Williams in the top three on this list, there are just too many RBs in front of him to expect an immediate impact, which is what each rookie ahead of the Hokie standout on this list should be able to do. Conversely, Wells could stay healthy and make Williams a 50-75 touch player in his rookie season. Whisenhunt hinted in early May that he sees Williams' speed and pass-catching abilities as an "explosive option out of the backfield in three-receiver sets", so it appears Hightower is the player most on notice. But when one considers that Whisenhunt stated Williams was the 15th-best player on Arizona's board during the draft, it suggests that just one injury to Wells may be all the rookie needs to dominate touches in this backfield. The most likely scenario, however, may end up with Williams phasing out Hightower, leaving Wells and Williams sharing the majority of the workload in the backfield.
Fearless early-July prediction (15 games): 155 rushes for 630 yards and five TDs; 31 receptions for 245 yards and one TD
Reasons to like Green: Widely considered to be the best player in the draft (along with Cardinals CB Patrick Peterson), Green is one of the finest receiver prospects to come out of the draft in recent years. At 6-4 and 211 pounds with an arm length that approaches what scouts look for left tackles (34-plus inches), Green possesses the size necessary to be a physical mismatch from Day 1. Perhaps more than his size and dimensions, Green has great hands and is more advanced in his route-running abilities than most receivers coming out of college, likely meaning his attention to detail is well above average. Unlike other receivers in this class, this two-time All-Southeastern Conference performer is just as good with the "easy" catch as he is with a poorly-thrown or highlight-reel receptions. As a Bengal, Green will be fast-tracked into the starting lineup (likely along with Jerome Simpson once Chad Ochocinco is released or traded) where he will likely be asked to assume the lead WR from the outset. While that request is a lot for most highly-drafted receivers, Green oozes big-play potential and will have a solid supporting cast (led by Jermaine Gresham and Jordan Shipley as well as Simpson) to pick him up initially should he struggle for a game or two.
Reasons to dislike Green: Given his height and athleticism, it may be natural to compare him to Calvin Johnson, but he's probably just a hair below "Megatron" in terms of his long-term potential. Otherwise, it may take a year for Green to reach his likely pro weight (around 220). While Green's competitiveness is definitely a strength of his game, he may need the extra muscle to remain healthy early on in his career since he is fearless over the middle – a trait that will increase his propensity for injury should it carry over into the pro game. Green gives effort as a blocker, but hasn't shown the desire in that regard like Julio Jones has. Despite the fanfare Andy Dalton created with his Rose Bowl win over Wisconsin and rise throughout the draft process, it may be a bit much to ask a rookie QB-WR battery to light up the NFL with little or no time to build chemistry in training camp.
Fantasy Assessment: Due to the freeze in transactions created by the lockout, owners still don't know if Ochocinco will be around to impede the development of Green or not. While either scenario may not block Green's ascension to the starting lineup, it may very well determine whether Green is a WR1 or WR2 in this offense in 2011. For the purposes of this article, I feel it is safe to assume Ochocinco will be released once the lockout is lifted, meaning Green will have low-end fantasy WR2 upside in 12-team leagues already in his rookie season. With that said, the former Georgia standout should be drafted as a WR3 when you consider the combination of inexperience of Dalton and the number of tough cornerbacks Green will be asked to face in the AFC North. He may be able to overcome the latter quickly, but Dalton will likely need time to emerge as an above-average NFL starter.
Fearless early-July prediction: 49 receptions for 710 yards and five TDs
Reasons to like Jones: The No. 6 overall pick in the draft appeared to be a power, chain-moving receiver until he blew away the Combine with one of the best 40 times of any player in attendance. When it was disclosed that Jones posted his mid-4.3 time with a fractured foot, it only grew his legend as a fierce competitor willing to play in pain while proving he had more than enough deep speed. The fact that Jones played in a pro-style, run-centric offense at Alabama should help his mental transition to the pro game since many college receivers nowadays come out of spread attacks. Jones also made big gains as a route-runner in his final season with the Tide, which only accentuates his size (6-3, 220) and aforementioned speed. More than anything else he brings to the table physically, the Falcons paid a steep price in terms of draft-pick compensation to acquire Jones, so it is pretty much guaranteed that Jones will not only start immediately, but receive opportunity after opportunity to prove himself should he struggle a bit in the beginning. While Michael Jenkins has proven himself to be a decent NFL receiver, Jones should have little trouble stealing the starting job from him, especially considering the rookie is one of the best blockers at his position in this draft class – a quality that always goes over well with a coaching staff.
Reasons to dislike Jones: For all the great characteristics Jones brings to the table, he is not without some noticeable flaws. First and foremost, Jones' hands have failed him more often than the typical highly-drafted receiver. While most of his drops come from running with the ball before securing it, it's a bit disconcerting that a receiver with top-notch run-after-catch skills isn't more reliable at seeing the ball into his hands. The second area of concern is the fact that Jones rarely played at the same speed he showed at the Combine, something that always causes a bit of confusion with coaches and scouts. Was he being asked to pace himself or does he have an on-off switch when it comes to effort or was it something else? (The good news is Jones' effort is not in question, but when a player runs 4.3-40 after scouts pegged him as a 4.5-40 athlete, questions will be asked.) The final question Jones will have to answer has to do with his injury history. Despite showing his tolerance for pain, it is notable that Jones has undergone multiple surgeries in the last three years alone: shoulder, wrist and hernia (2009), hand (2010) and foot (2011). It is also worth mentioning while management is likely to give Jones every chance to succeed, the internal pressure – if not pressure from the Falcons' fan base – may be a bit much for the rookie to handle early on.
Fantasy Assessment: As far as the situation goes, it doesn't get much better for a rookie receiver. In Jones, Atlanta finds a power player who is a solid complement to speedy Roddy White and serve as an immediate boon to the running game as well due to his prowess as a run blocker. Fantasy owners should be assured Jones will start right away and with White and TE Tony Gonzalez taking attention from him, the big-play threat will be a better-than-average bet than the typical rookie receiver to carry fantasy WR3 value in 12-team leagues from the get-go. With Jones' ability to make the spectacular grab down the field and Matt Ryan as his QB, only injury or a severe case of the drops should keep the former Tide wideout from being a fantasy starter in Year 1.
Fearless early-July prediction (14 games): 48 receptions for 680 yards and five TDs
2. Mark Ingram, RB New Orleans
Reasons to like Ingram: Anytime a running back prospect can elicit comparison to former Cowboys legend Emmitt Smith, it's a good thing. Despite checking in at 5-9 and 215 pounds, Ingram is compact and powerful enough to take a pounding, has a low center of gravity and someone who excels at running inside the tackles in large part because he has incredible vision and patience. Once in the hole, Ingram is just as likely to make a defender miss as he is to run him over, a quality that figures to allow him to avoid the big hit more often than not as a pro. Although the 2009 Heisman Trophy winner does not profile as a big-play RB in the NFL, his short-area burst and quickness is among the best at his position from this draft class and he is certainly a capable receiver out of the backfield. Ingram is also very trustworthy late in games, fumbling only three times (two lost) in 632 touches over three seasons with Alabama. On a somewhat related note, Ingram earned a reputation for being a big-game back – thanks in part to his lack of fumbles – and usually performed his best against the best competition. As a Saint, Ingram will join a stable of talented but injury-prone RBs (Pierre Thomas, Reggie Bush, Christopher Ivory, et al.), which should allow him to find his niche early in the season. However, if New Orleans experiences another rash of injuries to the RB position again this season, Ingram may get his chance to serve as the team's feature back.
Reasons to dislike Ingram: Much as was the case when Smith was drafted out of Florida in the early 1990s, Ingram will have to answer questions about whether a back his size can withstand the demands of his position. While he doesn't possess many actual weaknesses in his game, critics will point out that he doesn't have a tangible quality that jumps off the film either – his passion and intelligence are perhaps his biggest strengths. It should also be noted that while he was labeled as one of the draft's few "feature-back" runners, he was not asked to carry the load for an entire season in any of his three seasons with the Tide, sharing carries with Glen Coffee in his first season and Trent Richardson in the final two. Another small knock on Ingram may be his lack of elite "long-speed", which means he may need to be complemented by a shifty/speedy back throughout his career. The presence of so many talented RBs on the Saints' roster might be his biggest hurdle initially. HC Sean Payton will have his work cut out for him trying to keep his top three RBs happy when they are all healthy. Thomas – who is Ingram's primary competition – is too good of a player to see less than 10 touches/game and since Bush figures to steal 6-8 more if he returns to New Orleans, Ingram may struggle to see more than 12 touches/game himself, at least early in the season.
Fantasy Assessment: Most owners seem resigned to the notion that Ingram will be the best rookie available in fantasy drafts this season, largely because New Orleans has a dynamic offensive attack that will allow the Smith clone to score double-digit times. However, it would be unwise to dismiss Thomas after an injury-plagued season or write off Bush because he is a "specialty back". Given the way Payton likes to mix-and-match his RBs from week to week and the quality of his competition, Ingram possesses a lower floor this season than he does a higher ceiling. Should the Saints' backfield stay healthy this season, it may be difficult for Ingram to eclipse 200 touches. If Ingram is the last man standing at RB in New Orleans around the first of October, then the sky is the limit. In short, Ingram is in a great fantasy situation but needs the Saints' depth chart to take a couple of hits if he is going to reach RB2 status in fantasy leagues this season.
Fearless early-July prediction: 210 rushes for 975 yards and eight TDs; 18 receptions for 160 yards
Reasons to like Thomas: At 6-0 and 230 pounds, Thomas fits the bill when it comes to the kind of size NFL teams look for in potential every-down backs. And based on his two-year resume at Kansas State, it isn't hard to see Thomas remaining in that role for the Dolphins. Thomas plays as physical as his size indicates and uses it to his advantage as an inside runner, often falling forward and making the most of each run – all pluses when one considers the physical tone HC Tony Sparano likes his teams to set. Although the Wildcats' option attack didn't showcase his receiving abilities as much as a typical offense might have, the two-time All-Big 12 selection did well to catch 25 and 27 passes in his two years in Manhattan. After dialing down the "Wildcat" attack from previous years, Miami may have selected Thomas with the intention of dusting that part of the playbook off since he executed the "triggerman" role when K-State decided to use it. While he didn't throw it all that often, the Wildcats trusted him enough to throw 12 times in two years. In Miami, he joins a team that is unlikely to bring back either one of its mainstays – Ronnie Brown and Ricky Williams – so the path looks to be pretty clear for Thomas to push for 300+ touches in his rookie season barring a significant addition to his position in free agency. Right now, the speculation is that if a free agent is added, it will be a Darren Sproles-type of player, leaving Thomas as the clear-cut early-down and goal-line back.
Reasons to dislike Thomas: While there is a lot to like about Thomas – power, durability and toughness are among the qualities that stand out the most – there are also a few reasons why he lasted until late in the second round. For one, Thomas is not a threat to break the long run on a regular basis and will likely need to be complemented by a scatback if the Dolphins want some big-play ability in their backfield. With seven fumbles – four lost – in 2010, it is clear that Thomas is far from a finished product as ball security issues tend to drive coaches insane. For his size, Thomas isn't quite the standout in pass protection that he should be, although much of that could easily be chalked up to the run-based offense he was asked to carry. And it needs to be noted that academics were a constant worry for Thomas as it forced him to go the JUCO route out of high school, so the Dolphins have a right to be concerned about his ability to learn their playbook quickly – something that cannot be overlooked given the amount of classroom time that has been lost due to the lockout.
Fantasy Assessment: At this point of the offseason (with the draft concluded and no free agency), Thomas stands alone at the top of the rookie pyramid simply because his competition is unlikely to: return (Brown, Williams), give him a serious run for his money (Lex Hilliard) or unsigned (Sproles?). Even in the most likely scenario – where the team adds a complementary player like Sproles – Thomas has a legitimate shot at being an 18-20 carry/game back right away as a rookie, which gives him a leg up over someone like Ingram for the top spot on this list. Grind-it-out RBs like Thomas aren't always the most appealing options to fantasy owners, but backs who are the clear-cut bellcows on their team with goal-line privileges typically warrant top 20 RB status most years. And with the addition of C Mike Pouncey in the draft, there is hope the Miami offensive line will bounce back to the dominant run-blocking unit it had in 2009.
Fearless early-July prediction: 255 rushes for 1,085 yards and eight TDs; 32 receptions for 230 yards and one TD; one passing TD
As a bonus for the keeper and/or dynasty league owners out there that want another opinion on the players they should target in their upcoming rookie drafts, here's how I view this class long-term in July 2011:
1. Mark Ingram, New Orleans
2. A.J. Green, Cincinnati
3. Julio Jones, Atlanta
4. Ryan Williams, Arizona
5. Daniel Thomas, Miami
6. Cam Newton, Carolina
7. Greg Little, Cleveland
8. Mikel Leshoure, Detroit
9. Jake Locker, Tennessee
10. Leonard Hankerson, Washington
11. Andy Dalton, Cincinnati
12. Alex Green, Green Bay
13. Roy Helu, Washington
14. Delone Carter, Indianapolis
15. Blaine Gabbert, Jacksonville
16. Christian Ponder, Minnesota
17. Jonathan Baldwin, Kansas City
18. Kyle Rudolph, Minnesota
19. Austin Pettis, St. Louis
20. Randall Cobb, Green Bay

Suggestions, comments, musings about the article or fantasy football in general? E-mail me.
---
Doug Orth has written for FF Today since 2006, appeared in USA Today's Fantasy Football Preview magazine in each of the last two seasons and served as a weekly fantasy football analyst for 106.7 The Fan in Washington, D.C. this past season. He is also a member of the Fantasy Sports Writers Association. You can also follow him on Twitter.