Preseason Schedule Analysis




6/28/11



In these lockout-induced times, it may seem a bit premature to forecast players for 2011. After all, what is the upside of taking a late June snapshot at teams and players when there is likely to be nearly 500 free agents hit the market once owners and player finally settle on a new Collective Bargaining Agreement?

The question has merit, but it may ease your mind fantasy football is often a matter of interpreting a series of snapshots because it is the lone major professional sport that is typically played just once a week. (In other words, owners are faced with the dilemma of determining whether a Week 1 stud is worth starting over a more proven player in Week 2. In the other sports, one poor performance doesn't necessarily ruin a player's entire week.) We are all aware of the fact the landscape of the NFL is constantly changing, so one of my jobs as a fantasy football analyst is to provide a baseline for which to build a knowledge base for the upcoming season. The most natural place to start that process is with the incoming rookie class because it is guaranteed to shuffle the fantasy football playing deck every year.

With that said, a good part of the preparation process every summer is trying to figure out just how much impact the newcomers can have in fantasy for the upcoming season. In most cases, running backs steal the show when it comes to immediate contributions, although that notion has been challenged in recent years by the rookie campaigns of players such as Matt Ryan, Sam Bradford, Hakeem Nicks, Dez Bryant, Aaron Hernandez and Rob Gronkowski. Even the notion that a rookie who goes through a long holdout cannot be productive in his first year has taken a beating by the likes of Michael Crabtree. However, owners can start their path to fantasy glory every year by asking themselves a few questions when it comes to rookie evaluation for fantasy purposes:

Is he in a position to succeed?

For a RB, does he have a good line to run behind and an OC that likes to run the ball? For a QB, does he have a good pass-blocking line and 2-3 decent options in the passing game? For a WR or TE, does he have a good QB throwing him the ball? Does he operate opposite a star WR or is he being counted on to carry the passing game?



Is he an offensive building block, complementary piece or role player?





Does his "style" fit in the team's offense?

(Unfortunately, we can't take for granted that teams and their personnel departments do this.) For example, does Mark Ingram's power and vision fit into New Orleans' pass-heavy offensive scheme? Does Julio Jones possess enough eye-popping talent to find an immediate fantasy-worthy niche in Atlanta? Does Daniel Thomas bring something new to the Miami backfield or is he just a younger Ronnie Brown? Does A.J. Green's natural talent allow him to assume WR1 duties right away in Cincinnati? Does Jonathan Baldwin's size and speed mean instant success in the run-oriented Chiefs' offense? Was Baldwin trapped in a no-win situation in college and were his work-ethic and character concerns overblown? Or will Chiefs HC Todd Haley be forced to "break him down" in the same way he did Dwayne Bowe in order to get him to fall in line?
Certainly, there are more questions that can be asked, but to establish a baseline on a rookie, I think this gives us a pretty good start. At the very least, I hope to provide each of you my initial assessments on the incoming class (complete with player strengths and weaknesses) before I really buckle down on player evaluations next month with the release of the first round of PSAs.

Note: The rankings below are for the 2011 season only and are ranked in order of likelihood of fantasy impact. (For example, QBs like Christian Ponder or Andy Dalton may accrue more fantasy points given their position, but the chances of them impacting a fantasy team are slimmer than say, a potential fantasy WR3 in a three-WR league, because the WR could be an every-week starter.)

Players who just missed the cut (in no particular order):


Additional rookies who warrant consideration (depending on a number of factors, including injured veterans, free agency or potential holdouts):

Jamie Harper, RB Tennessee; Jerrel Jernigan, WR NY Giants; Bilal Powell, RB NY Jets; Virgil Green, TE Denver; Delone Carter, RB Indianapolis; Shane Vereen, RB New England; Ronald Johnson, WR San Francisco; Aldrick Robinson, WR Washington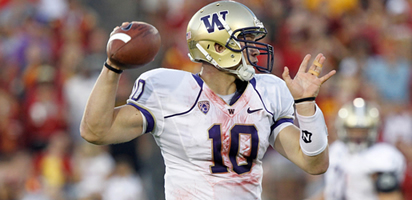 Locker's value hinges on the "type" of free agent QB Tennessee signs.
Reasons to like Locker: In terms of the makeup of a college QB entering the NFL, it's hard to knock Locker for most of the qualities he brings to the table. At 6-3 and 230 pounds, Locker already has a good build for a NFL quarterback. And as one might expect from a player considered a five-tool outfielder in baseball, Locker will enter the league as one of the best athletes at his position and possibly possess one of the NFL's strongest arms. Although he passed up the opportunity to enter the 2010 NFL draft and possibly a higher draft slot, Locker likely made the right professional choice to stay in college through his senior year in order to spend one more year in HC Steve Sarkisian's pro-style attack and give him one more year to address the flaws in his game. In addition to being a four-year starter, it's hard to find an opposing coach who doesn't believe in Locker's intangibles, ability and/or leadership qualities. While there is still plenty of work for him to do with his mechanics – most notably his footwork and pocket presence – Locker will get the opportunity to work with OC Chris Palmer, who has helped develop young QBs like Eli Manning and Tony Romo over the last several years. It is also noteworthy that Locker will have the support of one of the league's most gifted RBs in Chris Johnson, which should mean the rookie gets a chance to ease into his role a bit more than the average first-year QB.
Reasons to dislike Locker: One big concern seems to override all the other positives Locker possesses: accuracy inside the pocket – a pretty notable concern for any QB, rookie or veteran. (Why did I specify "inside the pocket"? Because depending on the source, Locker's completion percentage outside the pocket in college was 70%. So, is this accuracy problem inside the pocket a mental obstacle or something that is the byproduct of being a "running quarterback" for most of his career with just two years of experience in a pro-style attack?). Like many other strong-armed QBs, Locker knows he has a cannon and, as a result, will try to fit throws into windows that don't always exist. Given his prowess as a runner and solid build, it's not surprising Locker had to be reigned back by his college coaches because his willingness to challenge tacklers in an effort to gain extra yardage led to some unnecessary injuries throughout his college career. And because he is a two-sport star – he was drafted by the Los Angeles Angels of Anaheim in 2010 and received a $300 K bonus from them – questions about his commitment to football will linger as long as he has any association with the Angels, although he has passed on a number of opportunities already to commit to baseball full-time.
Fantasy Assessment: The pre-draft opinions on Locker were all over the board; some "rogue" scouts compared him to a young Brett Favre or Jay Cutler (strong but erratic arm, good runner and great athlete who had to carry his college team) while others had him pegged as a second- or third-round talent because his completion percentage at the University of Washington was 54% - very low by today's standards for a blue-chip QB. I'm going to go in a slightly different direction – I believe Tennessee wanted a QB similar to Vince Young (incredible athlete even if the accuracy is a bit questionable to start) but with none of the headaches he caused the team. Locker is a bit of a wild-card to include on this list given the likelihood that Tennessee will bring in a veteran to compete with him. For example, if the free agent is someone at the level of a Matt Hasselbeck, then Locker may only see the field sporadically in his rookie season. But if the team's idea of competition is bringing back Kerry Collins and Rusty Smith, then Locker has some low-end fantasy QB2 potential in 12-team leagues this season, in large part due to his running ability. Even though the Titans' offense will continue to be centered on Johnson, they possess more offensive talent than most casual observers realize. WR Kenny Britt– if he can ever stay out of trouble– has WR1 ability and TE Jared Cook may finally be ready to capitalize on his potential after completing a strong run to finish the 2010 season.
Fearless late-June prediction (12 starts): 190-of-335 for 2300 yards, 11 TD and 14 INT; 60 rushes, 330 yards and two rushing TDs
19. Kendall Hunter, RB San Francisco
Reasons to like Hunter: A three-year starter at Oklahoma State, Hunter was incredibly productive in his four years, posting two seasons in which he eclipsed 1,500 rushing yards and 16 TDs (2008 and 2010) while finishing his career with a 5.9 YPC. Although Hunter doesn't possess ideal size or speed, he is a smart, hard-working runner who displays good vision and instincts. He sets up his blocks well and can make a defender miss in the hole with above-average quickness. When combined with his reliable hands and open-field elusiveness, the 2010 All-American could slide into the RB2 role in San Francisco behind Frank Gore immediately. Considering the injury history Gore has (including the hip injury he suffered late last season), new HC Jim Harbaugh may be inclined to ease up on Gore's workload a bit more than previous HC Mike Singletary did. While Anthony Dixon is no slouch, Harbaugh and the front office obviously identified Hunter as their kind of back on Day 3 of April's draft, so given that Hunter contributes more to the passing game than Dixon does, he has a leg up on the second-year back should Gore miss time again this season.
Reasons to dislike Hunter: Despite his production and big heart, Hunter seems like a bad fit for an offense that wants to play power football initially. At 5-7 and 200 pounds, Hunter doesn't move the pile on inside runs and doesn't always power through the "easy" tackle, so he is highly unlikely to serve as a full-time back should Gore miss time. And while he shows fight in pass protection, defenses will try to exploit his size if he is asked to block on a regular basis. Because a fully healthy Gore trumps him in just about every possible way at this point of his career, Hunter will likely be relegated to standing on the sidelines along with Dixon when the veteran is healthy. And if Gore should get hurt, Hunter's rookie-year upside is likely as a lead committee back.
Fantasy Assessment: It should be noted that Hunter's ranking on this list is based primarily on Gore's injury history, meaning Hunter should get 2-3 games to showcase his abilities with 15+ touches. From a game-to-game consistency standpoint, Hunter isn't likely to provide much in terms of fantasy numbers. But given Gore's injury history, it's a good bet that Hunter will see a bit of action in fantasy lineups at some point this season, essentially taking over the role Brian Westbrook served late last season. He's a mandatory handcuff for Gore owners and a nice little trade chip for the Gore owners who let him slide too far late in the draft.
Fearless late-June prediction: 65 rushes for 300 yards and two TDs; 18 receptions for 95 yards and one TD
Reasons to like Green: Despite the fact that Hawaii has become synonymous with spread formations and ridiculous passing numbers, Green was insanely productive in his final season with the Warriors, rushing for 1,199 yards and 18 scores on just 146 carries (8.2 YPC). Although no team runs a spread offense full-time in the NFL, the Packers do it more often than just about any other team. For a RB who measures in at 6-0 and 225 pounds, Green possesses impressive elusiveness in the open field and is a solid downhill between-the-tackles runner – both qualities that play well in Green Bay's zone-blocking scheme. Considering Green is the likely replacement for free agent Brandon Jackson, Green may win the third-down back role by default, which will entitle him to regular – albeit limited – playing time right away when the team pulls Ryan Grant in passing situations. Grant has been durable for most of his career prior to last season, but backup James Starks has not shown a great deal of ability to avoid injury throughout his young career.

Reasons to dislike Green: While Green is a physical runner who seeks contact; he almost seeks it out too much, opting to run over tacklers in the hole as opposed to making a move. For a back his size, Green goes down too easily on occasion and runs high, which makes him a prime target for defenders looking to deliver a big hit or strip the ball. Green also lacks the patience and vision necessary at this point to become a feature back – two huge qualities for any RB that runs behind a zone-blocking line – for the Packers should Grant miss time again in 2011, meaning he will likely be cast as a passing-down specialist initially. In regards to his new team, Green faces an uphill battle at significant time in the Green Bay backfield should Grant remain upright and Starks take the next step to improve his durability and become a better all-around back.
Fantasy Assessment: Green isn't likely to carry too much value in 2011 as long as Grant stays healthy, but if the veteran pulls up lame again early in the season, Green has the tools necessary to lead a committee attack with Starks and produce consistently in a way Jackson could not. The most likely outcome is that Grant starts and plays every game for the Packers this season, leaving Green with a maximum of 70-100 touches. But Grant's owners would be wise to handcuff Green and Starks (probably in that order) to their RB because it is not unthinkable the Packers would be willing to see what they have in reserve should Grant go down in the final year of his contract.
Fearless late-June prediction: 50 rushes, 235 yards and three TDs; 28 receptions for 250 yards and one TD
Reasons to like Young: If the Lions' goal was to find someone to stretch the field consistently in a way Bryant Johnson never could, they did well to take one of the draft's best deep threats in Young. The three-time all-Western Athletic Conference wideout is exceptionally quick and pulls away from defensive backs after eating up the defensive back's cushion. Young is light on his feet in and out of breaks like DeSean Jackson although not quite the same overall prospect as the Eagle standout as some have suggested. For a college receiver, Young is a solid run-after-catch player, tough for his size (5-11, 174 pounds) and better than many receivers his size at escaping press coverage. All things considered, Young joins a good situation in Detroit in that he will almost never be the main focus of a defense so long as Calvin Johnson is healthy. And if Matthew Stafford can ever put together an injury-free season, the third-year signal-caller has a big enough arm to make sure the Lions get the most out of Young's deep-ball abilities.
Reasons to dislike Young: Despite his toughness, Young is nowhere near strong enough right now to disengage from the NFL's more physical cornerbacks nor can he be expected to hold up for a full season if he is asked to go over the middle on a regular basis. Scouts have labeled Young a "body-catcher" for his propensity to let the ball come into his body as opposed to snagging the ball with his hands – a problem that shows up by the lack of "jump balls" Young wins. While Young should step right into the WR3 role (moving Nate Burleson inside in three-WR sets), the Boise State product figures to be highly inconsistent on a game-to-game basis since Detroit has a plethora of offensive weapons that should be higher on the priority list in the passing game (Calvin Johnson, Burleson, TE Brandon Pettigrew and possibly RB Jahvid Best). Young also was suspended for the final nine games of the 2008 season for violating unspecified team rules. While he has reportedly learned from his mistakes and matured, he still has a reputation as an egotistical player who tends to resist coaching.
Fantasy Assessment: In an offense that is just overflowing with skill-position talent, it's hard not to like Young at the end of fantasy drafts as a receiver who can take advantage of a matchup, much like Pittsburgh's third receivers have done lately (Nate Washington, Mike Wallace and Emmanuel Sanders). The fact that GM Martin Mayhew sees Young as a "stick of dynamite" that he expects to "step in immediately" means that the rookie should initially be considered as solid roster depth in deeper fantasy leagues and a watch-list candidate in shallow leagues. As with most rookie receivers, he will probably deliver two or three duds for every big game he produces in 2011, but as long as Stafford remains upright, Young is a solid bet to give his owners at least one big play a game.
Fearless late-June prediction: 36 receptions for 500 yards and three TDs
16. Jonathan Baldwin, WR Kansas City
Reasons to like Baldwin: If this 6-4, 230-pound behemoth wasn't the best combination of size and speed at receiver in April's draft, he wasn't too far behind. Given what HC Todd Haley will likely ask out of him in Year 1 and his penchant for using his body well to make incredible catches downfield, those qualities alone may be enough to get Baldwin into the starting lineup early in his rookie season. In terms of learning his craft, the former Pitt Panther couldn't ask for a much better situation as Haley is starting to build quite a resume when it comes to getting the most out of his receivers. As far as the offense he is joining, Kansas City may be happy just to see him emerge as a deep threat in 2011. With Dwayne Bowe on the other side, Tony Moeaki over the middle and one of the best running games in the NFL, Baldwin is almost guaranteed to see single coverage on every play his rookie season.
Reasons to dislike Baldwin: First and foremost, receivers with Baldwin's size and speed typically don't last until the last part of the first round unless there is a legitimate injury or character concern. In Baldwin's case, it is the latter. While he was found not guilty on a number of misdemeanor charges for an arrest in 2009, Baldwin committed a pretty big no-no (at least in the eyes of scouts and coaches) when he ripped his college quarterback and coaches around the same time he declared for the draft. On the field, he is just the latest in a line of mega-talented college receivers who can make the difficult catch look easy and the easy catch look difficult. Furthermore, his effort has been questioned on multiple occasions and his route-running is far from refined. Combine all that with the fact that the Chiefs' offense is run-based with a relatively inaccurate QB leading the passing game. And while Kansas City wants to open up the offense a bit more this season, the combined production of all Chiefs' receivers outside of Bowe was pathetic last season: 67 catches, 693 yards and three receiving touchdowns.
Fantasy Assessment: It seems the "knucklehead factor" is more prevalent at receiver than any other position nowadays. Sometimes as fantasy owners and/or forecasters, trying to decide whether a player is just being an immature brat or a is truly a bad seed is one of the toughest calls to make – a decision that can come at a fairly heavy price in fantasy draft pick compensation when the player is as talented as Baldwin is. Haley has already gone on record as saying he expects immediate contribution from his first-rounder, but conventional wisdom suggests we should expect the same up-and-down production from Baldwin that most rookie receivers provide. Unless Kansas City dramatically shifts its offensive philosophy, it will remain a running team. Assuming Baldwin cracks the opening day lineup, he will likely accentuate Jamaal Charles' game-breaking ability more than light up fantasy box scores. Expect 3-4 big games at most with a lot of inconsistency in between.
Fearless late-June prediction: 38 receptions for 515 yards and four TDs
15. Leonard Hankerson, WR Washington
Reasons to like Hankerson: Considering Hankerson hails from the same school that helped usher the careers of Michael Irvin, Santana Moss, Reggie Wayne and Andre Johnson, it is quite impressive that he owns a number of single-season records at the University of Miami (FL), including receptions (72), receiving yards (1,156) and receiving TDs (13). He did this despite average play at best from the quarterback position. Despite being somewhat average in terms of size (6-2, 209), Hankerson plays very big for his size by impressively shielding off defenders as a receiver and running through tackles. Unlike some of his fellow 2011 draft classmates, Hankerson is a strong locker-room presence and is a pretty capable blocker, which should endear him quickly to the Redskins' coaching staff. In Washington, Hankerson doesn't exactly face the stiffest of competition at his position and should start the season out no lower than a WR3 – assuming free agent Santana Moss returns. If Moss departs, the third-rounder will only need to beat out the disappointing Malcolm Kelly for a starting job opposite Anthony Armstrong. If Moss returns, Hankerson could very well win a training-camp battle with Armstrong.
Reasons to dislike Hankerson: Although he shocked most scouts and GMs at the Combine with one of the fastest 40 times at his position, Hankerson doesn't profile as a NFL deep threat and will likely make his living in the pros as a possession receiver. While that isn't necessarily a bad thing, he isn't the quickest player either, which means he will need to be very sound in his route-running and technique against cornerbacks who attempt to play bump-and-run against him. Although HC Mike Shanahan has typically been able to get the most of his receivers' abilities over the years, the QB situation – as it stands now before free agency – is one of the most dire in the NFL with only John Beck and Rex Grossman on the roster (if Donovan McNabb moves on as most expect).
Fantasy Assessment: Before we can really put a rock-solid ranking on Hankerson's potential contributions as a rookie, there are several questions that need to be answered: who will be his QB and will Moss return? Assuming the Redskins land Matt Hasselbeck or Marc Bulger and keep Moss (which is my best guess at this point), Hankerson has a shot at putting together a few fantasy-relevant performances in 2011. If the team doesn't sign/trade for a starter-worthy free-agent QB and/or lets Moss walk, then all bets are off with a QB-WR depth chart that rivals the 2010 Cleveland Browns – in other words, a fantasy wasteland.
Fearless late-June prediction: 40 receptions for 525 yards and four TDs
Reasons to like Newton: The 2010 Heisman Award winner may be one of the greatest athletic talents to ever come out of the draft. In fact, his physical talent is so undeniable that offensive coordinators won't hesitate to alter their offensive approach dramatically to adapt to his run-pass abilities. Despite a number of off-field incidents and/or comments that has landed Newton in hot water, all the No.1 overall pick has done in the past two seasons is collect two national championships (the first one at his junior college and the second with Auburn this past year), so he is a winner. Newton unfortunately drew JaMarcus Russell comparisons throughout the draft process, but Panthers fans can be assured that while both are big QBs with huge arms, Newton's mental makeup and desire to work is not in question – one only needs. In terms of the team he is joining, Newton will have the pleasure of joining a stable of RBs – even if DeAngelo Williams leaves via free agency – led by Jonathan Stewart that will go a long way in helping the rookie feel as comfortable as possible. As far as his receivers are concerned, Jeremy Shockey – despite his lack of durability and declining ability – is the best TE Carolina has employed in years.
Reasons to dislike Newton: Newton's biggest challenge is the mental part of the game – even more so than the average QB coming into the league. And when I say that, it's not that he lacks football IQ, it is simply that he hasn't been asked to prove it on a regular basis with his coaches asking him to make a play with his feet if his first read wasn't open. He'll also be asked to work under center regularly after working out of shotgun – a transition that requires learning to read the defense at the line scrimmage and during his dropback (not to mention the footwork that goes along with it) as opposed to the rock-and-fire motion most spread QBs are accustomed to in college football. And let's just say we can assume that he can make all the necessary improvements (which is almost impossible to expect), there is the matter of the talent he will be throwing to – a group of receivers that may be the worst in the league, especially if Steve Smith is traded like many expect him to be. David Gettis and Brandon LaFell each showed flashes last season, but Shockey is the only Panther that has earned any kind of respect in the NFL. What this means –if Smith is traded – is that Newton and Stewart will be seeing an awful lot of eight-in-the-box on running downs and complex coverages on passing downs.
Fantasy Assessment: Even with a poor group of receivers to throw to in 2011, Newton's athleticism alone will enable him to be fantasy relevant at some point this season since any camp competition with Jimmy Clausen figures to be one-sided in favor of the more highly-paid player. It would be unfair to expect Newton to emulate the late-season run of another highly-touted college spread QB he has been compared to (Tim Tebow), but it is possible that he may post enough rushing yards to finish just outside the top 20 fantasy QBs if he ends up starting Week 1. Any owner investing in him should be prepared for a bumpy and inconsistent ride, however.
Fearless late-June prediction (14 games): 205-of-365 for 2310 yards, 10 TD and 15 INT; 115 rushes for 615 yards and five rushing TDs
13. Lance Kendricks, TE St. Louis
Reasons to like Kendricks: Although the notion of big-play TEs isn't a new concept, the focus of acquiring one has become more pronounced in recent years with the dearth of all-around players at the position. In Kendricks, St. Louis likely landed the draft's most athletic TE and the player most likely to contribute right away at his position in large part due to the wide-open offense he will be joining. Much like other athletic TEs who have been drafted of late, Kendricks is a former wide receiver who has kept much of his downfield speed, can find a hole in zone coverage and possesses the ability to make the great catch – even if his concentration wanes on the "easy" catch from time to time.
Reasons to dislike Kendricks: While he is a willing blocker, Kendricks isn't likely to remain in the lineup consistently (at least not right away) when the Rams decide to go with two TEs and pound the defense with Steven Jackson. Therefore, short-yardage and goal-line opportunities may not be in his immediate future. With that said, he isn't a liability as a blocker, so the likelihood is good that he will emerge as an every-down, every-situation TE early in his career.
Fantasy Assessment: Of all the places I expected Kendricks to land in April, St. Louis would have likely ranked #32 given how new OC Josh McDaniels has used TEs in New England and Denver. However, from the day he was drafted, there has been strong sentiment the 6-3 and 243-pound big-play threat will be used in much the same way Aaron Hernandez was with the Patriots last season while Michael Hoomanwanui assumes the Rob Gronkowski role. With the plethora of possession receiver types in St. Louis (as well as injury-prone players such as Donnie Avery and Laurent Robinson), Kendricks has a very good shot at emerging as the Rams' best downfield threat as a rookie so long as they don't ask him to take on too many roles. But while the Hernandez comparisons are apt in terms of role and ability, don't expect the same kind of per-game production for Kendricks this season as Hernandez provided in 2010.
Fearless late-June prediction: 42 receptions for 540 yards and four TDs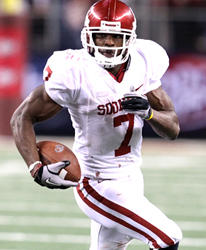 Reason to like Murray: Versatility.
Reasons to like Murray: In terms of athletic and receiving ability, Murray is right at the top of this rookie RB class. Much like one of his new teammates (Felix Jones), Murray is at his best on outside runs and in space where he gets to put his speed and quickness on display. Along with exceptional hands (71 catches in 2010, 157 for his career), the University of Oklahoma's record-holder in TDs, points, all-purpose yards and receiving yards by a RB is more than adequate in blitz pickup, which means he could be fast-tracked into a third-down role for the Cowboys. Along with his explosiveness, his best trait may be his versatility, which may allow him to be a jack of all trades as his career progresses. Murray also scored high marks from scouts and general managers alike with his special-teams abilities, dedication and work ethic. At 6-0 and 214 pounds, Murray has the frame to add about 10 more pounds of muscle over the next year or two, which may go a long way in improving his confidence as an inside runner and allow him to take a bit more punishment at the same time. In Dallas, the two-time first-team All-Big 12 selection enters a talented backfield, but one in which he could make some noise immediately should everything fall just right for him. In an offense that features such top-notch talent in the passing game (Miles Austin, Dez Bryant and Jason Witten to name a few), Murray may have more opportunity than the average rookie to break some huge plays when his number is called on draws or screens.
Reasons to dislike Murray: Despite playing 50 games in his college career, Murray's durability is one of the biggest worries the Cowboys will have going forward. (He played through a turf toe in 2006, missed three games after dislocating his right knee cap in 2007, missed the final two games of 2008 after rupturing a hamstring, missed two more games with a sprained ankle in 2009 and suffered bruised ribs in 2010.) While he is elusive in the open field and an able north-south, one-cut runner, his WR-like build and upright running style makes him a difficult projection as an every-down running back in the NFL, especially in light of his injury history. When combined with subpar vision inside and the absence of pile-moving power, it may explain why HC Jason Garrett has already stated his intention to move Murray all over the field with talk about putting him in the slot and even as an outside receiver in certain packages. As far as his immediate future with the Cowboys, Murray will be hard-pressed to threaten Jones for the starting job right away and he may not even win the RB2 job if Tashard Choice is given a fair shot to claim that role. (And this is even assuming Marion Barber does not return.)
Fantasy Assessment: Murray is an interesting wild-card for fantasy owners in 2011. Considering the concerns most talent evaluators have regarding his durability, it seems far-fetched that he has a realistic shot at finishing the season atop the depth chart (as one columnist from the Dallas Morning News suggested in early June). Still, if Barber is allowed to leave and the coaching staff insists on keeping Choice buried on the depth chart, then the rookie has a fair shot of some relevancy in fantasy leagues early on. Murray is likely at least one year away from even considering starting RB duties since the team will almost certainly ask him to add muscle, but owners – especially those in PPR leagues – need to keep an eye on any explosive pass-catching back who may touch the ball 8-10 times per game in what figures to be a high-scoring offense.
Fearless late-June prediction: 110 rushes for 520 yards and four TDs; 28 receptions for 250 yards and two TDs
11. Alex Henery, K Philadelphia
Reasons to like Henery: Henery belongs on the short list of the greatest kickers in college football history. Not only did he finish as the school's all-time leading scorer, but Henery also became the most accurate kicker in NCAA history, connecting on 89.5% (68-of-76 FG) of his attempts throughout his four-year career. He was so ridiculously good that he missed just one kick each between 30-39 yards and 40-49 yards in his college career. All his other misses came from 50+ yards (5-of-11) and two of those were blocked. While kicking in college is admittedly not kicking in the NFL, don't expect pressure or cold weather of Philadelphia to faze Henery after playing at Nebraska.
Reasons to dislike Henery: There are very few reasons not to like Henery, outside of the fact that most people have a natural inclination to dismiss kickers in general. Some draftniks suggest that he loses accuracy as he moves further back, but that's true of all kickers. (Seriously, Henery's one miss in 2010 came on a blocked attempt from 51 yards out.) The one potential downfall Henery may have this season is that Philadelphia has enough dynamic offensive talent that it may not require a high number of field goal attempts.
Fantasy Assessment: While a selection of a kicker this high is bound to draw the ire of a few skeptics, the fact of the matter is it isn't often when an accurate, clutch kicker with the leg of a Mason Crosby joins a dynamic offense. For many years, David Akers was a favorite of fantasy owners in large part because Philadelphia's offense has traditionally been good at getting into scoring position but not finishing drives. Reid's pass-heavy offensive attack isn't going to change anytime soon, so when one considers that Akers has attempted at least 37 field goals AND 40 extra points in three straight seasons, the chances that Henery does the same are pretty high. Considering his big leg, it's not out of the question he gets two or three more attempts from 55-60 yards that Philly would not have asked from Akers. Henery should be a top 5-6 kicker selection and should actually be valued more by fantasy owners this season than if the Eagles had decided to hold on to Akers.
Fearless late-June prediction: 34-of-40 FG; 41-of-41 XP

Suggestions, comments, musings about the article or fantasy football in general? E-mail me.
---
Doug Orth has written for FF Today since 2006, appeared in USA Today's Fantasy Football Preview magazine in each of the last two seasons and served as a weekly fantasy football analyst for 106.7 The Fan in Washington, D.C. this past season. He is also a member of the Fantasy Sports Writers Association. You can also follow him on Twitter.