All Out Blitz: Volume 57




11/29/12



Aggressiveness is a characteristic that tends to reward fantasy owners more times than not. In the NFL, an offensive line will sometimes hold up long enough to give the quarterback enough time to beat man coverage down the field and make the defense look foolish against a fierce pass rush. More often than not, though, when a defense brings the heat and forces the action, crisis management becomes the name of the game for the opposing team.

In that same vein, I hope to apply that same kind of pressure to the owners in all of my leagues by beating my opponents to the punch in regards to personnel moves. Sometimes, reaching a conclusion about a player too quickly results in making a bad situation worse. However, coming to a correct conclusion two weeks or two minutes quicker than your opponents is considered foresight and can often lead to fantasy championships.

Fantasy owners can be a uneasy lot, knowing that one two-or-three-game losing streak can wreak irreparable damage to his/her team's chances to make a visit to the fantasy postseason. But just as it is in the NFL and in life, it's hard to land the big prize by playing scared. Thus, I will strive each week to help each of you become a smart blitzer, so to speak.


---

At this point of the fantasy season, the bye weeks are (thankfully) over and preparations – which should have begun long ago – can and should officially begin for a deep playoff run. But how exactly does one make "preparations" now?

In short, making preparations for this final four- or five-week stretch is nothing more than taking a good hard look at your roster in much the same way you do at the trade deadline and figure out what pieces of your roster will help and which ones could help while eliminating those players that you are reasonably certain cannot help you regardless of how much their situation changes. Let me give you an example:

In my biggest money league, I traded for Donald Brown several weeks ago as a RB4 with an eye on his upcoming schedule in case I suffered an injury at RB to Darren McFadden or Darren Sproles. As luck would have it, both got hurt and so did Brown (again). However, a month later, it appears all of my backs are now back – along with Trent Richardson – and I really don't see a scenario in which I would play Brown now. Sometimes, fantasy owners refuse to swallow their pride and cut ties with a player because they traded for him or because he's a "starter" or fear he will come back and hurt them if they let him go. All of those are perfectly understandable reasons, but what exactly is Brown's upside even if Vick Ballard goes down?

So, what players should owners look at to replace the Donald Browns on their roster? A good start would be the players I mentioned in my "Lottery Tickets" article about a month ago – a list that provided six names that have already contributed in some way, shape or form in at least one game since I wrote the article. But really, all an owner really needs to do is think about which players we have discussed over the course of the year – the Bryce Browns and David Wilsons, for example – that have incredible talent and just need a likely injury to a player in front of them to make a splash. I could make it sound more complicated than that, but it really isn't.

As we near the fantasy playoffs, there just isn't any reason to carry dead weight on your roster. When the bye weeks end, a marginal bye-week fill-in becomes dead weight when he keeps you from acquiring a potential "lottery ticket". So in a sense, less can become more. In the same vein, I'm adopting a similar approach for the remainder when it comes to this column. With a full 16-game schedule to deal with now until the end of the season, it becomes nearly impossible to watch each game and thoroughly analyze two – if not three – aspects which have an impact on fantasy. With that said, much of the season's story has already been written, so it becomes more important for me to do what owners should be doing about now: focusing on that last key waiver-wire addition or two or putting just a bit more analysis into next week's matchup that puts your team over the top.

Texans-Lions

This was the first extensive action of Ryan Broyles' pro career and it is clear to me he is already the answer to the question: "Who replaces Nate Burleson?" Broyles' injury history has been well-documented, but everything I see him do is beyond what anyone should expect from a rookie receiver. He runs crisp routes and obviously takes coaching well (such as the first play of the overtime when he observed "scramble-drill rules" and broke upfield, catching Matthew Stafford's pass as he was rolling to his left for a 40-yard gain. There are any number of veteran receivers that do not make that play on a weekly basis. His ability to battle back from ACL surgery twice is further proof he has a maturity that other Detroit players do not possess, especially those players who line up in the wrong spot on purpose (right, Titus Young?).

The Texans' defensive line is mostly intact, but the linebackers and defensive backs are dropping like flies and it is starting to show on the field. While no one can really expect to shut down Calvin Johnson, a healthy Johnathan Joseph would have made it more interesting. Over the last two weeks without a healthy shutdown CB, the Texans have surrendered consecutive 350-yard passing performances, reminiscent of the year before DC Wade Phillips and Joseph arrived in Houston. The defense withstood the early loss of LB Brian Cushing because it had the depth, but with ILBs Bradie James and Tim Dobbins both hurt, the Texans are on their fourth and fifth options (Darryl Sharpton and Barrett Ruud) at the position. It probably goes without saying that rosters are not deep enough anymore to carry five starting-caliber inside linebackers AND a cornerback who can seamlessly replace on the best cover men in the league.

Fantasy implications: It's unclear when Broyles will officially become the full-time starter, but I'm convinced he is the perfect complement to Johnson as the trustworthy possession-oriented receiver with just enough explosiveness to make defenses pay. He's a high-end WR3 in PPR going forward – as long as Young is out (and likely beyond) – and can probably match Burleson's 2011 production in standard leagues. While I'll stop short of calling Houston's defense a plus-matchup for opposing offensive players now, this is a below-average pass defense anytime Joseph is out and an average defense in general in its current state.

Redskins-Cowboys

The pace – or lack thereof – continues to be the biggest complaint I have with the Dallas offense each week. While more plays increase the possibility that QB Tony Romo will take more punishment, tempo is one way to limit the number of blitzes and stunts the Cowboys' porous offensive line will see. Additionally, imagine how often defensive backs would attempt to get physical with Dez Bryant if Dallas picked up the pace. But further issues were exposed in this game as well. Cole Beasley does a fine job in the possession receiver role I expected Danny Coale to play before the start of the season, but this game should, at the very least, serve as a wakeup call to the Cowboys' coaching staff that Dwayne Harris needs to be a bigger part of the gameplan. His 36-yard catch on a deep crossing route against the Redskins' zone is just the kind of play that has been missing from their offense since Laurent Robinson left. They don't need more players to assume Jason Witten's "security blanket" role, they need more players that can create big plays.

Even though he "earned" a perfect quarterback rating against the Eagles, Robert Griffin III was much more impressive in this game. And it wasn't because he burned a secondary that was committing basic coverage errors, it was how he did it: beating DC Rob Ryan had what he like to do most - blitz. Mind you, RG3's TD pass to Pierre Garcon was actually a poor throw the receiver made a great play on, but his first and third scoring passes (the deep ball to Aldrick Robinson and on the run at the end of the half to Santana Moss) are perfect examples of the mind-blowing potential RG3 has. It may be too early to say he is the most accurate quarterback for someone with his athletic ability that I have ever seen, but his skills alone as a passer are good enough to be a quarterback in the NFL. The fact he has insane track speed is just an incredible bonus.

Fantasy implications: Unless someone has a direct line to HC Jason Garrett, there isn't much we can do about the pace this offense moves at right now. Depending on how serious Miles Austin's hip flexor injury is, though, Harris would make for a suitable desperation play in fantasy based on the limited film I have seen of him. Garcon's health is a huge factor going forward for RG3 because it forces a defense to play him honestly. And as we have seen, an honest defense against Griffin is usually a defense that will get burned.

Patriots-Jets

I won't deny after watching both of these teams' games against each other this season that New England has the far superior team, but it has to irk New York fans that a team that can show efficiency from time to time (i.e. the Jets' wins over the Rams and Colts) can be the NFL's version of the "Bad News Bears" in games like this one. Three fumbles in less than a half of a quarter, all of which resulted in either quick-strike TDs or return scores, is just the kind of inconsistency the Jets have become accustomed to this season. And the blame is on everyone in this game: Shonn Greene's fumble on fourth down should have been a field-goal attempt, Steve Gregory's fumble return appeared to be a botched FB dive in which DT Vince Wilfork essentially forced a fumble by pushing the offensive lineman into Mark Sanchez as he was trying to make something out of nothing and the final fumble occurred on a hard hit during a return that jarred the ball loose. But instead of the ball dropping straight down – as it usually does – it shot straight up into the waiting arms of Julian Edelman (almost as a play had been drawn for him to come over the middle on offense).

It might be a small observation, but Jets ILB Bart Scott has lost a step, if not two, in his time with New York. And that fact became painfully obvious on Shane Vereen's wheel route that resulted in his 83-yard TD reception. The Jets have surrendered the second-fewest receptions to the running back position this season, but looking over their schedule, it isn't as if they have faced a lot of teams that have dynamic options at the running back position in the passing game. Then again, there was a stretch of the season where they were so bad at defending the run where offenses probably didn't feel particularly motivated to throw the ball to their backs.

Fantasy implications: This was a game that truly belonged in Week 11, particularly the second quarter. As such, there isn't much that can said about it from a fantasy angle. The Patriots' offense has caught fire and their team is unbeatable when a team like the Jets simply hands them the game. Fortunately for the Jets, their schedule doesn't appear to be too taxing for the likes of Scott with the Cardinals, Jags, Titans and Chargers remaining. Chris Johnson and Ryan Mathews would be difficult for this defense to defend in the passing game if the Titans and Chargers were using them more in that regard, but they are not. Still, it is a trend to keep an eye on as the season comes to a close.

Raiders-Bengals

Don't look now, but the Bengals are actually playing up to their talent level. BenJarvus Green-Ellis even looked explosive in this game, although that is hardly the reason Cincinnati is thriving these days. It comes as little surprise to me the increased usage of Jermaine Gresham, Mohamed Sanu and Cedric Peerman has coincided with the Bengals' improved play. Gresham isn't being used considerably more than he was earlier in the season, but smarter (as in the red zone where his size is a huge advantage). Sanu looks to be every bit the physical possession receiver that should have been A.J. Green's sidekick all along as Brandon Tate never made sense opposite the Pro Bowler and Armon Binns has fallen to the wayside after an ankle injury. The fact OC Jay Gruden has dabbled with Sanu at quarterback a time or two and for a play at running back in this game is the kind of creativity that I have been seeking from this offense all season long. I've never claimed Peerman should be the starting RB, but this offense has lacked a consistent big-play RB for years and he can give Cincy that in 8-10 touches.

Continuing on my pro-Cincy theme, it tells me a lot about a team when a defense actually does more than just "show up" against a struggling offense. Carson Palmer was on the move a lot in this game and that has been a theme over the last three weeks when quarterbacks have faced this defense. (Forcing Eli Manning off his spot a couple of weeks ago was critical to their Week 10 win over the Giants.) This defense still isn't as hard-nosed as it needs to be to make a deep playoff run, but the progress it has made since the bye has been substantial.

Fantasy implications: The "old" Bengals would have looked at this upcoming stretch (@SD, vs. DAL, @PHI) and found a way to finish 1-2, but this team – right now – is playing the best football of any team in the AFC North. Sanu is beginning to emerge as a fantasy WR3 (although his recent TD pace is unsustainable), Peerman can be viewed as a bench option in deeper leagues and Gresham should probably be starting in most fantasy leagues. The defense/special teams unit – even though it is far from elite – warrants a spot in most lineups as well over the next three weeks.

Steelers-Browns

Usually, any game in which one team committed eight turnovers; that would be the story. Far be it for me to criticize such a well-run organization, but at some point, someone needs to start questioning Pittsburgh's usage of its running backs. While running back isn't technically a position that a team needs to have stability at for the good of the team (i.e. the leadership usually associated with a quarterback) or one that depends on accuracy, rhythm is still very important. When a back is pulled every series – whether he fumbles or not – a team not only hurts itself by not letting its back get into that rhythm. Furthermore, when a coach is pulling a back after every series (or fumble), it implies the coach/coordinator doesn't know who "his guy" is at the position, which has to create doubt throughout the rest of the roster.

Fantasy implications: Long story short, Isaac Redman has shown himself to be a solid red-zone option. HC Mike Tomlin has suggested Jonathan Dwyer has similar characteristics to Jerome Bettis and Rashard Mendenhall has more speed and explosion than either one. When each player fumbles, the answer should never be "next man up" unless ball-security has been an ongoing issue. The fact Chris Rainey was taking goal-line carries with all four backs healthy tells us the Steelers are throwing everything against the wall and hoping something sticks. This isn't RBBC like the Saints in which a team is trying to play to the strengths of each back, this is RBBC hoping something good happens. As you may have guessed, this position is a dice roll in fantasy until further notice, even with Tomlin's announcement that Dwyer is now his starter.

Falcons-Bucs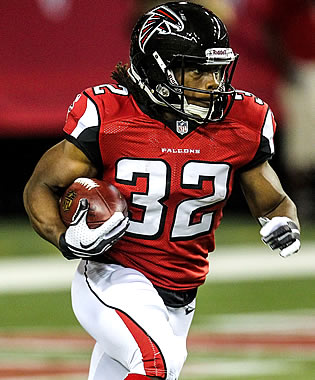 "Just enough" for the Falcons but there isn't enough Quizz on the stat sheet for fantasy owners.
This was probably my favorite game of the week and one of the hardest-hitting games of the season. In these types of divisional matchups, running the ball and stopping the run take on added importance because the other defense is naturally going to be more familiar with its opponent. With that said, I'm convinced Atlanta doesn't win this game if not for its use of Jacquizz Rodgers in this contest. We've discussed him ad nausem in this space and despite the fact he isn't Darren Sproles-lite, he is just enough of a threat to make defenses respect the running and short passing game. And with the talent at receiver "just enough" at running back is good enough.
While not at the level of the Falcons' passing attack, the Bucs have a dynamic aerial assault of their own, so what does it say about how far Doug Martin has come along when Atlanta admits to making him the focus of its defensive gameplan? Vincent Jackson has shed the reputation of being a deep-ball specialist – although that is still probably what he does best – while Dallas Clark and Tiquan Underwood have seemingly made Mike Williams something of a non-factor in recent weeks as he has recorded two of his three lowest target totals of the season over the past three weeks. And it is Clark that intrigues me the most for the simple fact that he is healthy and can be the reason this offense takes the next step. Very few defenses can defend a back like Martin, shut down a receiver like Jackson and eliminate the middle of the field all at the same time.
Fantasy implications: It seems like I've discussed Rodgers more than any other player this season, but it is only because his presence makes the passing game that much better. While neither Michael Turner nor Rodgers is a recommended play in fantasy, it still bears mentioning their use of the two backs in this game was what I had envisioned all along. As luck would have it, Tampa Bay has very favorable matchups the remainder of the season at each position. For Martin, he should be a top play all four weeks. Jackson will probably see a fair amount of Champ Bailey next week, but his fantasy playoff schedule is solid. As for Clark, Philadelphia – in Week 14 represents his worst matchup.
Bills-Colts
Following the end of the 2010 season, HC Chan Gailey stated the similarities between C.J. Spiller and Jamaal Charles were "striking". And when we get a chance to watch Spiller in a feature-back role, it is hard to disagree. (Remember, Gailey was the OC in Kansas City and was reportedly the "driving force" behind the Chiefs drafting him.) To that point, Charles and Spiller both share game-breaking ability, concerns about lasting an entire season with a huge workload and, at least initially with Charles, an unwillingness to run inside the tackles and inability to pick up the blitz correctly. Charles has since become the back that can do everything and it isn't unreasonable to think that Spiller will at some point as well. However, each of Spiller's last two games is a reminder that while he is a complete back on the stat sheet, he has a ways to go before he is one of the football field. Despite the fact that Spiller saw more touches in this game, Fred Jackson played more total snaps (32-29) and was in more often on pass plays (11-4).
Fantasy implications: One gets the sense that once Spiller can be trusted in pass protection, he receive more than 60% of the work – the number Gailey gave reporters on Monday – regardless of the health of Jackson. But his unwillingness to run inside – or willingness to bounce so many runs outside would probably a more correct statement – is what is keeping him from being a high-end fantasy RB1 right now because that is not a description of a back coaches want at the goal line. While it might be fair to say that Jackson is keeping Spiller from becoming elite, it is really Spiller that is holding Spiller back. Regardless, Spiller should be viewed in much the same light in fantasy circles as Charles until further notice – a big-play multi-purpose back that may not see goal-line touches and can see extreme fluctuations in his workload from week to week.
Broncos-Chiefs
Somewhere between the Steelers' RBBC (where backs are apparently replaced when they fumble) and the Saints' RBBC (where backs are subbed for almost every down based on formation, situation, etc.) was the Chiefs' own take on the committee attack. On the first series, the following was the sequence of run plays, the downs they occurred on and the player that received the carry: first down – Jamaal Charles stretch run to the right, second down – Peyton Hillis stretch run to the left, third down – Shaun Draughn up the middle, second down – Charles stretch to the left, first down – Hillis up the middle, second down – Dexter McCluster sweep right, first down - Charles counter left. And in case you were wondering, Charles dominated the snaps in the backfield after that.
Fantasy implications: Sometimes I have to throw paragraphs like the first one in there just to make sure you are reading. In all seriousness, if a coordinator wants to play cloak-and-dagger with his running backs, then stick with it. Sending in a running back for one play and pulling him after it – especially when the play doesn't fit his skill set – isn't keeping the defense off balance as much as it is eliminating any chance one player (or his offensive line) have of getting into the "flow" early. But to abandon that methodology after one series simply tells me this is another situation where a coach or coordinator is hoping something sticks. The answer for a struggling offense is never "let's take snaps away from our best player", but that is exactly what Kansas City finds ways to do on a regular basis.
Titans-Jags
People who simply read the box score will likely conclude that Chris Johnson had a disappointing day in a matchup he should have dominated. I would argue this is the most complete game I've seen from the Jacksonville defense all season long. Granted, Titans OC Chris Palmer didn't exactly reach too far into his playbook and challenge the defense (yet again), but outside of the late fourth-quarter draw play that allowed Johnson to rip off a 31-yard run, the Jaguars would have stopped just about every NFL running back in this game because their discipline and run fits were that good. Very rarely do we ever see a beautiful performance from a defense in football anymore, but what made this particularly appealing to me was the fact that Jacksonville was doing this without getting much penetration, which made stuffing Johnson all the more impressive.
Fantasy implications: Nothing I say here is going to make fantasy owners run out and pick up the Jags' defense, nor should they. Jacksonville doesn't pressure the quarterback and lacks playmakers in the secondary, which leads to a lot of Cover 2. But one thing just about every NFL team can do if it is disciplined enough is play assignment football and limit the effectiveness of the opponent's running game. Typically, on just about every big run in the NFL, one or more defenders play "hero" football and attempt to make a play themselves instead of stretching the play to the sideline or funneling the ball carrier back inside (which one is the most advisable tends to be more of a function of the defense that was called in the first place). The reason I mention the Jags' defense is because if they play this well against the run in upcoming weeks, it might spell problems for the likes of C.J. Spiller (Week 13), Shonn Greene (Week 14), Reggie Bush (Week 15) and Stevan Ridley (Week 16). One game does not a good defense make, but this was a very good performance.
Seahawks-Dolphins
One aspect of coaching I look for in every sport is the ability to take advantage of an opponent's known weakness. The Seahawks' defense doesn't have many weaknesses, but the most glaring is probably a slot CB (where the aging Marcus Trufant resides). And if there is one player with the size and athleticism that could to take advantage of Seattle's linebackers/safeties, it is probably Charles Clay. Lo and behold, Davone Bess and Clay combined for 13 catches on 15 targets. With Brian Hartline and Rishard Matthews drawing the coverage of the Seahawks' huge corners on the outside, Bess repeatedly beat the likes of LBs Bobby Wagner and K.J. Wright as well as Trufant to the tune of a career-high 127 yards on the same intermediate routes that he usually does. But the bigger surprise was Clay, who caught all six of his targets and beat Earl Thomas and Kam Chancellor a handful of times, including a pretty wheel route in which he just exploded past LB Leroy Hill for an easy score to tie the game at 21 late in the fourth quarter.
Fantasy implications: While Bess' overall numbers were eye-popping, he is what he always has been: a high-volume target player who won't do much with the ball once he catches it. After the new coaching staff suggested Clay would be the Jermichael Finley of their offense in the offseason, Clay has been included in about as much action as his Green Bay counterpart. Depending on your league's setup, Clay could be listed as a RB, TE or both. I've been saying since the preseason that he was should be a big part of this offense, but while this performance could be a sign of things to come, it had the feel of a fluky game for him simply because his snap count (37) in Week 12 equaled his snap count from the last two weeks combined and the matchup dictated that someone besides Hartline and Bess would have to make plays in the passing game. Clay is yet another player to monitor going forward, but I'm not optimistic this is the beginning of a trend yet given his lack of action up to this point.
Vikings-Bears
One would have to imagine that NFL teams operate in much the same way any other workplace would in the sense that an employee can sense when the "higher-ups" or his/her fellow employees don't have confidence in the assigned leader of a team. The difference in the gameplan – and the speed at which it was executed – was significant over the Bears' Monday Night Football debacle against the 49ers. Even the defense played with more confidence. The funny part is that while Jason Campbell isn't Jay Cutler, he is certainly worthy of being a backup in the NFL and that was not reflected by the play of the Bears last week nor was it reflected in the playcalling.
There was a comment made earlier this season that Minnesota didn't have a "Batman" and a "Robin", but rather "two Supermen", referring to the fact that Percy Harvin was no longer a sidekick to Adrian Peterson, but something more of an equal. And to a large degree, it is true when you consider the struggles of the passing game without a healthy Harvin. But is that the fault of Christian Ponder? As usual, the answer is yes and no. In this game, Ponder threw eight balls that traveled more than 10 yards downfield in this game. He overthrew three of them and four of them were batted down or tipped by the Bears' defense. No one is going to deny a quarterback should be better than 1-for-8 in those situations, but the Bears – again, their game against the Niners notwithstanding – are one of the better coverage teams in the league. But let's be real: how many quarterbacks are going to be successful when the main cogs in the passing game are a rookie (Jarius Wright), a veteran known for his inconsistency (Jerome Simpson) and another veteran known more for his blocking than play-making ability (Michael Jenkins)?
Fantasy implications: As we discussed last week, the Bears may not be all that much different on paper with Campbell under center, but the players and coaches think so and that is sometimes the only thing that matters for fantasy owners. It isn't as cut-and-dried as starting all your Chicago players when Cutler plays and the opposite when Campbell does, but the appeal to playing Brandon Marshall and Matt Forte drops significantly when Cutler isn't under center. If there is one upside to Harvin's injury, it may be that it has forced the Vikings to lean on Kyle Rudolph again. He's not the most dynamic option for sure, but he is the clear top option in the passing game for Minnesota when Harvin is out.
Ravens-Chargers
There were a number of things that stood out to me in this game, so I'm going to adopt more of a rapid-fire approach: 1) even with their offensive line issues, the Chargers are a difficult matchup for the Ravens because Ryan Mathews is a solid outside runner and Baltimore has struggled against perimeter runs all season; 2) the Ravens are hurting badly at CB and the Chargers have two 6-5 big-play receivers and tight end to occupy the middle of the field; 3) Danario Alexander is already the No. 1 receiver on this team; 4) half of Joe Flacco's yardage and his only TD came in the last five minutes of regulation and the overtime period AND 5) short of a cornerback falling on his backside, fourth-and-29 should never get converted in the NFL.
Fantasy implications: The Ravens didn't just turn into a decent run-stopping unit; this was the same defense that gave up 134 yards on the ground to the parade of Steelers' running backs that didn't bother to exploit the Ravens' inability to set the edge. The fact that San Diego – really the first team in three weeks that possessed a running back capable of exploiting that weakness – did not make that a regular part of the gameplan is probably one of the many reasons HC Norv Turner will not return next season. The inability of the Chargers' receivers to produce big games against the Ravens can be excused a bit given the woes of offensive line, but both Alexander and Malcom Floyd produced the bare minimum of what they should have because Turner has turned this offense into a conservative one. Alexander, for as long as he can stay healthy, is a keeper. He reported a couple of weeks ago that his five-time surgically-repaired left knee now feels like his right knee. He's no Vincent Jackson, but with no fewer than seven targets and five catches in any of his three games since being named the full-time starter, he's on his way to becoming a fantasy stud. Flacco, as I have suggested a time or two this season, is a riddle wrapped up in an enigma. Owners can't drop him because he is a talented passer in a good offense, but his home-road splits are so polarizing that is hard to justify keeping a quarterback that may only turn in 7-8 "good" starts a season on your roster.
Rams-Cardinals
Ryan Lindley looked sharp, strong-armed and decisive on his first drive, but that was one of the few times he looked a veteran – which is exactly what you would expect from a quarterback making his first start. To be fair, Lindley is being asked to do the impossible right now in Arizona, operating behind one of the worst offensive lines in recent memory. Still, despite two back-foot interceptions and some other mistakes, Lindley was not the reason the Cardinals lost despite what the box score might say. He took the check-down when it made sense to do so and when he missed on a deep shot, he typically missed long (which is what coaches want). No quarterback in his first start should be asked to make 52 throws, especially behind Arizona's offensive line. Sacks often don't tell the whole story, but I think it is telling that Lindley only took two sacks despite getting very little help from the rushing attack. I was impressed that he had the sense (pocket presence) to know the few times he could hold the ball for a second longer and when he could not. Lindley entered this spring's draft as a quarterback some draft analysts stated had attempted more "pro throws" than any other quarterback in his class and that experience really showed in this game.
Fantasy implications: Perhaps the Cardinals' upcoming game against the Jets will help them stop their seven-game losing streak but –as we've seen in Philadelphia – when the offensive line takes a couple of big hits, the whole offense tends to hit the skids. Still, I believe Lindley was as good in his first starts as John Skelton ever was, so I tend to believe he should be locked in as Kevin Kolb's backup when he returns. It is highly doubtful the rookie will be afforded the time – on the calendar or by his offensive line – to overtake Kolb this season, but the skill set really stood out to me. On the negative side, all the traits he was knocked for in college – inconsistency and a knack to trust his arm too much – were apparent in this game as well. In the meantime, the Cardinals represent a plus-plus matchup for the fantasy defenses of their four remaining opponents over the remainder of the fantasy season (Jets, Seahawks, Lions and Bears).
Niners-Saints
I think most of us had a pretty good idea as to how Colin Kaepernick would play against an improving – yet beatable – Saints defense, so my biggest question going into the game was the usage of Darren Sproles. Would he see his usual number of snaps (around 30)? Would he see more rushing attempts to add even more juice to an improving running game or would the emergence of Mark Ingram and Chris Ivory eliminate that part of his game entirely?
After this game, I left with another question: where has this San Francisco defense been all season? Over the last two weeks, the Niners have recorded 11 sacks – just six shy of their total over the first nine games. It's also worth noting that all five of their sacks against the Saints came in the second half and none came with more than four rushers. I 'm not a big believer in one game's momentum carrying over to the next week in football, but the second half was an absolute feeding frenzy, especially considering Drew Brees had been sacked just 16 times entering Week 12. And this game marked the second time in as many games the Niners picked off two passes after not having done so all season long.
Fantasy implications: Sproles played his usual number of plays and was predictably not involved in the running game – which continues to be a bit of a puzzling trend to me as to why the Saints seem to want to limit their most explosive running backs (Ivory and Sproles) as runners. I got the sense this was a "get-your-legs-under-you-again" game for Sproles, but the box score did him a favor because he got his owners a few points late with a meaningless 35-yard catch-and-run that boosted his final numbers. Still, he was targeted nine times, so PPR owners can probably go back to expecting 13-15 points from him, especially in games that project to be high-scoring battles like this week's game against the Falcons. As for the Niners, it isn't as if they have been bad in fantasy leagues that give out bonuses for points allowed, but these past two weeks are the first time since Week 4 they have been great for fantasy owners. San Francisco has a schedule that will allow it to finish strong – barring a road game against the Pats in Week 15 – for owners of its defense, so get the Niners' defense into your lineups and believe they are finally playing up to the level they achieved last season in the turnover and sack department.
Packers-Giants
If you take nothing else from this column this week, remember this nugget: although it has been around for a while and the Giants didn't create it, I expect the "Big Nickel" package they used against the Packers to be the trendy defense in the coming years. Much like the zone blitz was created to put pressure on the quarterback using disguise without sacrificing coverage, the big nickel – when a team has the personnel to do it – gives defenses the ability to defend the three- and four-wide packages they see each week without drastically changing personnel, which comes in handy against the offenses that like to go uptempo. Furthermore, with the presence of a good run-stopping strong safety and two playmaking free safeties, a defense doesn't lose much when it comes to defending the run, which can often happen when teams use a lot of nickel defense.
In this contest, the "Big Nickel" alone turned this game into a rout and made Aaron Rodgers look human – save for one poor play by CB Corey Webster on Jordy Nelson's long TD – because the Giants used so much Cover 2 in this game. The Packers didn't adjust accordingly – which is why James Jones was shut out and Nelson didn't get much after his big play – so when Antrel Rolle, a key part of this defensive package – was able to do a good job at trailing Randall Cobb, Green Bay was basically powerless.
Fantasy implications: So what impact does this have in fantasy now? Admittedly, not much. Looking into the future – as I try to do with this column as much as possible – teams are going to pour more and more resources into finding that tweener safety/outside linebacker or hybrid safety/cornerback and do just what the Giants did Sunday (and just as they did through their Super Bowl run last season): use Rolle as a CB when the situation calls for it and as a ball-hawking safety the rest of the time. Just like the zone blitz, offenses can force a team out of it if they can run the ball. But as the Packers showed us on Sunday night, they aren't a team that runs the ball much or likes to stick with it when it isn't working. Fortunately for Green Bay, it won't see this defense again anytime soon because only one of its upcoming opponents has the personnel to pull it off – the Bears – and they won't be changing their defensive philosophy anytime soon. But when it comes right down to it, Chicago's defense already has a lot of the Cover 2 "Big Nickel" elements to it anyway.
Panthers-Eagles
There was one story and one story only from this game: Bryce Brown. (Don't tell me about Cam Newton…he did what he was supposed to against a defense that blows more coverages than some Pop Warner teams.) I believe I've talked about the immense talent of this kid a time or two and the only thing that has stopped me from discussing him more is the fact that he is stuck behind perhaps the most elusive and best all-purpose back in the game in LeSean McCoy. When I first saw him this preseason, my first thought was that he reminded me of a young Larry Johnson. But watching him in this game, my mind gravitated more towards Herschel Walker. Outside of graduating from the McCoy school of carrying the football (not a compliment), I shouldn't need to tell you that comparing Brown to Johnson/Walker is pretty high praise and it should provide some insight as to how incredibly powerful and fast Brown is. Keep in mind the reason he wasn't chosen until the seventh round – character – but his 65-yard TD run was special and indicative of what he can do going forward. His contributions in the passing game going forward will be likely be limited for another or two years simply because he has about as much experience as a college freshman would have in terms of "knowing the game". But his talent is real.
Fantasy implications: Suffice it to say that I think most of us were impressed by Brown's debut. The fumbling issues aside – which could have been expected – Brown's starting debut is about as impressive of a performance as I've seen this season. Recent reports suggest that McCoy is still dealing with concussion symptoms, so Brown may be a fantasy starter again in Week 13. And against Dallas' injury-plagued defense, he could have another RB1-type of performance.

Suggestions, comments, musings about the article or fantasy football in general? E-mail me or follow me on Twitter.

---
Doug Orth has written for FF Today since 2006, appeared in USA Today's Fantasy Football Preview magazine in each of the last two seasons and served as a weekly fantasy football analyst for 106.7 The Fan (WJFK – Washington, D.C). He is also a member of the Fantasy Sports Writers Association.