All Out Blitz: Volume 53




11/1/12



Aggressiveness is a characteristic that tends to reward fantasy owners more times than not. In the NFL, an offensive line will sometimes hold up long enough to give the quarterback enough time to beat man coverage down the field and make the defense look foolish against a fierce pass rush. More often than not, though, when a defense brings the heat and forces the action, crisis management becomes the name of the game for the opposing team.

In that same vein, I hope to apply that same kind of pressure to the owners in all of my leagues by beating my opponents to the punch in regards to personnel moves. Sometimes, reaching a conclusion about a player too quickly results in making a bad situation worse. However, coming to a correct conclusion two weeks or two minutes quicker than your opponents is considered foresight and can often lead to fantasy championships.

Fantasy owners can be a uneasy lot, knowing that one two-or-three-game losing streak can wreak irreparable damage to his/her team's chances to make a visit to the fantasy postseason. But just as it is in the NFL and in life, it's hard to land the big prize by playing scared. Thus, I will strive each week to help each of you become a smart blitzer, so to speak.


---
As an avid fantasy football enthusiast, I'm always on the lookout for new talent. I suppose if fantasy football is my hobby, then identifying the next stud running back could be considered my obsession within the hobby. While the focus of what we do here is on players already in the league, I always feel like owners that watch the draft-worthy college backs play on Saturday have a clear advantage over those who take the word of the talking heads that seemingly go into hiding for about 6-8 months after the NFL Draft is over each April.

That's why I was saddened this past weekend when one of the best college RB talents – South Carolina's Marcus Lattimore – in recent memory was lost for the second season in a row, this time with something much worse than the ACL tear he suffered in 2011. While an official diagnosis has yet to be announced to the public, Lattimore suffered one of the worst knee injuries that I have seen since 1994 when the Raiders' Napoleon McCallum saw his career come to an end on a tackle from Ken Norton that still is frightening to think about almost 20 years later. McCallum's injury was so serious that doctors said afterwards his kind of injury was one usually reserved for automobile accidents and that amputation was a consideration at one point. For obvious reasons, I won't go into any more detail about either injury, but Lattimore's career is certainly at a crossroads right now with no guarantee that he'll ever see a NFL field or be all that effective if and when he does. Sadly, it may be a sobering new reality for a player most analysts agreed was the top RB in this draft (had he chosen to forgo his senior season) and one that some analysts considered to be a better RB than Trent Richardson.

Making the always-difficult transition from career-threatening injuries back to fantasy football, I want to take an opportunity this week to focus on the running backs already in the league that meet the criteria above. Because of their chance of fantasy success due to roadblocks caused by a questionable supporting cast, limited role or low standing on the depth chart, they are appropriately dubbed "lottery tickets" by many in the fantasy community.

Before I provide my list of favorite RB lottery tickets, let me first tell you I mostly play in 12-team PPR leagues with 18-man rosters, so owners in smaller leagues may not actually need to "stash" one of these players until he actually becomes a fixture in the team's plans. Either way, here are some of my favorites going forward that are likely available in your leagues:

(Players are listed alphabetically by team)

Beanie Wells, Arizona – I am as thrilled about this selection as you are. But as a player that should have the running chores all to himself upon his Week 12 return, Wells should be able to provide owners with a two-week window of productivity as long as he is as healthy as he thinks he is. He's not someone owners want to count on in the fantasy playoffs, however (at Seattle, vs. Detroit and vs. Chicago).

Kevin Smith, Detroit – I refuse to believe Smith won't come across fantasy value again this season. He saw his first playing time since Week 3 last week when Mikel LeShoure suffered a mysterious injury (or did he?). Smith was banished from first-string to third-string without warning in September, so a similar move back up the depth chart can't be ruled out either. If not Detroit, tell me why he couldn't carry the rock for a team like the Bengals?

Ronnie Hillman, Denver – Last week, the rookie saw his most extensive action in a blowout, but his role has been growing over the first half of the season. Willis McGahee is firmly entrenched in the starting job, but Hillman has advanced to the point where he would lead a committee attack if McGahee is injured or begins to feel his age (31) over the second half of the season.

James Starks, Green Bay – Since I will be discussing him later, let's just say for now there is a reason Green Bay viewed him as a possible feature back this offseason. While durability will never be his strong suit, he offers more power than Alex Green and more big-play ability than Cedric Benson.

Shane Vereen, New England – Investing in a New England RB is always a dicey proposition, but Vereen's snap count is beginning to rise just as HC Bill Belichick said it would as long as he stayed healthy. The upside here is relatively low, but back-to-back flex-worthy performances (as well as his abilities as a receiver) put him on the brink of fantasy relevance.

David Wilson, NY Giants – Apparently, the Giants are not in the business of appeasing fantasy owners since Wilson remains in a bit role despite the fact Ahmad Bradshaw appears ready to break down at any moment. Andre Brown is the handcuff for now, but one has to wonder if an extended absence by Bradshaw doesn't change the team's mind about spoon-feeding their rookie.

Mike Goodson, Oakland - From the moment it became obvious that he was Darren McFadden's handcuff, I could not understand how Goodson was available in any of my leagues. I have him stashed in three leagues – only one of which I own McFadden – and the argument could be made that he is a better fit for the zone-blocking scheme if and when McFadden succumbs to injury.

Bryce Brown, Philadelphia – Although I have absolutely no reason to believe LeSean McCoy will miss time due to injury, I can't shake the feeling that he will. While he isn't nearly the refined all-purpose back McCoy is, Brown is arguably the most talented backup RB in the league.

Robert Turbin, Seattle – While Marshawn Lynch has been dependable from a workload perspective, it wasn't long ago when his durability was in question. As one of the league's most physical runners, it is only natural to expect he will get nicked up at some point. While the rookie lacks the vision and feel for the zone-blocking system that Lynch has, Turbin is built in a similar fashion and more explosive.

Evan Royster, Washington – Like the situation in Seattle, Alfred Morris has a player behind him on the depth chart than brings something to the table he doesn't. Royster is a bit more explosive and offers more in the passing game, two things that could potentially make him a more valuable commodity than Morris if he suffers an injury or hits the infamous "rookie wall".

Let's now get to this week's impressions of each game:

Bucs-Vikings
To the left, to the left…

A showdown of 2013 fantasy first-rounders?
Fantasy implications: It wasn't hard to tell what the Bucs thought they could take advantage of last Thursday – the right side of the defensive line. According to NFL.com's play-by-play log, 19 of Doug Martin's last 26 carries were considered left-side runs (to the right side of the defensive line). But there is even a bit of false information there as Martin's 41-yard run on his second carry of the game started out in the middle but broke to the left side of the field. So what did Tampa Bay see over there? First off, it is no surprise the Bucs chose to run behind their two richest offensive linemen – LT Donald Penn and LG Carl Nicks – but part of me wondered if Arizona enjoyed the same success against RDE Jared Allen and LDT Letroy Guion last week when it surprisingly gashed the Vikings defense on the ground. Sure enough, I counted 83 of the Cardinals' 117 total rushing yards (from the RB position) came via left-side runs. I imagine this is no coincidence and am willing to bet opponents continue hammering that side of the defense to: 1) avoid RDT Kevin Williams, 2) wear out or at least neutralize Allen and 3) do what they can to possess the ball in order to limit the number of times their defense must see Adrian Peterson and Percy Harvin on the field. Next up is Marshawn Lynch and Seattle.
In what seemed to be almost unthinkable a month ago is now looking like a possibility. For the most part, Peterson was holding up his end of the deal of returning to the fantasy first-round mix next year although he was in the midst of a touchdown "slump". On the other hand, there appeared to be some doubt as to whether or not Martin was going to remain an important part of the running-back rotation in Tampa. One bye week and two games later and Martin has delivered on the promise several fantasy analysts – some near and dear to your heart – saw in him this summer and again when the rumors of LeGarrette Blount's rise of prominence were in full effect. While one could argue that both Peterson and Martin's use in the passing game is inconsistent at times, it is really hard to complain two of the top 10 RBs in both PPR and standard formats. With Toby Gerhart's supposed early-season timeshare a distant memory and Blount reportedly on the trade block, it is safe to say both Peterson and Martin are well on their way to be the cornerstone of their fantasy teams next year as well.
Patriots-Rams
Double-move double down

Did we finally see the real Patriots' offense this week?
Fantasy implications: I'm interested in seeing how the Rams evolve as an offense over the next few weeks after Danny Amendola returns. The reason for optimism with Sam Bradford and this passing attack is rookie Chris Givens, who used the same corner post move to burn New England on his touchdown reception that Sidney Rice and Seattle used to defeat the Pats a couple of weeks ago. In doing so, Givens extended his streak of games with a 50-yard reception to five, a rookie record and something that hasn't been done by any player since 1966. It's not hard to imagine with a player of Givens' big-play ability and Amendola's dependability that Bradford could have some sneaky QB2 value down the stretch, even with St. Louis' difficult schedule. The other half of the aforementioned double move that is noteworthy is in regards to the Patriots' pass defense, which one could argue is almost as bad as last year's unit even though the stats don't back that up. Much like we just discussed with the right side of Vikings' run defense, expect teams to take deep shots on the Pats' pass defense on a more regular basis. Then again, the league knew their safety play would be a question before the season. Fortunately for them, the best deep threat they face the rest of the way is probably Brian Hartline. Regardless, New England represents a plus matchup for the likes of Steve Johnson and Reggie Wayne in the weeks following its Week 9 bye.
After putting together parts of a good game together throughout the course of the season, I thought New England played its finest game of the season vs. the Rams. St. Louis' defense had no answers for any part of the Patriots' attack outside of Wes Welker, who spent most of his day drawing the coverage of Cortland Finnegan before spraining his ankle. Otherwise, Rob Gronkowski was impossible to guard – even beating a double team for his first score – and Brandon Lloyd predictably got back into the scoring column again. The running game was clicking…it was all working. What made this performance even more impressive was the fact that the Rams' defense made the Packers work for their 30 points the week before, but the Patriots could have probably hung two more touchdowns on them if they wanted to in this game. It is sad New England hit its stride right before its bye, but home games against Buffalo and Indianapolis may just be what the team needs to maintain it. This is the kind of performance I was hoping for about a month ago when I doubted Tom Brady in this column. Owners of Brady, Gronkowski, Lloyd and even Aaron Hernandez (when he returns) can rest much easier now after seeing this kind of display.
Colts-Titans
Kendall Wright – A model of consistency

Is Donald Brown a potential second-half fantasy superstar?
Fantasy implications: For Wright owners, any assessment about his consistency likely depends on whether or not they are in PPR or standard leagues. In standard leagues, 351 yards receiving and three TDs through half a season isn't exactly going to separate you from the pack in your league and makes Wright a bye-week filler at best. In PPR formats, however, 40 catches makes his sub-10 YPC much more palatable, almost to the point where he is a legitimate WR3/flex option. He has scored double-digit fantasy points in five of eight games and exceeded 8.7 points in all but one game. In this divisional battle, Wright put up another average catch-yardage performance (four catches, 47 yards), but his TD catch was a thing of beauty and certainly didn't hurt his bid to see more snaps (between 31-33 the last three weeks) and more balls thrown his way (eight targets combined the last two weeks after seeing no fewer than eight in a game the previous five). With the Bears next on the schedule, it should be interesting to see if Wright can continue putting up solid PPR numbers as Chicago's defensive scheme is based on giving offenses the underneath throws and making them string together 10+ play drives.
Although it seems hard to believe, Brown hasn't actually been all that bad this season when you consider he is getting so little work in the passing game (Indy RBs have combined for just 12 receptions this season, the lowest mark in the league). And while Vick Ballard deserves all the credit in the world for doing a serviceable job in Brown absence, it was Brown who dominated the overtime drive when the team could have easily chosen Ballard to do the job. There's no doubt Ballard will continue to have a role in this offense, but something closer to the 6-8 touches he was seeing prior to Brown's knee surgery. If there is one back on this offense that can break a big run, it is Brown. His upside is minimal, but with only two difficult matchups the rest of the way after this week (Patriots in Week 11, Texans in Week 15), owners would be wise to see if they can secure his services in the event one of their top 2-3 RBs goes down. He's not a big-time talent, but his 60-80 yard potential sure sounds a lot better than hoping the waiver wire has 1-2 more studs left on it over the remainder of the season.
Dolphins-Jets
Daniel Thomas – Jet destroyer

Is it time to make a play for Jabar Gaffney?
Fantasy implications: OK, the Thomas line may be a bit over the top. However, it is worth noting that two of his three TDs this season came against the Jets, posting somewhat similar statistical lines in the process. It is also worth mentioning that he has been Miami's best fantasy RB in those two games while Reggie Bush has out-produced him in the other five. Despite the 15-14 advantage Thomas enjoyed in carries this week, there is no threat here of a timeshare here, although it does seem the Dolphins have settled on Thomas as the main goal-line option. It may seem obvious that Thomas isn't going to get the Jets' poor run defense or 15+ touches every week, but I liked what I saw from him in this contest and think he would make for a capable, if unspectacular, flex option in fantasy if Bush were to miss time. Perhaps I'm still blinded by his first two rookie performances last year, but I thought the reports of his unwillingness to be physical inside the tackles were overblown to begin with and I didn't see any hint of him running scared in this game either. Still, his role on this team is limited to 6-10 touches most weeks, making him a good bench option right now and nothing more in most leagues.
One catch, 30 yards…hardly the stuff that grabs headlines. But after four weeks of digesting the Dolphins' playbook, HC Joe Philbin decided Week 8 was the time to see if the well-traveled veteran could be the answer opposite Brian Hartline. While the final numbers won't cause a mad panic on the waiver wire this week, Gaffney has long been a solid veteran capable of being a team's complementary receiver. With Ryan Tannehill showing he can be a player at the NFL level and Hartline, Davone Bess and even Anthony Fasano taking turns making plays for this team, it isn't unthinkable that Gaffney can work his way into fantasy consideration over the next 2-3 weeks. He's a much more proven receiver than the man the coaching staff wants him to replace – Marlon Moore – and is just one year removed from a 947-yard, five-TD campaign in Washington. Once again, the upside here isn't huge, but just as the case was in 2011 with Washington, Miami's second-half schedule lays out very nicely for the passing game. Owners in shallow leagues can probably ignore Gaffney, but deep leaguers might want to seriously consider adding him over the next week or two.
Jaguars-Packers
The best of Blaine

Green Bay needs a spark only James Starks can provide

The new pride of Mount Union?
Fantasy implications: Playing through a torn labrum in his non-throwing shoulder, I would argue Blaine Gabbert looked about as good as I have seen him in this game. Certainly, he had his rough spots against the Packers, but I believe he showed more consistent accuracy on his 49 throws in this game than he has in any other game of his I have watched, even if the box scores says he completed just 55% of his passes. Injuries – including the absence of Charles Woodson – in Green Bay's defensive backfield likely contributed to Gabbert's impressive statistical performance, but that is not to take away from the second-year QB that posted the first 300-yard game of his NFL career. He's still very much a work in progress and unlikely to be useful in fantasy much, if at all, this season, but owners need to keep track of him regardless. While he had nowhere to go but up after last season, he's made enough of an improvement this season – and limits his turnovers to the point – where he has some potential value for deep-league dynasty-league owners.
For a number of NFL teams, when a coach calls out the running game in consecutive weeks – and only one back is getting the majority of the carries – a change is forthcoming. Let's face it: in 64 carries over three starts, Alex Green is averaging 2.4 YPC despite the fact that at least two of those opponents (the Rams and Jags) aren't particularly stout vs. the run. I don't think anyone questions that Green can be a factor in the passing game, but if Starks can't at least get at least 3.0 YPC, then why is he even on the roster? Much like Detroit and Kevin Smith, it seems Starks is being punished by the coaching staff for his lack of durability. This really shouldn't even be a hard decision for the coaching staff considering the fact they were committed to Starks as the starter for much of the offseason. The Packers need to remain a pass-heavy offense, but it seems like they have forgotten one of the few players who was a key player during their Super Bowl drive a few short years ago.
From the same school that gave us Pierre Garcon, Mount Union has provided the NFL with another potential big-play gem. In Laurent Robinson's absence, Shorts has made the most of his opportunities and is doing something no other Jags' receiver seems to be able to do consistently – separate from coverage. Unlike earlier in the season when his value was tied directly into his ability to benefit from blown coverage, Shorts was borderline dominant in this game, managing to grab at least one catch against five different defenders en route to his first career 100-yard game. It's hardly a coincidence that Shorts' 22 targets over the last two weeks have coincided with Gabbert's improved play. Not surprisingly, Shorts has taken Robinson's spot at the starting "X" receiver in this offense and allowed the team to part with Mike Thomas this week. Shorts is certainly worth a bench spot now in fantasy and a flex play against the Lions and Colts over the next two weeks.
Redskins-Steelers
Did Pittsburgh figure out RG3?

The mystery that is Heath Miller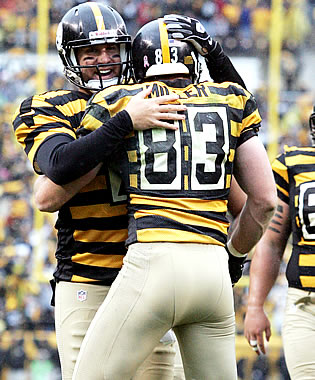 Miller has found the endzone early and often in 2012.
Fantasy implications: Not exactly. The Redskins dropped 10 of Robert Griffin III's 34 pass attempts, committed seven penalties and allowed Pittsburgh to score on five of its first six possessions. In other words, Washington never gave itself a chance and, by extension, never gave RG3 a shot to do what he does best: make improvisational plays off play-action. The one part of the Steelers' defensive gameplan they really excelled at, however, was keeping RG3 "caged". I didn't see much in the way of bootlegs or designed runs called in this game, but it became apparent to me fairly quickly that DC Dick LeBeau made it a top priority that his outside linebackers keep everything inside the tackles. So when Washington cooperated by dropping 29.4% of RG3's passes and the Pittsburgh defense didn't allow Alfred Morris to break any run longer than 12 yards, a potential shootout turned into a rather easy win for the home team. Going forward, this performance should serve as Griffin's low point this season, but the absences of Pierre Garcon (indefinitely) and Fred Davis (season) will likely make his spectacular games a less common occurrence.
Miller's all-around game has never been in question. But much like Jason Witten, it seems almost unthinkable that a speed-deficient big athlete manages to get himself open so often, especially in the red zone. Yet after just seven games, he is nearly lapping the field at the TE position with 16 red-zone targets. (Rob Gronkowski, who is going on his bye this week, has 14 and the next closest player has nine.) Where this all gets a bit confusing for me is that while he is on his way to enjoying a career year, he is averaging a career-low 9.6 YPC and opponents haven't really went out of their way to force Ben Roethlisberger to adjust his red-zone priorities. It's hard (and a likely unpopular) stance to suggest Miller won't keep this going, but knowing how fickle the art of scoring TDs can be, it might be wise to see if you can take advantage of his sky-high value right now on the trade market as a 12-TD pace seems unsustainable for a player who is one score from matching his career high in touchdowns.
Falcons-Eagles
Complete game for the lone "perfect team"

Replacing Vick would be akin to using a Band-Aid to plug a hole in a dam
Fantasy implications: Whether it was a matter of using their bye week productively or finding their midseason stride, the Falcons' offense operated in just about the manner I expected it to in the preseason with Matt Ryan picking apart the defense with one of the best supporting casts in the NFL, Michael Turner getting the physical yards inside the tackles and a heavy dose of Jacquizz Rodgers on screen and swing passes. Given the fact that Philly hadn't recorded a sack in the three games leading up to Week 8, the heavy use of Rodgers as a pressure release was probably the most encouraging sign. Why? Because it only makes defenses account for one more option they really don't have the resources to defend since Julio Jones, Roddy White and Tony Gonzalez all require the complete focus of the defense. We've discussed the fantasy merits of Ryan and his "Big Three" in this column a time or two, so I applaud OC Dirk Koetter for finally striking a good balance with his RBs. Rodgers is certainly no Darren Sproles, but he is the most explosive back this team has at the moment and his 10-12 touches/game need to become a weekly occurrence for this offense to maximize its potential. Turner continues to be one of the least exciting runners to watch and see his role diminished even more (he has been the runner or target of a pass on 27.2% of the team's plays this season).
For a team that has a reputation of throwing the ball all over the field when they should be running it, it seems odd that Michael Vick is just 12th in the league in pass attempts. While I understand many of his 48 rush attempts this season could also get thrown into that mix since many of those were not called runs, one of the main problems in Philly is the inability to sustain drives. But the problem is much bigger than that; the Eagles rarely ever jump out to a lead which, in turn, negates the wealth of talent they have on the defensive line. When that defensive line isn't getting home with the few known passing-down opportunities they see – since the team blitzed just 36 times total in six games prior to DC Juan Castillo's firing – offenses can dictate the terms of how Philadelphia plays them. While all of this is hardly an excuse for ignoring LeSean McCoy for long stretches during a game, the Eagles simply haven't played with a lead enough to maximize McCoy or their "wide-nine". Much like the Colts during the Peyton Manning era, the defense is built to rush the passer and play with the lead. But when turnovers undermine the effort in some games and a quick deficit hurts the team in other games, it all adds up to a disappointing team long on talent and short on delivering on it.
Seahawks-Lions
Better late than never?

Sidney Rice on the verge of fantasy relevance once again
Fantasy implications: One of the inherent problems of being an owner in a redraft league is that you have to make decisions based on the here and now because success in those leagues is measured by the ability to win this year. The reason I bring this up is in regards to Titus Young, who I drafted in my dynasty league this summer and had no problem holding onto during the first half of this season. But after six weeks of virtually no production in four different redraft leagues, I had to cut the cord on him. Naturally, Nate Burleson goes down the next week and Young has been incredible in his absence. But I must admit that his success against the Seahawks was stunning to me because he beat Richard Sherman on a go route for a touchdown and scored the game-winning TD on a quick slant, two routes in which Seattle's big corners should have been able to defend him with more success. Still, let's give credit where credit is due; Stafford picked a fine time to put together his best game of the year – statistically and fundamentally – all while deciding it was also time to trust Young. While I'm still a bit skeptical that he can keep it all together (controlling his emotions mostly) for an extended period, Young's emergence should now be enough to give just a bit more attention to him and allow the Stafford-to-Calvin Johnson connection to pick up steam. In this offense, Young should be a rock-solid WR3 at the very least in all formats going forward.
Among the things fantasy owners can count on each year – or so it seems – is an injury to Rice. But as the Seahawks enter the second half of their season in Week 9, the team's top receiver has yet to miss a game and has turned back the clock just a bit to 2009. While that season will likely remain a career year for him – especially in this run-based offense – Rice has found the end zone twice in the last three games, posted solid or better fantasy lines in three of his last four and seen six or more targets in four of his last five. As usually is the case, Rice was about an inch or two from hauling in a potential 56-yard touchdown throw from Russell Wilson early in the third quarter. And as FOX analyst Brian Billick pointed out, when Wilson gets in trouble in the pocket, he usually escapes to his right – the same side Rice is on more often than not. Since Rice has spent so much time away from the field in recent years, this is all relatively new ground for him and his owners. Looking ahead, Rice doesn't figure to be a consistent force down the stretch (with games against the Jets, Bears, Cardinals and Niners) but, assuming good health, Rice is slowly emerging as a player we can begin to trust in our lineups once again in the right matchups.
Panthers-Bears
It's about time

Count on Kuechly
Fantasy implications: Some teams use their bye to tie up a few loose ends. Carolina used its bye to clean house (firing the GM) and re-evaluate what it had evolved into this season. I still stand behind last week's suggestion of using a base four-wide set until the Panthers find Steve Smith a suitable running mate, but that suggestion was based on the knowledge (at the time) that Carolina was content to be Cam Newton-centric and knowing the team would not abandon its running back committee. Well…the Panthers did the one thing I didn't think it would do, which makes at least two players in Carolina much more attractive in fantasy than they were in the first half of the season. The first player is obviously Jonathan Stewart, who is among the most talented big backs in the NFL today but has enjoyed just one trial run as the featured back as a Panther. While it is hard to get excited about his final numbers in this contest, Stewart has a great chance to be a second-half fantasy superstar if Carolina simply uses him as it did against Chicago. Obviously, the other player that benefits is Cam Newton since any improvement in the running game makes it that much harder for the defense to commit so many resources to stopping him and/or Steve Smith. I would argue Newton's 314-yard passing performance in this game was the most impressive one against the Bears this season simply because it did not occur as a result of garbage time. With the secondaries of the Redskins and Bucs coming up in two of the next three weeks, it would not be the least bit surprising to see Newton and Smith get on a roll again.
It may seem odd to say that one of the worst defenses in the league is on the upswing, but over the last four games, Carolina has been exactly that. Certainly, the fact it allowed 30 points to Atlanta wasn't a resume builder, but a seven-sack performance in that game was. And that mark looks less like a fluke now after six sacks against Chicago. And the real reason I wanted to mention give a mention to the Panthers' defense was the emergence of new MLB Luke Kuechly, who has been nothing short of awesome in three starts there following a season-ending injury to Jon Beason. In those games – despite the losses of CB Chris Gamble and Beason on that side of the ball – Carolina's defense has managed to hold Seattle, Dallas and Chicago to a combined 58 points. While that point total isn't exactly earthshattering, it was the Panthers' performance in this game that caught my eye as they had a solid Chicago offense flustered for three-plus quarters and that claim isn't one many teams can make this season. If nothing else, the recent performance sure beats the sieve-like unit this defense was over the first four games. While running out this defense over the next two weeks isn't advisable (at Washington, vs. Denver), there is some matchup potential for it after Week 10 with only Atlanta looking a must-avoid in Week 14.
Chargers-Browns
In case you didn't already know – Trent Richardson is a player

Ronnie Brown – the new Mike Tolbert/Darren Sproles
Fantasy implications: With 40 mph winds and a steady rain from beginning to end, it's probably safe to say this game wasn't the same one that would have been played a week earlier. But in a game the Chargers' had multiple chances to win, Cleveland may have gotten more than just a victory. Richardson, facing the league's second-ranked rush defense, overcame his well-publicized rib cartilage injury and carried the ball a career-high 24 times in what should be considered the Browns' recipe for winning more games the rest of the season. Whether or not HC Pat Shurmur and OC Brad Childress have it within them to balance out the run and the pass is another story, but Cleveland could do worse than lean on Richardson to help negate the relative lack of playmaking receivers (excluding Josh Gordon and Jordan Cameron) and a porous run defense. Baltimore's "soft" run defense awaits before the team's Week 10 bye.
Lost in the aforementioned conditions (and the offensive debacle over the final three quarters) was a PPR bonanza for Brown, who is strangely the 22nd-best RB in PPR leagues over the last month despite rushing just nine times for 57 yards over that time. In reality, he is an aging back that only sees the field when Ryan Mathews needs a breather. Unfortunately for Mathews' owners, those "rest spots" are coming on PPR "money downs". With the aggressive nature of this offense being scaled back and the arm and decision making of Philip Rivers being questioned more by the week, it is time to start considering Brown as a decent player to stash on fantasy teams since he seems to be the preferred passing-down and check-down option. Perhaps Week 9 will be the exception to the rule this season, but Brown has seen between 25-35 snaps in all but one game this season, grabbed four or more passes in four of the six games he has played and caught all but two of his 29 targets this season. In this game, it was fairly obvious Cleveland was more than content to concentrate on Antonio Gates and let Brown get what he could. There's no doubt in my mind that Brown's weekly fantasy value will vary greatly depending on how opponents defend Gates, but any RB on pace for 55+ catches in worthy of a roster spot in PPR leagues.
Raiders-Chiefs
Kansas City – Land of confusion

Beauty is in the eye of the beholder
Fantasy implications: In a game where Carson Palmer completed just half of his passes and Darren McFadden struggled, Kansas City still gave itself absolutely no shot to win this game. While my focus with this column is to stick with on-field happenings, the fact that HC Romeo Crennel had no answer as to why Jamaal Charles had just eight touches (five carries) in this game speaks volumes about the team's current state and strikes me as the most important storyline from this game. Rolling with Brady Quinn as the starter, the gameplan against the Raiders should have called for five carries on the first drive for Charles with Peyton Hillis taking over at the goal line if the drive lasted that long. Instead, following Palmer's game-opening interception, OC Brian Daboll opted for two passes and one run, which ultimately resulted in a three-and-out despite the fact Kansas City needed just one first down to get in field goal range. Granted, the Raiders' defense has been solid against the run this season, but given the state of the passing game, this is one situation where a team needs to stick with its strength against its opponents' strength. Expect something closer to the Charles-Hillis run-heavy approach we were promised prior to the season in Thursday's Week 9 game against San Diego. Then again, Kansas City is the first team since 1940 that hasn't held a lead in regulation this late in the season, so the running game may be disappointing again this week too.
Don't be fooled by McFadden's bottom line in this game; the running game was bad for most of this game. After half a season, I'm not exactly sure that a second-half slate full of matchups against poor run defenses is going to help McFadden be the fantasy player we all hoped he could be this season. Even though I have little problem with the decisions he is making as a runner, the combination of poor interior blocking and a dearth of outside run calls are contributing to his unsightly 3.3 YPC right now. Unlike Chris Johnson – who has benefitted from improved line play as the season has progressed – McFadden is still routinely getting hit in the backfield thanks to a line that doesn't appear to be picking up the zone-blocking scheme. Let's also not forget that McFadden has yet to play more than 13 games in a season yet, so the odds of his lasting the rest of the season aren't particularly high either. If your league has a late trade deadline, hold on to McFadden for three more weeks and see what the market id for him is after consecutive games against Baltimore and New Orleans in Weeks 10 and 11. This week, however, I wouldn't expect too much against the Bucs although his PPR owners may get saved by Oakland's recent commitment to get him 3-4 catches in the passing game.
Giants-Cowboys
Dallas – the island of misfit toys

Dallas – the island of misfit toys, Part 2
Fantasy implications: Is there any explanation as to how Dallas has two players that seemingly know what to do in every situation – Jason Witten and Miles Austin – and two others – Felix Jones and Dez Bryant – that Tony Romo probably couldn't trust to walk the dog? The main source of frustration for me in this game was Jones, who blew at least one early opportunity for a big reception that could have helped the Cowboys avoid getting into a 23-0 hole. On that play, Jones showed no field presence, eventually running out of bounds with no one on him and refusing to turn upfield even though Romo repeatedly motioned for him to head upfield. What made matters worse is that Dallas stuck with Jones as the featured back despite a bum knee that made him questionable on the injury report, the aforementioned error in the passing game and a costly fumble in the fourth quarter. On the two teams I own DeMarco Murray, I refuse to carry Jones simply because he is a waste of a roster spot – handcuff or not – and this game provides a compelling argument for that stance.
But let's focus on the positive from this game for a second – Witten. Despite a dreadful drop-filled start to the season which looks like it can be blamed on his preseason spleen injury, Witten is averaging 10 targets and 7.3 catches/game with no fewer than six catches, seven targets or 44 yards in any of the last four contests. It's only natural to feel good about a player coming off a 22-target, 18-catch game, but it is now apparent what Dallas must do when Murray isn't around – force-feed Austin and Witten and only trust Bryant on routes that accentuate his athletic ability (deep throws and jump balls) and don't require any sight adjustments or a great deal of precision. Jones is severely stretched as anything but a complementary back, Bryant is a virtual lock to hang Romo out to dry on at least 1-2 throws every game and the absence of a Laurent Robinson-like presence in the slot gives the quarterback virtually nowhere else to go in the passing game. It's not as if Romo is without blame, but it's hard to think of another player that is betrayed more often by his line and receivers than Romo.
Saints-Broncos
Kudos to the Champ

The fade-jerk
Fantasy implications: In today's NFL, most defensive coordinators have opted to take the one-side approach with their cornerbacks. Denver is usually no exception to the rule – even through its numerous defensive bosses over the years – but give credit to DC Jack Del Rio for electing to break that rule for this game. And give Champ Bailey – who covered Marques Colston for most of the game, even in the slot – a boatload of credit for executing Del Rio's vision. Colston was held to five catches for 63 yards on 10 targets, with only two catches for 24 yards on five throws in Bailey's coverage. There's little doubt Del Rio felt there was no reason to mess around with "sides" with Jimmy Graham still less than 100% recovered from his ankle injury and Darren Sproles being underused in the Saints' offense this season. It is unlikely that Denver will utilize this strategy again anytime soon, but in a league full of new-age copycats, it was refreshing to see a coach use an old-school, common-sense approach to solve a potential problem before it ever became a problem. Given the upcoming schedule and the likelihood the Broncos will be playing with the lead for most of it, fantasy owners would be wise to make a move for their defense as a difference-making unit down the stretch.
(No, I'm not referring to a moron with a bad 90's hair style.) On Eric Decker's second touchdown catch of the game, I saw a route I'm not sure I've seen this year, if ever. On the play, Decker was well covered by Patrick Robinson on what appeared initially to be a fade route, but Decker whipped around and essentially turned it into an in-route, essentially turning the jerk route I've seen Wes Welker run countless times in the red zone inside out. Whether or not that play was created in the classroom during the week, an option route that Decker improvised on because he knew he was the only read on the play or a creation of Peyton Manning's as a result of seeing Robinson crowding the receivers, don't be surprised if the Saints see it on a regular basis going forward. As for Decker, don't expect much of a slowdown as he has twice as many red-zone targets (12) as Demaryius Thomas this season.
Niners-Cardinals
No Fitz, no "O"

The invisible Vernon Davis
Fantasy implications: OC Mike Miller deserves a ton of credit – as does DC Ray Horton's opportunistic defense – for managing to get their units to contribute to the 20+ points the team scored in each of the team's four wins to begin the season. Since that time, Arizona has scored a combined 36 points in four straight losses en route to becoming the team I think most of us expected it to be before the season – a fairly strong defense unable to overcome a sometimes-unwatchable offense. While the case could be made the Cardinals' problems started when Ryan Williams was lost for the season, the blame falls squarely on a battered offensive line that was one of the worst in the league to begin the season. Arizona gave up four more sacks and has allowed an unthinkable 38 sacks already – with 33 coming over the last five games. As we saw on Monday night, the Cardinals were forced to resort to a lot of three-step drops because they simply can't trust the line to give John Skelton more than 2.5 seconds. As most Larry Fitzgerald fans and fantasy owners remember from the good ole days, one of his main strengths is the ability to attack the ball in the air downfield. Defenses have known this for some time, so now that Arizona combines a feeble running attack with an inability to protect its quarterback long enough to utilize the strength of its best receiver, it has virtually no chance to score. As a result, the Cardinals should be considered the juiciest matchup fantasy owners can exploit each week when it comes to picking a fantasy defense.
Fantasy football can be a fickle mistress and I have little doubt that is exactly what we are seeing in regards to Davis' production lately. One of the reasons a supreme talent like Davis is always available to owners in the fourth- and fifth-round area in fantasy drafts each year is because he doesn't play in a pass-heavy offense or with an elite quarterback. When those factors are in play for a receiver or tight end and defenses make stopping him a priority on top of that, inconsistency is sure to follow. We actually saw a similar trend last year from Davis around this point of the season when he produced similarly poor numbers for about a month. While a two-target game at any point of the season for a fantasy stud is disturbing, the Niners really didn't need to look his way much with the running game clicking and Michael Crabtree making Patrick Peterson look like a scout-team CB on some basic open-field moves. Still, it is hard to imagine a smart coaching staff led by Jim Harbaugh not using the bye week to get Davis back into the mix. His unique combination of talent and place in the passing-game pecking order make him a great buy-low player right now.

Suggestions, comments, musings about the article or fantasy football in general? E-mail me or follow me on Twitter.

---
Doug Orth has written for FF Today since 2006, appeared in USA Today's Fantasy Football Preview magazine in each of the last two seasons and served as a weekly fantasy football analyst for 106.7 The Fan (WJFK – Washington, D.C). He is also a member of the Fantasy Sports Writers Association.