For most of the 124 years since Dr. James Naismith created basketball to keep his gym class active on a rainy day in December 1891, the key to offensive success in the sport usually revolved around throwing it to the big guy in the middle and letting him go to work, although that approach has mostly been altered over the last 10-20 years or so in order to spread the floor.

Football has rarely ever operated in the same fashion (throwing it to the big guy in the middle), since running has been the preferred method of moving the football for most of its history, although the passing game has obviously taken over in modern times. All along, tight ends have usually either toiled in anonymity because they were viewed as an extension of the offensive line or as a slow-footed chain-mover that operated over the middle of the field while receivers drew the majority of attention and the big contracts.

There have been several tight ends in recent years that have debunked that notion, namely Shannon Sharpe, Tony Gonzalez and Rob Gronkowski, but the position has been considered the weak link in fantasy for about as long as I can remember. However, we may have seen the beginning of a revolution at the position last Sunday. Five tight ends scored 26 or more fantasy points in PPR in Week 1, 12 tallied at least 15 fantasy points and 18 finished in double figures. Taken one step further, five of top 17 scorers – regardless of position – were tight ends.

Week 1 and the days that follow are often a time for overreaction and I swear it gets worse every year. If I were to put together another Big Board after this weekend's action, I'd venture a guess and say virtually no one moved up or down a round outside of Dez Bryant, who would slide simply because he could miss half the season. Owners need to understand Opening Week is the first extended action that every starter has seen since late December or early January (for those that fail to make the playoffs) or late January or early February (for those that make it to the Super Bowl). Furthermore, Opening Week is the first time defensive coordinators are able to actually act and react to a living and breathing offense. With so many restrictions about what players and coaches can and can't do, there are those who are making and receiving real NFL contact for the first time in several months.

In a phrase I'm sure I'll repeat multiple times over the next month, the first four games of the NFL season is each team's real preseason nowadays. Because there is so much pressure from ownership to make sure a major injury doesn't tank a team's season before it starts, most players do not see even a full game's worth of action during the four-week exhibition season (and usually no more than a half during the third week of the preseason).

Imagine if you will a marathoner that has spent a summer training for a 10- or 15-mile run being told he/she will be competing in the 26.2-mile New York City Marathon the following week. Likewise, it doesn't make a lot of sense to draw too many firm conclusions when many of these players are likely running on fumes or adrenaline by the start of the fourth quarter in Week 1. In no way am I suggesting that all fantasy personnel moves be put on hold until after Week 4, but ask yourself what is more likely: a third-round fantasy pick performing like a 10th-rounder all season OR a 10th-rounder performing like a third-rounder? Or put another way, is one week enough for you to predict a player that has never done "it' before is going to do "it" this year while an established veteran who has done "it" repeatedly won't do so this year? I think we both know the answer to those questions.

With the first quarter of the season essentially serving as the exhibition season for many of the players we count on in fantasy each week, I think it helps to think of this time as the first step in a four-week process in which we attempt to build a case for or against our client in the court of fantasy law. Sometimes the facts of the case aren't relevant and sometimes they are; so much depends on context because very few occurrences in football happen strictly in a vacuum. Rather than overreact to one miserable performance that may or may not have come against a great defense or a great effort that came out of necessity (do we really expect the Jaguars' Rashad Greene to come anywhere close to 13 targets again this season?), I think it is exponentially more helpful at this point to look at what might be the beginning of a trend and what might be a mirage. I'll take a deeper look at eight players or positions – attempting to strike a good balance between those that performed well and those that performed poorly – and give you my thoughts about which direction they are headed. I'll detail more six more at the end in less detail.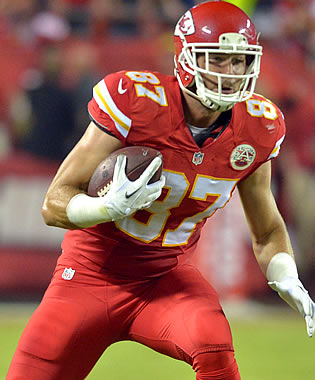 Tight Ends took over fantasy football in Week 1.
Trend: The tight end explosion we witnessed in Week 1 was a sign of things to come.
If you're asking me if we will see a repeat of last week's elite production across the board again anytime this season, I will give you an emphatic "no". However, if the question is, "Do you expect there to be about 10 relatively consistent weekly options, including five elite (or near-elite) ones?", I would say "yes". Greg Olsen was about the only top-level tight end that didn't join the Week 1 party, but I'm not going to let one week affect how I feel about his ability to post 70-80 catches again. We all know Gronkowski is here to stay, Travis Kelce almost certainly is and the heavy use of Jimmy Graham in Seattle's traditionally run-heavy offense was encouraging for all of his owners. Tyler Eifert's breakout wasn't a surprise, but the degree to which he did it was. Jason Witten is potentially looking at a long stretch of being Tony Romo's favorite target (again) in the wake of Bryant's injury and Jordan Reed has been a TE1 talent from the day he entered the league, he just hasn't been able to stay on the field for any length of time. No tight end loves September more than Martellus Bennett and we haven't even discussed the suspended Antonio Gates yet. Jordan Cameron is a strong possibility to deliver high-end TE1 production if he can avoid injury and Austin Seferian-Jenkins is more than talented enough to be a top-five performer one day, even if I think he'll fade a bit into the background when Mike Evans returns.
Mirage: After running for only 31 yards on Monday night, we are starting to see the beginning of the end of Adrian Peterson.
What we witnessed late Monday night was a mirage, at least in terms of whether or not Peterson's rushing totals were a harbinger of things to come. "All Day" looked good to me physically and has probably even dropped a few pounds since last year; what perplexed me the most was Minnesota not getting the ball to him at all in the first series and how often OC Norv Turner used him out of shotgun. Keeping in mind these are very small sample sizes, Peterson averaged four yards per carry on the six runs in which he lined up in the backfield as he typically does, but only 1.8 YPC on the four attempts he had when Teddy Bridgewater lined up next to him. If that looked odd to you, it should have: including Week 1, only 89 of the Peterson's 2,064 career rushing attempts have come out of shotgun. I can understand Turner's desire to hasten the process of making Bridgewater the focal point of the offense, but it seems a bit misguided to do it when Peterson clearly has at least another great year or two left in him.
Outside of that, I saw the kind of passing-game involvement I had hoped to see from Peterson in Turner's offense. I also tend to believe Turner was doing him a favor by sprinkling in Jerick McKinnon when he did. When you consider the San Francisco game was only the second one he has played since before Christmas 2013 (remember he hasn't seen a touch in the preseason since 2011) and factor in 40 percent of his runs came in a formation he has so little experience with, it is really no wonder he disappointed to the degree he did. I suspect as we reach the end of this opening four-week period, we'll see Peterson receive roughly 80 percent of the touches out of the Vikings' backfield. It also didn't help matters that Bridgewater performed so poorly, so I expect Turner will dial up a much better blend of what Peterson and Bridgewater do well going forward.
Trend (conditional): Carlos Hyde is the next big thing at running back.
I'm afraid this is the rare instance that an occurrence is both a trend and a mirage. Hyde was impressive in the preseason and should have probably been considered a second-round talent for fantasy purposes based solely on the quickness and power he showed in August. Game situation and good fortune – at least in the sense of how it worked out for him in terms of playing time – worked very much in his favor in Week 1 as the Niners never trailed, the Vikings showed no backbone in terms of stuffing the run and Reggie Bush got hurt in the first half. With Kendall Hunter out for the year, Jarryd Hayne still a neophyte to American football and rookie Mike Davis basically an afterthought, there was little reason not to use Hyde as often as possible. Hyde cashed in on his opportunity in a big way, which makes at least part of what he did a beginning of a trend for him, especially if Bush is out multiple weeks as expected. He'll get Pittsburgh next week as well – a team that is probably already regretting the day it decided to allow longtime former DC Dick LeBeau to leave.
Despite the Niners' dominant showing on MNF, Hyde's biggest long-term problem hasn't changed: San Francisco probably isn't going to win more than six or seven games this season and the passing game isn't going to be explosive enough for him to avoid defenses geared to eliminate the threat he and Colin Kaepernick pose on the ground. Much of the second-year back's potential to ascend into feature-back status hinges on whether or not he can hold well enough in the passing game to make Bush unnecessary. While it is too early to call Hyde's Week 1 a mirage and would be incorrect to say he can't do it again, the Niners need to get off to fast starts each of the next three weeks as the Steelers, Cardinals and Packers can all do what San Francisco will struggle against the most this season – defending the pass. If the Niners can do that, perhaps Hyde will have shown enough to make Bush a strict backup.
Mirage: Marcus Mariota will have the same kind of impact this year that Robert Griffin III had as a rookie in 2012.
Allow me to say right away that I realize it is beyond impressive for any quarterback – much less a rookie making his first career NFL start – to throw for four touchdowns in a game. With that said, consider me a huge skeptic of his ability to repeat Week 1 again this year. My assessment has nothing to do with his talent (which is legit), but everything to do with the level of competition in Week 1 and the element of surprise (I guess, but allow me to explain that part). The Bucs still rely heavily on the same Tampa-2 defense that helped accentuate the talents of Warren Sapp, Simeon Rice, Derrick Brooks, Ronde Barber and John Lynch. The problem for Tampa Bay right now is that Gerald McCoy and Lavonte David are about the only current Bucs' defenders that appear to have any hope of being included in the same breath as the five players I just mentioned. In very simple terms, the Tampa-2 is a defense designed to prevent big plays on the outside, leaving it vulnerable inside the hashes. The Titans, who made no secret they were going to take some of the things Mariota did well in college (some zone-read elements, including some play-action passing out of the shotgun) and incorporate them into their offense, apparently caught Tampa Bay by surprise with a bit of Oregon flair on Mariota's first touchdown pass to Kendall Wright. Three of Mariota's TD throws were in the middle of the field and I would argue all three were pretty wide open by NFL standards, including a 4-yard score to Harry Douglas and 1-yarder to Delanie Walker.
I'm fairly convinced Mariota is going to be a good pro and he's going to show it multiple times this season, but Week 1 was much more of an indictment on the Bucs' defense than it was a coronation for a future Hall of Famer. It takes a sorry defense to give up four touchdown passes on 16 or fewer pass attempts – something that has apparently happened only 18 other times in NFL history. And if we are going to make the comparison to 2012 Washington, I'd argue that Tennessee does not have an Alfred Morris to really put the bite into the play-action fake that is critical to the zone-read attack or the offensive line the Redskins had that year. Mariota does possess RG3's mobility, is smarter about how he uses it, has a quick release and is already much more refined as a passer, so I'm confident while this kind of performance will be a mirage this year, it won't be the last time we see it. His future is bright.
Mirage: Andre Johnson is just about done.
Remember how I said earlier that very little happens in a vacuum? The danger in predicting what cornerback will face what receiver is that the defensive coordinator doesn't always do what seems to be the most logical thing to do. After seeing and hearing plenty of chatter about how slow AJ looked in Week 1, I decided it was time to investigate. The bad news: he did look slow (and this is coming from an owner that has him on multiple teams).
So how is this possibly a mirage? Well, I didn't draft him because I expected him to find the fountain of youth in Indianapolis. I drafted him because I expected him to be the underneath possession receiver in a pass-heavy offense – generally working out of the slot – led by the best young quarterback in the game and to use his size/route-running ability to take advantage of nickel corners. What we got in Week 1 was 18 of his 46 routes out of the slot (less than expected), a heavier-than-expected dose of top Bills CB Stephon Gilmore and a game plan that appeared to emphasize getting the ball out of Andrew Luck's hands as quickly as possible, presumably because the Colts knew their offensive line was overmatched. Per Pro Football Focus, Luck utilized 2.24 seconds from snap to attempt in Week 1, which is obviously going to favor young and quick receivers like T.Y. Hilton, Donte Moncrief and Phillip Dorsett, not bigger and stronger wideouts like Johnson. The good news is the worst part is already over; it is unlikely any other opponent – except perhaps Denver in Week 9 – will possess the same combination of pass rush and sticky coverage the Bills can. If I'm a Johnson owner, I'm a bit concerned that the likely absence of Hilton means AJ will see a lot of Darrelle Revis this week. After Week 2, however, I feel safe in saying things will get better for Johnson's owners.
Trend: James Jones will be the WR3 owners dreamed he could be when they drafted him after the 10th round.
The key here is the WR3 tag. Expecting two touchdowns on four catches from any receiver more than once or twice a year is pushing your luck. However, most owners typically consider themselves pretty fortunate whenever they have a reserve receiver capable of doing what the San Jose State product delivered on Sunday. I'd also ask that owners understand why exactly Jones was so productive last week; not only does Aaron Rodgers has a ton of trust in him in the red zone (20 touchdown catches in their last 24 games together), but Randall Cobb's shoulder sprain is probably going to make him a bit more of a bystander in the offense for a couple more weeks – at least more than we have become accustomed to in recent years.
Should we expect a repeat of last week for Jones against Seattle in Week 2? I wouldn't, even though I realize The Legion of Boom is missing a key part in SS Kam Chancellor (holdout). Over the remainder of the season, I think Jones will be what he was in his first tour of duty with Green Bay – a low-catch receiver that has an uncanny knack for the end zone – capable of 50-60 catches and 8-10 (or more) touchdowns. In short, I wouldn't consider him an every-week WR3 by any stretch, but I sure would use him in that role as often as I could in soft matchups.
Mirage: C.J. Anderson is going to average 2.4 YPC and split carries with Ronnie Hillman all season long.
I'm going to qualify this "mirage" by saying it will be true so long as Anderson isn't dealing with turf toe, which he reportedly is not. If it is turf toe, all bets are off and I'd be looking to sell Anderson as quickly as I could to the Hillman owner (assuming he's not already on your bench) or doing everything I could to acquire Hillman. (For the purposes of this article, we are going to assume it is not turf toe.) The cool thing to do right now is bash Anderson, so when the Broncos face the most difficult run defense they will see all season and the entire offense struggles, the anti-Anderson bandwagon will grow. On Anderson's 12 run attempts, I counted eight times that he was contacted and/or tackled in the backfield. Unless the running back's name is Barry Sanders, it is going to be difficult for any player to be productive with that kind of defensive penetration. Let's also remember that HC Gary Kubiak was Baltimore's play-caller last year, so perhaps it shouldn't come as a surprise that a stout run defense that saw Kubiak's offense in practice on a daily basis last year might perform well against it this year.
When in doubt, it often helps to look at snap counts because playing time is typically the currency a coach uses to "pay" his players, in a matter of speaking. Despite Hillman's otherworldly preseason, Anderson out-snapped the "1B" back 57-17 – including 26-2 on passing plays. Kubiak has no personnel ties to either player, so one would have to think that if Hillman was the better option, the rookie coach would have already made a move to lean more toward Hillman. Until proven otherwise, I am convinced that Anderson is the Arian Foster to Hillman's Ben Tate (circa 2011). Perhaps I might change my tune if Kansas City mauls Denver in the running game this week, but the Chiefs just got done yielding 4.5 YPC to Houston's assortment of backup running backs. The Broncos have an enviable slate of soft run defenses on their schedule, many of which were gouged in Week 1.
Trend: DeMarco Murray is going to be a bit hit-or-miss this season.
I am baffled by the relative lack of reaction that Murray's effort on MNF created, so I can only assume owners were happy with his overall point total and didn't care how he arrived at it. I would be much more concerned about Murray than Anderson at this point; Atlanta was supposed to be one of the softer run defenses Philadelphia had on its schedule this year. Calling Murray's Week 1 performance a trend or mirage is relative. It is a mirage if you believe he'll have another game in which he only gains 20 total yards on 13 touches, but scores two touchdowns to save his fantasy day. It is a trend if you were hoping he'd be a consistent 25-touch workhorse in your fantasy backfield; Darren Sproles is one of the best passing-down backs of our generation and Ryan Mathews is perhaps the best backup running back in the NFL at the moment. As such, it doesn't make any sense to run him into the ground one season after almost recording 500 touches and it certainly doesn't make a lot of sense to do it in September.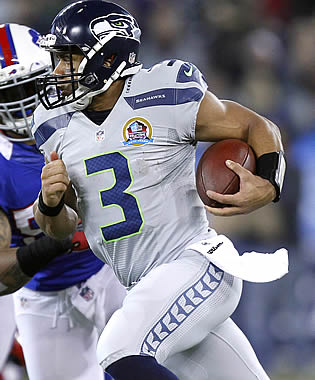 Wilson had a career-high 41 pass attempts in Week 1.

Other trends:
1. Russell Wilson will continue to throw the ball more than ever.
- Not every game is going to feature a career-high 41 attempts from Wilson, but a move to a more pass-friendly offense should have been expected the day Seattle traded for Graham and reinforced when it became apparent that rookie WR Tyler Lockett was picking up the offense faster than the team expected. The Seahawks' defense – as evidenced by the 34 points it allowed to the Rams – isn't near the force without Chancellor that it is with him and the offensive line is struggling. The latter problem is among several that may have the team considering utilizing more no-huddle, which should increase Wilson's volume (both as a runner and a passer).
2. Oakland's backfield belongs to Latavius Murray.
- Thanks to the brilliance of PPR scoring, Murray's otherwise average day at the office (80 total yards) wound up being a more-than-serviceable 15-point fantasy outing. But that isn't the only good news; the former 2013 sixth-round pick took 11 of the 15 carries (by Raider running backs) and seven of the backfield's 14 targets (with many of the other targets to the other backs coming deep in garbage time). The part I like the most for Murray is his involvement in the passing game, which the team could have easily assigned to Roy Helu for any number of reasons. As such, better days are ahead for Murray, who will probably experience his fair share of ups and downs given the fact that Oakland is still climbing the steep AFC West hill. Still, the takeaway here is the Raiders seem perfectly happy with Murray being the featured back.
3. Brandon Marshall is aging gracefully.
- Marshall spent the better part of his Jets' debut covered by Joe Haden and still finished 11th in PPR scoring in Week 1. He'll most likely see a lot of the Colts' Vontae Davis this week, but there aren't a lot of imposing matchups for the 31-year-old after New York finishes with Indianapolis. Perhaps most impressively, Marshall was gaining a lot of separation on his short and intermediate routes and even high-pointed a ball over Haden on his touchdown catch.

Other mirages:
1. Tom Brady will continue his "Revenge Tour" all season long and trample the opposition like he did in 2007.
- Let it go, America. The 2007 Patriots featured an in-his-prime Randy Moss, a young Wes Welker, an underrated Jabar Gaffney and a young Ben Watson to go along with a very good offensive line and a very good defense. The 2015 Patriots have an in-his-prime Gronkowski, Julian Edelman to play the role of Welker and questions just about everywhere else. Consider the Week 1 opponent as well; Cover-2 is supposed to be a relatively easy defense to play and Pittsburgh had more breakdowns/miscommunications in the season opener than any professional defense ever should.
2. Danny Woodhead is not only going to be a PPR stud, but is also the Chargers' goal-line back.
- I tend to believe the first half of this statement has been true since the time he arrived in San Diego; last year's season-ending leg injury just led to a lot of people forgetting about it. I tend to believe the second half of the statement is also true, but only on a case-by-case basis and only early in the season. San Diego will eventually come to rely on rookie Melvin Gordon to convert inside the 5 more often than not as the season progresses, but was punished for a third-quarter fumble (he only received three carries after it). Naturally, Woodhead got the call on a 1-yard TD run in the fourth quarter. Woodhead owners expecting a high-scoring flex option should be pleased with their investment, although Week 1 could end up being a high-water mark for him. Gordon's owners need to exercise patience; he should live up to his RB2 draft status before long.
3. Brandin Cooks isn't going to live up to the hype.
- The second-year Oregon State product had the misfortune of drawing Patrick Peterson in coverage in Week 1. That matchup hasn't always been a prohibitive one, but it usually is when the 6-1, 219-pound corner is healthy. Such was the case against New Orleans, but I wouldn't expect too many more slow weeks from Cooks going forward. With the exception of the Colts' Davis in Week 7, I'd feel pretty good about the mighty mite. The eventual return of C.J. Spiller will also give defenses one more offensive weapon to worry about and, if Week 1 was any indication, the Saints aren't going to stop too many offenses with their revamped defense. In turn, Drew Brees will probably be counted upon to rally the offensive troops once again. Cooks (and Spiller) should dominate targets in every game that New Orleans finds itself on the wrong side of the scoreboard.

---
Doug Orth has written for FF Today since 2006 and been featured in USA Today's Fantasy Football Preview magazine since 2010. He hosted USA Today's hour-long, pre-kickoff fantasy football internet chat every Sunday in 2012-13 and appears as a guest analyst on a number of national sports radio shows, including Sirius XM's "Fantasy Drive". Doug is also a member of the Fantasy Sports Writers Association.