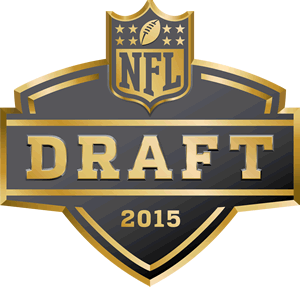 1.01 TB – QB Jameis Winston
The leader in the clubhouse for the No. 1 pick from the end of the season, Winston enters the NFL as the most pro-ready quarterback since Andrew Luck. His off-field woes have been well-documented, but there is no question Tampa Bay now has a quarterback that not only has the arm to throw deep strikes to Mike Evans and Vincent Jackson, but also has the ability to pick apart a defense. Winston also has the distinct pleasure of working with new OC Dirk Koetter, who is one of the league's better play-callers and will work around his new quarterback's many strengths.
1.02 TEN – QB Marcus Mariota
If pre-draft reports were accurate, Tennessee turned down a hefty haul of veterans and draft picks to acquire the player it hopes succeeds where Jake Locker did not. Mariota has received a bad rap for being a spread quarterback that doesn't make NFL reads, which is not true. Mariota has shown the ability to make NFL throws and will go through his progressions, but he is going to have his work cut out for him with the Titans initially as Delanie Walker and Kendall Wright will serve as his top weapons. It is imperative Tennessee and Mariota meet each other halfway in terms of utilizing his unique athleticism while he matures as a pro passer.
1.04 OAK – WR Amari Cooper
Another pick that has been popularly mocked for some time, Cooper becomes the first true No. 1 WR in Oakland since perhaps Tim Brown. The Crimson Tide standout already plays like a 4-5 year NFL veteran and is about as bust-proof as receivers come nowadays. With the Raiders, Cooper will provide Derek Carr with a go-to option while also putting James Jones and Michael Crabtree in the secondary roles they should be in. Cooper's upside is as a fantasy WR2 as a rookie in redraft leagues and he should be a top 3-5 pick in dynasty regardless of how the rest of the draft goes.
1.07 CHI – WR Kevin White
Out with Brandon Marshall, in with a player I believe compares favorably to Larry Fitzgerald. The West Virginia product needs to refine his overall game (much more than Amari Cooper anyway), but the upside is higher than that of his Alabama draft classmate. Given the Bears' many defensive needs, this pick has the feel of one that is the new administration's way of telling Jay Cutler that 2015 will be his last chance to live up to his vast potential. Like Cooper, White should be a top 3-5 pick in dynasty. Unlike White, he should be considered a high-end WR3 in redraft formats as he starts out as the clear second option behind Alshon Jeffery in what will be a much more balanced offense under new OC Adam Gase.
1.10 STL – RB Todd Gurley
As I stated in my draft profiles, Gurley is quite possibly the best running back prospect to enter the league since Adrian Peterson. On the surface, this pick is a shocker since Tre Mason started to establish himself in the second half of his rookie season, but we don't have to go too far back to remember HC Jeff Fisher enjoyed much success utilizing Chris Johnson and LenDale White a few years ago. One can only imagine the Rams had Gurley inside their top five players to make this pick with offensive line and wide receiver being MUCH bigger needs. At any rate, Gurley is a complete back that may not truly be 100 percent until 2016 coming off ACL surgery, but will be a featured back (at least a 2015 version of a featured back) when he is ready. The landing spot for Gurley isn't the best for his dynasty outlook, but his talent alone still makes him one of the top three picks in that format. It'd be foolish to project his redraft value right now given the fact we don't know if he will begin the season on the field or the PUP list. Assuming it is the former, he should be considered a low-end RB2 or high-end RB3 (again, remembering he probably won't be his dominant self until 2016).
1.14 MIA – WR DeVante Parker
The Dolphins' offseason receiver overhaul continues. Miami shipped Mike Wallace to Minnesota in part because it believed he was more one-trick pony than anything else and that one trick didn't mix well with Ryan Tannehill's inability to throw the deep ball accurately. Parker is a well-rounded receiver that isn't too far of a step down from Amari Cooper or Kevin White and has been favorably compared to A.J. Green, although I'm hesitant to put the Louisville product in the same class as a receiver that was on a NFL record-setting start to a career through his first three seasons. Parker will contribute heavily as a rookie, but is more than likely to be a bit hit-or-miss in 2015 as he'll be fighting Jarvis Landry, Kenny Stills, Greg Jennings and Jordan Cameron for Tannehill's attention. At the moment, he's probably a WR4 in redraft formats. His dynasty prospects remain bright, however, and he should emerge as the best receiver in Miami no later than 2016.
1.15 SD – RB Melvin Gordon
It was a virtual lock that San Diego was going with a first-round running back if it made sense to do; it was only a matter if either one of this draft's first-round talents were going to last long enough for the Chargers to make the pick or trade up a couple spots to do it. The latter happened and, as a result, fantasy owners can breathe easy that at least one top-flight running back should have a good shot at 250-plus carries this season. The Chargers will probably continue using their committee backfield and make sure Branden Oliver and Danny Woodhead get their touches, but Gordon will be the clear leader of the backfield and is probably the best choice right now to be the top overall pick in rookie drafts. In redraft, Gordon should be considered a rock-solid RB2 with low-end RB1 upside.
1.20 PHI – WR Nelson Agholor
When Chip Kelly can't pick up former Oregon players, he makes sure he stays in the Pac-12. All kidding aside, Agholor was a player that was linked to the Eagles as a replacement for Jeremy Maclin - a player he does favorably compare to in many ways. I compared Agholor to Eddie Royal in my draft profiles, however, because he seems to do his best work in the slot and doesn't play as fast as his timed speed. The USC standout lands in a situation where he is primed for fantasy success, but I do question his ability to stay healthy given his slight frame. In Philadelphia, he'll join 2014 second-rounder Jordan Matthews as the team's top receivers before the end of the season. The Eagles' up-tempo attack will likely make sure Agholor gets his numbers, so he'll be a decent bet to post low-end WR3 fantasy production (assuming he beats out Riley Cooper at some point). At the moment, Agholor appears to be a solid mid-first round pick in dynasty rookie drafts and I'd probably slot him right above DeVante Parker in those formats.
1.26 BAL – WR Breshad Perriman
In what can only be considered coincidence (or is it?), I compared Perriman to Torrey Smith, whose spot he will replace in Baltimore. Perriman is an interesting prospect in that his measurables say he should have dominated college football, but his numbers did not suggest that he did. The UCF product is a 6-2, 214-pound wideout with 4.25 speed, but falls in this draft in large part because he dropped almost 14 percent of his targets in 2014. Of the receivers selected thus far, I believe Perriman is the mostly likely to NOT live up to his draft status because I'm not sure how a receiver will improve his drop rate against better coverage. However, he's a top 3-4 receiver in this class if he does and I'm not sure he could have found a much better fit than Baltimore, where he will catch balls from Joe Flacco, who is one of the few quarterbacks with the arm necessary to take advantage of Perriman's speed. I believe he will probably be a Day 1 starter in Smith's old spot, but will be hard-pressed to achieve anything more than WR4 value in 2015. In rookie drafts, I tend to believe he is a late first-round pick.
1.29 IND – WR Phillip Dorsett
In case defenses thought guarding one T.Y. Hilton was difficult, now they can find out what it is like guarding two of them. Along with Breshad Perriman, Dorsett was one of the two true speed merchants among this draft's top prospects at receiver. The problem with fitting into the Colts initially is that Perriman has virtually no shot to be anything more than a fourth receiver/returner since Indy already has Hilton, Donte Moncrief and Andre Johnson (not to mention Duron Carter behind them) pretty much entrenched as the top three options for Andrew Luck. All bets are off, however, if Hilton gets hurt because Dorsett could easily play that role. Given what is in front of him on the depth chart, Dorsett can be left on the board until the final rounds in redraft leagues. In rookie drafts, I'm not sure I like him any higher than the early part of the second round.

---
Doug Orth has written for FF Today since 2006 and appeared in USA Today's Fantasy Football Preview magazine in 2010 and 2011. He is also the host of USA Today's hour-long, pre-kickoff fantasy football internet chat every Sunday. Doug regularly appears as a fantasy football analyst on Sirius XM's "Fantasy Drive" and for 106.7 The Fan (WJFK – Washington, D.C). He is also a member of the Fantasy Sports Writers Association.