If there has been something I learned over the years about fantasy football, it might be this nugget: A good draft can often get you invited to the party, but you're going to need to be crafty and fairly lucky in order to make the night a memorable one.

At least twice during the season, it makes a lot of sense to step away from the week that was and take a bold look into the future. The smallest leagues I participate in each season are 12-teamers with 18-man rosters, which means 216 players and/or defensive/special teams units are unavailable at any given time, not including the players that are placed on waivers each week. Thus, waiting for breakouts typically isn't a luxury I have, so I often spend a great deal of time during the middle of the season trying to unearth a diamond in the rough when I have a roster spot or two to play with on a team. In all of my leagues, at least 70 running backs and 70 more receivers are spoken for, which means players like David Johnson last year or Jordan Howard this year were never available on the waiver wire. A player like Week 5 star Cameron Meredith was scooped up in many cases before kickoff this past week as owners had a bit of time to process Kevin White going to IR.

In an effort to be thorough but still helpful, I've decided to take identify 10 players who I believe have a fairly realistic shot at emerging as the next every-week starter or contributor in fantasy this season. One player may need only an injury to the starter in front of him, while another may simply make enough strides in "learning the system" or prove himself enough in practice to wrestle away the job (or at least force a timeshare). The common thread will be the majority of these players will not be owned in most fantasy leagues, so I will be excluding at least a couple of my personal favorites (Derrick Henry and Devontae Booker).

Listed from least desirable to most desirable, here are the under-owned players I like the most as of now:

TE Ladarius Green, Pittsburgh

I tend to not be overly optimistic about players (especially those who arrived via free agency) who have never practiced with their current team, which is why Green is at the top of this list. However, he isn't just any player. The fifth-year pro had an adventurous offseason to say the least - enduring a long recovery from offseason ankle surgery as well as questions about his long-term health due to multiple concussions - so it would be a mistake to place a lot of trust in his ability to dominate the final two-plus months of the season. Shoving aside the negative for a second, it is easy to forget Green was the Steelers' handpicked choice to succeed Heath Miller and give the team a downfield threat at a position in which it is difficult to find such players. One of the reasons I failed to buy (and still do to a certain extent) into Sammie Coates emerging into a reliable fantasy option is based on my belief Green will automatically become the second-most obvious weekly mismatch for Pittsburgh's opponents and specializes in the one area Coates does - the downfield passing game - once he is cleared and allowed to settle in for a bit. (My belief in his upside is so strong that I have kept hold of him in my experts' dynasty league team despite the fact I also own Rob Gronkowski and Kyle Rudolph.) Given that Green cannot be activated off PUP until next week and probably won't be a factor for another month after that, stashing Green is a move designed solely for a potential payoff during fantasy playoff time. However, the state of the position is such that owners have had little problem stashing a player like Tyler Eifert, fully understanding he could miss at least four weeks when they drafted him. Green has similar upside and probably would require similar (if not more) patience, but the payoff could be just as huge.

WR Dorial Green-Beckham, Philadelphia Eagles

Last weekend, I got one of those rare strong feelings about an under-owned player - the kind of feeling that is hard to shake. It wasn't one of those pick-him-up-and-start-him calls, but more of a get-him-now-before-you-really-have-to-blow-your-FAAB kind of feelings. If one judges by the box score only, then 3-43-0 would suggest I was wrong. However, my feelings about DGB haven't changed and were actually strengthened in some ways after watching how he was used coming out of the bye. His snap count didn't change much (33, 32, 32 over the last three weeks), but I found it quite notable two of his four targets were in the red zone and one of those was a back-shoulder throw in the end zone. As we know, talents like Green-Beckham donít live on the waiver wire unless there is a good reason why they are there in the first place. DGB was considered very raw coming out of college, continues to run undisciplined routes and arrived in Philadelphia right at the end of the preseason after Tennessee tired of him, so he's not for the faint of heart and will require a ton of patience. The Eagles also don't figure to be the type of offense to feature one receiver all that often, so please don't accuse me of being blind to his shortcomings. With the negatives out of the way, here's why he's worth the investment: 1) He has the size and athletic ability to be the Eagles' top option in the red zone if they choose to feature one receiver in such a way, 2) He has the talent to be the team's top playmaker at receiver before the end of the year if he continues to evolve in the way his coaches are letting on and 3) Carson Wentz looks to be the real deal. I would argue those three "positives" are more than the bulk of receivers on your league's waiver wire have working in their favor. At the very least, he's the kind of upside stash that belongs at the end of an owner's roster in many larger leagues - one well worth holding onto at least until a player with similar talent and a more defined and substantial role comes along.

RB Kenneth Farrow, San Diego Chargers

Following the season-ending ACL injury to Danny Woodhead back in Week 2, the Chargers were pushed into a bit of a corner at running back. The options? Continue to employ the same committee system they intended to use when Melvin Gordon, Woodhead and Branden Oliver were all still healthy (despite losing the last two of those three players) OR place their faith in the player they traded up to get in the first round of the 2015 draft. The choice was obvious: ride Gordon until the wheels fall off. Dexter McCluster was added to the roster shortly after Woodhead's departure, but he is barely playing. In fact, Gordon has been on the field for 88.3 percent of the team's offensive snaps since Week 3 despite the fact he has struggled statistically and lost a critical fumble late in each of the last two games. With that kind of commitment to one back, where is the problem?

Let's be clear about one thing: Gordon's starting job is not up for debate, but rather his ability to continue monopolizing the backfield. With that said, I believe Gordon's grasp on the feature-back job in San Diego hinges on his ability to not fumble against Denver this week. He has yet to top 4.3 YPC in any game this season and sits at 3.4 for the season despite being the very definition of a big-play back in college. But if there is one habit NFL coaches cannot stand, it is a lack of ball control. They often don't care if the fumbles are legitimate, so if it becomes a regular issue, the odds are strong that player's snaps will be reduced and the next man up will be asked to do a better job of it. The thing is McCluster wouldn't be the "next man up", Farrow would be. HC Mike McCoy praised the undrafted rookie free agent this summer for his "physical" and "downhill" style, and the fact of the matter is that he is probably one more Gordon fumble away from getting his shot at a bit of playing time and one Gordon injury away (players recovering from microfracture knee surgery tend to experience "comfort issues" as the season progresses) from being the clear lead back. For those that care about such things, I compared him to a less versatile version of former Charger do-it-all back Jacob Hester. Again, I'm not predicting a depth chart change, but anytime a player - especially at a position as volatile as running back - has two realistic avenues in which he can become fantasy-relevant, he needs to be monitored. Ideally, Gordon doesn't fumble again and remains the bell-cow back his owners so desperately needs him to be. Just be aware there is trouble brewing in fantasy paradise.

TE Austin Seferian-Jenkins/WR Robby Anderson, New York Jets

To say New York doesn't look the tight ends' way would be an understatement. The Jets have rattled off 343 plays thus far, including 192 pass attempts from Ryan Fitzpatrick. The tight end position has been targeted six times, resulting in three catches for 26 scoreless yards. Two of those receptions and 17 of those yards came in ASJ's team debut in Week 5, less than two weeks after being claimed off waivers. Owners should not confuse that with an unwillingness to involve the position, however, as OC Chan Gailey has not been afraid to build his offense around a tight end (Tony Gonzalez, 2008) or make the position an important secondary part of his offense (Scott Chandler, 2011-12). Also working in Seferian-Jenkins' is the season-ending shoulder injury to Eric Decker - a move that should allow Quincy Enunwa to slide into his role as a starter and regular slot option. Enunwa was essentially playing the role of a flex tight end prior to Decker's injury, so it seems reasonable ASJ could absorb much of the same production out of the slot that made Enunwa such a revelation in the first two weeks of the season. At the very least, Seferian-Jenkins should soon emerge as the second-best red-zone option on the team, which is actually a very favorable spot when one considers how often a somewhat touchdown-dependent player like Jesse James is drawing a start in fantasy.

At this point, Anderson is worth monitoring in large leagues given how many injuries have struck the Jets' receiving corps. New York loves him as a prospect, but Seferian-Jenkins is a far better bet to eventually take over Enunwa's old slot role than Anderson is to make a long-term impact as a deep threat on the outside this year with Brandon Marshall and Enunwa hogging most of the targets. Still, Anderson really only needs another injury to strike to become fairly relevant in fantasy.

RB Mike Gillislee, Buffalo Bills

To this point, Gillislee has probably done more to irritate LeSean McCoy's owners that give them reason to worry, scoring a touchdown on his only touch in Week 2 and one of his two touches in Week 5. Gillislee is not a threat to McCoy's workload, but he has emerged as the clear handcuff for the 28-year-old back with 1,749 carries and 351 receptions in his eight-year career. McCoy isn't necessarily close enough to the dreaded wall that seems to hit most 30-year-old backs like a ton of bricks, but his current workload is going to push him pretty close to 2,000 career carries by the end of this season, which is also another notable number at which runners begin to slow down and a pretty hefty workload for a back whose game is built on quickness and elusiveness. Despite seeing only 10 touches twice since joining Buffalo in December of last year, Gillislee has scored five times on 67 touches and is averaging 5.6 YPC on his 58 rush attempts over that 10-game stretch. While owners have been went out of their way to keep high-upside handcuffs like DeAngelo Williams on their roster (with good reason, I might add), they have been slow to warm to the ex-Dolphin. McCoy owners should attempt to lock him up sooner than later, if for no other reason because the Bills have little choice but to continue running the ball even if McCoy was to be sidelined for a prolonged period. He obviously lacks Shady's huge upside, but volume alone would make him a solid RB2 in today's running back landscape.

RB Wendell Smallwood, Philadelphia Eagles

One of the funny things about fantasy football is how quickly the news cycle chews up and spits out a hyped player, almost to the point where a rookie can become a post-hype sleeper in the same year he is failing to live up to his summer press clippings. As most hard-core fantasy owners may remember, the No. 153 pick in this year's draft quickly endeared himself to the Eagles' coaching staff, consistently earning praise for his ability as a pass-catcher. In fact, there were times throughout the summer in which it appeared he was a threat to Ryan Mathews' early-down role AND Darren Sproles' passing-down duties. He burst onto the scene yet again in Philadelphia's surprise blowout win over the Steelers in Week 3, then saw one measly snap last week in a loss at Detroit, which will probably lead him to be a popular drop candidate in many leagues this week. While it is easy to be discouraged about such inconsistent usage, Smallwood has done nothing but generate positive vibes since becoming an Eagle, and he remains the only back on the roster behind an injury-prone starter (Mathews) with the physical capabilities of carrying the load. Given Philadelphia's desire to remain a balanced offense and utilize a control passing game, it's not that big of a stretch to believe Smallwood could eventually become a poor man's Brian Westbrook in the sense he could handle 10-12 carries and roughly 3-5 catches per game with Sproles taking the remainder of the work should Mathews succumb to injury yet again. The opportunity could come even quicker for the rookie coaching staff chooses to hold Mathews' critical late fumble last week against him going forward.

RB Rob Kelley, Washington Redskins

Kelley became a bit of a preseason darling following his 99-yard performance in the final exhibition game. HC Jay Gruden nipped that optimism in the bud by giving the undrafted rookie free agent a total of five snaps - all of which ended up as rushing attempts for him - through four weeks. Kelley hit the motherlode in Week 5 when he was granted a whopping eight snaps, which led to three rush attempts for 18 yards. Apparently, that was enough to impress Gruden, who told CSN Atlantic earlier this week, "I think youíll see more of Robert. I think Robert shows that heís deserving of some carries. Ö We like Matt Jones, but I think thereís a good combination there where the both of them can get the ball." Besides reading from the coach's handbook on how to tell the media he's leaning toward a committee backfield without saying as much, Jones isn't really in a spot where he can afford to lose touches. Washington's commitment to the run under Gruden has been spotty at best, and the coach has shown similar commitment issues when it comes to depending on one player. However, the reason Kelley makes the list is because he has a nice combination of Jones' power and Chris Thompson's elusiveness. I'm fairly certain Gruden has no inclination to commit to any runner long-term, which is one of several reasons why I avoided drafting a Redskins' back this summer, but it's not hard for me to see Kelley working as the primary back sooner than later. There are obviously other backs on this list I like more as fantasy properties going forward, but I will be actively looking to add him in a number of my leagues with 20-man rosters this week.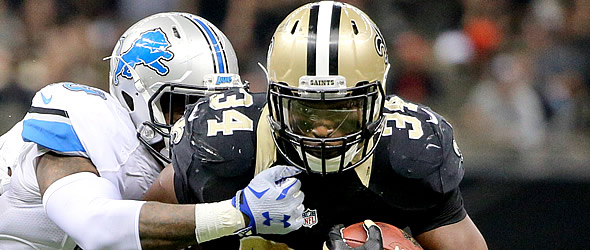 I can't think of too many other handcuffs I feel good about stashing more than Tim Hightower.
RB Tim Hightower, New Orleans Saints
I fully admit I may have the wrong guy in The Big Easy, but I'm fairly certain I have a member of the right backfield here. What does that mean? Much like DeMarco Murray in Tennessee, I see Mark Ingram as a multi-week injury waiting to happen every year. Sometimes it works out and sometimes it doesn't. While Murray has managed to stay relatively healthy beginning with his breakout 2014 season, the same cannot be said for Ingram. Where the uncertainty comes in is whether Hightower would assume Ingram's lead role in the event of injury like he did late last season or he'd end up essentially sharing snaps with rookie Daniel Lasco. HC Sean Payton's usage patterns up to this point suggest the former is more likely to occur, although it also quite clear New Orleans already has more trust in Lasco than it ever did C.J. Spiller. The point is I don't think owners can count on a repeat of Hightower's ridiculous usage rate over the final four weeks of last season in the event of an injury to Ingram, but he should be prepared for more than enough work to be considered a solid RB2 in such a scenario. I don't own any shares of Ingram this season, but I already have Hightower on three teams and hope to make it five or more in the near future. After backups like DeAngelo Williams, Derrick Henry and Devontae Booker - each of whom have been owned in most leagues all season - I can't think of too many other handcuffs I feel good about stashing more than Hightower.
RB Paul Perkins, New York Giants
I'm not sure there is another under-the-radar player I've felt better about emerging as a second-half stud longer than Perkins. Thanks in large part to the league's outdated rule that keeps rookies from participating in practice until their schools hold their commencement exercises, the fifth-rounder out of UCLA missed most of the team's early practices and predictably fell behind as a result. Also unsurprisingly, the Giants' injury-prone starters (Rashad Jennings and Shane Vereen) have already missed multiple games. While Jennings is expected back soon, Vereen is not. And yes, Orleans Darkwa and Bobby Rainey have held down the fort in their absence. But what has been most telling to me over the last two weeks is when Perkins is playing. All three of the rookie's targets in Week 4 against the Vikings came in the fourth quarter (his 67-yard catch-and-run that set up New York only touchdown and he was the target on the final play of that game as well) and he was in again on the final drive of a one-score game last week versus the Packers. Those are high-leverage situations to put a supposed third-string running back in when both of the backs in front of him are healthy, and it signals to me he is on the verge of moving up the depth chart. Admittedly, his 12 snaps in Week 4 and 14 snaps in Week 5 don't exactly excite the masses, but this piece isnít about who is producing right now either. It says here he'll be a major contributor - likely overtaking Rainey in the Vereen role at the very least - sometime in November before eventually taking over as the lead back following another injury to Jennings. It should also be noted Perkins has touched the ball only seven times, yet he is the proud owner of the biggest play the team has produced this season. I said this summer I felt he was the best fit for what this offense wanted to become and I believe it even more now. He needs to be owned in all 12-team leagues with at least 18-man rosters.
Honorable mentions: QB Colin Kaepernick (San Francisco 49ers), RB Ka'Deem Carey (Chicago Bears), TE Austin Hooper (Atlanta Falcons), RB Mike Davis (San Francisco 49ers), WR Kamar Aiken (Baltimore Ravens), RB George Atkinson III (Cleveland Browns), TE Stephen Anderson (Houston Texans), WR Chris Conley (Kansas City Chiefs), TE Dion Sims (Miami Dolphins)

---
Doug Orth has written for FF Today since 2006 and been featured in USA Today's Fantasy Football Preview magazine since 2010. He hosted USA Today's hour-long, pre-kickoff fantasy football internet chat every Sunday in 2012-13 and appears as a guest analyst on a number of national sports radio shows, including Sirius XM's "Fantasy Drive". Doug is also a member of the Fantasy Sports Writers Association.