Three years ago, I introduced "The Dirty Dozen" and "The Delicious Dozen" around Thanksgiving time. The idea then - as it is today - was to identify negative and positive receiver matchups, respectively, as a way to prepare owners for the upcoming stretch of fantasy games that usually determine who moves on and who doesn't.

Receiver-cornerback matchups are among the most critical ones in the real game, yet very few fantasy analysts spend any time breaking them down in much (if any) detail for what I can only imagine is a fear of being wrong or a general lack of readily available information. That's not a shot at the fantasy industry, it's just the cold hard truth in a lot of cases. I probably hate being wrong more than anyone I know, but that doesn't mean I shouldn't take a shot at being right … no?

In a team game, the receiver vs. cornerback battle is often as individual as it gets at the skill positions. Without getting into too much of a philosophical discussion about how individual it is, we can generally assume that a defense will remain either a team that uses a "shadow" cornerback or opts to "play sides" and not change its method during the course of a game. Receivers tend to move all around the formation and many of the top receivers nowadays spend time in the slot, so the most any analyst can say with any certainty is that a certain receiver should see a lot of a certain receiver in coverage based on where he has lined up in the past.

I have often said owners make the most lineup mistakes at receiver because there is more mystery surrounding the receiver vs. cornerback battle than any other fantasy position. In an effort to eliminate some of that mystery, I have chosen to bring back this two-part series to take a look at the juiciest matchups available to our receivers, just in time for what we all hope is a long playoff run. Next week, I'll turn the spotlight on the 12 cornerbacks we don't want our receivers to face.

While the receiver position will probably always remain the most difficult fantasy position to predict from week to week, we do have some tools at our disposal to evaluate just how difficult their upcoming matchups are. Pro Football Focus has many stats that can help us to make informed decisions about what receiver vs. cornerback matchups we should target, and I am using their coverage grade (as opposed to their overall grade) as a tool to help discern what receivers could be in for a big day. Below is a list of the 12 cornerbacks most likely to get picked on in the coming weeks, ranked from the 12th-worst to the worst.

Note: The average number of coverage snaps for the 117 cornerbacks to qualify for PFF's rankings was 269, so I chose to use that number to eliminate players who aren't "full-timers". Below each write-up is the remaining schedule and the projected matchups each corner should see in coverage in that week. Please note while I do watch enough film to feel confident about my projected matchups, I am not so naïve to believe I've got it pegged. Receivers move across the formation a lot nowadays, while most defensive coordinators seem to favor keeping their corners on one side of the formation.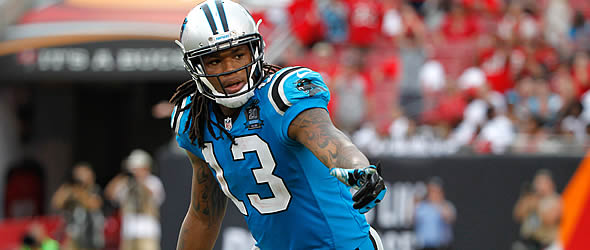 Kelvin Benjamin has a couple tasty matchups including a date with Vernon Hargreaves in Week 16.
12. Logan Ryan, New England (PFF Coverage Grade: 55.1)
Ryan has never graded lower than 69.4 (overall) prior to this season, so he's got some work to do if he hopes to avoid setting a new career low in that regard. Depending on the opponent and the quality of its receivers, the Patriots will sometimes use Malcolm Butler to shadow the opponent's No. 2 wideout and give Ryan regular help against the No. 1 in order to give themselves a chance to take away one side of the field. Butler is currently PFF's fifth-ranked CB in coverage (86), so he may not be all that far away from earning a chance to shadow lead receivers on a regular basis. At any rate, Ryan's effectiveness has dipped dramatically from 2015, so it is fair to wonder if his drop in play has to do with a combination of New England's lackluster pass rush and a greater emphasis from offenses to avoid throwing at Butler, particularly if he is guarding the opponent's second-best receiver that day. Ryan hasn't exactly had an easy run either, opposing Larry Fitzgerald, Terrelle Pryor and A.J. Green, among others. The Pats were prompted to make a change in Week 7, cutting Ryan's snaps for two weeks and starting former Philadelphia Eagle Eric Rowe ahead of him, but Ryan returned to his usual role last week versus the Seattle Seahawks, while Rowe did not play at all.
Predicting what the Patriots are going to do in any particular area in any given week is a difficult task, but it seems logical to believe Ryan's primary responsibility in coverage for the remainder of the fantasy season will remain consistent with how I laid it out above (Butler shadowing the opponent's No. 2 wideout and giving Ryan regular help over the top). If that is the case, here's his likely upcoming schedule:
Week 11: Torrey Smith (San Francisco)
Week 12: Brandon Marshall (NY Jets)
Week 13: Kenny Britt (Los Angeles)
Week 14: Steve Smith (Baltimore)
Week 15: Demaryius Thomas (Denver)
Week 16: Brandon Marshall (NY Jets)
While the caliber of receivers he is likely to see is daunting at first glance, all of them come attached to below-average quarterbacks. As such, there doesn't appear to be a whole lot for fantasy owners to take advantage of here.

11. D.J. Hayden, Oakland (PFF Coverage Grade: 54.8)
If there were any questions on how the Raiders' viewed their 2013 first-round pick prior to free agency this offseason, they were answered when Oakland handed Sean Smith a four-year, $40 M deal to start opposite David Amerson. Smith was famously toasted by Brandin Cooks in Week 1 but has since rebounded nicely. As proof of that, both Smith and Amerson currently rank inside the top 20 in coverage grades per PFF. Smith's arrival pushed Hayden into the slot, where he has played better than he did last year but still not at a high level. Given the recent success of Smith and Amerson, it is a pretty good bet more and more teams will increase the number of times they send their top wideout in the slot in order to escape their coverage moving forward, making it a virtual certainty Hayden's grade will plummet. It is worth noting, however, that most of the Oakland's remaining opponents already give their top receiver plenty of slot time, so while owners cannot exactly target one specific player Hayden might be guarding for most of any given week, they can still get some benefit from using their wideout against the Raiders.
Week 11: Braxton Miller (Houston); DeAndre Hopkins and Will Fuller also get used in the slot.
Week 12: Kelvin Benjamin (Carolina); Benjamin isn't a true slot per se, but this will be the Panthers' most advantageous matchup for him.
Week 13: Tavon Austin (Los Angeles)
Week 14: Jeremy Maclin (Kansas City)
Week 15: Dontrelle Inman (San Diego)
Week 16: T.Y. Hilton (Indianapolis)
10. Buster Skrine, New York Jets (PFF Coverage Grade: 54.0)
Remember last year when the return of Darrelle Revis and signing of Skrine - along with the presence of Antonio Cromartie - was going to make the Jets' secondary a no-fly zone? Oh, how quickly things change in the NFL. Revis' coverage grade is just high enough that he missed this list (58.6), but Skrine has once again been exposed as an overaggressive corner who commits too many penalties. He's already been benched, but the Jets don't have the luxury of leaving him on the sideline since Revis' play has tailed off dramatically, Cromartie is long gone, former first-round pick Dee Millner was cut over the summer and Marcus Williams - the most effective New York corner by far this season - is out for a few weeks with a high-ankle sprain. The pass rush isn't good enough to mask the Jets' secondary shortcomings either, so Skrine & Co. will continue to be a favorable target for passing games for the foreseeable future. Although Skrine will often move into the slot in three-wide packages, he'll continue to see plenty of work outside with Williams out.
Week 11: bye
Week 12: Julian Edelman (New England), may also match up with Chris Hogan as well.
Week 13: T.Y. Hilton (Indianapolis), may occasionally see Donte Moncrief when not in slot.
Week 14: Jeremy Kerley (San Francisco), may occasionally see Quinton Patton when not in slot.
Week 15: Jarvis Landry (Miami), may occasionally see DeVante Parker when not in slot.
Week 16: Julian Edelman (New England), may also get matched up with Chris Hogan as well.
9. Johnathan Joseph, Houston (PFF Coverage Grade: 51.7)
Joseph hasn't graded out lower than 70 since he was a Cincinnati Bengal back in 2007, but it appears age (32) and the fact he has been at his job for 11 years might be starting to catch up with him. In his defense, he had a rough October physically, dealing with a concussion in Week 5 and a forearm injury in Week 6, although neither injury caused him to miss a game. A.J. Bouye has played like the best corner in the league for most of the season and is one of the primary reasons Houston continues to play great pass defense despite the loss of DE J.J. Watt, the decline of Joseph and the season-ending injury to CB Kevin Johnson. Since Joseph spends the bulk of his time on the defensive left side, he's likely to see an assortment of wide receivers every week, so it will be difficult to owner to pick on him when considering advantageous matchups. That doesn't mean we shouldn't try, since some offenses tend to lean toward playing a receiver on one side of the formation more often than others.
Week 11: Michael Crabtree (Oakland)
Week 12: Travis Benjamin (San Diego)
Week 13: Jordy Nelson (Green Bay)
Week 14: T.Y. Hilton (Indianapolis)
Week 15: Allen Robinson (Jacksonville); Allen Hurns is the main slot for the Jags, but Robinson and Marqise Lee switch sides fairly often.
Week 16: A.J. Green (Cincinnati)
8. Daryl Worley, Carolina (PFF Coverage Grade: 51.6)
Worley is a third-round rookie out of West Virginia and was the Panthers' second attempt in this spring's draft to fill the void left behind by the departure of Josh Norman. While draft analysts liked his size (6-1, 204 pounds) and ball skills for the most part, they were less crazy about his 4.54 speed, which is probably one reason why a zone-based defense like Carolina ended up taking him late on the second day of the draft. At any rate, while second-round draft classmate James Bradberry seems to be settling in nicely (79.2 coverage grade), Worley is getting picked on. However, much like several other situations we have/will discuss, the Panthers really don't have many other alternatives. Bene Benwikere was let go after Julio Jones' 300-yard game in Week 4 and fellow rookie Zack Sanchez isn't ready. Offenses have sensed blood in the water ever since, which leaves Carolina with three corners out on the field quite often (Bradberry, Worley and slot CB Leonard Johnson). Worley (RCB) and Bradberry (LCB) don't shadow receivers, so the former can expect to guard several different wideouts each week.
Week 11: Brandin Cooks/Michael Thomas (New Orleans)
Week 12: Amari Cooper (Oakland)
Week 13: Doug Baldwin/Tyler Lockett (Seattle)
Week 14: Tyrell Williams (San Diego)
Week 15: Pierre Garcon (Washington)
Week 16: Julio Jones (Atlanta)
7. Nolan Carroll, Philadelphia (PFF Coverage Grade: 51.1)
Excluding the Week 9 loss to the New York Giants in which the Eagles essentially giftwrapped New York's first two touchdowns (and gave up four passing scores on the day), Philadelphia's pass defense has been pretty stingy, especially when it comes to giving up touchdowns. However, just because a unit is doing well collectively, it doesn't always mean in each of its individual parts are holding up their end of the bargain. Carroll's overall grade (50.4) is his lowest since 2011 and that was before he left Week 10 with a concussion. Unfortunately, the Eagles have precious little depth behind him and Jalen Mills, who got the start last week because the team wanted to rest injured top corner Leodis McKelvin, is the worst-rated cover corner in the league per PFF. (Former CFL All-Star Aaron Grymes and undrafted rookie free agent C.J. Smith are the only other cornerbacks listed on the team's depth chart.) Long story short, we can safely assume Carroll will return to his usual RCB position when he clears protocol. It's also bears mentioning that Carroll might not be as bad as his grade suggests - at least not recently - as he has done battle against Dez Bryant, Odell Beckham Jr. and Julio Jones over the past three weeks.
Week 11: Doug Baldwin/Tyler Lockett (Seattle)
Week 12: Davante Adams (Green Bay)
Week 13: Brandon LaFell (Cincinnati)
Week 14: DeSean Jackson (Washington)
Week 15: Mike Wallace (Baltimore)
Week 16: Odell Beckham Jr. (NY Giants)
6. Stephon Gilmore, Buffalo (PFF Coverage Grade: 50.3)
Gilmore was one of the league's better corners in each of the last two seasons, so this one may come as a shock to most. Should fans be alarmed? Sure, because it's obviously never good for a corner to grade so low at the primary job he is being paid to do. But there's more to it than that and this link should serve as another reminder than players (defenders in this case) don't always lose effectiveness from year-to-year because their skills fade or for any other number of reasons, but because schemes change and doesn't always fit everybody's skill-set. As the linked article suggests, Gilmore is known more as a "squat corner" - a player who excels against quick, timing routes. He's not a zone corner and often does his best work in press-man coverage. Last season, Buffalo blitzed 35 percent of the time through the first nine games, which plays right into Gilmore's strengths. Again, as the linked article suggests, his technique has not been as good this season and his confidence is not where it has been in years past. In my experience, technique can improve as quickly as the player recognizes there is a problem, but a major decline in confidence - once it strikes - seems to last for the season. The bigger problem here, however, is that Gilmore is a press corner being asked to play more off-coverage. Until HC Rex Ryan gets back to the blitzing style he is known for, Gilmore may be more of a sitting duck than most want to admit.
Week 11: Brandon LaFell (Cincinnati)
Week 12: Allen Robinson/Marqise Lee (Jacksonville)
Week 13: Amari Cooper (Oakland)
Week 14: Antonio Brown (Pittsburgh)
Week 15: Corey Coleman (Cleveland)
Week 16: DeVante Parker (Miami)
5. Ken Crawley, New Orleans (PFF Coverage Grade: 50.3)
Undrafted rookie free agents are supposed to struggle in the NFL, especially in their rookie year. They aren't supposed to be logging major snaps in their Week 1 pro debut or be expected to cover Julio Jones two weeks later. But that is exactly what happened when Delvin Breaux broke his fibula in Week 1 and P.J. Williams was lost for the season a week later due to a concussion. Breaux's return from IR in Week 9 bumped Crawley from the starting lineup, while B.W. Webb and Sterling Moore have logged starts opposite Breaux over the last two games. Thus, I am going to assume Crawley is no more than a fourth corner for the Saints for now, making him virtually impossible to target for fantasy purposes.
4. Bradley Roby, Denver (PFF Coverage Grade: 43.2)
Behind standouts Aqib Talib and Chris Harris Jr., Roby is typically the Broncos' third corner. He's been pressed into heavier snaps over the last three weeks due to Talib's back injury and he hasn't caught any breaks in that time, going up against proficient offenses in San Diego, Oakland and New Orleans. While Roby helped cause two turnovers against the Saints, he gave up a tough touchdown to Willie Snead as well. A week earlier, he drew Amari Cooper and was flagged twice. The week before he returned an interception from Philip Rivers for a touchdown. All of this is to say his low grade probably isn't so much poor coverage as it is the quality of competition he has faced lately. After Denver returns from its Week 11 bye, its remaining slate figures to be a better indication of what Roby is really about. However, Talib is expected to return as well, which will likely lower Roby's snaps back into the 30-40 range he was playing prior to Talib's absence, instead of the 70-80 range he saw in Weeks 8-9.
Week 11: bye
Week 12: Tyreek Hill/Chris Conley (Kansas City)
Week 13: Allen Robinson/Marqise Lee (Jacksonville)
Week 14: Tajae Sharpe/Kendall Wright (Tennessee)
Week 15: Chris Hogan (New England)
Week 16: Tyreek Hill/Chris Conley (Kansas City)
3. Perrish Cox, Tennessee (PFF Coverage Grade: 43.2)
PFF has Cox rated as the 107th corner out of 117 that qualify - a mark that is actually better than the one he had entering last week (112th). He drew primary coverage of Jordy Nelson last week and most of us remember how that turned out (12-126-1 on 18 targets). Obviously, Cox wasn't responsible for all that damage, but Nelson's big line last week had just as much to do with his matchup as it did negative game script and his connection with Aaron Rodgers. A handful of other receivers that spend a great deal of time on the right side of the offensive formation have also enjoyed plenty of success this season against him this season, including Terrelle Pryor and Michael Crabtree. Overall, Cox graded out in the 70s in each of his previous two seasons, but his play has slipped below the level that made him something of a journeyman prior to his arrival in Tennessee. Fellow starter Jason McCourty (77.0 overall, 76.7 coverage) is hardly a shutdown force himself, but Cox really isn't giving quarterbacks much of a reason to attack the other side of the field.
Week 11: T.Y. Hilton (Indianapolis)
Week 12: Cameron Meredith (Chicago)
Week 13: bye
Week 14: Emmanuel Sanders/Demaryius Thomas (Denver)
Week 15: Jeremy Maclin/Chris Conley (Kansas City)
Week 16: Allen Robinson/Marqise Lee (Jacksonville)
2. Marcus Cooper, Arizona (PFF Coverage Grade: 43.2)
Cooper was acquired via trade after final cuts this summer from the Kansas City Chiefs to provide some depth behind converted running back Brandon Williams, who "won" the job in camp. The New England Patriots were merciless in targeting Williams in Week 1 and his inexperience showed up in a big way. Cooper took over and was promptly named NFC Defensive Player of the Week in Week 2 after picking off two passes (one for a score) against Tampa Bay, but it has been much more bad than good since. Because he plays opposite Patrick Peterson, Cooper will continue to be targeted heavily regardless of whether or not he steps up his game moving forward. Peterson doesn't always shadow receivers, but Arizona tends to use him in that regard when the Cardinals face an elite wideout, so owners can target Williams whenever that occurs.
Week 11: Cordarrelle Patterson (Minnesota)
Week 12: Mohamed Sanu (Atlanta)
Week 13: Pierre Garcon (Washington)
Week 14: DeVante Parker (Miami)
Week 15: Michael Thomas (New Orleans)
Week 16: Jermaine Kearse (Seattle)
1. Vernon Hargreaves III, Tampa Bay (PFF Coverage Grade: 39.5)
The third corner selected in the spring's draft, Hargreaves was billed as an ultra-competitive and explosive player with great feet. His size (5-10, 204) and speed (4.5) are less than ideal, but little more than slight concerns. So why is he the most advantageous matchup in the league this year? Well, he's young (turned 21 in June) and the Bucs asked him to learn the right and slot corner positions in camp, putting more on his plate than they probably should have. It's also possible new DC Mike Smith, who has never been considered a great defensive mind, isn't using the rookie correctly. Not unlike Gilmore above, Hargreaves excels at press-man coverage, but Smith has never been an overly aggressive play-caller, which leaves him in off-coverage a lot. This obviously gives big receivers more time to exploit his size and quarterbacks more time to make the perfect throw. Hargreaves possesses too much talent to remain one of the worst cover corners in the league, but it might take another season (and possibly a different coordinator) in order for it to happen.
Week 11: Tyreek Hill/Chris Conley (Kansas City)
Week 12: Doug Baldwin/Tyler Lockett (Seattle)
Week 13: Tyrell Williams (San Diego)
Week 14: Brandin Cooks/Michael Thomas (New Orleans)
Week 15: Dez Bryant (Dallas)
Week 16: Kelvin Benjamin (Carolina)

Other struggling CBs who fell short of the total coverage snaps threshold: Jalen Mills, Philadelphia (33); Damarious Randall, Green Bay (38.1); Phillip Gaines, the (39.5); Davon House, Jacksonville (39.9); E.J. Gaines, Los Angeles (40), Bashaud Breeland, Washington (42.2)
---
Doug Orth has written for FF Today since 2006 and been featured in USA Today's Fantasy Football Preview magazine since 2010. He hosted USA Today's hour-long, pre-kickoff fantasy football internet chat every Sunday in 2012-13 and appears as a guest analyst on a number of national sports radio shows, including Sirius XM's "Fantasy Drive". Doug is also a member of the Fantasy Sports Writers Association.