As I enter my eighth year of writing this postseason column, I hope I have helped some of you along the way supplement your regular-season fantasy prize winnings.

Just as I have since the beginning, I will share my thoughts on the NFL.com Playoff Challenge and postseason money leagues with Fuzzy's Fantasy Football. My goal over the next four articles will be to help each of you through your decision-making process as you attempt to boost your bottom line.

NFL.com

For a complete rundown of how players will score fantasy points for your team, click on the "Rules & Prizing" link on the NFL.com entry page. Much of the content immediately below is included on the "How to Play" page, although the information I provide below should be more than enough to follow along easily.

NFL.com Playoff Challenge scoring system



The requirements: one QB, two RBs, two WRs, one TE, one K and one D/ST. You will earn fantasy points based on their on-field performance during their game, and if your player's team wins, you will have the option to carry that player over to the next round, where he will earn a bonus point modifier to his score (which will be referred to as 2x, 3x and 4x from here on out).

For example, if you pick Aaron Rodgers in the Wild Card round and the Packers win, you can carry him over to the Divisional Round, and earn two times (2x) the points he earns in his divisional round game. If Green Bay wins again, you can carry Rodgers into the Conference Championship round for 3x the points and, if the Packers make the Super Bowl, you can earn 4x the points. In addition, a user can select a player/defense in the Wild Card round even if their team has a bye into the Divisional Round. In this case, the user would not earn any points for the Wild Card round, but be eligible to earn 2x points in the Divisional round, since the player was on the teamís roster for two weekly scoring periods. Further bonus point modifiers would also apply as long as that playerís team continues to advance in the NFL Playoffs.

Before we get into the picks, let's briefly review the rules and how we may use them to our advantage: 1) passing TDs are worth four points, so passing yards are valued more highly here than in the Fuzzy's leagues I'll discuss later; 2) all field goals under 50 yards are worth three points, which means we are more concerned about volume of field goals than distance – unless we can find a kicker who regularly converts from 50-plus (DraftKings does not use kickers); 3) this is a non-PPR format, which obviously favors the big-play threats (both Fuzzy's and DraftKings are PPR); and 4) team wins are worth five points, so picking a "winning" defense is worth almost a touchdown prior to factoring in the modifiers.
Let's get the No. 1 rule of this game out of the way right now: if you have a good feeling about which two teams will meet in the Super Bowl, build your lineup exclusively from players from those two teams. Most previous playoff challenge champions' lineups are made up entirely of Super Bowl participants. (In other words, it is important to project the Super Bowl entrants first and figure out what players from those teams to use second.) The multipliers are everything in this contest, so playing the week-to-week matchups is nearly meaningless. Think about it this way: if I told you that your regular-season fantasy team's scoring would double in Week 2, triple in Week 3 and quadruple in Week 4 if you simply left it the same, would it affect your draft strategy? Of course it would. The big week your team might post in the first week of this challenge - in the somewhat unlikely event you played the matchups to a tee - is going to seem rather insignificant in early February when every passing touchdown is worth 16 points and every other TD is worth 24 and the top teams in this competition are scoring 200-300 (or perhaps more) points per week.
As noted earlier, the main challenges are (in order): 1) correctly predicting the two conference winners and 2) forecasting the best fantasy players in that hypothetical Super Bowl matchup. With that in mind, I'm going to focus most of my time talking about the teams in the first part of this section and focus on the individuals a bit later. Much like in daily fantasy, the chalk plays probably aren't going to win. (Of the hundreds of thousands of entries NFL.com receives, how many do you think are going to line up their fantasy squads exclusively with players from New England and Dallas?) Even if you nail the correct one- and/or two-seeds, how many other owners do you think did the same? In short, be bold! It's a free contest after all, so crashing and burning - even if it is in front of an audience like what I'm doing - isn't such a bad thing when you consider the reward is much greater than the risk involved.
Below you will find the 12 playoff teams ranked in order of the (percentage) odds I believe they have of making the Super Bowl. I'll spend a bit of time after that talking about each team and attempt to nail the bracket before moving talking a little DFS.
1. New England (70%)
2. Dallas (33%)
3. Atlanta (33%)
4. Green Bay (22%)
5. Pittsburgh (18%)
6. Kansas City (9%)
7. NY Giants (10%)
8. Detroit (1%)
9. Seattle (1%)
10. Miami (1%)
11. Houston (1%)
12. Oakland (1%)
New England - The Patriots are far from a perfect team, but I'm not sure that matters much in what strikes me as the worst playoff field in recent memory. (More on that later.) It hurts being without Rob Gronkowski, but top-level quarterback play and the league's top scoring defense should be enough to beat out a lackluster AFC field.
Dallas - The combination of a rookie quarterback and rookie running back to go along with a no-name defense isn't usually a recipe for a No. 1 seed. At some point, one would think those "fatal flaws" would get exposed, but so far, only the New York Giants have cracked the Cowboys' code. A team capable of trading points with the Cowboys - since there is a complete lack of sound defenses in the NFC field - could end Dallas' honeymoon season. Which leads us to…
Atlanta - The league's highest-scoring and most well-rounded offense has scored at least 33 points in four consecutive games and at least 28 in six straight. The league's 25th-ranked total defense and 27th-ranked scoring defense will almost certainly come back to bite the Falcons at some point, but folks need to understand a good chunk of that production came with Atlanta usually holding a multiple-score lead.
Green Bay - Last year, the Packers seemingly had no answers on offense heading into the playoffs. This season, they are leaking so much oil in terms of defensive personnel that a long playoff run seems unlikely. Aaron Rodgers is always a good bet to keep Green Bay competitive, but I'm not sure this team has the goods to solve an impressive Giants' defense this week, much less win back-to-back road games, presumably in Atlanta and Dallas.
Pittsburgh - The Steelers are easily the most likely AFC team to knock off the Patriots if any team is going to do it, simply because they have what the other teams in the conference do not: offensive firepower. The defense has improved over the course of the season but has done so by becoming one of the more blitz-heavy teams in the league. Along with trying to win in New England in January, living by the blitz is a recipe for disaster when trying to upset the Patriots.
Kansas City - The Chiefs come to this year's playoff party with more established offensive weapons, especially Tyreek Hill, but with the same ho-hum quarterback (Alex Smith) and a lesser defense than the one that helped them dominate the second half of last season. If we were able to combine Pittsburgh's offense with Kansas City's defense this year, we would have a team capable of beating the Patriots. Alas, I do not foresee a Smith-led offense solving the riddle of Bill Belichick.
NY Giants - The Giants probably have the best actual defense in the playoff field, but Steve Spagnuolo's unit isn't on par with the 1985 Bears or 2000 Ravens, so New York's limited offense is probably going to get exposed. Sure, Eli Manning has playoff history on his side, but I find it nearly impossible to believe he is simply going to turn it on this month after playing so poorly for the majority of the season. The running game is showing some signs of life, but it (and the offensive line) is not operating at a level anywhere close to where it did in 2007 and 2011.
Detroit - The fact I have five teams listed at one percent should provide some perspective on just how shallow I believe this field is. The Lions are in about as bad of shape in the secondary as Green Bay is and lacks the offensive firepower of the Packers. Assuming Detroit wins its first playoff game since 1991 in Seattle this weekend, the Lions will then travel to Dallas the following week to face a Cowboys' offense they didn't have a prayer of stopping in Week 16.
Seattle - It's getting harder and harder to believe the Seahawks are the last team to defeat the Patriots, because that Week 10 matchup was the last time they didn't look average at best against a decent team. The offensive line hasn't taken the same step forward that Tom Cable's units usually do and the defense has looked quite vulnerable without S Earl Thomas. Losing Tyler Lockett in Week 16 robbed the offense of its best deep threat.
Miami - Matt Moore is a capable backup. The Dolphins spanked the Steelers at home in Week 6. Jay Ajayi may be an emerging star. All that is good and well, but as long as Miami has to travel to Pittsburgh in January and face a quarterback who is as good at home as Ben Roethlisberger, the odds are going to be long for the visitor. The Dolphins' offensive line isn't in as good of shape now as it was in the first meeting and we've already established Big Ben probably isn't going to be as bad. Miami could be without top corner Byron Maxwell and hasn't done much against opposing runners lately, which should mean Le'Veon Bell has a field day.
Houston - Poor ESPN. If it isn't enough "The Worldwide Leader" gets stuck with the worst wild-card matchup every year (usually scheduled in the early Saturday window), it has the added bonus of trying to sell perhaps the league's worst starting quarterback this season going toe-to-toe with a third-string rookie signal-caller who saw his first action of the year in Week 17. The Texans could do a bit of damage in this postseason simply because they own the NFL's top defense and Lamar Miller should be as healthy as he's been all season after two weeks off, but Brock Osweiler is certainly capable of melting down in Brian Hoyer-like fashion too.
Oakland - Connor Cook should be a solid pro one day and definitely already has a solid supporting cast, not to mention one of the league's best offensive lines, in his corner this weekend. However, the defense hasn't played up to its talent for most of the season. That's a problem when you consider Derek Carr isn't going to be around to be bail the Raiders out anytime soon. Even if Oakland escapes Houston with a win - a distinct possibility - the reward would likely be a visit to Gillette Stadium. If Miami upsets Pittsburgh, the Raiders would travel to Arrowhead Stadium. No thanks.

With that summary out of the way, let's next focus on my week-to-week playoff projections and then the players I feel are realistic alternatives for this four-week sprint to the finish:
AFC - Wildcard: Texans over Raiders, Steelers over Dolphins
NFC - Wildcard: Lions over Seahawks, Packers over Giants
AFC - Divisional: Patriots over Texans, Steelers over Chiefs
NFC - Divisional: Cowboys over Lions, Falcons over Packers
AFC - Conference Championship: Patriots over Steelers
NFC - Conference Championship: Falcons over Cowboys
Super Bowl: Patriots vs. Falcons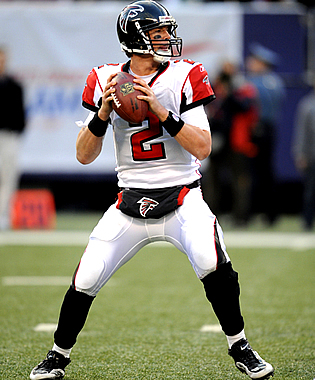 It pays to be contrarian in large field tournaments.

Quarterbacks

Tom Brady/Alex Smith/Ben Roethlisberger/Dak Prescott/Matt Ryan/Russell Wilson/Aaron Rodgers/Eli Manning

The call: Matt Ryan. It is a contrarian pick to be sure, and that is exactly why I am making it, although I certainly have other reasons. Most of the field - at least the crowd that understands the power of the multiplier in this contest - is going to be on Brady and with good reason. If the Falcons are going to the big game for the first time since Jamal Anderson was making the "Dirty Bird" popular, it will be because the Falcons are rolling on offense. New England doesn't need to win that way, as it possesses the league's top scoring defense and has shown it is more than happy to ride the ground game whenever it wants.

Smith doesn't have enough upside to play in this format even if I thought the Chiefs could win out. Roethlisberger runs way too hot-and-cold for my tastes, especially when it comes to his play at home versus the road. Prescott would be my third choice behind Ryan and Brady, but the Cowboys' best path to Houston is riding Ezekiel Elliott as much is possible. Wilson is very fortunate every time he gets up from his weekly scheduled beating behind his offense line; I obviously don't believe the Seahawks are even a good bet to win their first game, much less three in a row. Manning has topped 201 yards passing only once in his last six games, posting a 9:6 touchdown-to-interception ratio over that time. Pass. It's hard not to love Rodgers in any fantasy format, but the Packers simply lack enough of a running game or defense to roll the dice on his upside in this challenge.

Running Backs

LeGarrette Blount/James White/Dion Lewis/Spencer Ware/Le'Veon Bell/Lamar Miller/Latavius Murray/DeAndre Washington/Jalen Richard/Jay Ajayi/Ezekiel Elliott/Devonta Freeman/Tevin Coleman/Thomas Rawls/Alex Collins/C.J. Prosise/Ty Montgomery/Christine Michael/Aaron Ripkowski/Paul Perkins/Rashad Jennings/Zach Zenner

The call: LeGarrette Blount and Devonta Freeman. Based on the odds I presented earlier, there are really only about six realistic choices - Elliott, Freeman, Coleman, Blount, White and Lewis. The Patriots are probably going to be playing with the lead a lot this postseason, which means Blount should remain busy. As much as I hate hitching my wagon to any back who is a one-trick pony, scoring 18 touchdowns for a prohibitive playoff favorite isn't such a bad thing. White and Lewis are essentially splitting breather-back duties, so unless your crystal ball forecasts an early playoff injury to Blount in this non-PPR format, I can't get behind either one as a contrarian selection. It's pretty clear Freeman is still the lead dog in Atlanta, so although Coleman's big-play ability could sabotage him at any time this postseason, Freeman's workload has been consistent enough to make this investment pay off if the Falcons win the NFC. I expect Elliott to be easily the top-owned running back in this competition, and he'll be the smartest pick of the bunch if Dallas lives up to its seed.

A Bell-Elliott stack in this competition would be a great marriage in that most experienced owners in this competition aren't going to ride with Bell given the Steelers' low odds of making it to the Super Bowl, making the stack a contrarian play with huge upside. I think New England ultimately presents too much of an obstacle for Pittsburgh, but stranger things have happened. Ware has faded badly since coming out of the gates like a ball of fire, while Miller, Murray, Washington, Richard and Ajayi are attached to teams with very little chance to compete past next weekend. Ditto for Rawls, Collins, Prosise, Perkins, Jennings and Zenner. Montgomery would be an interesting pick if he saw a more consistent workload, but the degree to which Green Bay is using Michael and Ripkowski to spell the former receiver makes him a poor bet, especially in this non-PPR format.

Wide Receivers

Julian Edelman/Chris Hogan/Michael Floyd/Jeremy Maclin/Tyreek Hill/Antonio Brown/Eli Rogers/DeAndre Hopkins/Amari Cooper/Michael Crabtree/Jarvis Landry/DeVante Parker/Kenny Stills/Dez Bryant/Cole Beasley/Terrance Williams/Julio Jones/Taylor Gabriel/Mohamed Sanu/Doug Baldwin/Jordy Nelson/Davante Adams/Randall Cobb/Odell Beckham Jr./Sterling Shepard/Tate/Marvin Jones/Anquan Boldin

The call: Julian Edelman and Julio Jones. Once again, the list above appears much more daunting than it actually is. Of the bunch, I'd say Edelman, Brown, Bryant, Jones, Nelson and OBJ are the only ones worth seriously considering. Edelman has seen fewer than 11 targets only once since Week 11 and comes attached to the most likely team of the 12 to reach the Super Bowl. Brown is a contrarian pick in the same way Le'Veon Bell is and obviously has the same kind of massive upside that is sure to have a lower ownership percentage than most would expect. Bryant has the same kind of touchdown upside he typically does, but there's some question whether or not he is even his quarterback's favorite receiver. If the NFC side of things goes as I predict it will, Jones could have the kind of postseason we haven't seen from a receiver since Larry Fitzgerald in 2008 considering the weak secondaries he will likely face. If you believe Rodgers is good enough to overcome Green Bay's aforementioned shortcomings, then Nelson should be your choice along with Edelman. Nelson has essentially made Cobb an afterthought by spending nearly a third of his snaps in the slot and is easily Rodgers' favorite target. If recent form holds and a strong defense attached to a one-dimensional offense is good enough to make it to Super Sunday, then Beckham makes a ton of sense as a huge upside pick who will have a rather small ownership percentage.

Of the players I haven't already mentioned, the other wideouts I would give minor consideration would be Gabriel and Adams. Atlanta does a great job of setting Gabriel up for huge plays, which tends to work well in standard scoring and helps owners get past the fact he doesn't ever see more than six targets. If the Packers play two or more playoff games, Adams is very likely to have at least one blowup effort. If that performance comes in the NFC Championship or the Super Bowl, his 3x or 4x from that game alone could make him a better option in this challenge than Edelman or Jones.

Tight Ends

Martellus Bennett/Travis Kelce/Ladarius Green/Jason Witten/Jimmy Graham/Jared Cook

The call: Martellus Bennett. This decision really boils down to which player has the most upside between Bennett, Witten and whatever tight end Atlanta decides to feature in a given week. Witten only had one double-digit fantasy-point effort in standard scoring this year, which makes the decision pretty easy. Bennett hasn't exactly been Mr. Consistency himself, but he has found the end zone often enough (three times in his last four games) this season to feel comfortable with in this spot.

Green and Cook are high-upside wild-card picks, but both come with enough injury history and inconsistency to ignore in this challenge. Kelce would be an easy pick if he had a better quarterback and/or more favorable path to the Super Bowl this season. Graham has been conspicuously quiet far too often lately after starting out fast, but he's a poor option in this contest because Seattle could easily be one-and-done.

Kickers

Stephen Gostkowski/Cairo Santos/Chris Boswell/Dan Bailey/Matt Bryant/Mason Crosby/Robbie Gould

The call: Matt Bryant. Most people will go Gostkowski here and that is the certainly the safest play. I would recommend going with Bailey or Bryant to further differentiate your team from the millions of other entries. Moreover, the NFC side of the playoffs should feature slightly higher-scoring games in my opinion.

Defense/Special Teams

Patriots/Chiefs/Steelers/Cowboys/Falcons/Giants

The call: Patriots. This really shouldn't be a difficult call. As I said in the paragraph above, the NFC should be a bit more offense-heavy than the AFC, plus New England led the league in scoring defense. Add in the fact that you earn a five-point bonus for picking a winning D/ST unit each week, and you have the potential to collect 45 points over the course of this competition just by getting that right, so long as the Patriots end up winning it all. The Falcons would be my second choice for obvious reasons (read my odds above) but also because they make high-impact plays that are rewarded in fantasy. Ultimately, I believe they will be in a pair of high-scoring games if they are fortunate enough to advance to the Super Bowl, and I like D/ST units that can keep the score down. Last but not least, I acknowledge it will not be easy for Atlanta to knock off (presumably) Green Bay and Dallas in order to get an invite to Houston.

DraftKings/Fuzzy's

Since the pick-your-studs competition with Fuzzy's and the salary cap game of DraftKings essentially use the same PPR scoring (six points for passing touchdowns with Fuzzy's versus four fantasy points with DraftKings; three bonus points for 300 yards passing or 100 yards rushing/receiving versus no such bonus with Fuzzy's being the biggest differences), I'm going to essentially combine the two again this postseason. I think by projecting each remaining team one week at a time, I will be able to kill two birds with one stone in this regard.

Below you will find my position-by-position projections. The players I have highlighted in red are ones I feel should be roster staples. Please note I have included DraftKings' dollar value to each player I have projected, followed by their projected point total in that format (DraftKings and then Fuzzy's). Because I went into some detail above, I won't spend a great deal of time explaining each projection here - only some of the more notable ones. Each position is sorted by my DraftKings' projected point total.

Key for quarterbacks, running backs, receivers and tight ends:
P Yds - Passing Yards
P TD - Passing Touchdowns
INT - Interceptions
Ru Yds - Rushing Yards
Ru TD - Rushing Touchdowns
Rec Yds - Receiving Yards
Rec TD - Receiving Touchdowns
Rec - Receptions


Without question, the highest upside plays this week are Roethlisberger and Wilson. While Big Ben is a relatively safe play because he'll be in Heinz Field and should have his full complement of weapons, Wilson is facing a defense that is allowing quarterbacks to complete 72.6 percent of their passes for the season! Of course, the caveat is we have no idea what version of the Seattle offense we are going to get from week to week. Like Big Ben, Wilson has been decidedly better in familiar surroundings, especially late this season when it became apparent he was getting closer to full health. There's no question it's hard to go against Rodgers coming off consecutive 300-yard, four-touchdown games, but New York has yet to allow more than two TD throws in any game (and has already seen Rodgers this year). While cold weather isn't typically a huge determining factor in overall fantasy performance, common sense needs to be applied in such situations. Sure, single-digit temps may not affect the accuracy of quarterbacks with bigger hands, but receivers are going to be prone to more drops. In other words, owners cannot and should not pretend as if cold weather will have no bearing on how efficient both offenses will be in a given game.


Running Backs
Player
DK $
DK Pt Total
Fuzzy's Pt Total
Ru Yds
Ru TD
Re Yds
Re TD
Rec
Le'Veon Bell
$10,300
36.0
33.0
135
2
35
0
4
Lamar Miller
$6,100
24.0
21.0
115
1
15
0
2
Zach Zenner
$4,500
18.5
18.5
55
1
30
0
4
Jay Ajayi
$6,800
17.5
17.5
85
1
10
0
2
DeAndre Washington
$3,300
9.0
9.0
35
0
25
0
3
Ty Montgomery
$5,500
9.0
9.0
40
0
20
0
3
Latavius Murray
$5,000
8.5
8.5
50
0
15
0
2
Paul Perkins
$4,100
7.5
7.5
60
0
5
0
1
Rashad Jennings
$4,200
7.5
7.5
40
0
15
0
2
Jonathan Grimes
$3,000
7.0
7.0
15
0
25
0
3
Damien Williams
$3,600
6.5
6.5
5
0
30
0
3
Alex Collins
$4,500
6.0
6.0
45
0
5
0
1
Aaron Ripkowski
$4,100
5.5
5.5
25
0
10
0
2
Thomas Rawls
$5,700
5.0
5.0
30
0
10
0
1
Jamize Olawale
$3,000
3.5
3.5
0
0
15
0
2
Marcel Reece
$3,000
3.5
3.5
0
0
15
0
2
Kenyan Drake
$3,000
3.5
3.5
20
0
5
0
1
Jalen Richard
$3,400
3.0
3.0
10
0
10
0
1
Alfred Blue
$4,300
2.5
2.5
25
0
0
0
0
Christine Michael
$3,400
1.5
1.5
15
0
0
0
0
DeAngelo Williams
$5,600
0.5
0.5
5
0
0
0
0

At running back, it is definitely Bell and then everyone else this week. I stopped just short of projecting him for a third score, but I think his total yardage alone could be more than enough to make him the best play on the board. After that, I'll roll with some mix of Miller, Ajayi and Zenner in most of my DFS lineups. A two-week layoff - along with the league's top defense facing a rookie making his first career start in the playoffs - should allow Miller to assume as much of a workload as he can handle. He enjoyed one of his finest games of the season against Oakland in the teams' first meeting back in Week 11 in Mexico City. It'd be a mistake to expect Ajayi to dominate the Steelers in the same way he did back in Week 6, but he's going to be the focal point of the offense once again for as long as Miami can keep it close. Detroit has shown a disturbing tendency of going away from Zenner in the second half of each of the last two games, but he has done enough over the first 30 minutes in both games to be quite usable in fantasy. I very much feel like I projected his ceiling above, however, so it'd be a wise move to limit how many shares of him you own in DFS. I could easily see the Raiders feeding Murray all day after HC Jack Del Rio expressed surprise when he learned his "starting" running back only had five carries last week, but the combination of Houston's improved run defense and Oakland's willingness to spread the workload in the backfield makes him a risky target. If there is one wild-card player at this position who I think could make some noise this week, it would be Alex Collins. While Rawls has totaled 22 yards on 16 carries over the last two games, Collins has 83 yards on 15 attempts. Seattle desperately needs a running game if it hopes to stick around more than one week, as its defense is not quite the animal we have become accustomed to over the years.


Wide Receivers
Player
DK $
DK Pt Total
Fuzzy's Pt Total
Re Yds
Re TD
Rec
Odell Beckham Jr.
$9,100
30.0
27.0
120
1
9
Doug Baldwin
$7,000
21.5
21.5
85
1
7
Antonio Brown
$9,400
21.5
21.5
85
1
7
Jordy Nelson
$8,000
18.0
18.0
60
1
6
Davante Adams
$5,600
18.0
18.0
70
1
5
Amari Cooper
$5,200
16.5
16.5
65
1
4
Jarvis Landry
$5,100
16.5
16.5
85
0
8
Marvin Jones
$4,100
15.5
15.5
65
1
3
Kenny Stills
$3,800
15.0
15.0
60
1
3
DeAndre Hopkins
$6,700
14.5
14.5
85
0
6
Golden Tate
$6,300
14.5
14.5
75
0
7
Anquan Boldin
$4,000
14.5
14.5
45
1
4
Sterling Shepard
$4,800
14.0
14.0
40
1
4
Eli Rogers
$4,000
10.5
10.5
55
0
5
Tanner McEvoy
$3,000
10.0
10.0
20
1
2
Michael Crabtree
$5,300
9.5
9.5
45
0
5
DeVante Parker
$4,200
7.0
7.0
40
0
3
Paul Richardson
$3,400
6.0
6.0
40
0
2
Jermaine Kearse
$4,000
5.0
5.0
30
0
2
Will Fuller
$4,400
4.5
4.5
25
0
2
Seth Roberts
$3,000
4.5
4.5
25
0
2
Randall Cobb
$4,000
4.5
4.5
25
0
2
Victor Cruz
$3,800
4.0
4.0
20
0
2
Keith Mumphery
$3,000
3.5
3.5
15
0
2
Sammie Coates
$3,000
3.5
3.5
25
0
1
Tavarres King
$3,000
3.0
3.0
20
0
1
Andre Holmes
$3,000
2.5
2.5
15
0
1
T.J. Jones
$3,000
2.5
2.5
15
0
1
Cobi Hamilton
$3,000
2.5
2.5
15
0
1
Geronimo Allison
$3,300
2.5
2.5
15
0
1
Roger Lewis
$3,000
2.0
2.0
10
0
1

This is one week owners should not want Odell Beckham Jr. to move around the formation. The defensive left side of the formation for the Packers has been an absolute goldmine for fantasy production over the course of the season, and that is typically where I see OBJ line up. Owners need to remember Beckham gouged Green Bay for 16.6 PPR fantasy points in Week 5 despite the fact Eli Manning was awful in that game. Unless DC Dom Capers makes stopping OBJ his only priority, the third-year wideout could easily exceed 30 fantasy points. He will be on every DFS and pick-your-studs roster I create. Nelson should draw shadow coverage from Janoris Jenkins, who finished the year as Pro Football Focus' No. 8 coverage corner. Aaron Rodgers seems to trust Nelson in nearly every situation, and the veteran wideout has proven to be about as matchup-proof as a receiver can be. Brown hasn't topped 100 yards receiving since Week 10, so his fantasy ceiling obviously isn't anywhere close to what it was last year. He's a player certain to have a high ownership percentage who is unlikely to live up to his price tag on DraftKings, especially if Le'Veon Bell is rolling early and Pittsburgh can build an early cushion. Baldwin should dominate the targets in Seattle this weekend against the Lions' shorthanded secondary, but no other top option on the board has a bigger variance between his ceiling and floor. For a player with 75 catches, 997 yards and 12 touchdowns, I am having a hard time giving serious DFS love to Adams, who has seemingly alternated WR1 performances with bench-worthy efforts every week over the second half of the season. He should see a fair amount of CB Eli Apple, which gives him the matchup advantage over Nelson. Nevertheless, Rodgers has been unafraid to squeeze the ball into him in the tightest of spots several times over the course of the season. So much of how useful Adams will be this weekend will depend on whether he catches Rodgers' eye early on and avoids the drops that have occasionally plagued him.

Cheaper options that could easily provide great value this weekend include Stills, Richardson and Jones. Stills is on a four-game touchdown streak and has tallied at least seven targets in three of those contests. Matt Moore is a better deep-ball thrower than most realize, so it really shouldn't be a surprise Stills' fantasy numbers are on the rise with Moore under center. Richardson gets a mention here because he is the Seahawks best deep threat now with Tyler Lockett done for the season and Detroit has gotten hammered by vertical threats all season long. Jones is a bit of a longer shot because he typically lines up on the offensive right side, which is where Richard Sherman tends to set up shop. Having said that, Jones has been much more involved lately and Sherman could occasionally shadow Golden Tate. Deep threats like Jones have performed well against Seattle for the most part and should continue to do so without Earl Thomas playing centerfield.
Tight Ends
Player
DK $
DK Pt Total
Fuzzy's Pt Total
Re Yds
Re TD
Rec
Ladarius Green
$4,500
18.5
18.5
75
1
5
Jimmy Graham
$5,300
14.5
14.5
45
1
4
Eric Ebron
$3,900
10.5
10.5
55
0
5
Ryan Griffin
$2,900
10.0
10.0
20
1
2
Xavier Grimble
$2,500
8.0
8.0
10
1
1
Jared Cook
$3,600
8.0
8.0
50
0
3
C.J. Fiedorowicz
$4,200
6.5
6.5
35
0
3
Luke Willson
$2,500
6.0
6.0
30
0
3
Dion Sims
$2,500
6.0
6.0
30
0
3
Will Tye
$2,800
5.0
5.0
20
0
3
Jesse James
$3,000
4.0
4.0
20
0
2
Richard Rodgers
$2,500
4.0
4.0
20
0
2
MarQueis Gray
$2,500
3.5
3.5
15
0
2
Clive Walford
$2,500
2.0
2.0
10
0
1
Mychal Rivera
$2,500
2.0
2.0
10
0
1
Jerell Adams
$2,500
1.5
1.5
5
0
1

Graham will almost certainly have the highest ownership percentage in DFS and play-your-studs challenges this weekend. While I agree he should be the best play among the eight teams going, Luke Willson has been the better fantasy for Seattle in two of the last four weeks. Although Detroit has defended tight ends much better lately than earlier this season, Kyle Rudolph is the closest thing the Lions have seen to Graham recently. If Russell Wilson really wants to force the issue with Graham this week, he could pay off big-time. If not, Graham's floor has proven to be pretty low. Ebron has put together consecutive good games for the first time in nearly two months over the last two weeks, but the Seahawks have defended the position well most of the year. Ebron also hasn't scored since Week 1, so he's a tough sell. Assuming he is cleared from the league's concussion protocol in time, my favorite option this weekend will be Green. Miami has been getting pounded by "name" tight ends for nearly two months and Green will probably no worse than the second or third option in the Pittsburgh passing game. If Green doesn't go, I will probably load own more shares of Grimble than most in DFS. (No Green would also mean Eli Rogers should see more work as well.)

I wouldn't be terribly surprised if Cook had himself a day given the tough matchups Jordy Nelson and Davante Adams have, although it really feels like a gamble anytime you actually invest in Cook. Fiedorowicz is another serviceable option, but I don't see a ton of upside with him in a game where Houston will probably try to take the air out of the ball as much as possible. Sims, Grimble and Willson are all decent dart-throws for DFS owners willing to essentially punt the position.

Key for kickers and defense/special teams units:
XP - Extra point
FG - Field goal
PA - Points allowed
TO - Total turnovers
TD - Defensive/return touchdowns



Defense / Special Teams
Player
DK $
DK Pt Total
Fuzzy's Pt Total
PA
Sacks
TO
TD
Texans
$ 3,800
12.0
10.0
13
2
3
0
Steelers
$ 3,500
9.0
9.0
17
2
3
0
Raiders
$ 3,000
7.0
7.0
17
2
2
0
Packers
$ 3,200
6.0
6.0
20
3
1
0
Lions
$ 2,900
5.0
5.0
21
3
1
0
Seahawks
$ 3,700
5.0
5.0
24
3
1
0
Giants
$ 3,100
3.0
3.0
23
1
1
0
Dolphins
$ 2,700
0.0
1.0
38
2
1
0

I did my projections prior to entering DraftKings' dollar amounts, so I was a bit surprised the Texans were valued as highly as they were. While I understand they are playing a team starting a third-string quarterback, it isn't as if Houston lit it up in fantasy this year. I think the Texans are a great floor play this week, but I think I'm projecting their ceiling. Despite what my projections say, I'd seriously consider the Steelers first in a play-your-studs or DFS format. I value the Raiders about as much as I do the Texans, so if you want to target that game for your D/ST needs, I would go with Oakland, although I acknowledge that will be hard to do so after last week's poor effort.


---
Doug Orth has written for FF Today since 2006 and been featured in USA Today's Fantasy Football Preview magazine since 2010. He hosted USA Today's hour-long, pre-kickoff fantasy football internet chat every Sunday in 2012-13 and appears as a guest analyst on a number of national sports radio shows, including Sirius XM's "Fantasy Drive". Doug is also a member of the Fantasy Sports Writers Association.