It doesnít take a degree in advanced mathematics to choose a top NFL fantasy quarterback. It just takes an early-round draft choice. The starters in a typical 12-team league almost name themselves. Cam Newton, Aaron Rodgers, Andrew Luck Ö we all know their names by heart.

But what if you donít want to use an early round draft pick on an elite quarterback. What if you are willing to wait to draft your signal-caller to significantly strengthen your other lineup positions?

Would it be possible to find one quarterback or a two-quarterback tandem deep in your fantasy draft who will produce enough to keep your team competitive?

The answer is yes.

First letís take 12 of the top fantasy football starters off the board. That means we wonít be talking about Newton, Rodgers or Luck. Add delete Tom Brady, Drew Brees, Carson Palmer, Ben Roethlisberger, Eli Manning, Philip Rivers, Blake Bortles and Matthew Stafford too.

So how does one get to be ďfantasy-worthyĒ if they donít own the pure talent of the top dozen quarterbacks?

There are three areas fantasy owners need to research if they want to discover the wonders of a ďdiamond-in-the-roughĒ quarterback. Since we arenít talking about an elite talent, like Newton or Rodgers, these guys are going to need help.

They will need help from their coach.

The coach must believe in his quarterback. Really believe in him Ö not lip service. Show me a quarterback averaging less than 30 passing attempts per game and Iíll show you a coach who doesnít believe in his quarterback and/or his receivers.

They will need assistance from their offense.

Required by all fantasy-worthy quarterbacks are multiple top receivers. One receiver is not enough. Two receivers or one and an elite tight end is the minimum. And it helps if you have a running back that can block blitzing linebackers or catch balls out of the backfield.

But having a great running back isnít good either. You arenít going to produce big-time fantasy totals if you are just handing the ball off to your elite running back. Teddy Bridgewater, for example, will never be an elite fantasy option as long as Adrian Peterson is in his backfield. He can be a winning quarterback, just not a fantasy difference-maker.

They also will need help from their defense.

There are two ways a defense can help a quarterback. Stop the opposing offense quickly and turn the ball over to the quarterback in scoring position. Thatís the obvious way. Itís just as good if they are one of the worst defenses in the league and canít stop the local high school team. I won a league back in 1983 with little-known Bill Kenney as my quarterback. There is nothing like having your team down 14 points in the first quarter to get a coach to start calling all passing plays. The Chiefs were 6-10 that season, but Kenney led the league in passing attempts and completions while throwing for 4,348 yards (this was in an era before all the rules changes that helped the passing game and made 5,000 yards a common occurrence).

So which quarterbacks and their teams have the qualifications to make a difference for your fantasy team?

Iíve assembled five quarterbacks who have the necessary tools to help fantasy owners this season.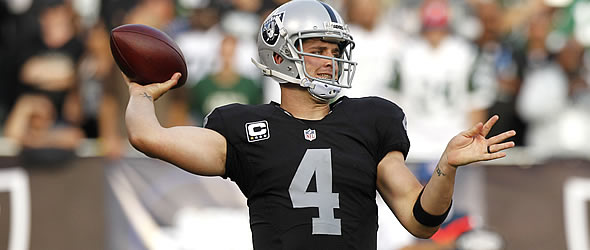 Derek Carr will be a popular pick by fantasy owners employing the "wait on a QB" draft strategy.


ADP courtesy of Fantasy Football Calculator

1) Derek Carr, Oakland (ADP 94.7, Pick 8.10)

The return to prominence of Raiders football will be on the arm of Derek Carr. He was aided last year by a surprise rebound season from Michael Crabtree (85-922-9) and talented rookie Amari Cooper (72-1,070-6). There are two more things Carr needs to jump up to the elite fantasy status. The first is a pass-catching tight end and they may already have one on their roster in second-year player Clive Walford. Walford has the pedigree. He was the University of Miamiís all-time leader among tight ends in catches, yards and touchdowns and they have had some pretty good tight ends at that school (Jimmy Graham, Jeremy Shockey, Greg Olsen and Kellen Winslow Jr.). Walford missed much of last seasonís training camp and the early season due to a hamstring injury, but should be an improved threat in 2016. The second is the continued high level play of the offensive line. It was just three seasons ago, in 2013, when Oaklandís line was a joke ranking 29th of 32 teams according to Pro Football Focus. In 2015 they improved to No. 6.

2) Kirk Cousins, Washington (ADP 112.8, Pick 10.05)

The Redskins win when Cousins plays well. Itís that simple. In their nine wins, Cousins averaged 288.4 ypg through the air with 22 touchdowns passes, five rushing TDs and just one INT). If I can see this, surely Washington management could too. So they should do everything you can to help Cousins on offense. The team did just that at the draft, selecting TCU wideout Josh Doctson (78-1,326-14) in the first round. His addition to the lineup alongside DeSean Jackson and TE Jordan Reed should make for an elite passing game.

3) Jameis Winston, Tampa Bay (ADP 133.4, Pick 12,01)

I admit I was not a Jameis Winston fan last preseason. He appeared to have coasted through his last season at Florida State and I wasnít sure he had the drive to be great. Winston quickly changed my mind with a consistently good rookie season (4,042 passing yards, 22 TD passes, six rushing TDs, 15 INTs). He did it despite No. 1 wideout Mike Evans have a case of the ďdropsĒ and No. 2 receiver Vincent Jackson missing six games. He also dealt with a below-average offensive line (ranked 23rd by PFF), but they should be better with the maturation of their two rookie starters and the return to health of RT Demar Dotson. The Buccaneers defense will still be a weakness which means Winston and the offense will frequently be playing catch up.

4) Brock Osweiler, Houston (ADP 157.2, Pick 14.01)

Yes, Brock Osweiler. The Texans already have an elite defense and in the offseason went ďall-inĒ on improving their offense. In 2015 under Bill OíBrienís offense, the team still threw 619 passes (ninth-best) and that was with Brian Hoyer, Ryan Mallett, T.J. Yates and Brandon Weeden taking turns at starting quarterback. Osweiler is better than all four of those passers. In the draft, Houston moved up to get Notre Dameís Will Fuller. Fuller has DeSean Jackson-type speed to stretch defenses (unfortunately he doesnít have Jackson-type hands) but it should allow DeAndre Hopkins, Cecil Shorts and rookie Braxton Miller room to roam underneath. Then they signed Lamar Miller who can not only run the ball, but he can catch passes too (47-397-2 in 2015). So the offense should be ready to fly with Osweiler ready to lead them.

5) Ryan Fitzpatrick, FA-New York Jets (ADP 161.9, Pick 14.06)

A willingness to throw, talented receivers and a cooperating defense. The New York Jets check off all three boxes. So itís no wonder that more than just the five boroughs of New York are interested in the Ryan Fitzpatrick contract negotiations. The definition of a journeyman quarterback, Fitzpatrick still threw 35.1 times a game last season and connected for 31 touchdowns (tied for 10th with Aaron Rodgers). He has two excellent outside receivers in Brandon Marshall (109-1502-14) and Eric Decker (80-1027-12) and the team added the best pass-catching running back in the game, Matt Forte, over the offseason. So Ryan, sign a deal and get into camp. And hey, if you need help feeding your family on only $12 million this year I can give you my tuna noodle casserole recipe or show you where the local Whole Foods sells the Ramen noodle soup.


---
Steve Schwarz served as the fantasy sports editor of The Sports Network and is the 2014 FSWA Football Writer of the Year.