Training camps have opened their doors and I'm excited to continue the predictions for the upcoming season. Not every note is earthshattering, but they will all certainly give you a better insight for draft day. We looked at the AFC last week so it's the NFC's turn.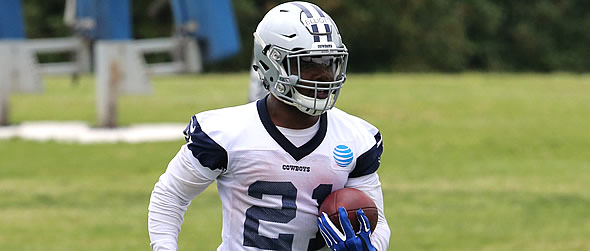 Ezekiel Elliott: The hype train is moving full steam ahead. Are we overvaluing the Cowboys rookie RB?




NFC East -





Dallas –

The Cowboys "hype train" is in overdrive on rookie running back Ezekiel Elliott - the fourth back off the board (ADP 8.2). However, be very wary of Ohio State running backs. They run through gaping holes made by soon-to-be NFL offensive lineman and too many end up falling short of lofty expectations. Since 1999 the Buckeyes have sent four running backs to the NFL in the top-three rounds – Carlos Hyde (2014), Chris "Beanie" Wells (2009), Maurice Clarett (2005) and Joe Montgomery (1999). Are any of them a top-four NFL back? I saw on an OSU fan site a top-six all-time Buckeye running backs list – Archie Griffin, Eddie George, Keith Byars, Ezekiel Elliott, Tim Spencer and Chris Wells. Excluding Elliott, only one of the five was a fantasy stud (George). I don't like the odds.



New York –

The best "Manning" in the NFL plays quarterback for the Giants. OK, he was actually the best Manning in 2015 too, but no one seemed to notice. You better start paying attention. Eli has thrown 65 touchdown passes over the past two seasons and averaged 4,423 yards. You know how many NFL QBs can match both those totals? Two! (Tom Brady and Drew Brees). Oh, and the team spent a high second-round pick (No. 40) on wide receiver Sterling Shepard to compliment Odell Beckham Jr. I understand Cam Newton and Russell Wilson add value with their feet, but Manning as the 10th QB off the board (90.3 ADP) is a steal.



Philadelphia –

There are no Eagles worthy of a starting spot in a fantasy lineup. Think of the recent Kansas City offense under Doug Pederson's direction, but without Jamaal Charles and Jeremy Maclin … that's the Eagles in 2016. Under OC Pederson in KC, the team finished 2015; 31st in plays, 27th in yards gained, 26th in TDs and 16th in yards-per-play. Ryan Mathews and Jordan Matthews can be your injury/bye week third options, but don't expect more.



Washington –

Here are three reasons why Kirk Cousins will be a start-worthy quarterback in 2016. First, the team has no reliable running game. Second, Washington's top talents all catch the ball; DeSean Jackson, Pierre Garcon, top draft choice Josh Doctson and tight end Jordan Reed. Finally, none of the other NFC East defenses (Dallas, New York or Philadelphia) can stop a legitimate passing game. Cousins averaged 288.4 ypg with a 22-1 TD-INT ratio in their nine 2015 wins and 224.3 ypg in their seven losses. Bottom line, when the Redskins pass, they win. If I can see it, don't you think Jay Gruden and Sean McVay can too?



NFC North -





Chicago –

The big question in the city of Chicago (after whether the Cubs can finally win it all) is whether Jeremy Langford is ready and able to replace Matt Forte? I do not believe he's ready and you should be careful about expecting him to post Forte-like totals (averaged 1,589 combined yards, 8 TDs). Langford averaged just 3.6 ypc last season. He's also got suspect hands (22-of-42 targets).



Detroit –

Matthew Stafford has a big hole in his offensive arsenal with the retirement of Calvin Johnson. Big No. 81 was the primary reason Stafford averaged 4,634 passing yards over the past five seasons. Without his top receiver you would probably like to know what you can expect from the Lions quarterback. Answer: He won't be an every week starter. Mike Krueger projects him with 4,059 yards and just 25 touchdown passes which makes him a backup fantasy option. Without Johnson, he's left with two WR2 receivers. His 131 ADP (18th QB off the board) is an accurate representation.



Green Bay –

Wide receiver Jordy Nelson may have recovered from his torn right ACL injury of a season ago, but remember he's 31-years old and sometimes "older guys" take longer to return to form. Right now he's dealing with left knee tendinitis, so he may not get many reps before the season begins. Until I see him at full strength, I'm predicting he doesn't reach his 2014 heights or even 2013 level so beware of pulling the trigger too soon. His current 14.4 ADP (WR7) may be too high.



Minnesota –

After a hot start (324 yards, 1 TD) in the first three games of 2015, rookie wideout Stefon Diggs was one of the most coveted free agents, but his fantasy value went downhill from there. The addition of talented rookie Laquon Treadwell will further damage his outlook. Dividing just 450-475 passing attempts and expecting either guy to be a WR2 or-better is unlikely. There is still only one Vikings player who is fantasy-worthy and Adrian Peterson has been that guy since he came into the league in 2007.

NFC South -



Atlanta –

Although Devonta Freeman is not overpriced at his current ADP of 17 (RB8), he comes with an inordinate amount of risk. If he plays as he did in the first half of 2015 he's worth every penny, but he showed the wear and tear of a 338-touch season over the second half. The team also has talented Tevin Coleman, who began last season as the starter, in the backup role, and he could see a larger piece of the workload in 2016 in an effort to keep Freeman fresher for the stretch run. That notion was supported by Dan Quinn, who just recently said "What's best for the team is using Devonta Freeman, Tevin Coleman in unison." That might be good for the Falcons, but not for Freeman's fantasy owners.



Carolina –

Can Cam Newton repeat his 2015 totals when he outscored the next-best fantasy quarterback by 50 fantasy points (3,837 yards passing, 636 yards rushing, 35 passing TDs, 10 rushing TDs)? Or improve on them? After all, he has a big weapon returning from injury – Kelvin Benjamin (73-1008-9 in 2014). I think Newton still leads all QBs in 2016, but his totals sink a bit. In 2015 everything went right for Newton and the Panthers. That doesn't happen very often.



New Orleans –

Those of you who look past Drew Brees (sixth-ranked QB with a 60.0 ADP) do so at your own risk. I believe he's going to have a monster "walk-year" season. Last year was one of adjustment, being without Jimmy Graham and Marques Colston as a non-factor. And with their below average defense (I'm being very kind) Brees will need to have a big season. Brandin Cooks became the receiver we expected, Willie Snead blew up and Mark Ingram averaged five targets per game. Add an elite receiving tight end in free agency like Coby Fleener and Brees should throw for 5,000 yards for a record fifth time this season.



Tampa Bay –

I'm all in on a rebound season from wideout Mike Evans. Sure, he dropped too many passes, but he still finished with 74 catches for 1,206 yards and three scores … with a rookie quarterback. Jameis Winston will be better in Year 2 and Evans should be a fantasy stud in 2016. The Bucs defense still won't stop many teams so their offense is going to be racking up points while playing from behind. I believe Evans' floor is a top-10 wideout and the ceiling is around No. 5.



NFC West -





Arizona –

Carson Palmer isn't being shown the respect he deserves after posting 4,671 yards and 35 touchdowns last season. Some may think he's injury prone, but he has played 15 or more games in five of the last seven seasons including 2015. He's throwing to one of the best receiving corps (Larry Fitzgerald, Michael Floyd and John Brown) and a running back with great hands (David Johnson).



Los Angeles –

Jared Goff is likely a huge improvement over Nick Foles or Case Keenum, but the rookie quarterback isn't going to be fantasy worthy this season. He's got a big learning curve and a below-average receiving corps (Tavon Austin, Kenny Britt and Brian Quick). The Rams strategy for victories will be defense, Todd Gurley and young Mr. Goff "just don't turn the ball over."



San Francisco –

If Chip Kelly gets THIS offense working, he really is a genius. Blaine Gabbert, Carlos Hyde, Torrey Smith, Quinton Patton and Vance McDonald shouldn't scare any defenses. If healthy, Hyde should be the only fantasy-worthy option in the group and even at that he's an RB2 … at best. To be an RB2 he'll need to learn how to catch the ball, something he's never done and stay healthy, also something he's never accomplished.



Seattle –

The Seahawks won a Super Bowl with defense and a running game, and if Thomas Rawls can get, and stay, healthy they could continue that way. However, in 2016 it appears Seattle has more than enough receiving talent to become a pass-first team under Russell Wilson's leadership. They will need to be too, if fantasy owners want to get value out of Doug Baldwin (46.3 ADP, WR23), Tyler Lockett (77.3 ADP, WR34) and Jermaine Kearse. With all the mouths to feed, including tight end Jimmy Graham, none of the wideouts is a WR1.


---
Steve Schwarz served as the fantasy sports editor of The Sports Network and is the 2014 FSWA Football Writer of the Year.