We are still feeling the heat of the summer and training camp is just around the corner, but there is never a bad time to make predictions for the upcoming season. Not every note is earthshattering, but they will all certainly give you a better insight for draft day. Today I'll take a look at the AFC and follow up with the NFC next week.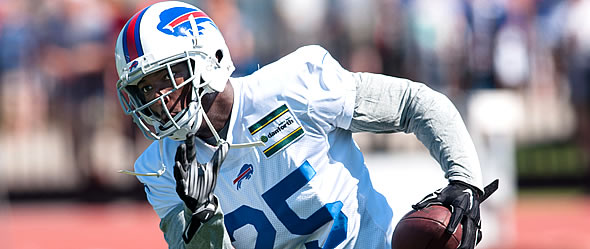 RB1 Potential: The mess in the Bills backfield could allow Mccoy to start the season as a workhorse.




AFC East -





Buffalo:

LeSean McCoy could end up posting elite numbers. With the unsettled quarterback situation (Tyrod Taylor hasnít gotten the extension he was seeking), McCoy (203-895-3), who was sharing the workload with Karlos Williams (93-517-7), should get off to a flying start now that Williams has been suspended four games for violating the league's substance abuse policy. In Philadelphia, when McCoy started rolling, his confidence went through the roof and he produced elite fantasy totals (see: 2011, 2013 and 2014). An added bonus of McCoy running well coupled with a great draft on the defensive side of the ball, the Bills D/ST could become elite too (they ranked 26th last season).



Miami:

The signing of free agent Arian Foster will kill Jay Ajayiís fantasy value. Ajayi is no longer the only option and as long as Foster stays healthy this is a shared backfield situation. The Dolphins are still a pass-first team (63.1 percent of the plays in 2015) and there isnít enough work for either runner to post RB1 numbers unless the other is completely out of the picture.



New England:

Do not to draft any Patriots running back - period. Itís simply impossible to get into Bill Belichickís head from week-to-week. Five different backs led the team in fantasy points at the position last season Ö six if you count Tom Brady leading them in Week 7 with four rushes for 15 yards and a touchdown. Thatís the usual story in New England. Even if you handcuff Dion Lewis and LeGarrette Blount, you canít out-smart Belichick, so donít try. Itís not worth the mental anguish.



New York Jets:

If the Jets donít sign Ryan Fitzpatrick, the value of Matt Forte rises. If either Geno Smith or rookie Christian Hackenberg is under center, the Jets will have to feature Forte both as a runner and with his considerable receiving skills. Smithís yards per completion has dropped from 12.3 in 2013 to 11.5 in 2014 to just 9.8 last season and his best college days at West Virginia were spent dumping the ball off to Tavon Austin.



AFC North -





Baltimore:

Although the Ravens will once again be one of the most prolific passing teams in the league they wonít have a WR1. The Ravens led the league last season in passing attempts (676 ), and as their best player is still quarterback Joe Flacco they will put the ball in his hands as often as possible. Still, Steve Smith (37) is too old and coming off an Achilles injury, Mike Wallace hasnít been the same since making the mistake of leaving Ben Roethlisberger, Breshad Perriman canít stay, make that get, on the field and Kamar Aiken produced solid numbers last season because he was the only option. The four receivers will also have to share the ball with newly-acquired TE Ben Watson and returning Crockett Gillmore.



Cincinnati:

Brandon LaFell is no Marvin Jones (lost to the Detroit Lions in free agency). The new No. 2 wideout in Cincinnati behind A.J. Green has little-to-no fantasy value. Green gets the majority of the targets and tight end Tyler Eifert get red zone looks. That makes LaFell the likely deep decoy. Heís only caught more than 50 balls once in six NFL seasons and that was with Tom Brady under center. Andy Dalton is no Brady.



Cleveland:

Be very careful about jumping on the Corey Coleman bandwagon too soon. First, the team has to find a viable quarterback, RGIII notwithstanding. Second, there is a chance Josh Gordon gets reinstated when eligible August 1st and heíd instantly become the teamís No. 1 wideout. Third, I think the team features running backs Isaiah Crowell and Duke Johnson in 2016.



Pittsburgh:

LeíVeon Bell (ADP 1.03, 3rd overall) is being drafted much too high. I love Bell, but the Steelers are not going to allow him the luxury of ďrun-out-the-clockĒ carries. Heís just too valuable to the team and Pittsburgh has a very good backup who can get the job done in DeAngelo Williams. Bell has averaged 24.1 opportunities per game (rushing attempts + targets) in his first three seasons, but I expect that to be reduced to around 21 in 2016 and those three lost opportunities could be significant. Heís going to have end-of-the-first round or high second-round value in 2016.

AFC South -



Houston:

I preached it earlier this season, but I believe Lamar Miller will be a top-five fantasy running back in 2016. Miller is a younger version of Arian Foster with the ability to run and catch the football and the Texans know how to use those skills. They threw the ball 619 times last season, but with Miller their rushing attempts should climb and he should see a lot more than the 15.7 opportunities he saw in Miami. When Foster was healthy in 2014 he saw 24.5 opportunities per game in a Bill OíBrien offense.



Indianapolis:

Donte Moncrief will take a huge step forward. Andrew Luck was injured and not very good for most of 2015, but thatís not likely to happen again this season. Receiving tight end Coby Fleener is now catching passes from Drew Brees in the Crescent City, which means more targets are available for Colts receivers. Moncrief saw 105 targets last season, just 29 less than T.Y. Hilton and it could be more of an even split in 2016 as defensive backfields will still have to worry about Hiltonís deep threat ability first and foremost.



Jacksonville:

The addition of Chris Ivory to the Jaguars offense not only makes T.J. Yeldon and afterthought, but will have an effect on Bortles and the passing game too. Bortles threw a dozen touchdown passes from the 5-yard line or closer and Ivory was brought in to score from that range. If you reduce Bortles by half of those scores thatís a significant hit to his season-long projection. Allen Robinson is affected too. He caught five touchdowns from that range so regression is likely coming for the talented wide receiver.



Tennessee:

DeMarco Murray wonít ever repeat his 2014 numbers in Dallas (393-1845-13; 57-416-0), so donít draft him before the fifth round. Letís face it, the Eagles offensive line was decent (No. 12 according to PFF in 2015), but it wasnít the Dallas offensive line and Tennessee isnít anywhere close to either one of them based on PFF rankings (29th). Add in rookie Derrick Henry and there are too many factors weighing against Murray finding room to run.



AFC West -





Denver:

With Peyton Manning under center, Demaryius Thomas was an elite wide receiver, but with Mark Sanchez or rookie Paxton Lynch the choices in 2016, Thomas is barely a top-20 option. The Broncos won the Super Bowl with defense and limiting turnovers and thatís likely the plan for this season. Sanchez is a turnover machine and so are most rookies so it figures the team will turn to the run. That means Thomas and Emmanuel Sanders will have to share a decreasing number of targets. Thomas will be lucky to reach the 1,000-yard mark in 2016.



Kansas City:

No, I donít want you to pick Alex Smith Ö ever. But I also donít want you to select Jamaal Charles in the second round where heís being slotted (ADP 2.03, 14.7 overall). Charles is a very good back when healthy, but he struggles with staying that way. I wonít give you the phony statistic that he hasnít played in 16 games since 2012, but I will tell you he gets nicked up a lot and the Chiefs will try their best to protect him this season, by using Spencer Ware at the goal line and spelling him with Charcandrick West. So while I still expect him to run for 5.0 ypc again, his usage will take a significant hit. For his career heís averaged a lightly-used 17.25 opportunities-per-game and even that modest number may be unreachable in 2016. Heís much too risky for a second-round selection.



Oakland:

When I take a late-round flier on a tight end, itís going to be Clive Walford. And based on ADP (197.0 overall) it appears I can get him right before I take your kicker in Round 20. OK, heís not too smart getting into an ATV accident that kept him out of spring OTAs, but he is obviously talented after breaking receiving records at the University of Miami where they have had a few pretty good tight ends. Heís also got an up-and-coming quarterback in Derek Carr. I can easily see him doubling last seasonís totals and posting a 60-700-7 line.



San Diego:

Travis Benjamin will be the Chargers ďnewĒ Malcom Floyd. Thatís a great thing for Philip Rivers and his offense, but not as good for fantasy owners. Because the big play ability of Floyd, and now Benjamin, isnít consistent. In Floydís last three seasons in San Diego (not including 2013 when he played just two games), he cracked 90-yards exactly twice a season and failed to accumulate more than 50 yards 24 times. Last season, Benjamin reached the 90-yard mark four times and failed to reach 50 yards eight times. And in San Diego heíll be much lower on the totem pole behind Keenan Allen, Antonio Gates and Danny Woodhead.

---
Steve Schwarz served as the fantasy sports editor of The Sports Network and is the 2014 FSWA Football Writer of the Year.