Finding players extremely late in your draft or picking up players off waivers that become useful starters are one of the most exciting and rewarding parts of playing fantasy football.

That being said, does a true "sleeper" still exist?

To a casual owner, a player like Tony Pollard may be considered a sleeper, while a battle-tested experienced owner may look much deeper to find what they would consider a sleeper.

While I personally think the popularity of fantasy football has all but destroyed true sleepers, there are still extreme bargains to be had in the late rounds. Players that may not be getting much hype need only one or two things to break the right way before they are weekly contributors to your starting lineup.

Here I choose 5 players that I'll call sleepers, who have an ADP in the 12th round or later in PPR leagues. These are players to monitor over the coming weeks and if your roster size allows it, draft or pick them up in the hopes they become fantasy relevant sooner or later this season.

1. QB Jameis Winston (New Orleans, ADP: 175)

Currently being drafted as the 21st QB off the board, Winston is coming off an ACL tear and gets a fair share of negative attention due to his sometimes goofy off-field antics as well as his questionable decision making when under center.

While Winston may leave a lot to be desired as an NFL QB, he has a lot of what it takes to be a very good fantasy commodity. First, while his brain has gotten him in trouble, making unforgivable throws, his arm has earned him another shot at being an NFL starter. Winston is a classic gunslinger who relies on his arm (and to a lesser extent his legs) to get him out of trouble and make big plays.

While his success has been up and down one thing is for sure, he can score fantasy points in bunches. In 2019, his last full season as a starter, Winston managed eight games of 18 or more fantasy points and five of those he had over 25. He will mix in the occasional dud, but Winston normally tears apart easier matchups and looks to have seven or eight of those this coming season.

The Saints offense has transformed a bit, adding Jarvis Landry, drafting Chris Olave and (hopefully) getting former stud Michael Thomas back from injury. Add these weapons to Alvin Kamara out of the backfield and New Orleans has one of the deeper offensive units in the NFC. They seem committed to Winston at least for this season, he should have full reign to sling it all year long with a schedule that looks like it could produce several shootout matchups.

When I wait on QB in drafts, which is often the case, Winston is one of my favorite late-round targets as my 2nd QB who may actually end up a lower end QB1 by year's end.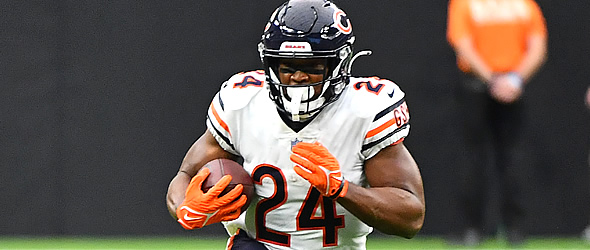 2. RB Khalil Herbert (Chicago, ADP: 159)
When looking for sleepers at running back I like players that are one step away from being potential bell-cows and thus, weekly and league winners. Herbert, currently being drafted as RB55, is one of my favorite late round picks as a player at a shallow position who is one step away from having top 15 potential.
Last season, his rookie year, Herbert averaged over 13 fantasy points per game when he played at least 50% of the offensive snaps. While this only happened in four games, it was encouraging for a rookie back that was thrust into a bigger role early in his career.
As the clear-cut backup to David Montgomery, Herbert enters his second season with more experience and confidence and the Bears clearly believe in his talent after failing to add anything of significance to their backfield.
Even more, as of this writing, the Bears have yet to extend Montgomery, who is entering his final season under contract with the team. While Chicago may choose to resign Montgomery at some point, they may also simply wait to see how the season plays out. Either way it is likely they give Herbert more chance to show his skills after a successful rookie season.
With very few proven weapons on offense, Herbert may garnish enough touches working in tandem with Montgomery but the real payoff will come if Montgomery misses any time. Herbert averaged over 20 touches per game last year in the four games Montgomery missed, making him among the top 12 most used backs in the NFL those weeks.
In my mind Herbert is one of the top 5 running back handcuffs, yet is being drafted as nothing more than a lottery ticket. I'm drafting Herbert any time after the 10th round whether or not I own Montgomery.

3. TE Gerald Everett (Los Angeles Chargers, ADP: 180)
Tight ends this year, like many in recent memory to me, has two main strategies. The first is to take one of the top tier like Mark Andrews, George Kittle, Kyle Pitts, or Travis Kelce. The second option is to wait, and wait, and maybe even wait some more. Maybe you draft two of them but you wait till after the first 12 or so go off the board, then grab from the upside bargain bin. Everett is near the top of this bin for me this year, as he is currently going around TE18.
The main reason I like Everett is his new team, the Chargers, have a young and improving franchise QB in Justin Herbert, and even though they used a mostly washed up 34-year-old Jared Cook last season, he still had the 11th most air yards at the position. While Cook did not put up great fantasy stats, he is also less dynamic then the talented 28-year-old Everett who tested as a top tier athlete among his peers.
Adding to Everett's potential, the Chargers had the 3rd most pass attempts in the league last year and with the AFC West full of offensive juggernauts, this is a stat that may very well continue or even rise.
The Chargers boast a trio of solid weapons outside of Everett (Keean Allen, Mike Williams, Austin Ekeler), but none of these players are sure things, with age, consistency, and injury risks all very real.
I believe a top 12 season is well within reach for Everett, yet he is going much later than that. Imagine loading up on RB and WR and QB and still getting a legit starting tight end after round 13. If this sounds like a dream come true, Everett is your man.
4. WR Nico Collins (Houston, ADP: 214)
Like many rookies coming into the league, Collins struggled for much of his first year. He finished stronger in his last five games, but drafters have yet to fall in love with the 2nd year wideout so far this offseason. We have been spoiled by rookies like Justin Jefferson and Ja'Marr Chase that we often write off anyone, like Collins, who does not break out in their first season.
On paper Collins is a matchup nightmare at 6'4'', 215 with a 95th percentile catch radius and a 37-inch vertical jump. With a full season/offseason under his belt Collins is fully expected to be the Texans No.2 wideout behind Brandin Cooks, who will be 29 soon after the season begins.
With quarterback Davis Mills having a surprisingly solid rookie campaign and a full offseason as the undisputed starter, this young duo could emerge together as an effective 1-2 punch. The Texans drafted WR (John Metchie) but he is lost being lost for the 2022 season, and a significant veteran addition was not added so I fully expect a huge jump in targets for Collins and I honestly expect him to double or better his receptions, yards and touchdowns this season.
A shaky defense could lead to a ton of throws this year from a more seasoned Mills, and Collins should be one of his top two targets. His current ADP in the 17th round suggests Collins is an afterthought in most drafts, yet everything about his situation and talent screams a top 36 WR to me. With some positive camp news, I expect Collins ADP to rise over the next few weeks but to me is a steal any time after the 10th round.
5. WR Parris Campbell (Indianapolis, ADP: 217)
When looking for late round sleepers one thing I like to zero in on is teams that should have an efficient offense but that are lacking multiple stars or target hogs. The Colts are one of these teams and likely received a quarterback upgrade in the form of Matt Ryan.
Michael Pittman Jr. is where the proven commodities start and end. Behind Pittman there is a whole lot of question marks but I am pushing my chips in on Parris Campbell - a former track star that became a 2nd round NFL pick. He has played just 15 games his first three seasons but for the first time in quite a while, looks to be fully healthy heading into the season.
What's more, Campbell looks to be playing with the best QB of his career and has been showing great chemistry with Ryan. He has the best raw talent of receivers (after Pittman), and he fits the profile of a target magnet much more than rookie Alec Pierce, who is a deep threat and contested catch specialist, and 4th year return specialist Ashton Dulin, who is more of a boom/bust type player. Likely playing mostly in the slot, Campbell should get a ton of shorter, more efficient targets and has the speed and explosiveness to turn some of these into long plays. With defenses focused on the run game and opposing top corners focused on Pittman, Campbell should draw favorable matchups and has the QB to exploit those matchups.
Sure, Campbell has injury red flags, but there is basically zero risk, as he is currently being taken after the 17th round in drafts. Even if he ends up missing a handful of games, the return on investment is likely to pay off leaps and bounds in the 7 or 8 games that you might play him, especially in full PPR leagues.