A very important determinant of success in fantasy football is the value one gets on draft day. While reaching for ďyour guyĒ is sometimes necessary and can be fun, consistent success is largely going to be based on finding the best value in your drafts and the associated opportunity cost of drafting players higher or lower than their optimal draft position.
Below I have highlighted 10 players that I believe are currently going too high in PPR drafts, and therefore I recommend avoiding them unless their average draft position (ADP) falls considerably.
WR Davante Adams, GB - ADP: 11.7, WR4
Adams has been one of the very best wide receivers in the league for several years now and is a household name, especially in the fantasy community. When he signed with the Raiders, the narrative became that he would not miss a beat because he played college ball with Derek Carr. I get the excitement, but this ADP is too high for me.
First, there is a history of many receivers switching teams and failing to meet expectations in their first season with the new team.
Second, Adams will be 30 years old in December and while I do not expect a fast and steep physical decline, itís hard to argue with the history of players declining around age 30.
Finally, Adams will have more target competition than he has ever had since becoming an elite fantasy WR. In Green Bay, he was surrounded by role players and undeveloped young players who were not ready to demand targets, especially from a veteran QB like Aaron Rodgers. In Las Vegas, Adams will have to compete with Darren Waller who has averaged around 8 targets a game the past three seasons. Also in the mix is Hunter Renfrow, who hauled in 103 balls last year and plays mostly in the slot, a position which new Head Coach Josh McDaniels, historically targets heavily.
While I realize Adams has the talent to overcome some of these hurdles, the bottom line is there are too many red flags to justify taking him in the first 2 rounds, as a top 5 fantasy WR. Adams should be closer to an early 3rd round pick, behind the likes of Stefon Diggs and CeeDee Lamb.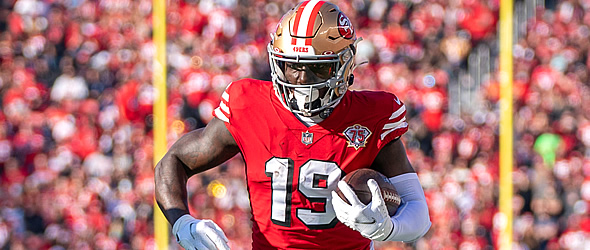 WR Deebo Samuel, SF - ADP: 19.3, WR7
In many ways Samuelís 2021 was a historic season, as he not only excelled as a receiver (77/1405/6) but also had an impressive 59 rushes for 365 yards and 8 touchdowns. This offseason Samuel got paid a large contract and is back with the niners to try to duplicate that 2021 success.
Beware folks, regression is coming.
It is very likely 2021 will go down as Samuelís career year, as 14 total touchdowns and nearly 1800 total yards is an all-time season for any WR in fantasy. While a bit of this regression is baked into his ADP, I still donít believe he is going low enough. While fantasy owners drool over his potential dual usage, the Niners drafted a third round running back (Tyrion Davis-Price) and return last yearís breakout Elijah Mitchell, who may take on an even larger role.
Samuel does have some incentives in his contract that trigger with certain rushing goals, but the money behind these incentives is fairly low, perhaps signaling the Niners do not plan to give him nearly as many rushes as 2021. He averaged around 1 rush per game in his previous two seasons, but in 2021 that average tripled, which signals a statistical anomaly.
Finally, the elephant in the room is the QB change to Trey Lance. While I am as excited as anyone on Lanceís fantasy potential, reviews have been mixed out of camp and his raw talent will hinder all Niners pass-catchers, at least for a big chunk of the season while the quarterback adjusts to being a full-time starter. With Lance looking to pull down and run rather than dump off to his playmakers, I believe the Niners pass attempts in general will go down as well as the overall completion rate to their receivers.
Samuel is not a top 10 WR this season and I am totally hands off in the first 3 rounds in drafts this summer.
QB Josh Allen, BUF - ADP: 22.7, QB1
Allen making this list has nothing to do with my belief in his talent or production and everything to do with the opportunity cost of drafting him in the first 36 picks.
A general drafting rule for me is to never be the one that takes the first QB. The QB position is fairly deep and in a traditional 1 QB league, it is easily the position that you can wait on the longest and still get a quality starter. When you draft Allen in the first three rounds you are missing out on potential studs at shallow positions that are more difficult to fill. At the end of the 2nd round, where Allen is currently going, players with potential RB1 upside are still there (Fournette, Zeke), as well as likely TE1 options (Andrews, Pitts), and WR1 candidates (Evans, Allen, Brown).
If Iím inclined to draft a quarterback early, a general rule for me is to find the tier of players at other positions that are more speculative and to rank my true stud QBís right above them. This would be right around pick 40 this season, where players like Travis Etienne, Breece Hall, and DK Metcalf are all going. These players offer big upside but also have some clear red flags that make drafting a stud QB in front of them much more palatable. As with any position and player, a good strategy going into your draft will make it easier to make these decisions when you are on the clock.

RB Antonio Gibson, WAS - ADP: 45, RB23
As a prospect coming into the NFL I loved Gibson; fast, strong, good hands, and although a bit raw, an exceptional athlete at a position that often rewards dynamic players. Unfortunately for Gibson and his owners, his first two seasons were filled with as many let-downs as highlight reel plays. While Gibson has showed flashes from time to time, he also has had fumbling issues and multiple nagging injuries that have stopped him from reaching his full potential.
Whatís worse is the coaching staff just does not seem to envision him as anything close to a bell cow back, giving J.D. McKissic most of the 3rd down work over the past two seasons, where he has racked up over 120 receptions. With McKissic back for another year and 3rd round rookie Brian Robinson Jr. having an excellent training camp, things are looking bleak for Gibson this year as anything more than a late-round lotto ticket.
Gibson is too risky to rank inside the top 24 among running backs, as he could be a part of an ugly three-headed committee approach, and one which he may not even be the most valuable part of. As much as I love Gibsonís raw talent, the situation and his short two-year history in Washington suggests he is currently being over-drafted by at least a full round or more.
RB Josh Jacobs, LV - ADP: 44, RB22
Speaking of running backs that have fallen out of favor, Josh Jacobs went from a draft day darling, to a doghouse darling the past two seasons with the Raiders. Jacobs burst on the scene as a rookie and rushed for 1150 yards in just 13 games, making fantasy owners drool as the prospects looked bright for him to be an elite RB for several years.
Unfortunately, this has not panned out and his last two seasons have been a bit of a letdown, where both his total rushing yards and yards per attempt have dropped since his breakout rookie season.
Last season the Raiders signed Kenyan Drake to a fairly lucrative contract, and although he missed a good chunk of the season with injury, he is back again and still in the prime of his career. This past offseason the Raiders declined to pick up Jacobsí 5th-year option and went and drafted Zamir White in the 4th round. Adding to the already messy backfield was a report just this past week hinting that Ameer Abdullah, a former 2nd round pick of the Lions, has seemingly carved out a significant role as a pass-catcher out of the backfield. While most people expect Jacobs to be the starter, it looks as though three other backs may get significant play throughout the season, putting a cap on Jacobsí upside.
Much like Gibson, I simply believe the situation is too messy in Las Vegas and this has not been priced into Jacobs ADP at this point. If you want to gamble on a committee back, you might as well do it with Clyde Edwards-Helaire, being taken almost two rounds later, or even Chase Edmonds, being taken three rounds later than Jacobs.

WR Diontae Johnson, PIT - ADP: 46, WR15
Johnson finished as a top 15 wide receiver in almost all fantasy formats last year so you may think youíre getting a decent deal with him going as the 15th WR off the board. However, there are enough red flags around him to stay away at his current ADP and rank him more as a high-end WR3 this year.
His situation the past two seasons was tailor made, with Big Ben favoring Johnson as his go-to target on short and intermediate routes. Despite the high fantasy finish, Johnson ranked 82nd in yards per reception and 105th in yards per target.
This season the Steelers have brought in Mitchell Trubisky and rookie Kenny Pickett, and while it was certainly time for Roethlisberger to retire, the Steelers certainly could have planned for a more proven and capable successor for a team with a win-now type roster. While neither Trubisky nor Pickett has done enough to secure the starting gig so far in camp, it is likely we see a mix of the two, or even some occasional Mason Rudolph, meaning it may be unlikely this offense ever really gets into a solid consistent passing rhythm this season.
With a host of talented weapons (Claypool, Freiermuth, Harris, Pickens), Itís not out of the question that a different Steeler leads the team in receiving this season. Bottom line: The QB change coupled with the increased target competition and uncertainty really makes drafting Johnson in the first four rounds unbearable.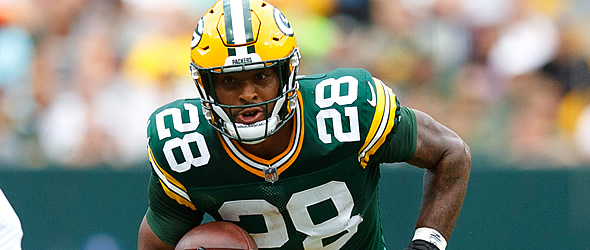 RB AJ Dillon, GB - ADP: 57, RB25
Back for his 3rd season with the Packers, Dillon gets a lot of attention online and in the media thanks to his huge thighs and chiseled physique. On the field, Dillon has been a great complement to Aaron Jones and an important depth piece for the Packers offense. However, this situation has not changed so drafting Dillon in the first five rounds seems silly to me, as he is not much more than a top handcuff whose standalone value is unpredictable.
A simple look at last yearís game log tells the story; Dillon played in 17 games and had rushing attempts range from 3 to 21. In the receiving game half of his targets came in just four games, and he only managed to reach 100 or more total yards in once, where he touched the ball 23 times, including a 50-yard reception. In the touchdown department, where you would think a player of Dillonís stature would dominate, he ranked 21st in the NFL, tied with other powerhouse backs like Myles Gaskin and Boston Scott.
Dillon has great potential in dynasty circles but he is still a year away from being anything more than a high-end handcuff. With his current ADP putting him ahead of surefire fantasy starters like Brandin Cooks, Jerry Jeudy, and Kyler Murray, just to name a few, Dillon is way overpriced
based on a lot of speculation but realistically, little substance.
WR Amari Cooper, CLE - ADP: 70, WR30
There are some players on this list that I like this year but just think they are bad values at current ADP. Then there is a guy like Amari Cooper, who I am just avoiding totally.
For starters, Cooper is changing teams, which rarely works out in the first season. Second, he is moving from a friendly indoor environment in Dallas to the harsh outdoor climate of Cleveland. Third, he is moving from Dak Prescott, a better than average QB, to a half-season plus of Jacoby Brissett. Fourth, the Browns were bottom five in pass attempts last year and this is unlikely to change until DeShaun Watson comes back from suspension. For comparison, the Cowboys had the 6th most pass attempts last year and Cooper still barely managed to top 100 targets.
Cooper still gets by on his name value and the immense talent he came into the league with. On a team in a good situation maybe there would be something to get excited for, but this is certainly not the year. I highly doubt you will feel confident starting him with Brissett at QB, and so you are basically drafting a half-year or more bench player with one of your first seven picks. Around the range Cooper is going Iím aiming higher, even looking at boom/bust players before Cooper who has bust written all over him for 2022.
QB Matthew Stafford, LAR - ADP 92, QB11
Stafford has always been fun to watch, tough guy, big arm, above average fantasy success, but just canít seem to break into that next tier up for fantasy. This sums up why Iím not taking Stafford this year at ADP, because heís the first quarterback going after a fairly clear top 10. Josh Allen, Patrick Mahomes, Justin Herbert, Lamar Jackson, Kyler Murray, Joe Burrow, Jalen Hurts, Russell Wilson, Dak Prescott, and Tom Brady in some order, make up the upper echelon of fantasy QB starters this season. Each of these players has extreme upside thanks to their running ability, their passing volume, and/or their explosive weapons.
Stafford, while being an excellent NFL, real life QB, is a more pedestrian fantasy QB. While his 2021 season may have been a fantasy success, he will be without OL Andrew Whitworth, WR Robert Woods and WR Odell Beckham Jr., all which he had at his disposal last season. Add this up and I believe Stafford reverts somewhere closer to the mean of his career averages. This is not to say Stafford wonít be a solid fantasy starter, but it is to say he will not be elite so spending a top 100 pick on him isnít wise when you can get a very similar, maybe even better QB, several rounds later.
Staffordís ADP represents the point where some drafters panic and realize most teams have their starters, so they better get theirs fast. This is the wrong approach as it is just a sign that you should be waiting even longer, as most teams are unlikely to take a 2nd QB for at least several more rounds.
Itís all about value in fantasy drafts and this year Stafford falls into that ďno manís landĒ for QBís where you really should just avoid the position entirely.
TE Dalton Schultz, DAL - ADP: 62, TE6
While Schultz and Stafford are very different players at very different positions and ADPís, they have one big thing in common and that is both are bad values in relation to others at their respective position.
There are five ďeliteĒ tight ends this season; Mark Andrews, Kyle Pitts, Travis Kelce, Darren Waller and George Kittle. Much like the QB position, the best bang for your buck is to go big and draft one of the elites, or wait it out and take a high upside tight end later in your draft.
Shultz is normally the first tight end taken in ďno manís landĒ after the top five are taken, and thus represents very poor value, much like Stafford at QB. While Shultz had a nice per game fantasy output last season in a breakout 4th year, he had been relatively quiet in his first three seasons so call me skeptical for now that last year wasnít a bit of a fluke.
Even if you do like the upside of Shultz, the area that heís being drafted in is just dripping with upside at more important positions like QB (Kyler, Hurts) and WR (Jeudy, Mooney, St. Brown). Shultz is no more of a safe bet nor upside play than players like Dallas Goedert or Zach Ertz, who are going 20-plus picks after Shultz on average.
While Shultz may very well finish this season as TE6, the return on value you will get by drafting him in his current range is just not going to be there. Be ready to pounce on a top five TE in the first four rounds of the draft or simply wait till after 6th round (or later) in order to fully maximize the value at this complicated and often over-looked position in fantasy.