Last week we looked at my way too early top 12 at the TE position. The series continues this week with Running Backs. This is going to be the toughest test for me yet. With the 2018 draft class projected to be arguably the best RB class of all time, a lot will change based on where players end up. There are probably more incumbent starters that could potentially lose their jobs than ones with security. The 2017 RB renaissance has the first round looking like a draft straight out of 2003. As we continue to inch towards the 2018 NFL season, here are my way too early top 15 RBs, most of which will likely be drafted in the first 24 picks.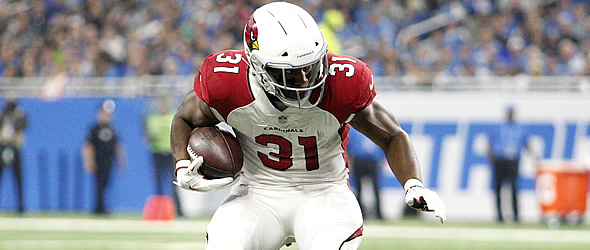 Let's not forget, David Johnson scored more fantasy points in 2016 than any RB in the last 10 years.
1. Le'Veon Bell – The top four RBs are essentially going to be splitting hairs. It's going to come down to personal preference. I happen to prefer Bell. He's been elite since his breakout in 2013 and I'm not worried that he's going to holdout or retire. Bell will sit out the preseason like he always does so there's no worry about an early injury and then he will do what he does – touch the ball a million times and score fantasy points.
2. Todd Gurley – 2017's top running by a wide margin reminded everyone why he was a mega prospect in 2015. Freed from the shackles of Jeff Fisher, Gurley thrived under Sean McVay's more modern offense where he was utilized frequently as a receiver out of the backfield. Gurley's receiving game prowess elevated his game to another level and while regression is almost certain, he should still be amongst the best of the best in 2018.
3. David Johnson – How quickly we forget that David Johnson's 2016 was substantially better than Todd Gurley's 2017. DJ is still the most complete back in the league, but he's fallen from consensus No.1 overall pick to No.3. It is not without a sense of irony that the exact reason DJ over Gurley was so obvious in 2016 is the reason you should take Gurley over DJ in 2018 – the Rams are the far better team now. This could all change if Kirk Cousins or Case Keenum ends up in Arizona, but for now, just like in 2016, I'll take the guy on the better team.
4. Ezekiel Elliott – While Elliott was far behind Gurley and Bell, he was clearly the third best fantasy running back. The Cowboys have a good offense and Elliott is a three-down back with unlimited scoring potential. He's the type of player you look for to anchor your team, but I have him behind the other three backs because he's not as adept as a pass catcher.
5. Leonard Fournette – Fournette has a three-down skill set and is an elite athlete, but he's not used like the big four. Fournette cedes passing down work to T.J. Yeldon and is on a weaker offense. You should feel quite comfortable with Fournette anchoring your team, though, as he is the goal line back, but I can certainly see myself dropping him below the next two as I do not like the direction the Jaguars are headed after extending Blake Bortles, who I would not rank in my top 50 real life QBs.
6. Kareem Hunt – Despite leading the league in rushing, Hunt did not win rookie of the year. That was partially due to his midseason lull. Hunt proved he is a very good NFL running back, but wasn't consistent enough to be elite. There's also the looming cloud of Spencer Ware's return. I expect Ware to be used as the satellite back – basically what Hunt was supposed to be last year, which could be enough to annoy Hunt's fantasy value, but not put a significant dent in it.
7. Alvin Kamara – This one makes me extremely nervous. There's just no way he can maintain his level of efficiency. Kamara generated a lot of offense on splash plays and open field receptions. Opposing defenses are going to stop letting the Saints get Kamara the ball out in space. He has the talent to continue to produce, but I'd be surprised if he matched his 2017 performance. Nevertheless, I think the touches will increase enough to offset the efficiency regression as Kamara is way better than Mark Ingram.
8. Melvin Gordon – I still don't think Melvin Gordon is very good, but I'm done denying the volume and opportunity. He is going to touch the ball 300 times and he is going to get all the goal line work. He may be touchdown dependent, but the touchdowns should be there.
9. Saquon Barkley – It's exceedingly difficult to rank a player without a team. Barkley reminds me a lot of Ezekiel Elliott – not necessarily in the way they play, but in the fact that Barkley is a very good prospect that could be elite if he ends up in the right situation. His ceiling is Elliott's 2016. His floor is probably Fournette's 2017. Either way, he'll be one of the first 12 RBs off the board.
10. Christian McCaffrey – The Panthers started to figure out how to properly use McCaffrey as the season wore on. Cam Newton's history of not throwing the RBs meant nothing because Newton never had anyone like McCaffrey. After touching the ball 200 times in 2017, McCaffrey could see a minor uptick in 2018, which should be enough to propel him to RB1 status.
11. Carlos Hyde – I don't know where Hyde will end up, but it won't be San Francisco. What Hyde has been able to do on the 49ers is nothing short of astounding. He is one of the best backs in the league and no one respects him as such. He proved last year that he can be a three-down workhorse capable of catching passes. Assuming he gets ticketed with that role wherever he ends up, Hyde will be an RB1.
12. Mark Ingram – Can the Saints really support two RB1s again? Ingram also makes me nervous, but the Saints were able to do it last season. They've become a run oriented offense and appear to have enough work for both Ingram and Kamara to thrive.
13. Devonta Freeman – I still think Tevin Coleman is the better player in the sense that if we could create two universes – one where Coleman is the 1a to Freeman's 1b and the current one where Freeman is the 1a to Coleman's 1b – Coleman would post better numbers, but the Falcons are not going to stop pushing Freeman. Even in a down year, Freeman was on the RB1/2 border. We expected regression from the Falcons in 2017 but the pendulum swung too far. It was so bad that I expect positive regression in 2018. Freeman is more a floor pick than ceiling, though.
14. Derrick Henry – If there's one claim I'm willing to say with absolute certainty, it's that DeMarco Murray will not play for the Titans in 2018. Henry is going to finally get the backfield to himself and if his playoff performance is a precursor for what's to come, it's fair to get excited. Henry should also benefit from the new coach and new OC. I could see him pushing first round value in August.
15. LeSean McCoy – I am not going to draft McCoy in 2018 and I can definitively say he's done nothing to warrant that position. McCoy showed no signs of slowing down and was every bit his agile and explosive self in 2017, even if his team continued to decrease his carries out of the shotgun, which is where he is most effective. Unfortunately, he's entering his 10th season and will be 30 years old. I'm fairly certain I'm jumping the gun on ditching McCoy, but I'd rather be a year early than a year late.
Just Missing the Cut: Dalvin Cook, Joe Mixon, Jordan Howard