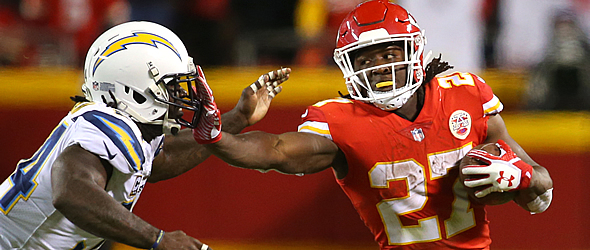 The first and second rounds are being dominated by running backs... as they should.


My annual draft strategy article is, without question, my favorite article to write every year – and I write a lot of articles. I like to think I've been on point the past two seasons with RB Heavy and the "No Strategy" Strategy.

2018 is a very interesting year because the early rounds are being dominated by running backs. Initially, I wanted to recommend going RB-RB, which, technically, I still am but only four owners can truly go RB-RB. Why? Because there is a clear "Sweet 16," at RB this season:

Regardless of your draft position, if you can draft two of these 16 RBs, you should. Although, McCoy is a tenuous part of that group – we'll leave him in. Once you get past McCoy there is a clear drop-off at the position making it difficult for 8 owners to pull off the RB-RB strategy in the first two rounds.

Why Not Go Against the Grain?

With the RBs returning to dominance, you will hear some say you should "zig while others zag" and take wide receivers in the first two rounds. Here is why you shouldn't. Since the great wide receiver boom of 2015, WR performance has dropped for two consecutive years. A large part of that is due to the decrease in overall targets for the position. Last year, WRs saw a total of 9,402 targets, the lowest total since 2009 (9,569). From 2012-2016, WRs collectively saw over 10,000 targets in each of those years. So where are the targets going? You guessed it, to the running backs! In 2015, RBs saw 3,312 targets, which was the highest total since 2007…until 2017, when RBs saw 3,444 targets. And it's not just the totals that we should pay attention to as totals can be skewed by volume. Those 3,444 targets accounted for 21.2% of all targets, the highest since 2007 (20.4%).

Even with an increase in targets, running backs actually underperformed last season due to a decrease in rushing touchdowns (380). Aside from the disastrous and anomalous 2015 season, that 380 TD mark tied with 2014 for the lowest total since 2001. We should see some positive regression in the touchdown department from RBs this season.

Also, let's consider the WR value that can be had in the middle rounds as why you should focus on the RB in Rounds 1 and 2. If the handful of elite WRs fall farther than they should, I would say to go grab one. Antonio Brown, Odell Beckham Jr., and DeAndre Hopkins all have first round ADPs and typically go within the first 8-10 selections. You're not getting a discount on any of them.

By the middle of the second round, you are drafting high end RB2s meaning you can get low-end WR1s in the third round. Why spend a mid-second round pick on Keenan Allen or Michael Thomas when you can grab Adam Thielen or T.Y. Hilton in round 3? Obviously the specific players can vary based upon your personal evaluations so substitute whomever you'd like for this analysis but consider what you like better: Christian McCaffrey (Rd2) and Adam Thielen (Rd3) or Keenan Allen (Rd2) and Derrick Henry (Rd3)? If you're high on running backs like Henry, Alex Collins, or Kenyan Drake then feel free to disregard this strategy and go with a second round wide receiver but having high confidence in a running back outside of the "Sweet 16" doesn't seem optimal. We can acquire reliable wide receivers in the third and fourth rounds but can't do the same at running back, making it imperative to devote the first two rounds to RBs, if possible.
What if I can't Grab Two "Sweet 16" RBs?
Historically, any strategy can work – and that's true – you can win with any draft strategy, but that doesn't mean any strategy is optimal. For instance, it's seems difficult to employ a Zero RB this year. If you pick at the nine spot in a RB heavy draft and Antonio Brown falls to you, I get it – draft the Steelers wide receiver. If, somehow, Beckham is there round 2, go ahead and take him as well. You can go WR-WR and secure a massive edge at the position. The reality is, absent an extreme outlier circumstance as I just described, a WR-WR start is going to leave you less confident about your edge over someone that goes RB-WR or WR-RB and then grabs a second WR in the third round. You must come out of the first two rounds with at least one running back. Yes, I am saying WR-WR is not a viable strategy this year.

Now that you've settled on grabbing at least on RB in the first two rounds, the question is how to handle finding your second RB. The "Single RB" strategy is essentially Zero RB, but with one stud RB instead. It's time to load up on wide receivers in rounds 3-6. Why? The difference between average fantasy points scored by round is a lot smaller beginning in round 3. In other words, your first two picks matter a lot more than the rest of your draft. The odds that you find a reliable player in round 3 aren't much higher than the odds you find a reliable player in round 6. But since so many RBs are off the board, there will be higher quality WRs available in the middle rounds. Take them! Load up! Do not seek out any specific player to be your second RB. Play on targeting a plethora of RBs like Tarik Cohen, Marlon Mack, Chris Thompson, Rex Burkhead, a Packers RB, and in the late rounds, Corey Clement or Giovani Bernard, will give yourself a good chance of hitting on a player that can emerge as your RB2.

The key is to not panic about having a question mark at RB2. Remember, only four teams will be able to have the luxury of not worrying about their second running back. The majority of your league has the same problem you do. You are not at a disadvantage! The way to secure your advantage is to grab those wide receivers in rounds 3-6 while other owners scramble to reach for running backs.

Don't be Surprised

So get out there grab two running backs early if you can. Otherwise, secure one stud RB and stack your WRs. You can certainly be successful ignoring everything I said and implementing another strategy. And, as always, mock draft! Practice exactly what I've recommended here. Also practice the exact opposite of what I've recommended. Have a firm grasp of multiple strategies so you are equipped to adapt as needed. Every draft is different. If you come in prepared, you can never be surprised.