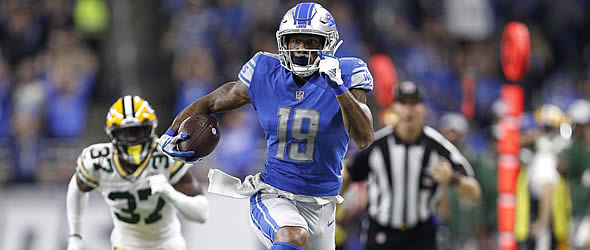 The 2021 free agency period has been filled with players expected to leave their original teams only to return unexpectedly. Aaron Jones, JuJu Smith-Schuster, and Chris Carson were as good as gone…until they weren't. Kenny Golladay was also in that group expected to leave his original team and, after a prolonged wait, he finally has.

Golladay the Lion
Kenny Golladay spent the first four years of his career with the Lions and the only games he wasn't producing were the ones he didn't play. In 2019, we got a full season from Golladay and he did not disappoint. He averaged 15.6 FPts/G and finished as the overall WR12 while leading the league in touchdown receptions.

Golladay is a physically imposing bully receiver that excels in contested catch situations. He finished seventh with a 54.2% contested catch rate on 24 targets in 2019 and was 2/2 in contested catches during his limited action in 2020. Golladay is a true alpha WR1.

Golladay the Giant
Golladay was a very old rookie at age 24 so his second contract on his second team begins at age 27. That's not ideal for dynasty, but he should still be able to produce at a high level for the duration of his four-year deal with the Giants. There are two obstacles standing in the way of Golladay and another WR1 season. The first is his health. Golladay missed five games in 2017 with a hamstring strain. He missed one game in 2018 with a chest strain. He missed two games in 2020 with a hamstring strain and missed the final nine games of the 2020 season with a hip injury. He is fully healthy now and there's nothing suggesting he's injury prone so I would not let injury dissuade you from targeting Golladay.

The second impediment for Golladay is the far more problematic one – his quarterback. Matthew Stafford is better than he gets credit for and developed a nice rapport with Golladay. Daniel Jones not only needs to develop that rapport, but he needs to develop actual passing ability. That's just my sarcastic way of saying that Jones is not good.

Daniel Jones
The arrival of Golladay certainly won't hurt Daniel Jones. For what it's worth, Jones actually was seventh last season with 46.2% deep ball completion percentage. Golladay will likely be less consistent as a Giant, but he will get opportunities to win one-on-one downfield and will be much better at it than Golden Tate and Sterling Shepard were. Jones finished fifth in the NFL last season with 38 danger plays. Golladay should be able to turn at least a couple of those into long gains due to his raw physical ability.

In 2020, Jones finished 33rd in the NFL with a 74.4% catchable pass rate and keep in mind there are only 32 starting quarterbacks in the NFL. Aside from the deep ball, the only area Jones excelled in was when he had a clean pocket, finishing 12th with a 75.7% clean pocket completion percentage. He was terrible in the red zone, terrible utilizing play action, and terrible under pressure. While the presence of Golladay gives Jones a true WR1 for the first time in his career, the downgrade in quality of targets is considerable. I would not expect Golladay to suddenly turn Jones into anything more than a matchup streamer.

Sterling Shepard and Darius Slayton
The arrival of Golladay is bad news for Sterling Shepard and Darius Slayton. The latter was merely a fantasy WR4 last season, but Shepard was a solid WR3 predicated largely on volume. In Shepard's best fantasy games, he saw at least eight targets. That's just not going to happen as often with Golladay in town.

Regarding the target distribution, I want to make one thing very clear: Kenny Golladay is not taking a backseat to anyone. If you hear anyone hit you with the cliché "a lot of mouths to feed" argument, just ignore it. It's bad analysis. If Golladay went to Atlanta and had to contend with Calvin Ridley and Julio Jones, then you can give credence to a potential target squeeze. But the Giants? No. Shepard, Slayton, Evan Engram, Kyle Rudolph, and Saquon Barkley are not taking targets away from Golladay. Ideally, Shepard could move into the slot more with Slayton playing outside opposite Golladay. That would be the best case for Shepard's fantasy value, potentially allowing him to have a Jamison Crowder-esque role in the offense.

The Lions
With Kenny gone on Golladay (sorry, couldn't resist), Marvin Jones in Jacksonville, and Danny Amendola unsigned (and also 35 years old), the Lions enter 2021 with a ton of vacated targets. Since Golladay was hurt last year, we can look to 2019 to figure out approximately how many targets are up for grabs. Golladay, Jones, and Amendola combined for nearly 300 targets.

Right now, the Lions' starting outside receivers are Breshad Perriman, who is on his fifth team in six years, and Tyrell Williams, who is on his third team in in seven years, and hasn't played since 2019. It is safe to say the Lions are going to spend at least a day two draft pick on a wide receiver and whomever they end up drafting will have an excellent opportunity at immediate targets. Perriman and Williams both have upside as well as we've seen them both produce. Williams has a 1,000-yard season to his name and Perriman was a WR1 over the final five games of 2019 when he was thrust into the Bucs' starting lineup after Mike Evans and Chris Godwin went down with injuries.

While the Lions' wide receivers definitely present the potential for late round value, Jared Goff is being thrown in the fire here. Goff goes from throwing to Robert Woods and Cooper Kupp, two of the most reliable sets of hands in the NFL, to a slew of WR3s miscast as WR1s and WR2s. Goff is nothing more than a QB2 streamer.

The biggest beneficiary could end up being T.J. Hockenson, coming off a mid TE1 season in 2020. Hockenson was targeted 101 times last season and could see 120+ this season if the Lions don't improve their wide receiver group.

Final Thoughts
For Golladay himself, this move is a slight downgrade. Golladay is going to see the volume, but the quality takes a hit with the drop in quarterback play. Golladay's fantasy value will depend on his cost. Even with Daniel Jones, I have a hard time ranking him any lower than WR24. If he falls into the fifth or sixth round, he's very much worth it. If he's going in the fourth round, I will probably let someone else take him.

For the Lions' current receivers, the departure of their top three receivers means that someone has to step up and at least fill the void. Williams and Perriman are WR5s with WR3 upside, but the real winner is going to be whatever rookie ends up starting by October.

For Goff, he's on a new team with a new coach with a whole new set of receivers. He's off the redraft radar in single quarterback leagues.
For Shepard, this is a clear hit to his value as the volume will decrease, but he could still be a receptions based WR3.

For Slayton, he's not even worth a late round dart anymore.

For Jones, this move is beneficial as it gives him a receiver he can trust to win in single coverage and contested catch situations, but Jones' value hinges upon whether he can improve as a passer.