Every year when it comes time to do this column, I struggle with whether or not I should be bold in terms of shock value or simply deviate from the perceived norm on a handful of players. I still don't have the answer for that this year and I'm not quite sure I ever will. Be that as it may, people love to see "hot takes" and analysts all across the fantasy industry love to cling to the one or two they got right from the season before, so let's saddle up for another round.

I suppose the reason why this task is harder for me than some is that readers have typically been exposed to my Big Boards for around a month by the time this piece comes around, so my secrets are no longer secret. In an effort to make myself feel better, maybe entertain you and reinforce the fact this is NOT a sudden departure from my recent Big Boards, I've decided to include how likely I believe my bold prediction will come true.

Last year was an interesting exercise. Let's try to top it this time around: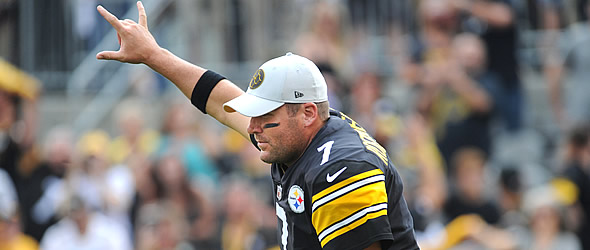 Quarterback talent and supporting cast can overcome a poor matchup more often than not.
1. Ben Roethlisberger will finish as a top-five fantasy quarterback for only the second time in his career.
For all of the production Roethlisberger has provided over the years, the 2007 season is the only time he has cracked the top five. (He just missed the top five in 2014, finishing just a little over one fantasy point shy of fifth-place Russell Wilson. So why is this year going to be so much better than 2017 (when he was QB9)? Great question. Here's my answer:
When owners are trying to create tiers at the quarterback position for the purposes of ranking them in fantasy, his supporting cast has to be near the top of the list of considerations. The Steelers can make a strong argument that no offense boasts the talent at the skill positions they do. Antonio Brown is recognized as the best in the business. I may be critical of JuJu Smith-Schuster's athleticism, but that doesn't mean I don't recognize he is a very capable second receiver in the league. James Washington may not be the freakish talent Martavis Bryant was, but he was arguably the best deep-ball receiver available in the 2018 draft. I may not be the biggest supporter of Le'Veon Bell this season, but it's hard to find a running back who is more comfortable as a receiver. When healthy, Vance McDonald is capable of stretching the seam. He's easily capable of 50-plus catches if he can play at least 14 games for the first time in his career.
Figuring out how potential matchups affect quarterbacks can be a tricky thing. A good pass defense can be a good pass defense until the offense it is attached to races out to a four-score lead. All of the sudden, the opposing quarterback who struggled to throw for 100 yards in the first half ends the game with 350-plus because the defense sat back in a soft zone. (Although Jacksonville picked him off five times in Week 5, Roethlisberger was the only quarterback to throw for over 300 yards against the Jags in the regular season last year.) Similarly, an offense that cannot establish a running game often abandons the run as a result. Thus, an offense that appeared unlikely to attempt more than 35 passes finishes with 55. The reason this is pertinent? The Steelers have a brutal schedule this season, especially after their Week 7 bye. The problem with downgrading the offense is the league still hasn't really figured out how to shut down Brown and most defenses don't have the personnel to keep Big Ben's other targets in check play in and play out. (Look no further than the AFC Divisional Round when Roethlisberger threw for Jacksonville for 469 yards and five TDs.) The point is quarterback talent and supporting cast can overcome a poor matchup more often than not.
With Big Ben as physically fit as he has been in years, Brown still in his prime, a new offensive coordinator in place who seems to like the idea of letting his quarterback running the show and a team that did little to address the fact the offense averaged 3.8 yards per carry last year, a perfect storm may be brewing to give Roethlisberger a chance to top his career-best numbers of 4,952 passing yards and 32 touchdowns.
Likelihood of happening: 40 percent
2. Leonard Fournette will lead all running backs in rushing attempts, yards and touchdowns over the final three months of the regular season.
Recency bias is a part of the human condition. It just is. In today's culture, it is probably more rampant than ever. If something did (or didn't) happen yesterday or (in the case of sports, the previous season), it has either always been that way or never happened. Ask any critic of Fournette to say why he isn't worth a high pick and most will point to his lack of durability. It's an interesting comment in that Fournette seems to be the rare case of a player who got knocked for being "injury-prone" in college when he had very little to gain playing hurt in his final season. If he plays all 16 games this season, people will say he has "learned" how to stay healthy. If he doesn't, then he'll become the latest in a long line of "brittle" backs. Neither statement is fair and neither one would necessarily be accurate either. Perhaps the most ironic thing is when owners say no one can predict injuries. Yet that is exactly what they do when convincing themselves not to buy into Fournette.
I felt it was important to discuss his injury background because it seems to be the overwhelming reason folks aren't rushing to draft him. Some say he's not involved in the passing game, yet he was tied with Kenyan Drake and Wayne Gallman for 20th among running backs with 48 targets despite missing three games. Fournette averaged 3.7 targets as a rookie, which would put him on pace for 59 targets over 16 games. (By comparison, Kareem Hunt has 53 catches on 63 targets last season.) For what it's worth, HC Doug Marrone recently spoke about getting Fournette more involved on third down this season.
Having addressed his "shortcomings," let's get to why he is going to be so good this year (assuming good health, of course). After averaging 23.4 touches despite playing more than half of the season with a bum ankle, the Jaguars released his only competition for "big-back" carries (Chris Ivory) in the offseason. All-Pro OG Andrew Norwell was signed to replace the weakest link on the 2017 offensive line (Patrick Omameh). Fournette dropped 15 pounds in the offseason, adding more explosiveness to the game of a back who ran 4.51 at 240 pounds at the 2017 NFL Combine. The defense could be even more formidable than it was last year, which should mean a ton of positive game scripts. The offense is built around the running back (464 rushing attempts and 560 total touches by running backs in 2017). While his matchups aren't overly favorable before the Week 9 bye, Fournette's owners should love life when he returns to action (two games against the Colts, one each against the Bills, Steelers and Dolphins). All of the aforementioned second-half opponents either lack a run defense capable of bottling up what should be a very efficient yet high-volume rushing attack or an offense capable of forcing Jacksonville out of its offensive shell or both.
Getting to the heart of the prediction, Fournette faces only three matchups from October until the end of the season that strike me as potentially restrictive. His volume and status as the main option at the goal line should power him through whatever difficult matchups he does have. It would not surprise me at all if he rushes for 1,500 yards and scores at least 15 touchdowns.
Likelihood of happening: 55 percent
3. Jamaal Williams will finish the season as a top-15 fantasy back.
I have yet to talk to anyone who believes Williams is a special back. People could care less if he was the overall RB8 in PPR last season from Week 10 on because he simply stayed healthy when everybody else capable of carrying a football got hurt last year. Believe me, I get it. I agree to a certain degree. However, what we believe outside team headquarters isn't nearly as important as what a team - and the coaching staff - believes on the inside.
One of the toughest things for fantasy owners to do is to see the game as coaches do. (That's not always a good thing, depending on what coaches we are talking about.) As fans, we see the spectacular plays, breathtaking moves and long runs and wonder why "our guy" isn't getting more playing time. Coaches often want dependability and consistency first and flash second. The job description of a Green Bay running back comes with two important responsibilities: 1) stay healthy (or at least be available) and 2) protect the best quarterback in the game. Even though it seems pretty clear he is the most gifted runner on the team, Aaron Jones struggles to fulfill the aforementioned job requirements and isn't a particularly good receiver in an offense built around Aaron Rodgers. Ty Montgomery is a good receiver, but he also struggles to stay healthy or pick up the blitz. These are not shocking revelations. Williams is a capable receiver, strong pass protector and was able to stay healthy as a rookie.
Critics will quickly point to Williams' 3.6 yards per carry last year and say there is no way an "average talent" can hold onto a starting job all season long. I would remind those same people that Williams played one game with Rodgers last year and didn't have a particularly healthy offensive line blocking for him. Yet, he was still the RB8 when he was entrusted to be the main option in the backfield. Over the course of his career in Green Bay, I would argue HC Mike McCarthy prefers using one main back. Ryan Grant was far from a special talent nearly 10 years ago, yet he had a nice two-year run before succumbing to injury. Eddie Lacy was a bell-cow until he essentially ate his way out of the job and ultimately out of the league. Most owners believe Williams has two games to prove himself - in tough matchups no less - before Jones comes back from suspension and potentially steals his job. Perhaps the preseason was McCarthy's way of punishing Jones for putting himself in a position to get suspended, but if Jones played more than a handful of snaps with the first team, I didn't see them. If the industry is going to get all giddy about someone like Christian McCaffrey getting a ton of first-team snaps, we can't simply ignore the players (usually sleepers) who don't because it doesn't fit the narrative we want.
This prediction could very well blow up in my face, not only because I'm throwing support behind the supposed third-best talent in what could be a three-man backfield but also because I am drinking my own Kool-Aid in my high-stakes drafts. But think about it for a second: is Williams such a non-athlete that he can't produce in an offense that will have Davante Adams and Jimmy Graham occupying the attention of linebackers and safeties? I have a strong feeling someone out of this backfield is going to be a league-winning kind of pick, especially considering the relatively low draft cost of each player and the fact they are all in a productive offense. If my experiences have taught me anything in this hobby, it's that often the first man up in a great situation usually gets the benefit of the doubt - if/when he needs it - and runs away with the job. There's plenty of reason Williams has already done the latter.
Likelihood of happening: 50 percent
***********
OK folks, now that I've got the three big ones out of the way, I'm going to cut it back a bit. Why? Because I said so.
4. Emmanuel Sanders will outscore Demaryius Thomas.
Sanders has become a bit of a vogue pick following his strong preseason, but I'm sure I can find a place or two online where I predicted this might happen sometime in July. We should get a pretty good sense of whether Case Keenum or former Vikings OC (now Giants HC Pat Shurmur) was the man most responsible for the heavy slot usage in Minnesota's offense last season, leading to Adam Thielen's breakout. That's not a knock against Thielen, who has turned himself into a very good NFL receiver. The difference in Minnesota in 2017 was how often the slot was targeted. Since quarterbacks ultimately make the decision as to where the ball goes on each passing play, I'm going to say Keenum had more to do with it.
This prediction has little to do with Thomas not being good this year. He's WR15 on my latest PPR Big Board, so I expect another strong season from him. This prediction has more to do with Sanders being more compatible to Keenum's "game" than Thomas. Much like Thielen, Sanders is expected to work primarily out of the slot in three-wide packages and runs most of his routes in the short and intermediate area. It's not that Thomas doesn't run similar routes, but he isn't nearly as quick as Sanders and he won't typically have the benefit of drawing the opponent's third-best cornerback.
Likelihood of happening: 50 percent
5. Danny Amendola will be Miami's best fantasy receiver (when he's active).
Kenny Stills should have his finest season to date. This is not about him. Mike Gesicki should be a red zone maven. This is not about him. DeVante Parker has fallen too far in drafts, but this not about him either. No one in Miami seemed to want Jarvis Landry to be the primary receiver year after year. Yet it happened. Some of that had to do with Parker getting hurt every year. Some of that had to with Landry being a highly underrated receiver (and talent). I tend to believe Ryan Tannehill - much like Keenum earlier - is simply more comfortable letting his receivers do the work after the catch as opposed to threading the needle on downfield throws five or 10 times per game. The Dolphins figure to be facing a fair amount of negative game scripts this season, which also helps the cause of a receiver like Amendola who has made a living moving the chains.
The problem with this prediction has to do with Amendola's durability or lack thereof. The 32-year-old has played 16 games twice in his nine-year career, although he logged 15 in 2017. This prediction has everything to do with believing Tannehill will once again find comfort peppering his slot receiver with targets in between the 20s.
Likelihood of happening: 25 percent
6. Ricky Seals-Jones will finish as a top-12 fantasy tight end.
This is hardly a big prediction for me since I have him at TE13, but the fantasy community does not seem to agree. Seals-Jones is going undrafted according to Fantasy Football Calculator. In the two high-stakes leagues (18 rounds) I participated in last night (Monday, Sept. 3), I took him in the 15th round in one league and he went undrafted in the other. I'm having trouble comprehending that.
Most fantasy owners love nothing more than having a tight end with receiver skills with virtually no competition for playing time. Even better if his team is seriously lacking when it comes to proven talent at receiver and is expected to be one of the worst teams in the league. Even better if his quarterback and offensive coordinator have a history of feeding tight ends. People either don't remember or don't seem to appreciate the fact he broke out with Blaine Gabbert as his quarterback late last season either. (Who is the last pass-catcher we can say that about?) Sam Bradford and/or Josh Rosen are upgrades, to say the least.
In essence, we have a 6-5, 243-pound former receiver who is a full-time player and has reason to believe he'll see a heavy target share playing for two men (Bradford and new OC Mike McCoy) who generally make the tight end a big part of the offense. What's not to like?
Likelihood of happening: 30 percent
7. James Conner will be a fantasy RB1 at least six times this season.
Now we're talking. Le'Veon Bell could report the minute after this story is published and render everything I say over the next few paragraphs moot. But that's only a small bit of the story. People don't seem to understand the deadline has passed for Bell and the team to agree to a long-term contract. He hasn't signed his franchise tender because he's upset he isn't getting paid "his worth." He was supposed to report by Labor Day. Oops. What's the next artificial deadline? This Wednesday (when the game plan is usually installed)? No one knows. Think about that. No one knows when a consensus top-two back is going to practice - much less play - and his ADP hasn't changed? Owners in leagues with buy-ins of several thousand dollars as recently as last weekend approached their drafts as if nothing was wrong and did not make a great effort to land Conner to salvage their investment. The same thing happened in my aforementioned high-stakes leagues last night. The Bell owner in both leagues failed to take Conner. That's unconscionable to me. (In case you're wondering, I took Conner at 10.01 in one of those leagues. He went 8.11 in the other.)
Let's assume for a second Bell reports this week. He's almost certainly not going to play much - if at all - with only three days of practice under his belt. At that point, his level of activity for Week 2 becomes a concern as well, and that assumes he checks in before the end of this week. What if he sits until Week 6 or Week 8? David Johnson owners last year could not have expected to lose their team's building block in Week 1. Literally thousands - if not millions - of fantasy owners have had multiple weeks to prepare for this possibility. Even with all that time to come up with another plan, they signed up for this ride because why? He reported last year about the same time, so there was no question he was going to do it again this year. Really?
Even before Bell chose not to report by Labor Day, he was still the riskiest pick in the first round given his workload over the last two seasons, especially last year. So now we have a player who will either report late or miss multiple games coming off the kind of high-usage season that has overwhelmingly led to disappointing campaigns for running backs the following year. It's realistic at this point to believe Conner should serve as the bell-cow in the backfield for at least the first two games. If Bell is ready by then, history suggests it will only be a matter of time before his recent workload catches up to him and he breaks down. So I'm going to propose Conner will be a fantasy RB1 in Weeks 1-2 before emerging as a potential league-winning player in December.
Likelihood of happening: 25 percent

8. Trey Burton will finish among the top three fantasy tight ends.
First of all, we have to eliminate one of the consensus top three tight ends if we are going to fit Burton in there. Rob Gronkowski is a candidate to drop given his injury history, Travis Kelce has a new quarterback and Zach Ertz is playing for a team that is short on healthy bodies entering the season. Take your pick. My job isn't to figure out which one of the three drops, but rather make the case why Burton can find his way into the group.
Once again, this isn't a bold prediction based on my Big Boards because I have him as my TE5. The bold part is that he will score at least 200 PPR fantasy points (Ertz had 202.4 last year) and do so in his first year as a full-time player in a new offense. Here goes nothing:
Most owners already know Burton was signed this spring to fill the Kelce role in Chicago's offense. That alone should pique owners' interest. Mitch Trubisky leaned on Zach Miller in the red zone for the three full games they played with each other in 2017. Trubisky threw 47.3 percent of his 330 passes in between the numbers last year. While it is true the Bears greatly improved their offensive personnel in the offseason, Chicago has a play-caller in HC Matt Nagy who obviously values the position (the Bears handed Burton a contract averaging $8 million per season) after overseeing an offense that targeted Kelce 25.8 percent of the time during the Chiefs' final five meaningful games. Kelce is an in-line tight end with the ability to work and dominate out of the slot. Burton may eventually become a capable in-line tight end, but he is an oversized slot with similar athleticism. It seems doubtful Nagy will allow a quarterback with limited experience like Trubisky to make high-risk throws when he knows he has a solid running game and a solid defense to fall back on if needed, which also points to a lot of work for Burton. Those factors make me think an Ertz-like 2017 (74 catches, 824 yards and eight touchdowns) is possible.
Likelihood of happening: 25 percent
A few more bonus bold predictions (no explanations):
- Neither Tom Brady nor Russell Wilson will be a top-five fantasy quarterback.
- LeSean McCoy will finish outside the top 24 running backs.
- Alex Collins will be a top-12 running back
- Ronald Jones will be a player owners want to start by November.
- Stefon Diggs will finish as a top-six wide receiver, while Thielen will land outside the top 20.
- Julio Jones will triple his touchdown output from a season ago (three).
- Michael Gallup will score at least seven touchdowns.

---
Doug Orth has written for FF Today since 2006 and been featured in USA Today's Fantasy Football Preview magazine since 2010. He hosted USA Today's hour-long, pre-kickoff fantasy football internet chat every Sunday in 2012-13 and appears as a guest analyst on a number of national sports radio shows, including Sirius XM's "Fantasy Drive". Doug is also a member of the Fantasy Sports Writers Association.