Unlike last week's topic (running backs), it is usually relatively easy to find a receiver capable of starting in fantasy on the waiver wire at just about any point of the season. Unfortunately, it is much rarer they go from little-used backups to potential league-winners - as can be the case on occasion at running back - once we get around the second half of the year.

Even if a team wants to incorporate a rising tight end as a regular part of the offense, his potential upside can be diminished greatly by his own team's offensive line (thus forcing him to become a glorified sixth blocker), a change at quarterback or his lack of experience. Not even taking talent into consideration, it's amazing how quickly a pool of players can be thinned out when owners simply remove any candidate who doesn't check all three of the aforementioned boxes.

With this in mind, owners usually have little choice but to continue digging for treasure at these positions until they strike gold. Once again, the odds are stacked against most of us finding anything more than a low-end WR3 and/or matchup-based tight end who is heavily reliant on scoring touchdowns, but sometimes that is all we need to complete our fantasy team and push it over the top.

My expectation would be that the top 40 receivers and top 18 tight ends are owned in virtually every league, so the players I discuss this week will fall outside that range. As per usual, I'm not going to spend time discussing some of the more obvious players who don't quite meet that criteria, be it due to injury or underperformance. The goal this week is to find players available in the majority of leagues who can not only get owners through the bye-week crunch but also potentially help us during the fantasy postseason.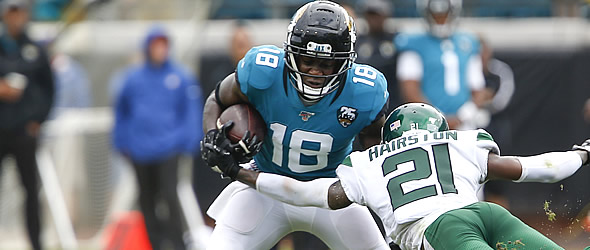 D.J. Chark is the overall WR5 halfway through the season and showing no signs of slowing down. Dede Westbrook is the overall WR39 and has essentially fulfilled the every-week WR3 expectations most of us had for him this offseason. Conley is the overall WR42, but it sure feels as though his journey has been a bit rockier than it has been for either of his teammates. The former Kansas City Chief thrust himself back into fantasy consideration against the Jets last week with his first career 100-yard game - an effort that was aided by an early injury to Westbrook. The good thing about Conley is that he has turned a profit every time he has seen at least five targets this season, averaging 89 yards while sporting a 63 percent catch rate on his 27 targets in those four contests. So what's the problem? He has a total of four catches for 73 yards in the other four games. At least his usable games have come against teams with questionable secondaries (Chiefs, Texans, Bengals and Jets), while his disappointing performances have come versus solid defensive backfields (Titans, Broncos, Panthers and Saints).
Having already established the likelihood he will remain a hit-or-miss player the rest of the way, there are at least a few key factors that could work in his favor moving forward: if Westbrook's neck and shoulder injuries persist, a nice chunk of his seven targets per game are going to go to Conley. Nick Foles is due back from his broken collarbone on or around Week 11. Obviously there is no guarantee Foles will get his job back from rookie Gardner Minshew, but assuming he does, there were several offseason reports suggesting Conley was his guy. (Foles only threw eight passes in Week 1 before getting hurt, so there's not much regular-season evidence to go on.) Last but not least, Jacksonville has a favorable second-half schedule, which includes games versus the weak secondaries of the Texans, Buccaneers, Raiders and Falcons. Those last two opponents are particularly interesting because they occur in Weeks 15 and 16.
It's anyone's guess as to why (perhaps Kerryon Johnson's early departure in Week 7 led to a fundamental philosophical change), but Amendola has logged 53 and 43 snaps in the Lions' last two games. Those marks are currently are his first- and third-highest of the season. Somewhat surprisingly, Amendola has managed at least seven catches AND 95 yards in the three games in which he has played at least 40 snaps. Much like Conley, however, he's been a complete hit-or-miss proposition. In the three other games he's played, he has amassed a total of five receptions for 43 scoreless yards. So what gives?
First of all, let's not overlook the possibility that Amendola's chest injury - he popped up on the injury report with it the same week he missed his only game (Week 4) - contributed to his lack of activity in Week 6. In Week 2, he had the misfortune of lining up opposite Chargers CB Desmond King. If we accept those two "excuses" as being the reasons why he has a pair of one-target performances this season, then his four-game averages of 9.3 targets, 6.8 receptions and 85.3 yards make him look a viable Golden Tate replacement. Two of the three teams he has thrived against (Cardinals and Giants) currently have at least one slot corner who is allowing opponents to post at least a passer rating of at least 100.0 in his coverage. In Amendola's other "good" game, he worked over Vikings CB Mackensie Alexander (61.6 passer rating allowed) for four catches on five targets while also beating S Anthony Harris (one catch on one target for 36 yards) and LB Eric Kendricks (2-2-37) to get the bulk of his 105 yards in Week 7.
It should also be noted Amendola's worst three games this season have come in the team's three lowest-scoring efforts of the season, which indicates at least two things: 1) he needs to be started with a fair amount of confidence in any projected shootout and 2) it might behoove Detroit to make sure is as much of a fixture in the offense as Kenny Golladay and Marvin Jones considering the team is averaging 29.3 points with him heavily involved and 20.6 points in three games with him serving mostly as a bystander. The caveat with Amendola is always his lack of durability, but only one remaining opponent features a regular slot corner with a passer rating allowed lower than 93.6 (Alexander). Probably more so than Conley, Amendola needs to be added immediately, especially if my rationale in the preceding paragraph proves to be correct.
New fantasy owners of Stills were likely bummed by the lack of attention he received from Deshaun Watson in Week 8 in what appeared to be a highly favorable matchup. On second glance, however, maybe we should not have been overly surprised. Stills essentially fill the role left behind by the injured Will Fuller, who topped 10.1 PPR fantasy points once prior to suffering his "severe" hamstring injury. (It just so happened to be a game in which he got 14 passes for 217 yards and three touchdowns.) A few things are happening in Houston that may be contributing to this, not the least of which has been the emergence of Darren Fells as a threat (at least six targets in three games this season, including in two of his last three). Over his first two seasons in the league, Deshaun Watson did not target the tight end very often in large part because the Texans often needed all available hands on deck to block. Houston also never had a receiving threat out of the backfield like Duke Johnson either. While those two players aren't directly robbing Stills' deep looks, their presence has lessened the need for the Texans to rely so heavily on going over the top of a defense.
So why is Stills a good investment now or moving forward? It's unclear just how much of an impact the loss of DE J.J. Watt is going to have on this defense, but the likelihood of Houston - which was already hurting in the secondary - getting into more shootouts just increased considerably. Stills is a more complete receiver at this point than Fuller, which should pay off once the injured speedster returns because it should mean more slot work for the former Dolphin. At the moment, Stills is the second-best option in a highly explosive offense, and that's something owners should bet on more often than not, especially since there still has been no timetable announced for Fuller's return. Owners should not target Stills with the idea the Texans are going to get a lot of great matchups down the stretch, however. After this week (Jaguars), he will become a bet-on-talent play the rest of the way, with only matchups a Week 16 game against the Buccaneers standing out as a potential eruption spot.
I would have bet a great deal of money this summer against the possibility I would promote Thomas at any point during this season. His odds of contributing in any meaningful way in 2019 seemed bleak at best when he tore his Achilles late last season with Houston. The Patriots ended up taking a flyer on him in April, released him at final cuts and brought him back shortly thereafter before trading him to the Jets. The same hamstring injury that basically cost him any chance of sticking with New England caused him to bow out early in Week 2 - his only action with his new team prior to the Week 4 bye. Despite all that adversity, the four-time Pro Bowler has seemingly emerged as Sam Darnold's most consistent target, leading the Jets with 16 catches and 214 receiving yards over the last four contests. While his PPR point totals over that time (8.7, 10.2, 7.2, 11.3) have been far from spectacular, he has seen a team-high 28 targets over that time.
To what degree Thomas can be a useful asset the rest of the way depends on whether or not Darnold can return to the form that he flashed late last season. If he can, it's not unthinkable that Thomas could push for low-end WR3 production the rest of the way. As a testament to how far he has come over a short amount of time, the Jaguars lined up A.J. Bouye against him for the bulk of Week 8. (Thomas caught all four of his targets in Bouye's coverage for 40 yards.) The real reason to like Thomas moving forward is his remaining schedule, however. Between now and Week 15, the Jets face the Dolphins (Weeks 9 and 14), Giants (Week 10), Redskins (Week 11), Raiders (Week 12) and Bengals (Week 13). Of that group, only Cincinnati ranks in the bottom half of most fantasy points allowed to receivers, and much of that "success" can be attributed to the fact the Bengals have shown little ability to stop the run. Meanwhile, the Jets have shown almost no ability to run the ball. Perhaps all of this means is that owners should prepare for a huge second half from Robby Anderson and Jamison Crowder, but the possibility that Thomas ends up benefiting the most should not be discounted.
Pretty much the inverse of the first paragraph about Thomas above, I would have bet a lot of money this summer that I would not be writing about Miller as a readily available receiver capable of contributing in the second half of the season. Whereas there is still some hope left in the Jets' passing game due to Darnold's talent and the schedule, it may not be much longer before Mitchell Trubisky's time as the unquestioned starting quarterback in Chicago comes to an end. However, there is still a glimmer of hope for Miller.
The Chicago Tribune's Dan Wiederer predicted and/or reported Miller could play a limited role in the first few weeks of the season due to a sprained right ankle. Sure enough, the second-year wideout didn't play more than 38 snaps over the first three weeks and wasn't targeted more than three times in any of the first four games. Since that time, however, Miller has seen target totals of seven, nine and three on snap counts of 47, 55 and 44. After getting held to 15 or fewer yards receiving in his first four games, he has managed 52 or more in each of his last three. It's not exactly the stuff of legend, but it is starting to approach what many of his biggest supporters expected from him entering the season.
Miller wasn't exactly Mr. Consistency as a rookie from a yardage perspective, but what elevated him to sleeper status this summer was an unsustainable touchdown rate (seven touchdowns on 33 catches). Realistic owners who drafted him in the middle rounds likely new regression was coming, but that was supposed to be counterbalanced by an increased role in the offense led by an inefficient quarterback who should take as many "safe" throws to his slot receiver as often as possible. Instead, only one of Miller's 27 targets has come inside the red zone and HC Matt Nagy hasn't made getting him the ball much of a priority despite inexplicably asking Trubisky to attempt at least 45 passes on two occasions - both against solid pass defenses. Another reason to be bullish on Miller going forward is his increased usage recently, his advance route-running skills and some positive touchdown regression. The reasons to continue avoiding him are Nagy's wild swings when it comes to his game plans and Trubisky. If Nagy can simply learn to feed his best players the ball more often - he seemed to show some growth in that area last week - I expect Miller to break out soon, perhaps as soon as this weekend against the Eagles.
Others receivers to monitor: Josh Reynolds, LA Rams; Parris Campbell, Indianapolis; Russell Gage, Atlanta; Zay Jones, Oakland
Expecting even moderate production from a second-year tight end who has been sidelined all season due to suspension and injury and attached to the NFL's 31st-ranked scoring offense does not usually qualify as sage fantasy advice. Then again, Herndon is not a typical tight end. And in case you haven't heard, it doesn't take much for a player to move up the ranks quickly at the position. (Hunter Henry has played a total of four games and is the overall TE12 in overall points.)
Since we have nothing to work from this year, let's revisit 2018. Herndon was arguably worth starting in fantasy maybe six times during his rookie campaign, including a four-game stretch in which he scored a touchdown in three straight. Although it's been a while, HC Adam Gase has a history of getting production from the tight end position, overseeing a career year from Julius Thomas in Denver and one of the best seasons of Martellus Bennett's career (Bears). As I have referenced several times throughout the summer and fall, Gase referred to Herndon as a "unicorn-type player" shortly upon taking the job with the Jets. Considering the offense is still looking for an identity - not to mention easy throws for a struggling quarterback - and showing a tendency to target the tight end near the end zone already (Ryan Griffin has three touchdowns in last three weeks), it's not a stretch to believe Herndon will hit the ground running in reality as well as fantasy.
Of the players discussed in this piece, I probably have the least amount of confidence in Smith becoming an every-week starter in 2019. With that said, he's a Kyle Rudolph injury - or a prolonged absence from Stefon Diggs or Adam Thielen - away from becoming the 2019 version of Herndon. Turn on any Vikings' telecast and it usually doesn't take very long before someone in the booth talks about how much Minnesota's brass loves Smith. To that end, GM Rick Spielman told reporters his second-round pick "has a lot of (Jordan) Reed-like traits" shortly after drafting him.
Of course, fantasy owners have been taken down the Reed comp road before with Gerald Everett, and it has taken him roughly three years to start delivering on that promise (assuming we consider his three big games this season the start of something special). A big difference between the two prospects is that while Everett wasn't asked to block much at South Alabama, Smith honed his all-around skills at Alabama. That's not to suggest Smith ever become anything more than an average blocker in the pros, but it's already clear his learning curve as a pass-catcher is going to be shorter than Everett's. His increased involvement over the last two games (41 and a season-high 46 snaps, respectively) was likely more a product of Thielen leaving early in Week 7 than anything else, but it is still notable he was targeted on 23.7 percent of the 38 routes he ran in those two contests.
Others tight ends to monitor: Foster Moreau, Oakland; Dawson Knox, Buffalo; Jace Sternberger, Green Bay


---
Doug Orth has written for FF Today since 2006 and been featured in USA Today's Fantasy Football Preview magazine since 2010. He hosted USA Today's hour-long, pre-kickoff fantasy football internet chat every Sunday in 2012-13 and appears as a guest analyst on a number of national sports radio shows, including Sirius XM's "Fantasy Drive". Doug is also a member of the Fantasy Sports Writers Association.