In the majority of my high-stakes leagues year in and year out, there are usually no fewer than 70 running backs on rosters. Even at a position where a number of NFL teams have opted for a committee approach, it makes for slim pickings on the waiver wire. Worse yet, it makes it very difficult for owners to beat the rush on the one (or maybe two) backs who typically emerge in November or December to carry their fake teams to fantasy championships.

As is the case in many walks of life, just because something is difficult doesn't mean we shouldn't try. The carnage - be it due to injury or a change on the depth chart - that usually hits the running back position during the first half of each season has yet to strike in a big way in 2019, but it's pretty much inevitable that time is coming. Yes, owners had to deal without Saquon Barkley for a bit, but his fantasy owners got a nice gift when he only missed three games.

It's always helpful for owners to contemplate and discuss the unheralded players who could potentially change their season down the line, especially at arguably the most important position in fantasy football. Because we are nearing the halfway point of the actual NFL season, it makes this week as good as time as any to get familiar with the "next man up" at running back across the league.

A lot of times, fantasy owners prioritize landing the handcuffs (or at least the players they believe are the direct backup) of their backs as opposed to focusing on the backs with the clearest path to a featured workload. Opting for the former approach provides peace of mind, but it doesn't provide the most upside unless those same handcuffs are also the ones with the highest upside. Chase Edmonds was the latest to prove that last week, but rest assured there will be others in the coming weeks.

In alphabetical order, here is a list of backups who should be owned in virtually every league (assumes 12-team leagues with at least 16 roster spots)

Ito Smith, Atlanta
Chase Edmonds, Arizona
Devin Singletary, Buffalo
Kareem Hunt, Cleveland
Royce Freeman, Denver
Jamaal Williams, Green Bay
Duke Johnson, Houston
Malcolm Brown/Darrell Henderson, LA Rams
Kenyan Drake, Miami (Mark Walton technically the starter)
Alexander Mattison, Minnesota
Latavius Murray, New Orleans
Miles Sanders, Philadelphia
Rashaad Penny, Seattle
Matt Breida, San Francisco
Ronald Jones, Tampa Bay

The above list is obviously subjective, but it creates a working list of players and teams from which to work from at the very least. (If any of them are available, you have my permission to open another tab on your browser, go to your league website and add them now before returning to find out what else is on my mind.)

In order of potential impact, here is a list of readily available running backs who could very well decide fantasy championships in a couple of months:

Prior to week 5, about the only thing most of the NFL knew about Bonnafon was that he was a starting quarterback at the University of Louisville for a short time before some guy named Lamar Jackson burst onto the scene, forcing him to move to running back and then wide receiver over his final two seasons with the Cardinals. Then, in one fell swoop, fantasy owners quickly learned that the Panthers actually have other backs on the roster besides Christian McCaffrey. As most owners know by now, Bonnafon carried five times for 80 yards in that game, including a 59-yard score late with McCaffrey on the sideline dealing with back spasms. A few days later, OC Norv Turner told reporters Bonnafon has "probably improved more than anyone on offense over the last year and a half."

Fantasy owners are usually hesitant about putting much trust into players like Bonnafon with no draft pedigree. Use that to your advantage. While not every year is going to produce a player like Phillip Lindsay, NFL history is littered with undrafted running backs who were overlooked and ultimately undrafted. More importantly, Jourdan Rodrigue of The Athletic spoke highly of Bonnafon's skill and work habits near the end of August.

"When Christian is spelled, Reggie is taking the exact same snaps that Christian is taking. … The types of things that they have in their playbook designed for Christian, Reggie is working those plays (in the preseason). … All offseason, he studied film specifically with Christian. They would go off and have their own film sessions together. So I thought that that was really interesting because that shows you a lot about what his future role will be."

McCaffrey keeps himself in phenomenal shape, so it's not as if Bonnafon and his prospective fantasy owners should expect disaster to strike anytime soon. However, the best owners are usually among the most prepared for when disaster strikes. Bonnafon is the only running back on the roster besides McCaffrey - Alex Armah is a fullback - to play a down this season. The above quote should be all the proof any owner needs to understand just how important Bonnafon could be down the stretch should McCaffrey suffer an injury that sidelines him longer than his back spasms did against the Jaguars.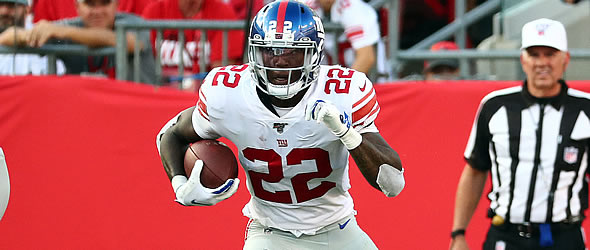 Bye weeks affect owners differently, but there's not much excuse for a potential bell-cow running back to be floating on waivers, especially considering he is backing up a player in Saquon Barkley who is just coming off a high-ankle sprain and appeared to aggravate it on a third-quarter run in Week 7. It's reasonable to suggest Barkley is at higher risk to struggle with it moving forward (or overcompensate and injure another part of his lower body), so his fantasy owners would be foolish to believe he's in the clear now just because he's back on the field.
Gallman obviously has minimal standalone value at the moment, but we are also getting to the point of the season where it makes sense to dump low-end NFL starters who may be on a fantasy roster to cover an early bye week in order to secure a player who is literally one injury away from becoming an every-week RB2. We've already seen it happen once with the Clemson product this season - he only lasted one full game before suffering a concussion in his second start. The only other running back on the roster beside Barkley and Gallman is FB Elijhaa Penny. Gallman is obviously not in Barkley's class when it comes to talent, but talent isn't always the most important thing when trying to identify the player most likely to blow up over the second half of the season; opportunity usually is. Gallman is one mishap away from a huge opportunity and has produced at a reasonable level when he's been called upon during his NFL career. If Barkley gets hurt again, Gallman would be a no-brainer RB2 with RB1 upside, especially in the fantasy playoffs (Week 15 against Miami and Week 16 against Washington).
I'm only going to include Pollard here to remind readers in more casual leagues to check on his availability. The fourth-round rookie is the clear backup to Ezekiel Elliott, but last week was only the second time since Week 1 that he exceeded four touches. Zeke has been extremely durable throughout his pro career, so it is only natural to believe non-Elliott owners are burning a roster spot by stashing him. Additionally, it's fair to wonder if a back who never exceeded 78 carries in a season in college would be asked to assume the same weekly workload Elliott is being asked to carry now. Nevertheless, the scheme and his supporting cast would probably allow him to perform at an RB2 level.
While it appears Leonard Fournette's offseason training regimen has served him well, he already has racked up 172 touches in seven games (24.6 per game) and is on pace for about 394. So what we have here is a player who has yet to play more than 13 games in a season with a history of lower-body injuries on a track to handle the ball 90 more times than he ever has as a pro.
Whether we begin to see a bit of decline in production over the next few weeks due to his first-half workload or the team simply wants to reduce his risk for injury down the stretch, it may not be long before Armstead finds himself more involved. The rookie doesn't possess the receiving chops of Fournette, but he - like Gallman - appears to have little in the way of competition for carries should Fournette go down. There's been no word of Alfred Blue returning from IR, Tyler Ervin is a scatback and Devine Ozigbo has yet to play a snap, much less give Armstead a run for his money. Jacksonville's fantasy playoff schedule also offers plenty of hope as well; the Chargers (Week 14), Raiders (Week 15) and Falcons (Week 16) haven't exactly held up well against running backs in recent weeks.
Unlike our first three entries, Williams makes the list due to the likelihood of a change near the top of the depth chart. While I remain steadfast in my belief that Darwin Thompson is the Chiefs' running back of the future and perhaps the best one on the roster now, trying to pinpoint when a player earns the trust of his coaches will always be an inexact science. Williams has certainly proven capable of being the man of the present in limited action. Interestingly, HC Andy Reid seems to have settled on him as the primary third-down option. But this recommendation isn't about that.
LeSean McCoy is proving he still has some life left in his 31-year-old legs and appears to be the main back in Kansas City (for now), but durability has been an issue for him in recent years. However, the main reason for Williams being this high has to do with Damien Williams. At some point, Reid is going to need to ask himself if he can justify continuing to give carries to Damien Williams, who has somehow amassed only 70 yards on 41 attempts (long run of six yards). Meanwhile, Darrel Williams has 76 yards rushing on 19 carries (long of 41 yards). While yards per carry rarely tells us the whole story when it comes to running backs, it is at least notable Damien Williams averaged 3.6 YPC on 133 rush attempts with Miami before joining the Chiefs prior to last season. Unsurprisingly, that is exactly where he is at through 91 carries with Kansas City. Unless the knee injury that sidelined him for two weeks is still an issue, Damien Williams has no business eating up touches in this backfield. (And if the knee is still an issue, sit him.)
It's probably not a coincidence that McCoy and Darrel Williams were the primary ball-carriers in the two games in which the Chiefs actually ran the ball with some success. With Patrick Mahomes expected to miss some time, it's going to be even more important to establish a threat on the ground. The odds of that happening are significantly stronger if Darrel Williams becomes a more important part of the offense again.
This one could be a bit of a combo platter (including Benny Snell) considering Samuels is expected to miss at least one to two more games. While James Conner is firmly entrenched as the starter, he has already been on the injury report with three different ailments (knee, ankle and calf) through six games. He is working with a second-string quarterback who has elicited so much confidence in his offensive coordinator that the "Wildcat" became a semi-regular part of the offense. The offensive line is among the worst in the league at in run-blocking this season, while Conner is averaging 1.1 yards before contact this season (2.4 last year) and not breaking a ton of tackles either (one every 18.5 carries versus one per 10.8 in 2018). It's easy for people to become prisoners of the moment and fall victim to recency bias when Conner has posted two big fantasy performances over his last three games, but those efforts came against a Bengals' defense that has been the most gracious fantasy defense against running backs and an injury-ravaged Chargers' run-stopping unit. If all of that wasn't convincing enough, just look at Conner's rushing totals so far. (Spoiler alert: they aren't inspirational.)
So why Samuels and/or Snell? First of all, the pressure to start them regularly in fantasy isn't the same because fantasy owners didn't invest an early pick into either one nor are the expectations the same. Perhaps more importantly, Samuels has operated as the Wildcat quarterback and would conceivably see the same kind of workload Conner is getting now if/when Conner sits. Like it or not, Pittsburgh will try to win by running the ball and playing defense for as long as the coaching staff believes Mason Rudolph needs to be managed. Conner really hasn't seen the kind of workload one might expect in an offense that is, quite frankly, just trying to get by each week at this point. I don't blame Conner; I think time will tell that he is a good and possibly very good running back, but his situation is currently a mess. So while I doubt Samuels can be a league-winner per se, he would be an RB2 or flex on most fantasy teams down the stretch as opposed to the RB1 that Conner was drafted to be this summer.
Here's an example of a player who was drafted to be a potential league-winner despite coming off ACL surgery and attached to a team with little hope of enjoying a winning season. His rise up the depth chart was swift, as he needed only 11 carries in one preseason game to prove to then-HC Jay Gruden that he was ready to be the featured back. That lasted all of one game, as Guice was diagnosed with a torn meniscus after running for 18 yards on 10 carries in his NFL debut. There's also the small matter of his current employer; Washington's best offensive player (LT Trent Williams) is unlikely to play at all this season and the offense is pretty much replacement-level after impressive rookie Terry McLaurin.
The one thing Washington may offer, however, is opportunity. If interim HC Bill Callahan was in agreement with Gruden about Guice being the lead dog, then it is entirely possible the LSU product could walk into a 20-touch workload if/when he returns from IR. Is there any guarantee of that happening? Of course not. He could share carries with Adrian Peterson for the remainder of the season as a way to build some confidence in his health before taking back the featured role in 2020. It's also quite possible he gets thrown right into the fire - just like he was this summer - as Callahan and his staff go about evaluating the talent on the roster while also trying to save their jobs. Owners need to be realistic about Guice's potential impact though; he possesses more fantasy upside than Peterson in part because he is able to contribute more in the passing game, but his offensive line and supporting cast figure to lead to the same high number of negative game scripts that Peterson has faced all season long.
In a prescient moment for me, I discussed Johnson at some length following Week 2 (coinciding with Detroit's release of C.J. Anderson). Most of what I said at that time still applies after Kerryon Johnson was placed on IR following knee surgery Tuesday (Oct. 22), so I'll keep my summary on him short. Much of the talk in the fantasy industry since the Kerryon Johnson news has been that Ty Johnson didn't do much with his touches in Week 7 against the Vikings (10 carries for 29 yards; four catches for 28 yards). I have some news for those folks: most folks don't run well against Minnesota.
Kerryon Johnson was averaging 3.3 YPC on 92 carries before going down. With that said, it's entirely possible Ty Johnson will be given one half this weekend to show the Lions' brass that he is a capable lead back. Lucky for him, the Giants have allowed 10 or more fantasy points to at least one back from every opponent so far, including a 35-point spot to Chase Edmonds last week. The sixth-round rookie may also be the fastest runner New York has faced this season. (While speed is typically overrated by fantasy owners, the ability to hit big plays is not when a runner is trying to establish himself.) Ty Johnson is unlikely to carry owners to fantasy titles (in part because it feels as though Detroit could add a back like Kenyan Drake before next week's trade deadline), but there's no question in my mind the public is selling him short. He can be a serviceable flex with even only 12 touches per game.
McKissic warns a mention here, if only because he and OC Darrell Bevell bonded during their time together with the Seahawks. The 195-pounder isn't going to get used much as a traditional runner - his career high in carries for a game is seven - but he could have some flex appeal in fantasy anytime Detroit is projected to get into a bit of a shootout. It's not always easy to predict when those games will happen, but former Kerryon Johnson owners who need to buy themselves a bit of time could do worse than a back capable of getting roughly five carries and five catches in a given game.
It's rare that one player can be a great handcuff in consecutive years, but sometimes a situation can dictate it. Alex Collins fell out of favor about this time last season, opening the door for Edwards to take on the fourth-heaviest workload (122 carries) of any back in the league from Weeks 11-17. Mark Ingram is unlikely to suffer the same fate Collins did and has been managed well through seven games, averaging just over 14 carries and just under two catches. However, Ingram is 29 years old (turns 30 in December) and marching closer to the magical 2,000-touch plateau for his career (1,660 regular-season touches, to be exact) - an age and a mark where the majority of very good and sometimes great backs begin to slow down. Speaking of which (and not saying that is exactly what's happening now), Ingram is averaging 3.3 YPC over the last three contests. While Edwards isn't quite the well-rounded player Ingram is, they are being asked to execute many of the same runs so far. As a result, Edwards would almost certainly assume the Ingram's rushing workload if the former Saint was to miss some time.
In my opinion, one of the bigger under-the-radar mysteries of the first half of the 2019 season is the relative inactivity of Hill (he has not played more than 16 offensive snaps since Week 1). Baltimore placed a heavy emphasis on speed during the draft and Hill appeared to be in line to be a natural thunder-and-lightning complement to Ingram. It's hard to imagine that he would not assume a larger role in the event of an Ingram injury, yet it seemed fairly obvious Hill would be the clear No. 2 in this backfield all summer. It would not surprise me if Hill ended up overtaking Edwards and/or becoming a second-half stud, but sometimes coaches can be stubborn about "setting the physical tone" as opposed to making sure almost every play has a chance to be a big one. At any rate, OC Greg Roman appears content with the former approach for now, which makes Edwards a viable RB2 in fantasy if/when Ingram is sidelined.
Potential Week 8 add: DeAndre Washington, Oakland
Josh Jacobs suffered a shoulder injury in Week 7 that has somehow flown mostly under the radar in terms of its seriousness. HC Jon Gruden indicated Wednesday (Oct. 23) that the rookie needed a shot to deal with the pain before returning to the game against the Packers. Jacobs' fantasy owners would be wise to pick up Washington just to protect themselves (despite the difficult matchup against the Texans). Former owners of Kerryon Johnson could potentially buy themselves a bit of time with a speculative add.


---
Doug Orth has written for FF Today since 2006 and been featured in USA Today's Fantasy Football Preview magazine since 2010. He hosted USA Today's hour-long, pre-kickoff fantasy football internet chat every Sunday in 2012-13 and appears as a guest analyst on a number of national sports radio shows, including Sirius XM's "Fantasy Drive". Doug is also a member of the Fantasy Sports Writers Association.