There may not be a position in fantasy football more reliant on "game script" than running back. For every Christian McCaffrey, Saquon Barkley and Dalvin Cook, there are about 5 to 10 other running backs who need the game to break in a certain way to be useful to fantasy owners. Generally speaking, running backs like McCaffrey, Barkley and Cook are "matchup-proof." As any veteran fantasy owner can tell you, most backs are not.

While there is much talk in the fantasy industry about game scripts, there's not a lot of content devoted to the subject. Although one factor is rarely ever the single cause for something that happens in fantasy football, simply being able to identify backs highly dependent on game script can go a long way into predicting a potential breakout or bust.

The concept of positive and negative game scripts is not a difficult one to grasp, but it also isn't the easiest thing to quantify either. I decided the best approach was to break it down into four categories - using the team's margin of victory (or defeat) - and calculate the back's average point total in PPR scoring in those contests. With any luck, what follows should give us a look at some backs who were highly dependent on game script last year and what it could mean for them in 2020.

With football being a small sample sport, finding enough samples to make this kind of analysis useful on an individual level can be very challenging - if not impossible - in some cases. For example, I settled on two-score victories (eight points or more), close wins (seven or fewer), close losses (seven or fewer) and two-score defeats (eight points or more). San Francisco and Kansas City did not suffer any two-score defeats, so predicting the usage of those team's backs in those situations based on recent history would be a crapshoot at best. The point to be made here is that some teams will have no more than one entry in a particular category. (For example, the Cowboys were an odd team in that all eight of their victories were by at least eight points.)

The remainder of this article will focus on backs that will get selected within the first few rounds with somewhat significant differences between their positive game-script averages and their negative game-script marks. The number in parentheses to the right of their fantasy-point average is the game-by-game snap percentages. My rationale for this is to give readers a sense of how much each running back fared in those particular contests.
Running backs who benefited from positive game script
Derrick Henry
, Titans
Won by eight or more points: 26.6 FPts/G (59, 75, 75, 75, 60, 76%)
Won by seven or fewer points: 20.1 (75, 67, 71%)
Lost by seven or fewer points: 13.3 (50, 61, 58%)
Lost by eight or more points: 13.6 (48, 53, 53%)
It shouldn't come as much of a surprise that a back that amassed 250 of his 294.6 fantasy points on the ground last year did much of his damage in positive game scripts. Quite often, a great defense can allow that team's back to be one-dimensional - through no fault of his own, I might add - and still be quite productive in fantasy. That wasn't necessarily the case with Tennessee, but the Titans usually did just enough defensively to keep the game close enough so Henry & Co. could do their thing for the better part of four quarters. Per Football Outsiders, Tennessee ranked 15th in the league in average time trailing (23:20), but some of the blame for that falls on the Marcus Mariota-led offense that scored seven or fewer points in three of the team's first six games. It's not a coincidence that Henry's reign of terror on the league started right about the same time the Titans suffered their last regular-season loss of eight points or more (Week 9 at Carolina).
2020 Outlook: Henry showed late last season that he was nearly matchup-proof despite the fact he saw so little work in the passing game. He almost singlehandedly powered the Titans to playoff wins over the vaunted defenses of the Patriots and Ravens, proving he could overcome even the most difficult matchups. However, let's not forget those games also played out nearly perfectly for Tennessee (New England's offense sputtered for most of the second half of the season and Baltimore uncharacteristically shot itself in the foot repeatedly against the Titans).
Volume and talent will typically win the day at running back; Henry should still get plenty of the former in 2020 and has plenty of the latter, so he is highly unlikely to be a major disappointment in fantasy unless he gets hurt early. However, we shouldn't dismiss that part of Henry's rise to prominence last season came as a result of Dion Lewis offering so little. The addition of Darrynton Evans figures to give the Titans the kind of explosive element they wanted from Lewis, effectively slamming the door on whatever little chance Henry had of pushing for more work in the passing game. The defense didn't receive much of a talent upgrade either, so it seems unlikely Tennessee will enjoy more favorable game scripts than it did in 2019.
Henry falls into a group I like to call the "Michael Turner class" - essentially a group for bigger running backs who are either liabilities in the passing game or just aren't utilized as receivers very much for whatever reason, which is the subsection I believe Henry falls under - meaning he will almost always be at the mercy of his teammates to keep him relevant for fantasy purposes no matter how prolific he is with the ball in his hands. The selection of Evans would seem to suggest the Titans plan on keeping it that way.
Josh Jacobs, Raiders
Won by eight or more points: 24.3 (74%)
Won by seven or fewer points: 20.1 (54, 68, 58, 52, 64%)
Lost by seven or fewer points: 11.5 (55, 57%)
Lost by eight or more points: 9.1 (46, 42, 56, 39, 57%)
One of the primary reasons Jacobs was the only running back selected in the first round of the 2019 NFL Draft was his ability to contribute and create mismatches in the passing game. If there was one question asked about him more than any other entering last season, it was that he had to prove that he could handle a heavy workload. Naturally, the Raiders opted to flip the script in his rookie year; he finished 13th in the league in rushing attempts (242) despite missing three games but 53rd among running backs in average routes run/game (11.3), per Pro Football Focus. (For some perspective, McCaffrey, Leonard Fournette, Ezekiel Elliott and Barkley all averaged at least 29 routes run/game.) Oakland enjoyed slightly better game scripts than the Titans did, as the Raiders ranked ninth in the league in average time trailing (21:24) despite suffering six losses of more than eight points - including five with Jacobs playing.
2020 Outlook: If it were up to GM Mike Mayock, there's a good chance Jacobs would have been up near the top of the list at running back in terms of overall passing game involvement. Unfortunately, HC Jon Gruden saw fit to spread those reps out fairly evenly among his three backs, giving Jalen Richard (12.8 routes run/game), Jacobs and DeAndre Washington (7.9) all a bite of the apple on a regular basis. The departure of Washington to the Chiefs in free agency appeared to provide an opening for Jacobs to become more of a three-down back in 2020, but the arrival of do-everything Lynn Bowden Jr. likely slammed the door shut on that. It's unlikely Richard will see his role change much, and it seems reasonable to believe a former college receiver like Bowden will run at least as many routes per game as Washington did - if not more. Thus, the only avenues Jacobs has to see more involvement in the passing game are to have the offense run more plays or throw more often. The latter is the more likely of the two, but the additions of Henry Ruggs III and Bryan Edwards - not to mention the presence of Darren Waller and Hunter Renfrow - makes it unlikely Jacobs would benefit all that much even if Derek Carr bumped up his passing attempts per game from last year's 32.1 to 35 or 36. Thankfully, Las Vegas should be improved on defense and already has a solid offensive line, so it is conceivable Jacobs could make a push for 300-plus carries and maybe even a rushing title if he can avoid injury.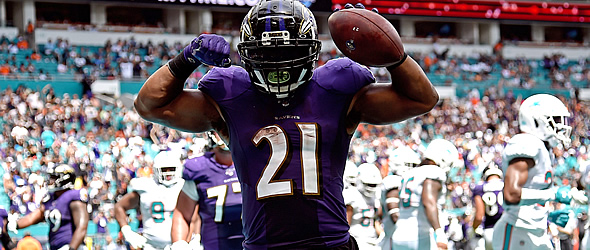 Mark Ingram, Ravens
Won by eight or more points: 18.0 (32, 51, 44, 49, 46, 31, 54, 41%)
Won by seven or fewer points: 11.4 (58, 65, 38, 55, 55%)
Lost by seven or fewer points: 35.5 (60%)
Lost by eight or more points: 10.1 (46%)
It's easy for the eye to catch the huge outlier under Ingram's name, but it should be noted that it was one performance in Week 3 against a Chiefs' defense that had yet to gel and saw the Ravens trailing by double figures for nearly half of the game. It should also be noted Baltimore won nine games by at least eight points and paced the league in average time leading (38:54) and trailed less often than any other team in the league by nearly 3 1/2 minutes on average (8:44). But there is more than meets the eye with Ingram's production last year. The Ravens put opponents away quickly enough that his fantasy owners should feel fortunate he found the end zone as often as he did in those contests. Here's a breakdown of his production using the four categories referenced above:
Ingram's production by margin of victory/defeat - 2019
Split
G
Car
RuYd
RuTD
Tgt
Rec
ReYd
ReTD
FPts
8 or more (W)
9
12.7
71.3
0.6
1.8
1.4
17.2
0.6
18.0
7 or fewer (W)
4
15.0
50.5
0.5
2.0
2.0
15.0
0.0
11.4
7 or fewer (L)
1
16.0
103.0
3.0
4.0
4.0
32.0
0.0
35.5
8 or more (L)
1
12.0
71.0
0.0
1.0
1.0
0.0
0.0
10.1
* Ingram did not play in Week 17, leaving him with 15 games played.
Throw out the obvious outlier game against Kansas City and it becomes clear Ingram wasn't hanging around to boost his bottom line in lopsided games - win or lose. The Ravens' only large defeat came in Week 4 against the Browns, so it would be easy to dismiss that. However, it falls very much in line with the wins of eight or more points, suggesting it is something that needs to be taken into account.
2020 Outlook: Ingram would appear to have more to lose this season than any running back we have discussed to this point, but fantasy owners also need to understand he only played 48 percent of the snaps in 2019. So, if Baltimore can maintain the ridiculous level of offensive efficiency it had last season - and Ingram can do the same with his workload - then it is conceivable he could be a great value again for fantasy owners who are not scared off by the team's decision to draft J.K. Dobbins in the second round this spring. After all, the Ravens ran the ball 596 times last season (399 after the quarterbacks' share is taken out), so they could theoretically have enough work to hand out to keep at least two (or maybe even three) backs happy if they cut back a bit on Lamar Jackson's rush attempts. Thus, the dilemma is if Ingram will even be a 48-percent snap player in 2020. HC John Harbaugh suggested this spring the team had a role for all four of his running backs (Ingram, Dobbins, Gus Edwards and Justice Hill), so it would seem unlikely Ingram will play as much this year, and that's before we consider how much of a realistic threat Dobbins is to become the lead back at some point as a rookie.
A very realistic scenario would be Ingram and Dobbins each receiving about 40 percent of the backfield snaps for as long as they both stay healthy. If there is much of any drop-off in efficiency in this offense and/or Ingram shows any hint of a physical decline in his age-30 season (he'll turn 31 in late December), then his fantasy owners probably will likely be left with nothing more than a hit-or-miss RB2 option at best, making Ingram a slight disappointment at his fourth-round ADP and Dobbins a relative value in the seventh.
Running backs who benefited from negative game script
Todd Gurley, Falcons
Won by eight or more points: 8.7 (62, 79, 61%)*
Won by seven or fewer points: 20.3 (38, 67, 77%)*
Lost by seven or fewer points: 19.2 (90, 72, 80%)*
Lost by eight or more points: 11.4 (50, 52, 54, 56, 67%)*
* Devonta Freeman's 2019 fantasy-point averages and snap percentages
Some explanation is needed here. To this point, this analysis has been restricted to players returning to the same team they played for last year. While it is a good rule to apply any time this kind of analysis is conducted, Gurley enters a remarkably similar situation to the one Freeman departs. And since the Atlanta offense is one that figures to be quite appealing for fantasy purposes, it makes sense to address it even if the same back won't be handing the touches. So, I took the unusual step of using Freeman's numbers from last year and will focus mostly on what it could mean for Gurley in 2020.
As a player who averaged 3.6 yards per carry, ran for two touchdowns in 14 games and played for a team that ranked 25th in average game time leading (19:44), it should come as no surprise that 124 of Freeman's 197.6 fantasy points last season came in the passing game. The mere fact he was able to average 13-plus carries on such a team is a bit of a shock. He wasn't getting a lot of help as a runner, as Atlanta ranked 24th in adjusted line yards (3.98) per Football Outsiders and got stuffed on 21 percent of its rush attempts. One would have to imagine that a line with five former first-round picks - including two heading into their second season as pros - won't play as poorly again in 2020. (It's probably worth noting at this time that Gurley's Rams ranked 19th in adjusted line yards at 4.27 and also saw 21 percent of their run plays get stuffed.)
2020 Outlook: Perhaps one of the more appealing takeaways from Freeman's 2019 season is his snap percentage in all types of games. Excluding his 38 percent snap mark in Week 10 during which he suffered a foot injury that knocked him out of the game in the third quarter, Freeman was on the field for at least 60 percent of his team's snaps in 10 of 13 games and played at least 50 percent of the snaps in all of them. Gurley is at least Freeman's equal in the passing game and a more physical runner (and perhaps even more explosive), so it's reasonable to believe that if any combination of the following improve (Gurley's knee and/or the offensive line) or remain the same (the defense can carry over its second-half surge into 2020), then Gurley should be at least a modest improvement on Freeman for fantasy purposes. A lot was working against Freeman last year and he still nearly scored 200 fantasy points despite missing two games. Gurley may no longer be in his prime and cannot be expected to carry fantasy teams anymore, but that has already been factored into his draft cost. As long as Atlanta chooses to use him with the same frequency it did Freeman last year, Gurley is a good bet to surpass expectations should he fall into the mid-to-late third round of drafts.
David Montgomery, Bears
Won by eight or more points: 8.9 (67, 69%)
Won by seven or fewer points: 11.3 (44, 60, 62, 62, 64, 65%)
Lost by seven or fewer points: 13.6 (38, 52, 73%)
Lost by eight or more points: 9.8 (46, 73, 46, 43, 56%)
My primary reason for including Montgomery isn't because he was a negative game-script all-star, but rather to highlight how curiously his snaps were distributed and the fact he was seemingly more productive with a lower snap share. While Chicago did lean on him more later in the season, he began the season sharing snaps with Mike Davis, who was cut halfway through the season. Montgomery didn't start regularly logging at least 60 percent of the snaps until right before Davis was sent packing; beginning in Week 8, Chicago went 6-1 in the seven games Montgomery logged at least 60 percent of the snaps. Unfortunately, the Iowa State product was tied for 24th among running backs in routes run over that time (144) and targeted on a measly 12.5 percent of them. (To put that number into some perspective, Patrick Laird played two fewer games in that span and ran 14 more routes; Laird was targeted on 17.7 percent of his routes).
Yes, there are plenty of numbers and analytics to suggest Montgomery wasn't all that great last season. For example, his 2.33 yards after contact per attempt ranked 54th among running backs with at least 60 rushing attempts (Pro Football Focus). However, his 47 avoided tackles after a rush (PFF) was good for eighth and one less than Ezekiel Elliott managed on 59 more carries. That kind of conflicting information suggests the offensive line wasn't holding up its end of the bargain - a premise backed up by Chicago's 3.86 adjusted line yards. It also suggests HC Matt Nagy did a poor job - through his play-calling and personnel - of keeping the defense guessing when Montgomery was on the field, leading to multiple defenders being able to rally to him. Sure enough, Montgomery only ran a route on 38 percent of his 625 snaps as a rookie. Furthermore, he was targeted on only 13.8 percent of those 239 routes. Let's also not forget how infrequently Mitchell Trubisky provided any semblance of a run threat before the final month of a season. One of the best ways to help a bad or struggling offensive line is to enable a quarterback to use his athleticism and make the backside pursuit respect him as a runner. That didn't happen near enough in 2019.
2020 Outlook: In some respects, Montgomery's 2019 season mirrored that of Josh Jacobs. Both were running backs who proved they were very adept in the passing game in college but plugged into run-heavy roles as rookies. I only have to refer to my draft profile of Montgomery to remind readers that his college coach told front office personnel before the 2019 NFL Draft that Montgomery was Iowa State's best slot receiver - and that was on a Cyclones team that had Hakeem Butler work inside a fair amount. So the question isn't whether Montgomery needs positive game script to get the snaps he should, but rather if Nagy will allow him to show off that part of his game. Cohen is a unique talent that needs to get his snaps as well, but the Bears do not have such an embarrassment of riches on offense that Nagy can afford to significantly cut Montgomery's snaps to get Cohen on the field more often. Nagy's insistence on giving significant snaps to Taylor Gabriel was probably my biggest complaint of him last year because it put three receivers on the field - one of which was a primarily a deep threat and wasn't brought back this season (Gabriel) - and generally left either Cohen or Montgomery on the sideline.
The simple fix here is giving Cohen a few more snaps on third down than Montgomery and asking Cohen to operate out of the slot more often on early downs. PFF charted Cohen with 105 snaps out of the slot (29.1 percent of his routes for the season) - both figures being the highest among running backs who played more than 10 games in 2019 - but it is still not nearly enough. Unfortunately, while free-agent addition Ted Ginn Jr. should serve as an upgrade on Gabriel, it also suggests Nagy will continue to value a deep threat more than getting his best (and perhaps more importantly, most consistent) playmakers in the passing game on the field at the same time. As a result, Montgomery will almost certainly need the defense to play better than it did last year (to get more volume) or the offensive line - which didn't get much in the way of upgrades this offseason - to step up (to improve his efficiency). Much like Jacobs, Montgomery needs his play-calling head coach to think a bit more outside the box to come anywhere close to his ceiling.
James White, Patriots
Won by eight or more points: 12.7 (47, 31, 40, 38, 54, 41, 43, 38%)
Won by seven or fewer points: 7.4 (52, 31, 45%)
Lost by seven or fewer points: 21.0 (78, 61, 36%)
Lost by eight or more points: 16.4 (42%)
White is perhaps the least surprising player in this piece. A modern-day version of Kevin Faulk and scores of other backs like him, White's involvement in any game is going to pick up on the rare occasion the Patriots find themselves trailing. He saw no more than 43 percent of the snaps in 10 of 15 games, and his two busiest games came in two of New England's three losses by seven or fewer points (78 percent in Week 13 against Houston, 61 percent in Week 14 against Kansas City). The Patriots' only large defeat (Week 9 versus the Ravens) got out of hand so quickly that his 42 percent snap share in that contest can be easily explained.
2020 Outlook: White will play without Tom Brady for the first time in his career this season, which should make for some interesting times for fantasy owners of the running back. Was White a creation borne out of Brady's desire to get rid of the ball as quickly as any quarterback in recent memory? Or is he a central part of OC Josh McDaniels' offense but pigeonholed as a special-situation player regardless of the quarterback? Brady once said "you just couldn't ask for a better player" than White, so it's easy to get the sense that White's career production has largely been a product of his connection with Brady. But let's not be so quick to assume White's demise just because the new guy is Cam Newton, who was on the front end of 94 of Christian McCaffrey's 107 catches in 2018 after not being a quarterback known for throwing to his running backs.
The bigger consideration this season might be whether or not New England finds itself in more negative game-script situations than usual, which would presumably lead to more playing time and more consistency from White as a superior option on passing downs to Sony Michel, Damien Harris and/or Rex Burkhead. One thing does seem certain though: the Patriots are highly unlikely to approach the volume they reached in the passing game in Brady's last three seasons (he attempted at least 570 throws in 2017, 2018 and 2019). In other words, there is a real possibility White's playing time increases - on a snap percentage basis anyway - but his volume decreases in 2020. Whereas he was a solid RB2 play last year, he feels like more of a flex option this season.

---
Doug Orth has written for FF Today since 2006 and been featured in USA Today's Fantasy Football Preview magazine since 2010. He hosted USA Today's hour-long, pre-kickoff fantasy football internet chat every Sunday in 2012-13 and appears as a guest analyst on a number of national sports radio shows, including Sirius XM's "Fantasy Drive". Doug is also a member of the Fantasy Sports Writers Association.