We have reached the final leg of our journey. Once again, my choice to be contrarian backfired with my prediction of Packers vs. Bills in the Super Bowl. My hope wasn't that I would have to settle for a spot inside the top 15,000 entries heading into the final week, but I have to imagine I'm still in the top 10 percent, so I'll learn to live with it. As a result, we'll get right into the DFS portion of my final column of the season.


NFL.com Playoff Challenge Roster
QB: Patrick Mahomes (x1)
RB: Clyde Edwards-Helaire (x2)
RB: Leonard Fournette (x1)
WR: Tyreek Hill (x1)
WR: Mike Evans (x1)
TE: Travis Kelce (x4)
K: Harrison Butker (x1)
D/ST: Chiefs (x1)

Round 1 point total: 50
Round 2 point total: 248
Round 3 point total: 246
DraftKings
With DraftKings' Showdown all that remains in DFS this week, I want to use the rest of my time to provide my readers with the kind of analysis one should expect in advance of the biggest game of the year. Enjoy. (Each position is sorted by my DraftKings' projected point total.
Key for quarterbacks, running backs, receivers and tight ends:
P Yds - Passing Yards
P TD - Passing Touchdowns
INT - Interceptions
Ru Yds - Rushing Yards
Ru TD - Rushing Touchdowns
Rec Yds - Receiving Yards
Rec TD - Receiving Touchdowns
Rec - Receptions
Quarterbacks
Player
Tm
DK$
P Yds
P TDs
INT
Ru Yds
Ru TDs
DK
Patrick Mahomes
KC
$18,000
334
4
0
22
0
34.6
Tom Brady
TB
$15,000
319
3
2
0
0
25.8

Mahomes: Score another one for the anti-logic establishment. (Either that or Mahomes' special orthotic was truly "special.") If the reigning Super Bowl MVP was limited in any way against the Bills, it was almost impossible to tell. A critic might knock his five rushing attempts for five yards, but whatever rushing production he provides in a given week is a bonus anyway considering he typically provides 300-plus yards passing and 2-3 touchdowns on a somewhat regular basis.

The Kansas City offense has been so good for so much of the year that many have forgotten RT Mitchell Schwartz - one of the best lineman in the league - hasn't played since Week 6. The Chiefs lost LT Eric Fisher (Achilles) for the foreseeable future in the AFC Championship game, meaning the defending Super Bowl champions will be forced to use backups to keep the game's richest player upright against one of the most aggressive defenses in the league. There comes a time when even the most improvisational quarterbacks can't elude every would-be tackler in the pocket, and one has to wonder how close the Chiefs will come to giving up 10 pressures with (from left to right) Mike Remmers, Nick Allegretti, Austin Reiter, Stefan Wisniewski and Andrew Wylie serving as his primary blockers against the likes of Shaquil Barrett, Ndamukong Suh and Jason Pierre-Paul.

Tampa Bay may have improved defensively since its Week 12 loss to Kansas City, but it should be noted quarterbacks have still completed 67.9 percent of their pass attempts versus the Bucs for the season. Mahomes also threw for 359 yards and two scores in the first half alone against this same defense in the earlier meeting and had both of its starting safeties healthy for that one (Antoine Winfield Jr. and Jordan Whitehead). They may only have Winfield this time around. Much has been made about Tampa Bay's ability to hold the Chiefs to a single touchdown after halftime in Week 12 as well, but that's not exactly what happened. Here's a summary of Kansas City's five second-half drives in that game:

1) Tyreek Hill's third TD of the game from 20 yards out to cap a seven-play, 75-yard drive;
2) Mahomes uncharacteristically threw behind Mecole Hardman on the first play of the second drive. Given Hardman's speed and the positioning of the defense on the play, a typical Mahomes throw would have given Hardman an 89-yard score;
3) Three straight plays to Le'Veon Bell led to a three-and-out;
4) Two holding penalties led to a third-and-27;
5) The Chiefs ran out final 4:10.

Mahomes attempted 33 passes in the first half and 16 in the second half of the first meeting. While some of that disparity can be attributed to two three-and-outs, the second half had much more of a "we're up 17 points and want to chew clock because Tom Brady is on the other side" feel to it than Tampa Bay figuring out how to slow down Hill and/or Travis Kelce. If anything, the Buccaneers' inability to contain Marquez Valdes-Scantling in the NFC Championship is yet another sign they can and probably will get beat deep a time or two in the Super Bowl.

Brady: It's hard to knock Brady for many reasons, especially given what he did during the regular season (65.7 completion percentage, 289.6 passing yards/game, 40 TDs, 12 interceptions). His playoff passing yardage isn't much different (286.7), but it has been highly inconsistent (381, 199 and 280). Admittedly, that's not all that big of a deal given how often yardage is dependent on things such as game script and quality of opponent, but the bigger issue is his completion percentage (hasn't exceeded 55.6 yet this postseason).

This leads to a bigger point, which is that Brady has been terrible under pressure in 2020 and even worse in the playoffs. Per Pro Football Focus, Brady completed 43.8 percent of his passes and posted a 54.5 passer rating under pressure in Weeks 1-17 - good for 23rd among quarterbacks with at least 340 drop-backs this season. During the playoffs, those numbers have dropped to 28.6 and 39.6, respectively. (By comparison, Mahomes is completing 56.3 percent of his throws and has posted a 102.3 passer rating under pressure this postseason.) Both of his interceptions in the first meeting were panic throws under pressure. His last interception against the Packers in the NFC Championship was another one.

While Brady's recent production might look almost identical to what he did during the regular season, there is at least some evidence his supporting cast did more than its fair share in January to carry him as opposed to the other way around. Adding context to the earlier argument about Brady under pressure, he has been pressured on 26 of his 114 drop-backs during the playoffs. On those 26 plays, Brady is 6-for-21 for 124 yards, no TDs and one interception. He has taken five sacks and been the victim of one drop. In Week 12 against the Chiefs, he was 4-for-10 for 90 yards (to go along with the aforementioned two picks) on the 11 drop-backs in which he was pressured. If these trends hold this weekend, Tampa Bay needs to pray its protection holds up and the running game is working. The Bucs cannot afford multiple turnovers and hope to hang with the Chiefs, even if they are missing their top best linemen.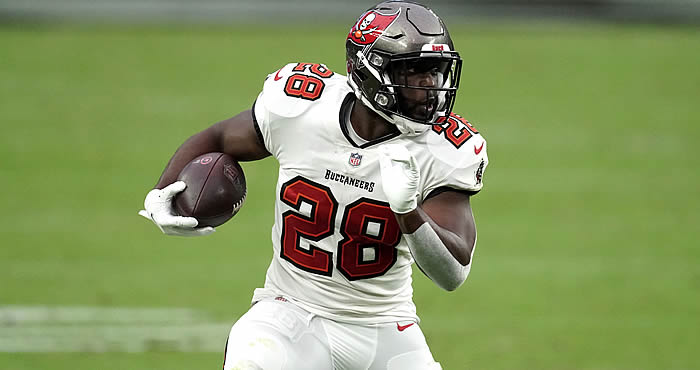 Chiefs: The likelihood Mahomes, Hill or Hardman leads the team in rushing is relatively high. Kansas City attempted 20 runs (eight of which came in the fourth quarter) and split a total of 19 touches between Edwards-Helaire and Bell in the Week 12 meeting. With the Chiefs' offensive line ailing and Tampa Bay DT Vita Vea back from injury, they may not reach any of those marks in the Super Bowl. Considering the Bucs also possess as much speed as any defense in the league, Kansas City would be wise to use as much misdirection as possible (counters, reverses, etc.) if it wants to maintain a hint of offensive balance. But do the Chiefs even care about maintaining balance though? Doubtful. Kansas City attempted 34 passes versus seven runs in the first half against a Vea-less defense in Round 1 and had a legitimate shot at scoring at least 35 points before intermission. (The Chiefs settled for a field goal after driving to the Tampa Bay 1 on their first possession, fumbled at the Bucs 8 early in the second quarter and settled for a short field goal on their final drive of the half as the clock made their offense one-dimensional.)

With another two weeks to heal from the ankle and hip injuries that sidelined him for four weeks and likely contributed to his lackluster effort in the AFC Championship, Edwards-Helaire may be ready to split work with Williams right down the middle this weekend, although it is reasonable HC Andy Reid opts to stick with the latter as the lead back since he has been running so well for the last month. Whether their workload amounts to 15 or 25 touches will likely depend on if and how quickly Kansas City can build a healthy lead. As previously noted, Reid erred and went conservative too early in the first meeting. It'd be a stunner if he makes the same mistake again.

Bucs: "Playoff Lenny" is a thing. Or is it? Fournette flashed the dominant form he showed during his college days on his 20-yard TD run against Green Bay a couple of Sundays ago, but he was essentially the same player he has been for most of the season on his other 16 touches - inefficient as a runner and prone to drops as a receiver. Unfortunately, Jones' 10 carries for 16 yards didn't convince the Bucs' coaching staff he needed more work. As suggested earlier, both players will need to be much more productive with their touches in this contest. The Bucs probably won't realize it until it is too late, but Jones needs to be the lead back in this game. His ability to create yards after contact should allow Tampa Bay to extend drives, help the defense stay somewhat fresh and theoretically limit the number of times the Chiefs can get their hands on the ball. Of course, the Bucs have to be able to avoid falling into the same 17-0 hole they did in Week 12. Unfortunately, RoJo still takes a back seat to Fournette in the passing game, even though his finest play in the passing game this year came against the Chiefs.

There's not a lot of probable game scripts that point to Tampa Bay controlling the flow of the game, making Jones a poor fantasy bet. That's not to say RoJo can't overtake Fournette if the latter starts slow and the former hits a big play early, but it is unlikely. Right or wrong, Fournette is the back the Bucs trust in the passing game at the moment and in negative game scripts. Considering how stingy Kansas City has been against receivers this year and how often they play with the lead, the odds strongly favor Fournette getting the most work in this backfield again this week.


Chiefs: It is common knowledge Hill took CB Carlton Davis to school in the first meeting, lighting him up for 203 of his 269 receiving yards and two of his three touchdowns in the first quarter alone. This is the kind of thing that can potentially happen whenever defenses and/or defensive coordinators decide to leave Hill in single coverage. It is exactly what happened on Hill's first TD catch in that contest. Perhaps the most baffling thing about Tampa Bay's defensive approach in Week 12 was Davis routinely playing 10 yards off of Hill during that fateful first quarter. Playing off-coverage to that degree is a good idea when a corner is lined up opposite of a possession receiver and anticipating a quick throw he can break on. Hill is obviously not a possession receiver and absolutely lethal if he can get the cornerback's feet to stop for even an instant. Sure enough, the first TD was an out-and-up against Cover 3 in which effectively acts as a safety and is responsible for his third of the field.

Unfortunately for the Bucs, it isn't enough just to play closer to the line of scrimmage against Hill. Reid has an answer for that as well, and it usually involves putting his speedster in the slot. On the second score, Hill was the inside slot in a trips formation to the short side of the field. Reid dialed up a play in which the safety that should have been focused on Hill had the two outside receivers running go routes right at him, leaving Hill with the wide side of the field to outrun Davis. By the time the safety came over to help, Hill was back-flipping into the end zone. On the third and final score early in the third quarter, Davis again lined up within a yard of Hill. Again, he had man coverage on Hill and no safety help. The coverage was good, but Mahomes put the ball where it needed to be. It's a reminder that Mahomes is not afraid to target Hill 15 times if defenses fail to tilt their coverage in his direction.

One of the commonalities in all three TDs was that Davis not laying a hand on Hill as he came off the line of scrimmage. If the Buccaneers want to avoid a similar fate this weekend, there cannot be a repeat of this. None of the other potential receiver-cornerbacks matter all that much if Tampa Bay doesn't fix that problem first. For the sake of being thorough, let's assume the Bucs are perfect in their coverage of Hill and don't let him get deep. The Chiefs have done an exceptional job over the later part of this season of keeping Hill involved on screens and hitch routes when defenses pay him the proper respect deep, so it's not a matter of if he'll contribute in this game. The idea is to make him work for everything. That has to be priority No. 1 in regards to limiting his impact.

Regardless of whether Watkins is healthy enough to play this week or Hardman gets the start in his place, there should not be a single play in which either one has to beat more than one defender. If Tampa Bay is even moderately successful in checking Hill, then it stands to reason Watkins/Hardman could see as many as 10 targets. There's a reasonable chance Watkins could be the game's most productive receiver if he plays (or Hardman if he doesn't).

Bucs: Fantasy owners should not be misled by Evans' 3-50-2 line in the first meeting. He had one catch for 12 scoreless yards entering the fourth quarter in a game the Chiefs were leading 27-10. It would appear he's as healthy now as he has been all season, however, which is something that could not have been said back in Week 12. Much of Godwin's production came in the final 15 minutes as well (3-54-0 through three quarters, 5-43-0 in the fourth). The point to be made here is that Kansas City's regular-season success against receivers (second-stingiest defense in the league versus wideouts) has certainly carried over to the postseason.

Even with the route-running expertise of Stefon Diggs, the Bills could not seem to create any separation from the Chiefs' secondary in the AFC Championship until the game was out of hand in the AFC Championship. Buffalo OC Brian Daboll did his offense no favors by rarely using bunch and trips formations or motion to gain tactical advantages, and it's a lesson Tampa Bay OC Byron Leftwich would be wise to keep in mind if Evans and Godwin struggle to get open early in this contest.

Speaking of lessons to be learned, the Bucs were highly inefficient when targeting receivers lined out wide in the first meeting and highly successful when targeting the slot. (Check out this article from the analytical minds of Sharp Football Analysis for a comprehensive breakdown.) While every Bucs receiver gets a fair amount of work inside, Godwin plays by far the most snaps there. Chiefs primary slot CB L'Jarius Sneed has been a pleasant surprise for a fourth-round rookie and graded out well in Week 12, but he only played about half of the defensive snaps in that game. So while the slot may be the easiest way for the Bucs to move the ball through the air, it may not be that big of a weakness. If Sneed proves to be up to the task early in this one, then the answer may be using late motion to get Evans and Antonio Brown (he appears to be a good bet to play) lined up inside right before the snap. This tactic would allow the "new" slot to use their speed advantage and gives them more of the field with which to run his route (not unlike what the Chiefs do with Hill).

It's a long-winded way to say Godwin should be the most productive Tampa Bay receiver in the Super Bowl, but all bets are off on which Buc wideout will have that distinction if Sneed holds up well early.


Chiefs: Kelce's production speaks for itself. Sometimes, people make the mistake of thinking "it must be the scheme" or "teams are scared of Hill" as the main excuses as to why Kelce is as productive as he is. Don't be that person. Kelce can get open against some of the league's top cornerbacks because he is such a good route-runner, so safeties and linebackers stand virtually no chance. His feel for running routes is probably the main reason why he will almost certainly age better than most players at his position. In short, there isn't much that defenses can do to stop him from getting his numbers.

There are two things Tampa Bay can help itself in regards to slowing him down, however:

1) Use a defensive lineman to bump him off his route when lines up in-line or make sure a linebacker gives him a good push on him within the allowed five-yard area whenever possible. Throwing Kelce off by even a half-second is more than what 80-90 percent of defenses do nowadays;

2) Make him the overwhelming top priority near the goal line. Kansas City has been highly creative with getting Kelce in the end zone this year. However, if Mahomes has one minor weakness, it might be the degree to which he has locked in on him in scoring range in recent weeks.

The million-dollar question is whether Bucs DC Todd Bowles can tweak his usual game plan to account for the unusual wrinkles the Chiefs throw at defenses, especially Kelce. Such has not been the case in 2020, as the Bucs have been routinely beaten up by tight ends. With the athleticism Tampa Bay boasts (especially at linebacker), it doesn't have to be that way. It's up to Bowles to show some flexibility.

Bucs: If Tampa Bay had anything working in the first meeting, it was Gronkowski. His only 100-yard game of the season came against Kansas City, and all of that production came in the first three quarters. Unfortunately for him and his fantasy owners, Week 12 was also one of the last times he's been a significant part of the game plan. During the postseason, Gronkowski has been targeted on only seven of his 60 routes. Meanwhile, Brate has been targeted on 17 of his 50 routes.

Has this change been a conscious decision by the Bucs to have Gronk block more? Ask him to serve as a decoy for Brate? Reduce his role to the point where a team like the Chiefs may not consider him as much of a threat, only to reestablish the Brady-to-Gronk connection when it matters the most? Or is Brate making an under-the-radar push to be more of an equal to Gronk in the passing game? All are valid questions, and none of them have definitive answers.

Given his history with Brady, it's probably fair to assume Gronk is still the preferred option at tight end. However, Brady and Gronkowski are obviously no longer in New England. There's a good reason why Gronkowski has seen a total of 13 targets in the last five games. Brady has at least two or three options that are at least on par with Gronk available to him on every play. DraftKings is giving DFS players a nice savings of $2,700 if they roll with Gronk over Brate this week, but it would be foolish to believe the former is going to have a repeat performance against Kansas City when he has been nearly invisible in three playoff games to this point.

Key for defense/special teams units:
XP - Extra point
FG - Field goal
PA - Points allowed
TD - Defensive/return touchdowns
TO - Total turnovers
PA Bonus - Points allowed bonus for DraftKings



Defense / Special Teams
Team
DK $
PA
Sacks
TD
TO
DK Bonus
DK
Kansas City
$3,900
$28
2
0
2
-1
5
Tampa Bay
$4,200
$34
3
0
1
-1
4
Summary
Kansas City's offense has been so good since Mahomes took over that the defense consistently gets overlooked since its improvement around the midpoint of last season. The Chiefs finished the regular season ranked 10th in scoring defense (22.6). If their two postseason games are included, the defense is allowing 22.4 points/game. Why does that matter? Kansas City is giving up an average of 9.1 points in the fourth quarter, which means it is typically giving up less than 14 through the first three periods. It's a prime reason why so many underrate the Chiefs' defense; they are so often in a position to sit back in coverage and let opponents land a lot of body blows that may lead to a couple of late scores. Tampa Bay will probably exceed 22 points in this contest, but how realistic is it for them to score the 30 points (and then some) they'll probably need to keep pace with the Chiefs? Kansas City has topped that mark 10 times this season and allowed that many only three times, with two of those times coming against the Raiders.
As far as the Buccaneers are concerned, there are four points of emphasis that Bowles should be pushing on his defensive charges this week. In the spirit of "The Jordan Rules" (what the NBA's Detroit Pistons used to limit the effectiveness of a young Michael Jordan in the late 80s for the few that may be unfamiliar with the phrase), here are "The Chiefs Rules":
1) As mentioned earlier, rough Kelce up as much as possible. He cannot be allowed to have a free release off the line of scrimmage;
2) Consider using the old Bill Belichick defensive strategy of using the No. 2 cornerback (likely to be Jamel Dean or Sean Murphy-Bunting in this game) to shadow Hill and put a safety over the top whenever possible. Put the No. 1 corner (Davis) on the secondary receiver (Watkins/Hardman);
3) To further drive home the point that no receiver will be allowed to go over the top of the defense, be willing to put a safety as far as 20 yards off the line of scrimmage. This is doable for the Bucs in part because their front seven can stop most running games without help from the safeties;
4) One of the Chiefs' favorite things to do (against man or zone coverage) is to line up Hill in the slot of a trips formation on the short side of the field and have him outrun his guy to the wide side of the field (as outlined earlier on Hill's second TD in the first meeting). Reid is smart enough to make Hill a decoy out of the slot if the defense overcompensates, but the trick is getting him to adjust in the first place.
Based on the first meeting and recent evidence, Tampa Bay probably won't do more than one of these things - much less all four. One positive change the Bucs made after Hill went off on them in the first quarter was not giving Kansas City so much room off the line of scrimmage. Kansas City is going to score almost regardless of what a team does defensively, but gifting five yards of space to Hill after he makes the catch is just asking for trouble. Force Mahomes to make perfect throws as much as possible.
Even with the Chiefs missing both of their offensive tackles, this game figures to come down to whether or not Tampa Bay can get to the quarterback quickly enough; Mahomes has needed a mere 2.47 seconds to throw on average during the playoffs. (In those two postseason games, he has completed 82.1 percent of his passes when the ball has left his hand in less than 2.5 seconds.) A good goal for the Bucs is if they can record eight or more hurries.
The Buccaneers' dream scenario on offense probably involves around 28 rush attempts and 35 pass attempts. The problem is they haven't been nearly efficient (or explosive) enough on the ground to make it all that likely they can hit those marks. As the earlier pressure numbers indicate, Tampa Bay needs to make Brady feel comfortable in the pocket to stay competitive. That should involve a lot of play-action throws and getting the ball out quickly to the slot, tight end and running backs. Godwin has the advantage over Sneed in the slot, although how much of an advantage that is remains to be seen. Fournette isn't creating nearly enough with his touches to think he'll have a big impact in the passing game, so we are left with the possibility that Gronkowski and/or Brate may need to do yeoman's work if the Bucs are to get the win here. Tampa Bay may get a late touchdown or two to make it a one-score final result, but there are just too many things the Bucs haven't shown the ability to do yet to believe they can stop Kansas City from capturing a second straight Lombardi Trophy.
Super Bowl Prediction: Chiefs 34, Buccaneers 28

---
Doug Orth has written for FF Today since 2006 and been featured in USA TODAY's Fantasy Football Preview magazine since 2010. He is also a high-stakes player who often appears as a guest analyst on a number of national sports radio shows, such as Sirius XM's "Fantasy Drive." Doug is also a member of the Fantasy Sports Writers Association.