If the preseason is euphoric because it allows us to dream about the upside of our fantasy teams, then Week 1 can often serve as a bucket of cold water during an otherwise peaceful sleep.

If my 20-plus years of experience in fantasy have taught me anything, it is to prepare for Week 1 as much as humanly possible and then enjoy it for what it is (or has become): the first time many NFL players have been asked to play a meaningful game in about eight or nine months. A quote I heard some years ago from Hall of Famer Steve Young still rings true: the first four weeks of the NFL regular season is the new preseason. Translation: things will happen in September that should not happen, mostly because players are still transitioning from "preseason-ready" to "regular season-ready."

In the meantime, fantasy managers can prepare for the worst and still keep their eyes on the prize. That will be the goal of this week's column … first to provide insight on a couple of running backs who will likely be taking on bigger roles than expected due to injury and then dive a bit deeper on some other players who were surprisingly utilized (or underutilized in certain cases) in Week 1.

Elijah Mitchell (knee) is expected to miss nearly two months with an MCL sprain. First of all, let this serve as the most recent reminder that a team's primary backup running back should not be on waivers in any competitive league - especially when the starter battled an injury during the preseason and has struggled to stay healthy in his pro career. (We will revisit this topic shortly.)

Wilson has started nine games in his NFL career and finished eight of them. In those eight "healthy" games, Wilson averaged 18.6 carries for 90.3 yards and scored six rushing touchdowns. In those same contests, he added 13 catches for 76 yards and two more scores. Even if we remove four pre-2021 games to account for the impact that Deebo Samuel had on the offense late last year, Wilson still averaged 16.8 rushing attempts and 65.3 rushing yards. What is more is that Wilson reportedly established a firm grasp on the backup job over Jordan Mason and Tyrion Davis-Price in the preseason and was expected to take over the passing-down back role that Jamycal Hasty (23 catches in 11 games) held for most of 2021. That does not account for the 19 receptions Mitchell had during his 11 outings as a rookie.

Of course, projecting Wilson's next two months is not as simple as assigning Mitchell's expected rushing workload and taking the prorated averages of Hasty and Mitchell's catches and assigning that number to him. Mason and Davis-Price will probably steal a few rushing attempts per game. Trey Lance is unlikely to dump it off to Wilson as Jimmy Garoppolo. We also know Lance and Samuel will continue to factor heavily into the run game. What we also know is that Wilson is no longer hindered by the knee injury that made him look like a shell of himself in the weeks immediately following his Week 10 return last season. San Francisco would like nothing more than to run the ball 500-plus times in 2022 and rely on its defense while also helping Lance feel as comfortable as possible for as long as possible. Getting enough rushing opportunities should not be a problem for Wilson; he just needs to prove week after week that he deserves them. I would not worry too much about that last part, as Wilson continues to resurface year after year - for good reason.

With that said, I would advise fantasy managers to trade Wilson away as soon as possible. Not only is his time as a starter finite, but there is also a distinct possibility that he occasionally falls victim to HC Kyle Shanahan's "hot-hand" belief. It all depends on your roster construction: if you feel like you need another solid starting option at receiver, deal him. If your No. 1 post-draft wish was to fortify your depth at running back and find a strong option to deal with some early bye weeks, keep him around.

Remember what I said earlier about making sure that a team's primary backup running back is not on waivers in any competitive league? It applies here as well. Fantasy managers always need to be mindful of drafting AND stashing upside players. That is why unless you are a zero-RB advocate and just need SOME production from the running back position, it defeats the purpose to roster the likes of Miles Sanders or Devin Singletary. Why? Because of the multitude of events that need to happen for them to be league-winning options. Sure, they may score more at the end of the season if your upside option never gets his shot, but their ceiling is limited more often than not. Players like Warren need one thing to happen - and sometimes that one thing is clear to us in the preseason - to step into an every-week starting role for fantasy managers. What makes this particular situation unique is that we rarely have a strong conviction about who the primary backup is AND know that he will likely be featured if/when the starter goes down.

There is not much to say about Warren yet because of when Najee Harris suffered his foot injury (of seemingly unknown severity) in Week 1. However, if initial reports of Harris aggravating his August Lisfranc injury are correct, this story is unlikely to go smoothly for his fantasy managers over the course of a 17-game season. Foot injuries are never good for a running back, much less one who carries as heavy of a load as Harris and operates behind a suspect offensive line.

I have no shares of Harris outside of one experts' dynasty league in which I am ridiculously loaded at running back. If it gives readers any idea how little I believe in Harris' foot holding up, I bid up to 10 percent of my FAAB in the five high-stakes leagues in which he was still on the wire. (I picked him up for free in three leagues before the start of the season.) High-usage backs are always at an increased risk of injury regardless of how well they are built physically. Do not hesitate to trade for him now - specifically if you or the other manager does not already have Harris - and reinforce that Harris is not expected to miss any time. It seems like it is only a matter of when - not if - Harris misses game action.

Stevenson's overall Week 1 profile (25 percent of the team's snaps, 11 percent of the team's routes and no long down-and-distance work) was highly disappointing but not overly surprising. After all, Ty Montgomery's role in the passing game was hyped a lot during the preseason. Unsurprisingly, Montgomery (ankle) landed on IR after playing just 20 snaps in Week 1. As much as we cannot predict injuries, Montgomery's injury history suggested he would not hold up very long in any meaningful role. As a result, New England's Week 1 three-headed backfield is without one of its members for at least a month. There is always the possibility that the Patriots rush rookie Pierre Strong into the James White-like role he was drafted to assume at some point in the near future, but the fact of the matter is that Montgomery would not have made the roster if Strong was ready for that role right now.

Harris' Week 1 utilization wasn't exactly glowing either (39 percent of the team snaps, ran a route on 31 percent of the team's passing plays and nine percent of the work on long down-and-distance situations), but his profile trumped Stevenson's across the board for the most part. A few weeks ago, HC Bill Belichick floated the possibility of Harris and Stevenson each working as the featured back on their designated series as opposed to having them operate in a true committee. That possibility appears to be more of a reality now. If that ends up being the case, then both have a chance at being low-end RB2 options.

Why only "a chance"? Because this offense looks as bad as one might expect an offense to look when it is being run by a long-time defensive assistant (Matt Patricia). Both running backs will need to be utilized in the passing game because there does not appear to be much touchdown upside in this offense. Despite the Week 1 utilization, Stevenson is more adept in the passing game than Harris. Although logic that usually applies to most backfields does not always make sense to the Patriots, Stevenson's skill set would seemingly make him the favorite to handle more of the work Montgomery leaves behind than Harris.

Yes, Allgeier was a healthy scratch in Week 1. No, I do not expect it to continue happening very long. Recommending Allgeier here is subscribing to more of the long view than fantasy managers typically do. Damien Williams may currently be installed as the physical complement to Cordarrelle Patterson, but the 30-year-old has logged more than 50 carries in a season only once in his first seven NFL seasons. Thus, betting on Allgeier is a bet that Williams will fail to do something he has failed to do in 86 percent of the seasons he has played. Williams sustained a rib injury after logging only 10 plays (two carries) in Week 1. He did not practice Wednesday (Sept. 14) due to the injury and may not play much - if at all - in Week 2.

I frankly do not care that Williams saw more time than Cordarrelle Patterson early in the game. It is fair to wonder if the Falcons are also taking the long view with Allgeier, who did nothing but impress during the preseason. HC Arthur Smith would not be the first coach to limit a young back in September and unleash him in October as a way to delay the rookie wall. Make no mistake; the team wants to find at least 15 touches per week for Patterson. Allgeier's upside this season is probably a decent flex play at best. What the Falcons do not want is to give their 31-year-old back 25 touches as they did in Week 1. Allgeier is a better player than Williams. I choose to believe - for now - that Smith chose to make his rookie inactive in part because he wants him available (and/or fresh) for later in the season.

There will be better days ahead. Robinson ran a route on 96 percent of the team's pass plays, which is exactly what fantasy managers would expect from a player who signed a three-year contract worth $46.5 million this offseason. Even better, there is actual visual evidence (surprising, I know) to suggest he will be just fine. Courtesy of Christian Williams of Football Guys and Nick Falato of Big Blue Banter, there is over two minutes of proof that Robinson was getting open against the Bills and wasn't getting the ball.

Robinson's one-catch effort in Week 1 will likely go down as one of the biggest anomalies of the 2022 season for multiple reasons. Few defenses - if any - will be able to replicate what the Bills did in the opener - namely getting a ton of pressure on Matthew Stafford by rushing four and dropping seven in zone coverage. HC Sean McVay also noted that he needs to do a better job of making Robinson the primary option on more of his play calls. The Rams have routinely not played any of their starters in the preseason under McVay. While that approach is great for ensuring the health of his squad entering a season, it does little to promote the kind of trust a quarterback can typically only build in a receiver during actual games. Time after time against the Bills, it appeared as if Stafford knew he was not going to have time to go through his progressions and automatically defaulted to Cooper Kupp.

Stafford told reporters after the game that Buffalo "clouded the boundary quite a bit," which was another reason why Robinson was nearly invisible. It implies that the Rams' game plan was to use Robinson as a vertical receiver against a defense that routinely does not allow big pass plays. Where Stafford's explanation falls short is that it implies the Bills were comfortable letting Kupp - the reigning AP Offensive Player of the Year and Triple Crown receiving champion as well as a very good receiver after the catch - work underneath. That does not make a lot of sense.

The good news is that the Falcons and Cardinals are the next teams up on the schedule. Atlanta blitzed at the fifth-highest rate in the league in Week 1. The Falcons will likely do so again in Week 2 given how aggressive DC Dean Pees has been throughout his career. Stafford has typically also excelled against the blitz. Meanwhile, Arizona is a few days removed from giving up 360 yards and five touchdowns to Patrick Mahomes. If Robinson is unable to deliver a fantasy WR1 (or high-end WR2) performance in either one of the next two games, then we might have a problem.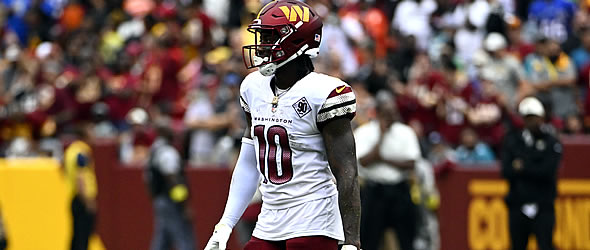 One of the most frustrating things about the preseason is when preseason reports lead me in one direction on a player when I feel like going in the other direction. What does that mean? He barely took part in spring workouts and worked on the side with trainers to begin training camp (due to hamstring and lower back soreness). The last thing I remember reading about him was Washington having "some concern" about his conditioning in early August. Between already having an alpha receiver in Terry McLaurin and Carson Wentz reportedly having a stronger connection with Jahan Dotson than any other receiver in camp, it appeared as if Samuel had little chance to establish himself as an important part of the offense.
Well, it turns out that the Commanders' "plan" played out exactly as they would have hoped in Week 1. Not only did Washington let him live in the slot (he was lined up inside on 29 of his 43 snaps), but it appeared as if he was eating into J.D. McKissic's role a bit in a bit of a pass-heavy offense. How much of that was due to the opponent (the Jaguars have talent in their secondary, but it may take a bit of time for it to be realized) remains to be seen, but how Samuel was used was wildly encouraging. Not only was he targeted on 28 percent of his routes, but he also handled four carries. While his 1.4 average depth of target screams 2021 Rondale Moore, it makes a big difference if Samuel possesses 15-opportunity upside and is allowed to be a factor in the running game as well.
Week 1 marked only the 40th occurrence (since the start of the 2020 season) that a true receiver - filtering out Ty Montgomery (Week 17 from last year), Patterson (Week 14 from 2020), Taysom Hill and McKissic because they are more hybrid backs - logged at least 12 touches in a game. Over that same span, Deebo Samuel is the only other receiver who managed to record at least 10 targets and four carries in a game (Week 16 last season). Dating back to 2010, Curtis Samuel is one of only five true receivers - eliminating Terrelle Pryor, McKissic and Denard Robinson - to touch the ball 12 times, attract at least 10 targets and carry the ball four times in a game. Here is another interesting deep dive: since 2010, Samuel is only the 19th receiver to touch the ball 12 times and see 10 targets in Week 1. Of the 10 receivers in that group that played a full season, the average fantasy finish for the season was 10.9. Only two of the 10 finished lower than WR15.
A receiver does not get 15 opportunities in a game unless the offensive coordinator is specifically attacking a particular matchup or sees that player as a big part of the offense. I am willing to bet on the latter.
Last year, the story was that Toney could not stay healthy. When he was on the field, then-OC Jason Garrett did not use him nearly enough on an offense that needed every dynamic playmaker it could get. This year, the question is already if he is in HC Brian Daboll's doghouse. After all, there can be no other explanation when the most talented receiver on the roster logs only seven snaps and does not see a target. (He did get the ball twice and turned those opportunities into 23 yards, however.) So what gives?
Perhaps the biggest secret in the NFL right now is the one Daboll is keeping with his usage - or lack thereof - of Toney in the opener. If I had to guess, I think it has nothing to do with him being in the doghouse, at least not in the way we commonly refer to a player being in the doghouse. Daboll probably does not see Sterling Shepard (in his first game coming off an Achilles injury), David Sills and Richie James as superior options. Give Daboll at least that much credit. The urgency to play Toney had to be high once rookie Wan'Dale Robinson was lost for the game after nine snaps.
There is a distinct possibility Toney was either on a snap count (at the behest of the training staff) or Daboll has a plan to ramp his usage up over the next month. I can buy into the logic that has been expressed by some observers Daboll was not going to reward Toney for missing as much practice time as he did this spring and summer - even if his injuries were legitimate - with a big Week 1 role. There is also a strong possibility that Toney simply is not physically ready to play a full complement of snaps. He did not play at all during the preseason. He barely practiced, for that matter. It has become commonplace to pretend as if coaches are morons and fail to see what the fans see. After leading a highly successful Buffalo Bills' offense in recent years, one has to believe Daboll knows what he has in Toney. The 2021 first-round pick may not be the second coming of Stefon Diggs, but his incredible elusiveness in the open field has to be intoxicating to the offensive coaching staff. We saw it on his two rushing attempts in Week 1. I can assure you Daboll saw it too.
The good news with Toney is that you likely drafted him as your WR4, which means you should have the luxury of waiting this thing out - barring an injury to one of your top three receivers - until the bye weeks roll around. It is highly unlikely we will be worried about Toney - at least not for the reasons listed above - by then.
---
Doug Orth has written for FF Today since 2006 and been featured in USA Today's Fantasy Football Preview magazine since 2010. He hosted USA Today's hour-long, pre-kickoff fantasy football internet chat every Sunday in 2012-13 and appears as a guest analyst on a number of national sports radio shows, including Sirius XM's "Fantasy Drive". Doug is also a member of the Fantasy Sports Writers Association.