Oh my, how quickly things change from season to season. This time last year the Chiefsí Kareem Hunt was the toast of the town and people were wondering about Christian McCaffrey. At this point last season Alvin Kamara had totaled just 19.4 fantasy points through three games. Heís averaging more than that every week in 2018.
What will week 4 bring us? I can't wait to find out.
Fantasy owners please note that the "bye weeks" have begun with Carolina and Washington off. The next 16-game weekend won't be until Week 13.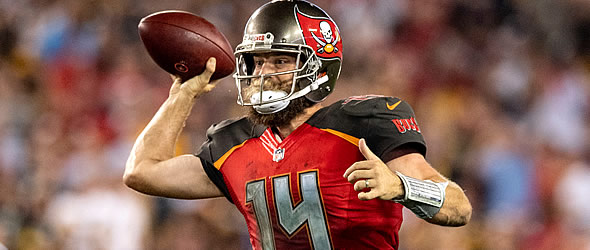 It's time to sell Ryan Fitzpatrick. Fitz is one bad game away from Winston being named the starter.

Truths

"Believe those who are seeking the truth. Doubt those who find it." - Andre Gideore

1) We saw the beginning of the end to "Fitzmagic" so sell high. Sell now.
While Ryan Fitzpatrick has thrown for 400 yards in three straight games, there are signs that he could be headed for a fall. Heís throwing too much. Fifty passes is too often for a journeyman who has flaws in his game. His QB Rating has dropped from 156.2 in Game 1 (almost perfect) to 144.4 to 81.3 against the Steelers. Heíll be under pressure in Week 4 from the Bears and Khalil Mack, who lead the league in sacks (14) and defensive TDs (2). And eventually Jameis Winston will be the starter. Sell today!
2) Run Forrest run.
Unlike the quarterbacks leading the position in scoring, Cam Newton, Deshaun Watson, Russell Wilson, Dak Prescott and Marcus Mariota need to keep running to continue to be viable. The five quarterbacks all add four points or more per game by using their legs. Fitzpatrick, Drew Brees and Matt Ryan are also averaging over 4.0 FPts/G on the ground, but they donít normally need their legs to be productive. We can probably add Josh Allen to the list, but itís too early to tell on the Billsí rookie just yet.
3) Trade LeíVeon Bell unless you think you can make the playoffs without him.
At this point in time itís unlikely that Bell will be back before Week 10 and then heíll need at least a week to get into playing shape. Remember, the trading team canít give him more money than the franchise tag which heís already refused, so there is no reason for him to report early even if traded. Meanwhile, because the new team canít guarantee him a ďTodd Gurley-typeĒ deal and know heís staying put, they canít offer the Steelers what heís really worth as a top-two running back. Stalemate.

4) Watch the offensive line injury reports to gage their impact on the most run-dependent backs.
The run-dependent backs who are averaging double-digits are; Carlos Hyde (four receptions-for-15 yards), Isaiah Crowell (4-for-21), Ezekiel Elliott (11-for-37), Jay Ajayi (1-for-4) and Hunt (1-for-5). If their offensive lines start to struggle for any reason, these five guys might be in trouble.
5) Michael Thomasí production can only go in one direction Ö down.
The Saints No. 1 wideout is on pace for 202 receptions for 2,122 yards and 16 touchdowns. The single season record for receptions is 143 (Marvin Harrison, 2002) and for yards is 1,964 (Calvin Johnson, 2012). Also, Mark Ingram is scheduled to return in Week 5, so New Orleans may try to be more balanced. However, Iím not telling you to ďsellĒ like I did for Fitzpatrick. Just be prepared for lower totals.
Lies

ďBetter the comfort of a lie than the absurdity of the truth.Ē - Tanya Huffe

1) Julio Jones is an elite fantasy receiver.
I said it before and Iíll say it again, Jones canít be elite until he starts getting into the end zone. Jones ranks 22nd among wideouts (11.3 FPts/G) and now has gone eight consecutive regular season games without a touchdown catch and has ďamassedĒ just four touchdowns over his last 24 games. Currently heís an elite talent who draws double coverage allowing Calvin Ridley among others to succeed.
2) Its JuJu Smith-Schusterís ďfaultĒ that Antonio Brown isnít leading all wide receivers.
Iím more likely to blame the two tight ends (Jesse James, Vance McDonald), who have combined for 16 receptions for 343 yards and two scores. Brown will turn it around soon enough. He is still second in the league in targets, he just hasnít broken any long ones (longest catch this season is 27 yards).
3) Itís time to worry about Patriots tight end Rob Gronkowski.
Not yet. The two teams that held him down were Jacksonville (2-15-0) and Detroit (4-51-0). Jacksonville might be the best defense in the NFL and Detroit knows everything Brady & Co. does on offense because of head coach Matt Patricia.
4) The Broncos mediocre passing game is disappointing and a losing proposition.
Just 714 yards, three TD passes and five INTs. However, Iím not ready to give up on them yet. Denver is throwing about 36 passes a game (just five sacks) which is enough to be a viable option. They still have two serviceable wide receivers (Demaryius Thomas, Emmanuel Sanders) and if the running game led by Royce Freeman (152 yards) and Phillip Lindsay (198 yards) stays strong a balanced offense can put points on the board. The Broncos play the Chiefs in Week 4 and Kansas City has allowed 32.5 FPts/G to opposing quarterbacks.
5) Pass receiving is not a ďrequirementĒ to being a top fantasy back.
Fourteen backs have caught more than 100 yards worth of balls and nine of them are averaging double-digit points. Of the 23 backs averaging double-digit fantasy points, 12 have caught 10 balls or more. You donít have to be Marshall Faulk, LaDainian Tomlinson or Bell, but being productive in the passing game gives a running back a higher floor when his team is behind on the scoreboard and more consistent production for the entire season.

---
Steve Schwarz served as the fantasy sports editor of The Sports Network and is the 2014 FSWA Football Writer of the Year.