It's the final three weeks of the regular season, but not the time to relax. Prepare for the playoffs. Look for favorable matchups. If you have clinched a playoff spot, make trades that make sense for weeks 14-16. Fortis fortuna adiuvat … fortune favors the bold!

Byes: Green Bay, New York Giants, Seattle, Tennessee

Truths

"Facts are the enemy of truth." - Miguel de Cervantes Saavedra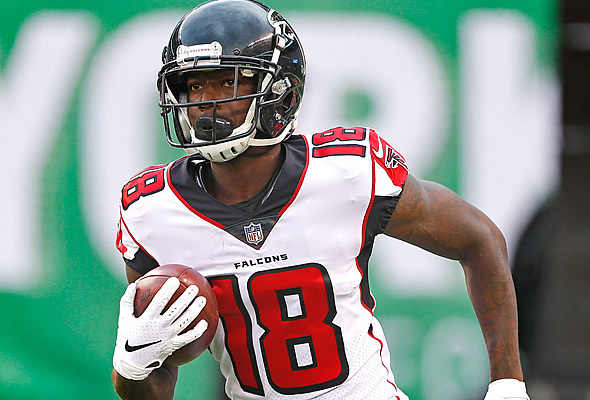 1) Matthew Stafford owners were screwed by Lions management.
True. Not surprising considering head coach Matt Patricia comes from the Bill Belichick School of Informational Releases. "He felt really good through the course of the week, so that was all positive from that standpoint," said Patricia. OK, then why was it necessary to do additional scanning on Friday? Apparently, backup Jeff Driskel knew he was starting on Saturday, but it wasn't until Sunday morning that rumors of Stafford not playing began to surface. Likely too late for you to make a trade for a viable quarterback or a waiver claim. Gamesmanship over honesty? If Steelers coach Mike Tomlin was fined "six figures" for not being truthful about Ben Roethlisberger's injury in Week 2, Patricia should feel the same heat. (Truth in reporting, I do not start Stafford in any of my six fantasy leagues, so this isn't sour grapes).
2) Since Week 8, Ryan Fitzpatrick and Sam Darnold have scored more points than Aaron Rodgers.
True. Rodgers has averaged just 18.4 fantasy points on four touchdown passes over the past three games while Aaron Jones and Jamaal Williams have combined for eight scores. Other quarterbacks averaging less than Fitzpatrick and Darnold include; Tom Brady, Jared Goff, Kirk Cousins, Baker Mayfield, Carson Wentz, Kyle Allen and not surprisingly Mitchell Trubisky. Of the two quarterbacks, Darnold has a great schedule down the stretch; Washington, Oakland and Cincinnati and could be worth a play.
3) "Buying low" on Allen Robinson and Calvin Ridley should pay off down the stretch.
Although both Ridley and Robinson are averaging less than 10 FPts/G, both could be useful over the final three weeks of the fantasy regular season. Ridley has a favorable schedule facing Carolina (16th in FPts allowed to wide receivers), Tampa Bay (32nd) and New Orleans (21st). Robinson goes up against the Rams (12th), Giants (31st) and Lions (23rd).
4) It could be a tough week to get big production from the running back position.
True. Four of the top-15 running backs since Week 8 will be on the sidelines this weekend; Aaron Jones (3rd), Derrick Henry (5th), Saquon Barkley (13th) and Chris Carson (15th). The top waiver claim for this week will undoubtedly be Falcons' Brian Hill as Devonta Freeman is expected to miss a couple of weeks and Ito Smith is already on the IR. Hill (8%-owned) will dominate the workload with only rookie Qadree Ollison and special teamer Kenjon Barner on the roster. Other possible long shot RB options: J.D. McKissic (21%-owned) for Ty Johnson (concussion), Nyheim Hines (18%-owned) for Jordan Wilkins (ankle), Raheem Mostert (4%-owned) for Matt Breida (ankle) and Derrius Guice (37%-owned) who will return from the IR for Washington.
5) Christian Kirk and Darius Slayton have been top-10 wideouts over the past three games.
Surprisingly, yes. Kirk is averaging 19.7 FPts/G and Slayton 18.2. That puts him ahead of bigger names like Julio Jones, Cooper Kupp and Davante Adams. While Kirk is owned in 82% of all leagues, Slayton is available in four-out-of-five fantasy leagues.
Lies
"Errors do not cease to be errors simply because they're ratified into law." - E.A. Bucchianeri
1) Philip Rivers, at age 37, is still a viable option.
False. For six years, Rivers has been the model of consistency, averaging between 21.1 and 22.4 fantasy points per season. However, in 2019 he's averaging just 19.9 fantasy points and an even uglier 15.7 points over the past three games. This despite Los Angeles throwing the ball 61.6-percent of the time versus 56.2-percent in 2018. He'll still be out there every week because the Chargers have failed to draft/trade/sign his successor, but he is not a QB1 or even a reliable bye week option. Rivers is completely schedule dependent. He does have a "weaker" opponent this Monday (Kansas City) before a bye and a poor matchup versus Denver to complete the fantasy regular season.
2) The absence of Rob Gronkowski has made a big difference in New England's scoring average.
False. Poor New England without "Gronk" can't score this season? In fact, the team is averaging 30 ppg while their tight end production is next-to-last, No. 31 of 32 teams (18-248-1). Their 270 points in nine games compares favorably to their scoring average for the previous four seasons (2018 – 27.2, 2017 – 28.6, 2016 – 27.6 and 2015 – 29.1). Let Gronk enjoy his after football life. Belichick and Tom Brady will still find a way.
3) Damien Williams has been a complete disappointment this season after being selected high on Draft Day.
His season totals are disappointing, but if you have been paying attention … he's back. He's scored 20.8 and 15.9 fantasy points the past two games. LeSean McCoy was a healthy scratch. It's Williams now. He should be a very good option against the bottom-10 Chargers (allowing21.3 FPts/G to RBs) at Estadio Azteca in Mexico Monday night.
4) If Stafford doesn't play, there is no way to trust the Lions receivers to produce.
I love Kenny Golladay when Stafford plays, but I still trust him to be solid if it's Driskel under center. Golladay saw nine targets in Week 10 and produced 57 yards and a score despite just three receptions. Marvin Jones caught 5-of-6 for 77 yards. I'd stay away from Danny Amendola who appeared to be the safety valve catching 4-of-8 for just 29 yards. Driskel can only get better in a second straight start.
5) The most unlikely player led the Seahawks in targets Monday.
It was fourth-string tight end Jacob Hollister, who along with D.K. Metcalf led the team with 10 targets. The former Patriots TE started the season behind Will Dissly, Ed Dickson and Luke Willson. He's become a solid option for Russell Wilson with three touchdowns and 12 receptions in two November games. Although the Seahawks are on bye this weekend, Hollister (7%-owned) should be picked up if you need a tight end.